25 Decorative Ideas To Make A Small Balcony Your Creative Space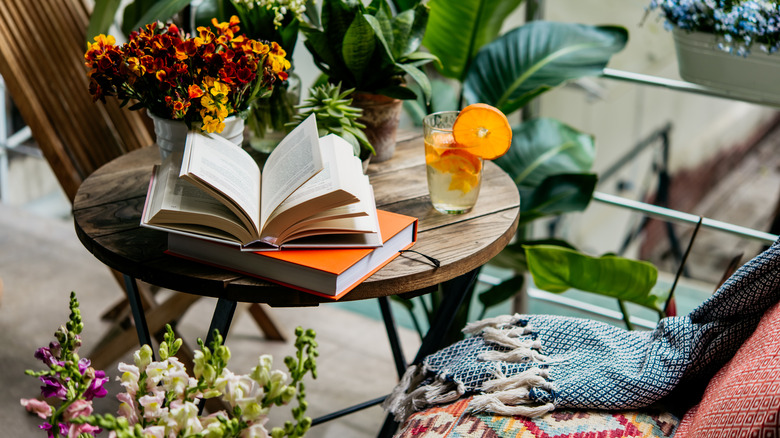 Yulia Grigoryeva/Shutterstock
If you're lucky enough to have a balcony but aren't sure what to do with it, consider making it into a creative space. There are many ways to be creative. Some people work from home and need a space that fosters feelings of productivity. Others show their creativity through creating online content, painting, sewing, writing, reading, making music, or gardening. 
Adding a creative space to your home can actually make you more productive. This is because creative spaces are designed to inspire and motivate, according to Nick Wyatt. A creative space starts with having a positive mindset and wanting to put in the effort — but design choices can also affect the amount of passion you put into your work. When designing a creative space, balancing comfort with inspiring elements is key. If you want to transform your balcony into a creative space that's tailored to you and your needs, here are 25 decorative ideas.
1. Keep it minimalist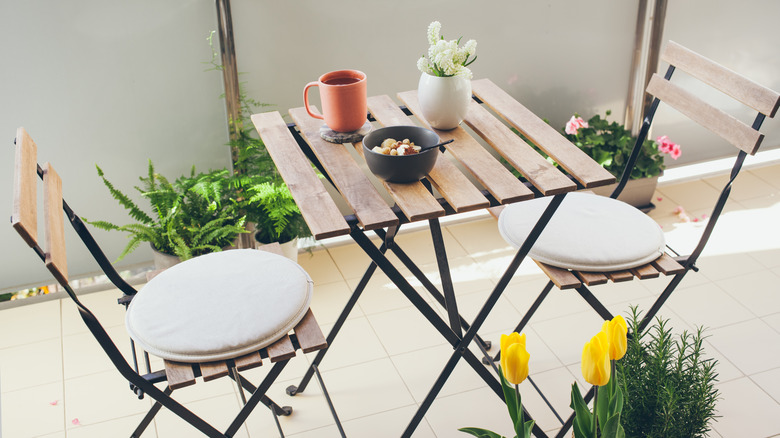 Veera/Shutterstock
The basic building blocks of a creative space usually include a desk and a chair. If you like keeping your design choices minimalist, just add a table, chairs, and a few plants to your balcony. 
2. Add lots of flowers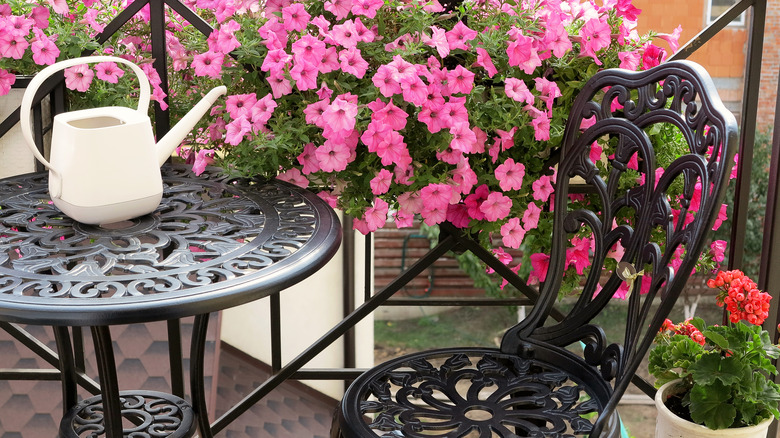 Elena Larina/Shutterstock
Flowers can be a source of inspiration. Watching a flower slowly grow each day and then finally bloom can remind you that your creative endeavor is worth all the hard work. If you're looking for design elements that motivate, add flowers to your creative space. 
3. Create a space for reading or writing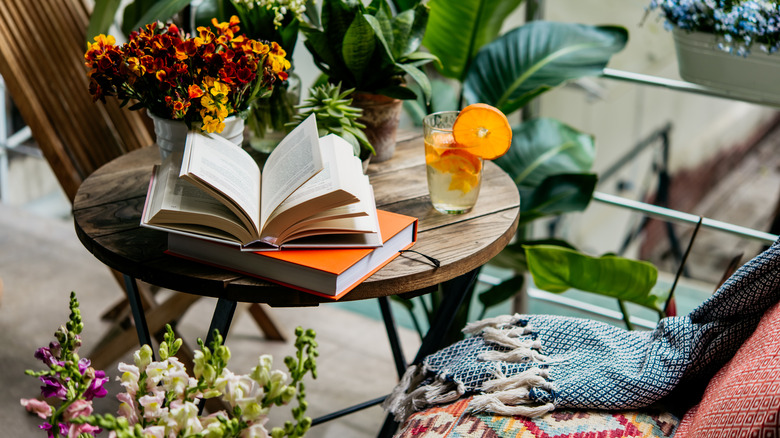 Yulia Grigoryeva/Shutterstock
Many people use reading and writing as creative outlets. Adding a table and chairs and some other inspiring elements like colorful plants and cushions will transform your balcony into the perfect productive sanctuary. 
4. Get creative with hanging planters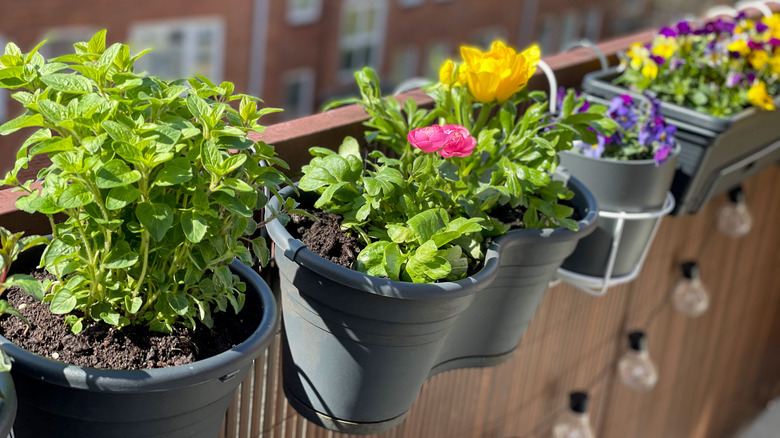 Lapa Smile/Shutterstock
Growing plants is a great creative and productive outlet. If you have a very small balcony, save floor space by adding hanging planters to your railing. 
5. Grow your produce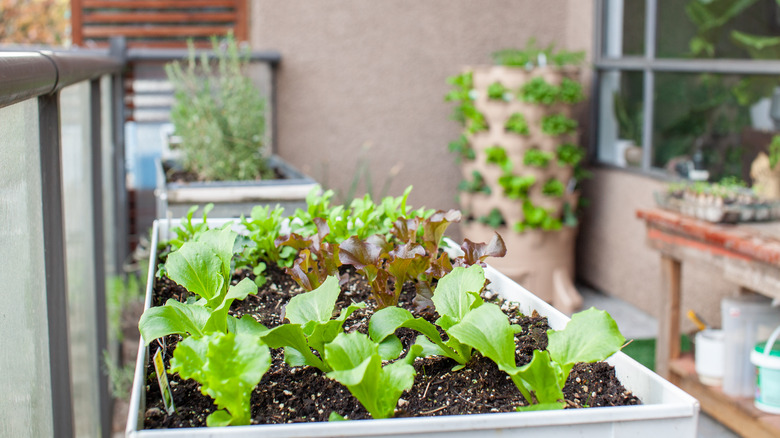 Ashley-Belle Burns/Shutterstock
You could also transform your whole balcony into a miniature garden. To do this, add garden boxes to grow vegetables and herbs. You could also get a stackable planter for the corner of your balcony if desired. 
6. Create a flexible home office space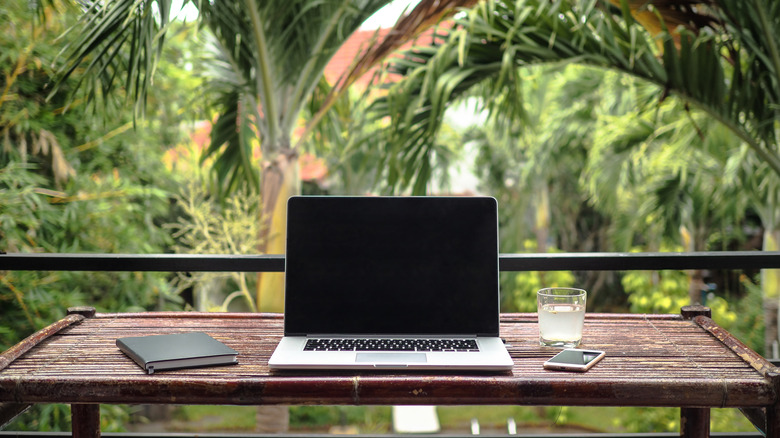 shellygraphy/Shutterstock
If you sometimes feel stuck in your home office routine, consider adding furniture, like a desk, to your balcony as a space to work "outside" those stuffy four walls.
7. Hang a chair or bench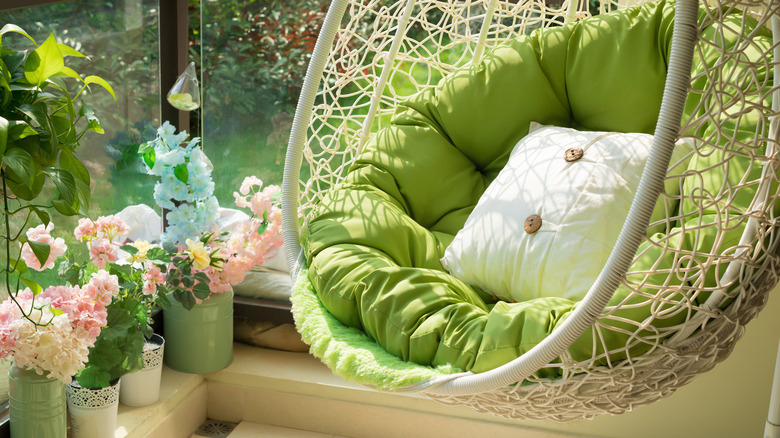 Freer/Shutterstock
A hanging chair or bench on a balcony can be a great place to sew, read, write, draw, or partake in a number of other creative endeavors. 
8. Purchase colorful rugs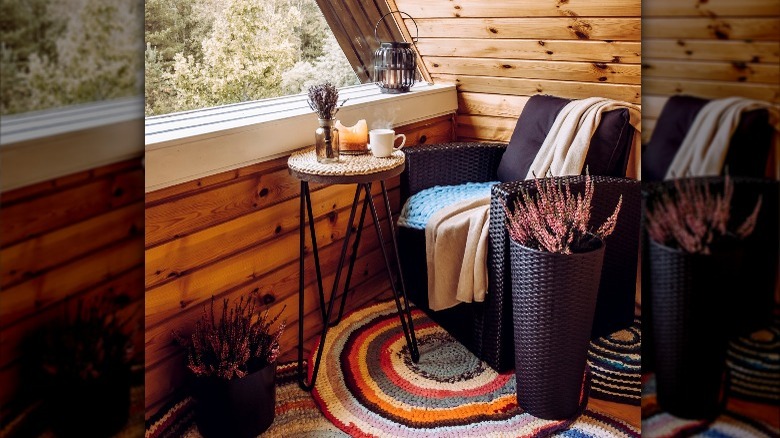 FotoHelin/Shutterstock
If lots of colors inspire you, think about adding colorful rugs to your creative space. Not only will this make you more productive, but it will also add interesting texture. 
9. Add a patch of fake grass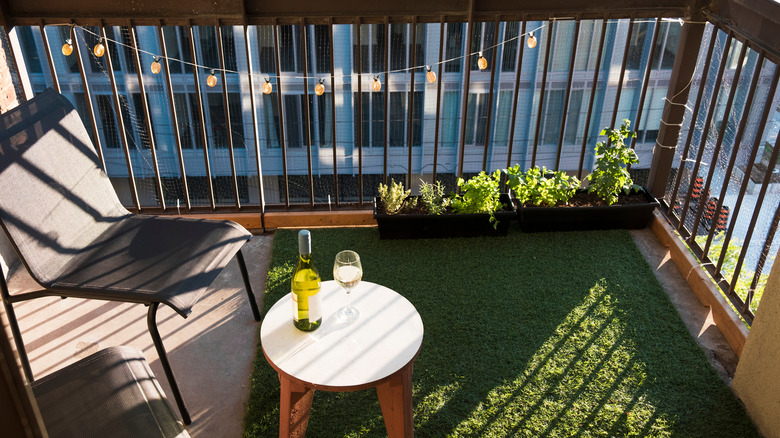 Melissa.r/Shutterstock
If you want a serene nature look in your creative space, try adding a patch of fake grass. This could also be a great place to complete a home workout. 
10. Add only what you need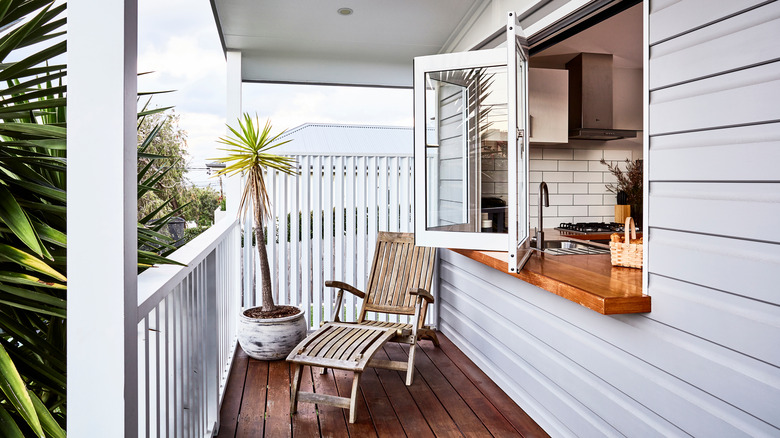 PhotoMavenStock/Shutterstock
A great tip is to make sure you don't overcrowd your balcony. Clutter can stifle productivity and can lead to feelings of stress and anxiety. With that in mind, only add what you really need to your creative space. 
11. Organize your plants on shelves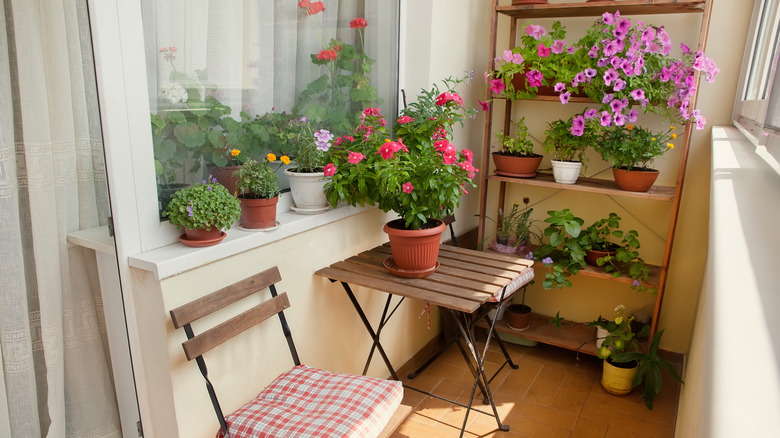 Elena Efimova/Shutterstock
If you have lots of plants, you could organize them on an outdoor shelving unit. This will save you floor space for other creative endeavors and also create the look of a fun feature wall. 
12. Add a screen for more privacy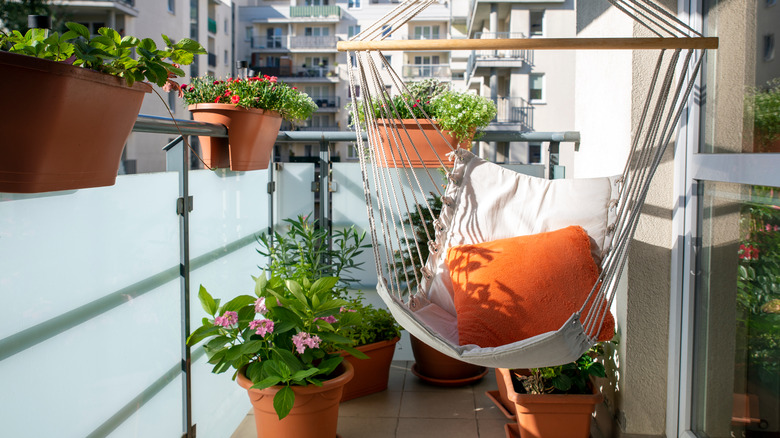 Aga Murawska/Shutterstock
One issue you may face with having your creative space on your balcony is how distracting it can be. If you live in a city or a busy area, people, cars, and animals can break your focus. To fix this problem, consider adding a screen to the railing on your balcony for more privacy. 
13. Choose neutral decorations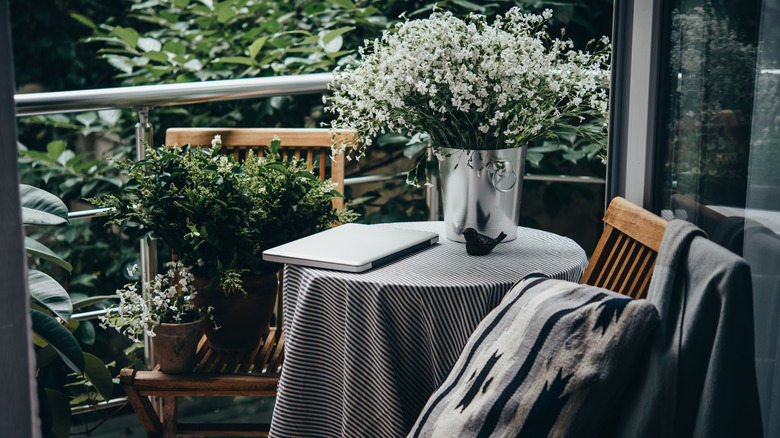 Yulia Grigoryeva/Shutterstock
Another source of distraction can actually be lots of colors. Bold and exciting colors can raise your blood pressure and make you feel excited. While this may give some people more energy, others may feel distracted. If that's the case for you, try only choosing neutral or monochromatic decorations. 
14. Add a tile wall or flooring
If you like a clean and modern design, you could add a tile wall to your balcony space. If you're renting your living space, you could try using peel and stick tiles. Similarly, you could also add different flooring to your balcony with removable floor tiles. 
15. Present your creativity to the world
Instead of making your balcony a workspace, you could use it to display things you have made or grown. If you love getting creative by growing flowers or building birdhouses, use your balcony to store and display everything you've created. 
16. Create a wooden accent wall
If you love the look of wooden accent walls, consider adding removable wooden planks to a wall of your outdoor creative space. 
17. Add vibrant furniture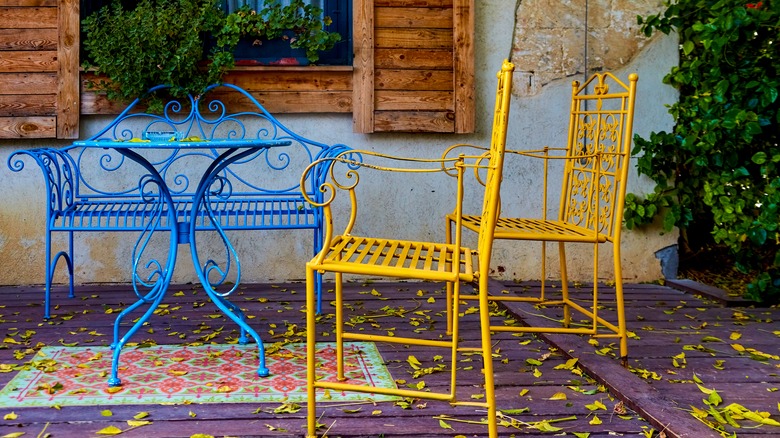 KiyechkaSo/Shutterstock
If color gets you excited, you could paint your furniture vibrant colors. While this may distract some, others may feel motivated and want to use their balcony space more. 
18. Mix patterns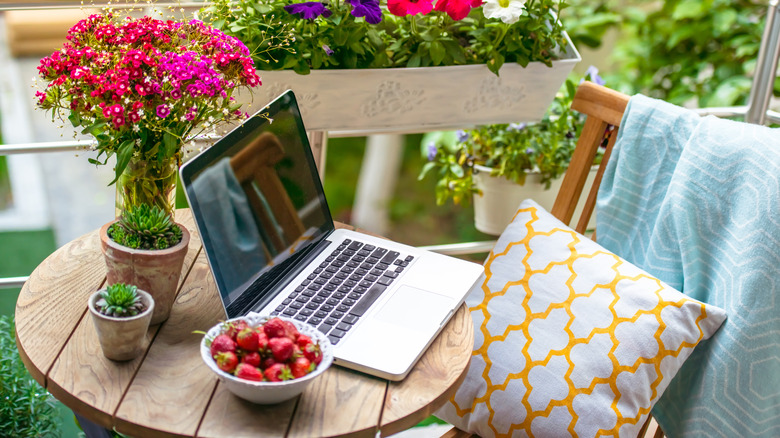 Yulia Grigoryeva/Shutterstock
A great way to make your space more comfortable while also showing your creativity is by mixing patterns in throw blankets and pillows. This balcony is the perfect home office, and it mixes colors and patterns, which adds interest. 
19. Consider your indoor curtains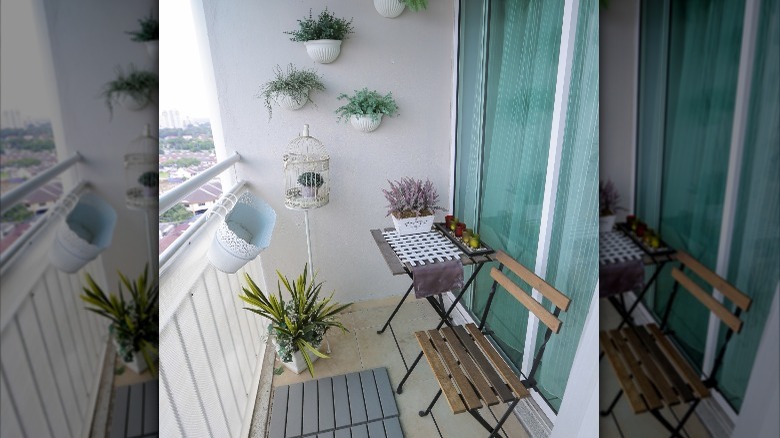 Abdul Razak Latif/Shutterstock
When choosing your indoor curtains, keep your balcony space in mind. When your curtains are closed, and you're out on the balcony, your curtains will create a fun accent wall. If you choose curtains with a color and design that you really enjoy, it may boost your creativity. 
20. Hang a colorful hammock
For the perfect balance of productivity and comfort, you could add a hanging hammock. This would be a great place to read, knit, write, or think about more ways to show your creativity. 
21. Choose an aesthetic that inspires you
The most important thing to consider in a creative space is what design choices inspire you the most. If you're into boho design choices, add a plant wall. If you like modern style, incorporate marble features. Whatever aesthetic you prefer, lean into it. 
22. Hang string lights or light candles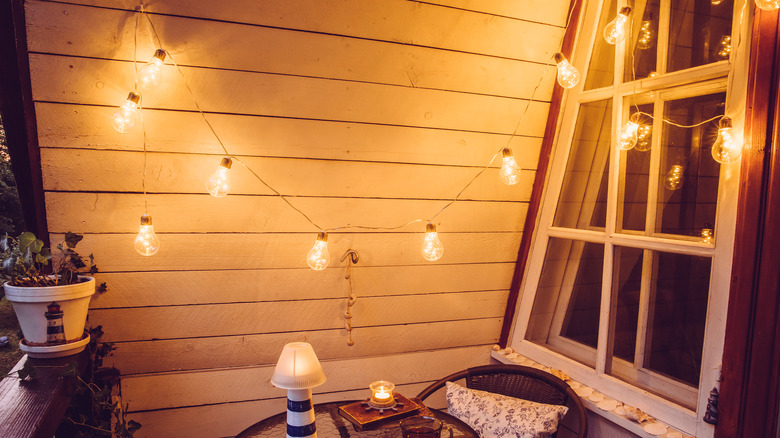 FotoHelin/Shutterstock
To make your creative space useful at night, hang string lights or light candles. While string lights and candles create a cozy vibe, they may also cause you to use your balcony more often. 
23. Buy cozy furniture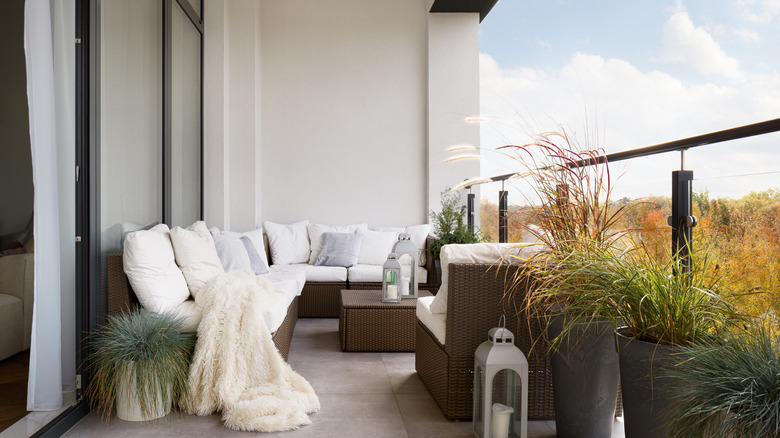 Dariusz Jarzabek/Shutterstock
If you like being cozy while you work, consider adding some large furniture with comfortable cushions. This space has a large outdoor couch that's great for relaxing and also for promoting creativity. 
24. Add a faux brick wall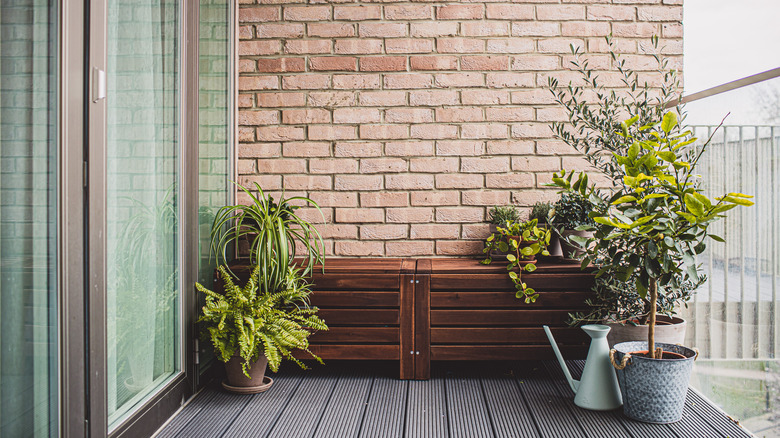 HouseOfMan/Shutterstock
Transforming your balcony into a creative space that you truly enjoy will foster more creative ideas. If you love the look of bricks, consider adding a faux brick wall with removable wallpaper. 
25. Surround yourself with lush greenery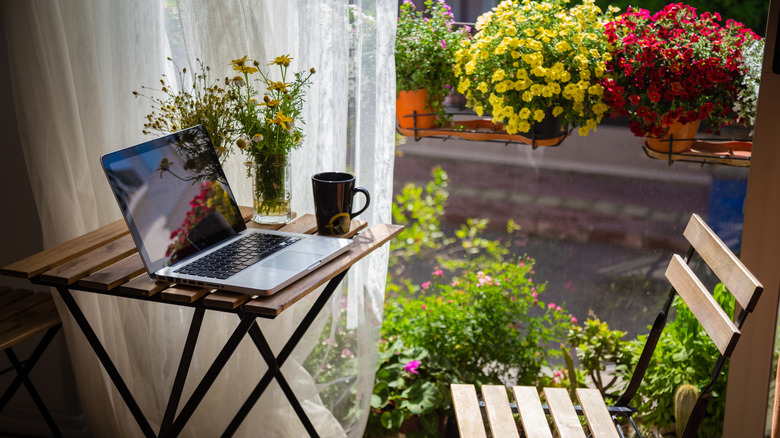 bahadirsansarci/Shutterstock
Plants always look great and can create more privacy in your creative space. If plants inspire and motivate you, surround your workspace with lush greenery.