15 Renter-Friendly DIY Decor Tricks To Beautify Your Home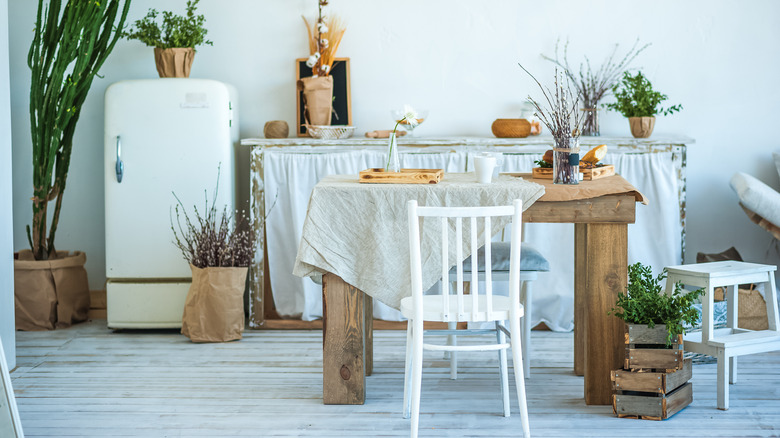 SoNelly/Shutterstock
With housing prices soaring, the cost of the median American home is up by 20%, according to The New York Times. As a result, many folks are continuing to rent their homes for far longer than they had originally planned. One of the major frustrations of renting a property is not being able to really customize your home to your style and needs. But with a few renter-friendly decorating and styling tips, you can have a gorgeous space that's totally unique to you and your family. 
Thankfully, there are several ways that you can improve your space without getting in trouble with your landlord. Everything on this list is reversible and made for DIY enthusiasts of all skill sets. Even making one or two simple changes to each room in your rented home can breathe fresh life into it, and help transform your house into a cozy and beautiful home. 
Remove cheap vertical blinds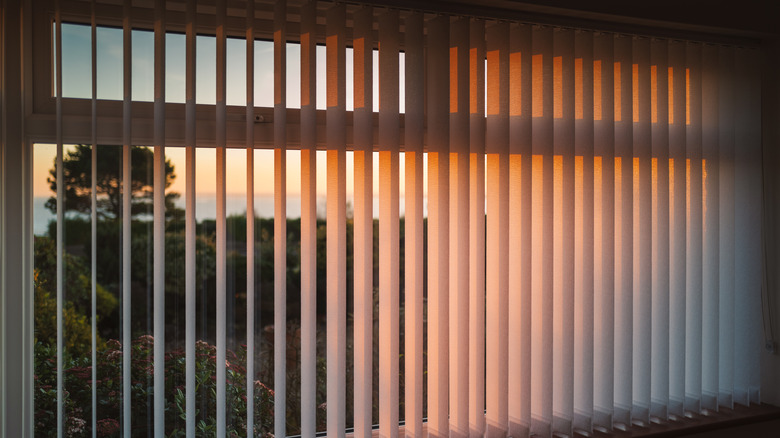 Christine Bird/Shutterstock
Everyone knows that cheap vertical hanging blinds are a renter's enemy, but they are unfortunately hung in many apartments due to their affordability. Luckily, you can remove them quite easily by individually taking down each vane, or removing the track entirely, explains WikiHow. Just be sure you have a place you can safely store the blinds without damaging them, or you may lose out on your deposit. 
Use decorative window film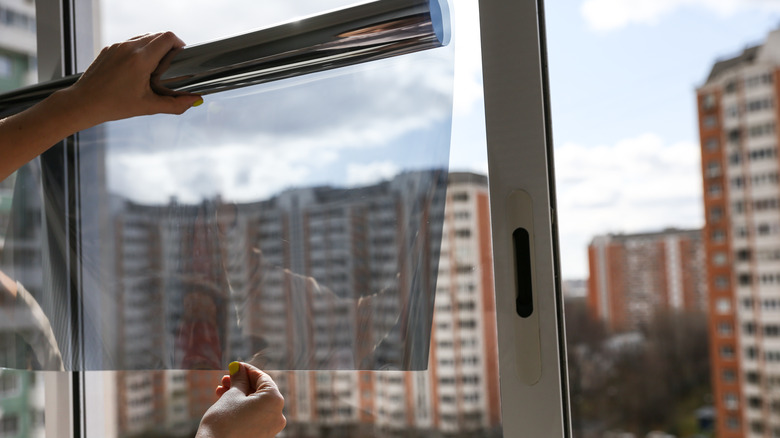 Petr Smagin/Shutterstock
Once you've gotten those vertical blinds out of the way, you'll need a new option for privacy and blocking light. Traditional curtains tend to be extremely expensive and can be tricky to hang. Instead, consider using a specialized film on any windows and glass doors. You can choose from a variety of affordable options, from rainbow reflecting panels to elegant frosted films, or just plain peel-and-stick UV-blocking tinted covers, notes MWT. Simply measure, cut, stick, and then remove them on move-out day. 
Deck the walls with tapestries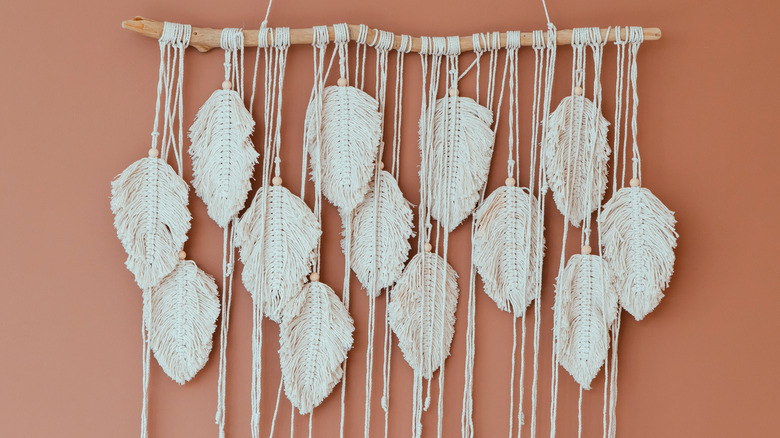 Alie04/Shutterstock
No painting allowed — no problem. By using wall tapestries, you can add texture and color to a wall with the same ease as hanging a painting. Macrame has become a popular choice for textile artists and is perfect for a boho-chic vibe, and you can even DIY it yourself with a little know-how. Society6 recommends several unique and colorful wall hangings that will add drama to any room in your house. 
Swap out your throw pillows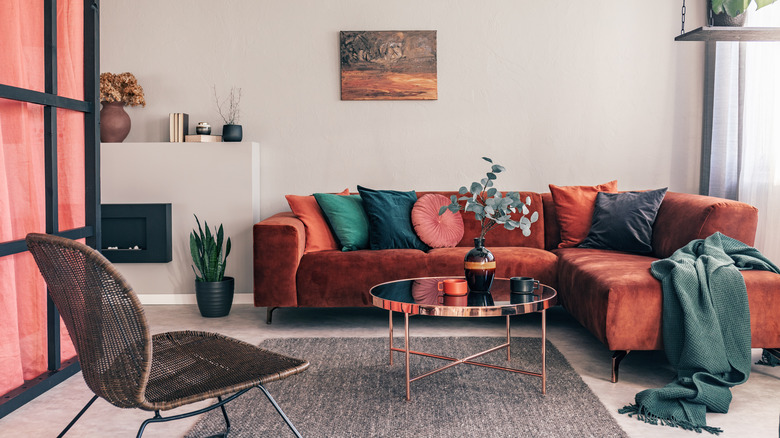 Photographee.eu/Shutterstock
Did you know most pillow covers are removable? They typically have a zipper on them, so you can easily throw them in the wash without ruining your pillow. This also makes it easy to order new pillow covers, which is much more affordable than buying new pillows each time you want a refresh. Consider buying seasonal throw pillow covers so you can shake up the style of your home every few months. 
Add freestanding shelving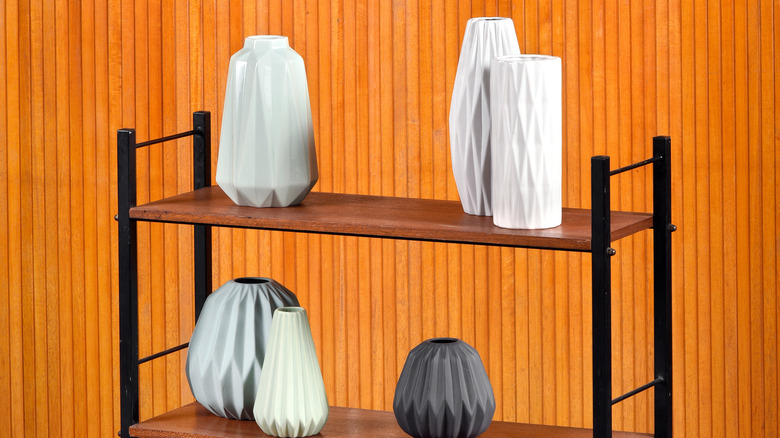 Photology1971/Shutterstock
Just because you can't create the built-in bookshelves of your dreams doesn't mean you can't have functional and beautiful vertical storage. Simple freestanding shelving can help remove clutter and give your space a more custom feel. Plus, it's a good way to show off your favorite books and trinkets, both of which help to make a space feel more lived-in and unique to you. 
Use removable wallpaper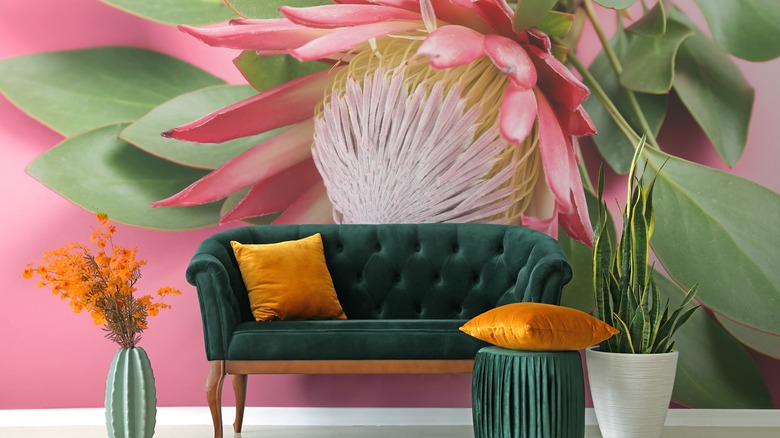 Pixel-Shot/Shutterstock
Peel-and-stick wallpaper is a fantastic way to add a visual element to your home. You can choose from bold hyperrealistic graphics, dynamic floral patterns, or even minimalist prints. Removable wallpaper is ideal for an accent wall in the living room or a breathtaking powder room. Don't back away from vibrant colors and quirky prints when choosing a wallpaper for your home. 
Add a reversible backsplash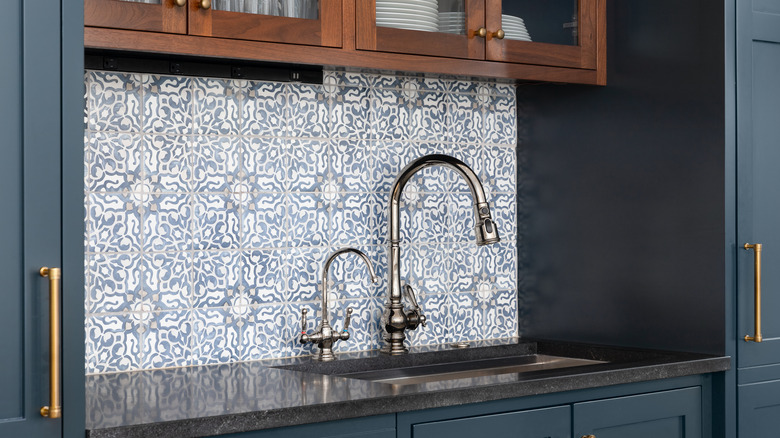 Hendrickson Photography/Shutterstock
The kitchen in a rented home can be a difficult place to customize due to its built-in cabinetry and appliances. But similar to peel-and-stick wallpaper, you can now find removable backsplash tiles that anyone with some DIY know-how can install. These add texture to your space and make it feel truly bespoke. You can even swap the backsplash out when you're ready for a new look, which is something real tiles can't compete with. 
Play with washi tape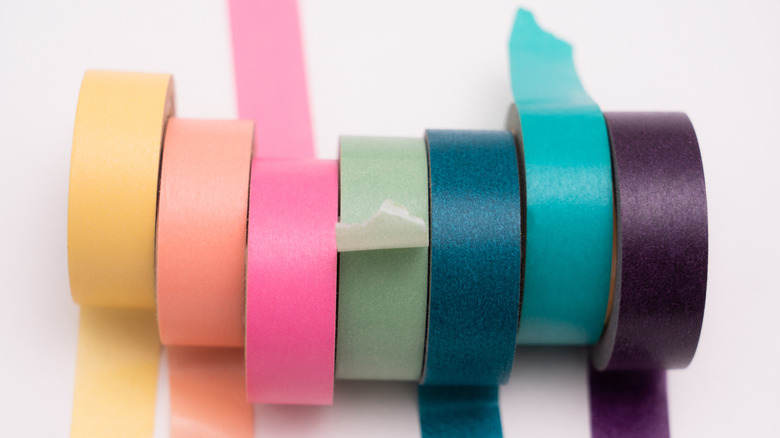 kitsune05/Shutterstock
Washi tape is a type of paper masking tape that is commonly used in crafts and scrapbooks. But washi tape also looks amazing as a home decoration. You can use it on your walls to create stunning graphic art and patterns; simply trace your design, and get taping. Just be sure to clean your walls beforehand, so the tape can stick properly. 
Swap out your cabinet hardware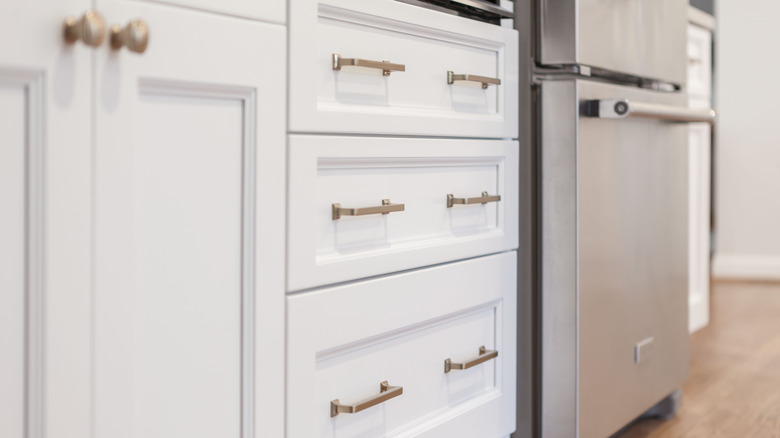 Berkay Demirkan/Shutterstock
One of the best ways you can add character and charm to your kitchen is by swapping the hardware out on your cabinets. Just unscrew the hardware, store it in a safe place, and replace it with the knobs of your choice. You can choose from glossy metallic handles, ceramic knobs, boho leather tabs, and so many more to make your space feel truly unique. 
Upgrade your shower curtain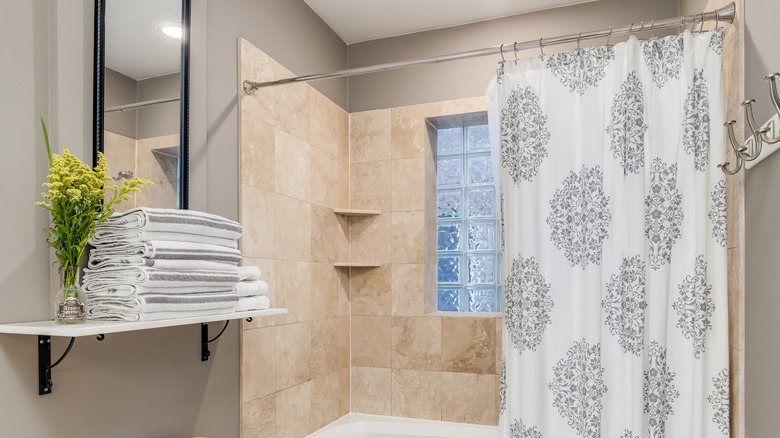 Hendrickson Photography/Shutterstock
If your shower curtain makes a crinkling sound when you touch it, perhaps it's time for an upgrade. Opting for natural fibers like linen and cotton can make your bathroom feel more airy, warm, and luxurious. If you have unsightly glass shower doors that you don't like, just buy a tension rod and add a shower curtain to help hide them. 
Make a towel ladder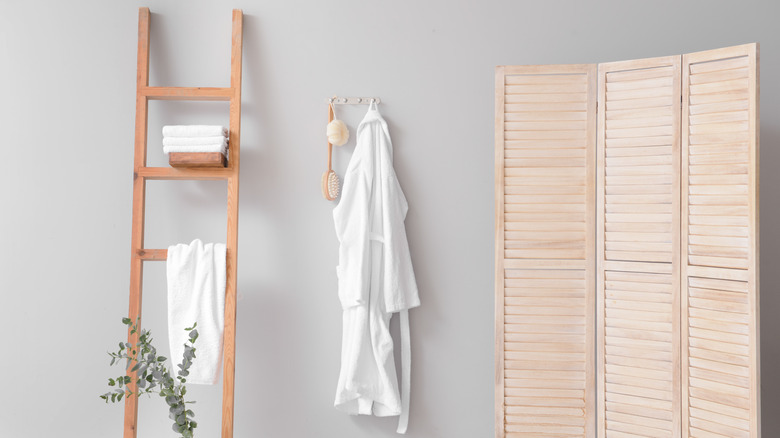 Pixel-Shot/Shutterstock
A towel ladder is a great example of turning functional storage items into decor pieces. You can purchase a towel or blanket ladder fairly affordably, or you can also DIY your own for very little money, explains 12 Oaks. An added bonus of the towel ladder is that its vertical storage won't take up too much space in your bathroom, and you can easily move it from room to room (or house to house). 
Add peel-and-stick floor tiles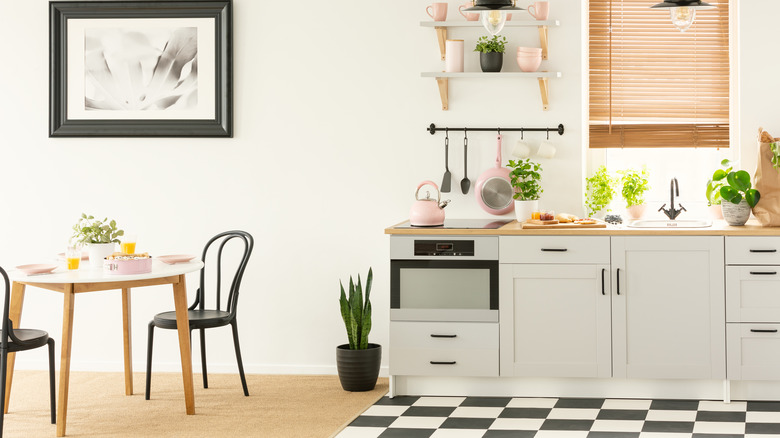 Photographee.eu/Shutterstock
You may think that you're stuck with whatever floors are already in your home, which can be especially depressing if it's worn linoleum. But thanks to these removable tiles, you can cover up outdated and ugly floors with ease. As more renters push to customize their homes, more home design companies have released unique, beautiful peel-and-stick floor tiles that you can use in your kitchen or bathroom for an immediate upgrade.
Swap out your toilet seat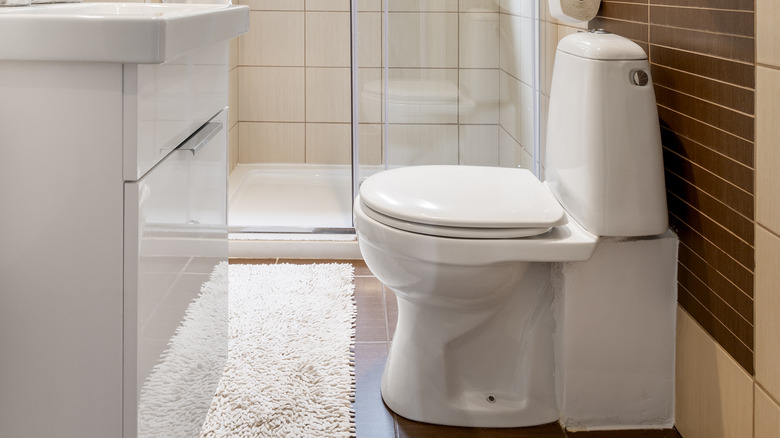 Photographee.eu/Shutterstock
Bathrooms are often neglected in home makeovers, especially in rented ones. But you don't need to knock walls down to give your bathroom a major upgrade — simply swapping out the toilet seat can give your bathroom an instant refresh. Plain white ceramic or teak wooden seats are a great alternative to cheap plastic toilet seats. 
Contact paper can upgrade countertops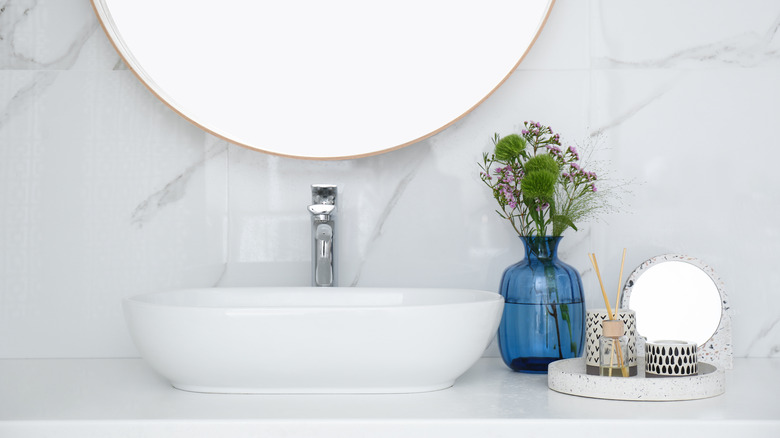 New Africa/Shutterstock
Countertops are one of the places where property management companies and landlords always try to cut costs, so you can often be stuck with cheap, ugly, or damaged countertops. No fear, thanks to marble contact paper. Just measure the surface area around your sink, cut out a hole for the sink (you don't want contact paper to get wet directly), and stick. Be sure to thoroughly clean and dry countertops before applying the paper to prevent it from lifting. 
Renew your switch plates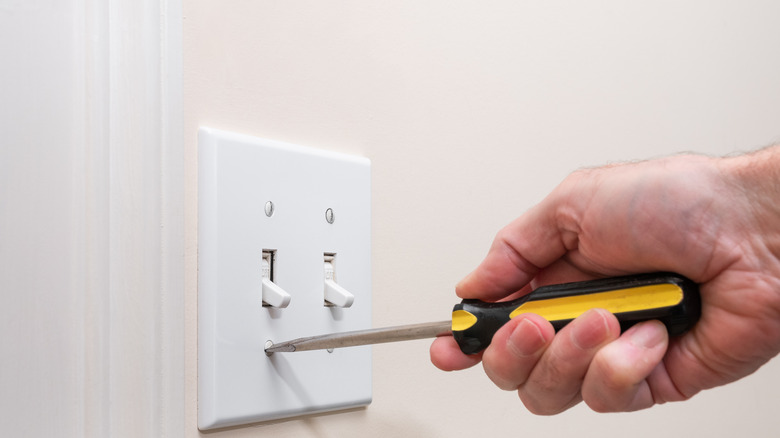 The Toidi/Shutterstock
Light switch covers are easy to remove and install, so this is a great upgrade for folks of all skill sets. You can buy replacement sets, or paint the existing covers in whatever color suits your decor. Just remember to paint them back in their original color before moving out. Either way, this is an easy upgrade that can have a huge impact.