What Exactly Is A Butler's Pantry?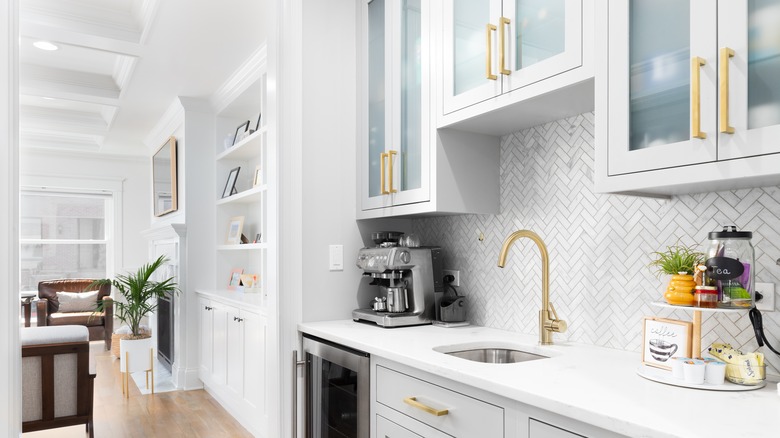 Hendrickson Photography/Shutterstock
Ample storage space is a must-have, especially in the kitchen — but finding places to store all your kitchen equipment can be difficult. No matter how many cabinets you have, you probably still struggle to find spaces to store your smaller appliances or extra dishware. And you may be looking for the perfect spot to keep your fancy china.
According to the Lofty Building Group, many modern homes are built with a walk-in pantry, which solves part of the storage problem. These provide lots of extra storage space for both food and kitchen appliances. However, there's another kitchen storage idea, and it's called a butler's pantry. This space differs from a regular pantry because it's used for more than just storage. You may have assumptions about the historical functions of a butler's pantry from the name. But what exactly is a butler's pantry, and what are some everyday uses for this space today?
The butler's pantry explained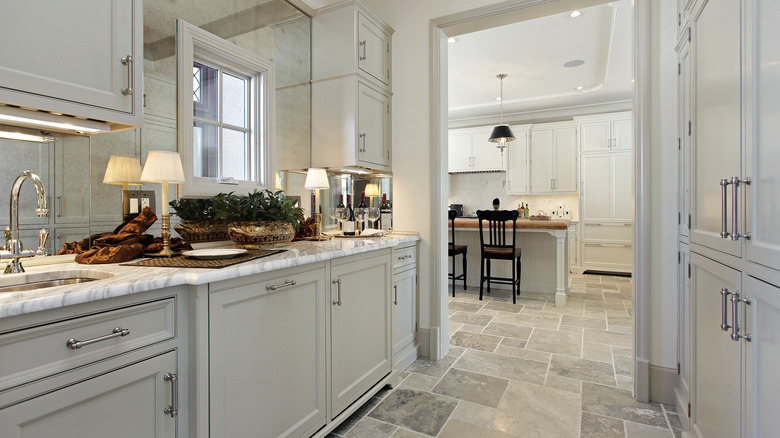 pics721/Shutterstock
According to the W Design Collective, the butler's pantry was popular in the Victorian era. Constructed between the formal kitchen and the dining room, the butler historically used these spaces to conduct different tasks, like food preparation or dish polishing. This space was also often used to store fancy dishware, alcohol, and other valuable items. Because of this, the butler's pantry was often locked up at night. Sometimes, the butler was required to sleep inside the butler's pantry to protect valuables.
While the butler's pantry contains storage space, it also has countertop space and a sink, which makes it very functional for preparing meals and drinks. Small appliances like a mini fridge could also be added to this space. The butler's pantry could be understood as an extension of the kitchen, and it's often a small and narrow space. Maison De Cinq recommends a butler pantry because it can add beautiful space for storage and meal preparation.
Modern uses for a butler's pantry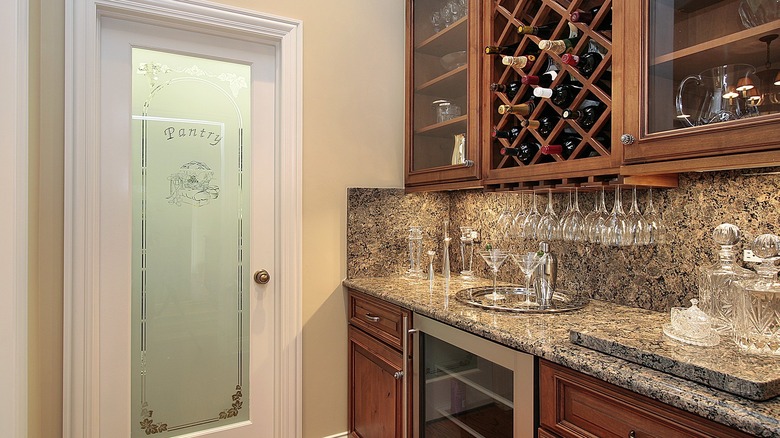 pics721/Shutterstock
While most families no longer have a butler, a butler's pantry can still be handy in the modern home. The most common use of a butler's pantry is to prepare food and drinks for guests, per the W Design Collective. This is because most butler's pantries have a door, making them a private place to prepare and plate food. They are also a great place to put dirty dishes, so your guests do not see them.
There are a number of other modern uses for a butler's pantry. A butler's pantry could be designed with a door to an outdoor, entertaining space for an easy place to transfer food from inside to outside. Additionally, you could make your butler's pantry a wet or dry bar. A butler's pantry could also be the perfect place to assemble your gorgeous spreads if you like to serve charcuterie or cheese boards. Realtor says you could even use your butler's pantry to store food and supplies for your pets. Or, you could make it a children's snack area to keep your kids out of the kitchen. For those with a sweet tooth, a butler's pantry could be transformed into the perfect place to bake desserts.