3 Beautiful Kitchen Layouts You Should Think About Before Upgrading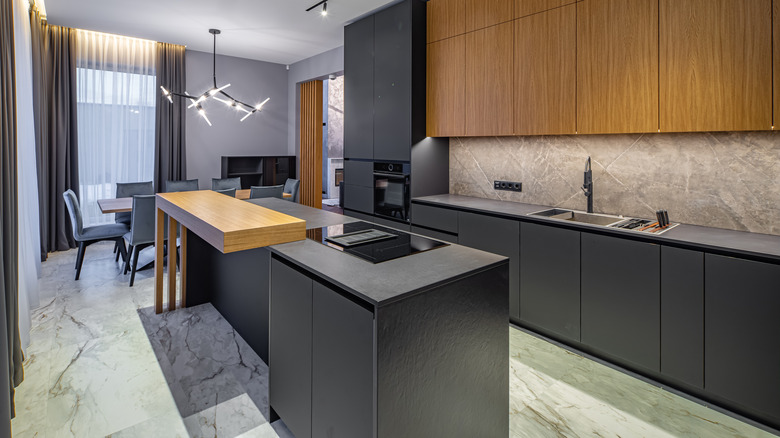 Aleks Kend/Shutterstock
According to Forbes, when designing (or redesigning) your kitchen, you want to think about a well-balanced layout, usually by maximizing space economy and utility. This crucial factor will decide how simple it is to cook and dine. In an ideal kitchen, where should your appliances go? What about the sink, pantry, and furniture? Of course, if you live alone and just want to cook in your kitchen, your needs will differ from those of a family who wishes to gather around the kitchen table for supper every evening.
See, kitchens are more than just a place to cook. You want them to be comfortable because they are the center of household activity, a source of pride, and a place to socialize. Every kitchen is different, but there are typical floor plans that come into play throughout a renovation. With so many kitchen styles out there, we're here to serve some inspiration with three gorgeous kitchen layouts for you to consider before the makeover.
L-shaped or U-shaped kitchens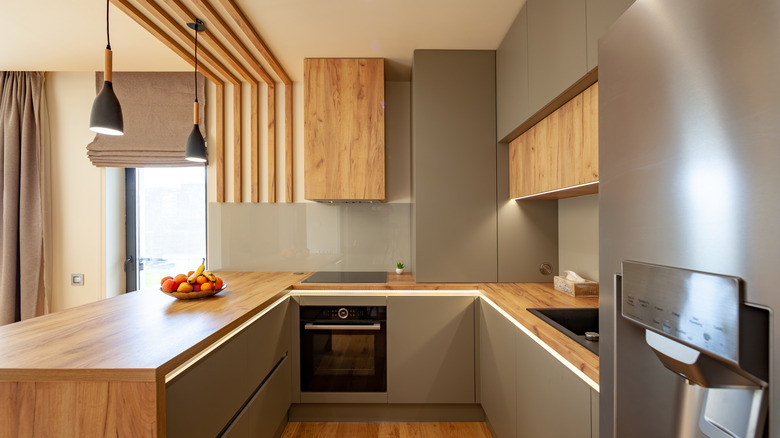 Gabi Moisa/Shutterstock
L-shaped kitchens have grown in popularity as the use of separate dining rooms has reduced. Work stations in L-shaped kitchens are laid out on two distinct walls. This design incorporates the 'working triangle' principle of a kitchen layout, which states that the most effective kitchens allow you to quickly move between critical areas such as the sink, oven, and refrigerator (via CliqStudios). As a result, L-shaped kitchen concepts are a strong asset in organized and efficient cooking. They are typically tucked into corners and have two open ends, providing easy access to equipment and cooking ingredients. According to Real Homes, modern house designs frequently place a premium on spaciousness over cramped or crowded living rooms. L-shaped kitchen plans are great for connecting the kitchen to another space, such as the living or dining room.
The U-shaped kitchen is also a frequently used kitchen layout, according to RoomSketcher. They are fantastic because they provide plenty of storage and surround you with benchtops on three sides — giving you plenty of room to work with! One significant advantage of a U-shaped kitchen is that two or more chefs can work simultaneously, making it ideal for entertaining or feeding a large family (via Harvey Jones). The U-shape arrangement also reduces traffic flow, keeping people out of your hair while cooking.
Central hub or island kitchens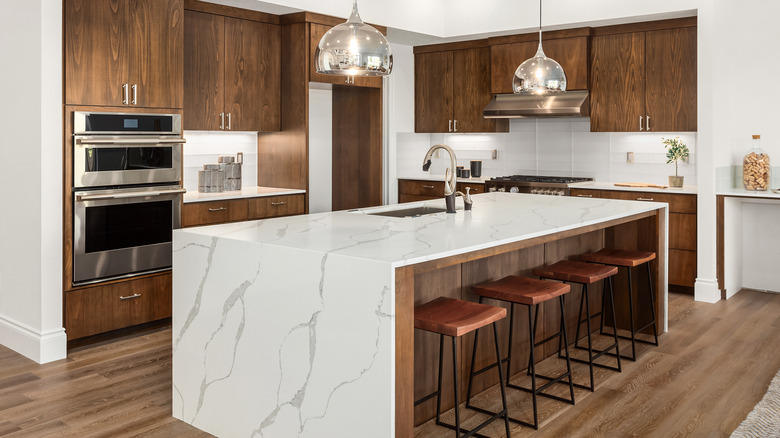 Breadmaker/Shutterstock
Depending on the arrangement of your kitchen, placing an island in the center might be a terrific option, especially in a larger space. Adding a kitchen island to the center of the area provides a central hub that serves as both a focal point and a functional space (via Ideal Home). This will also connect the two sides of the room, acting as a bridge between them.
The three primary fixtures in any kitchen are the sink, the oven, and the refrigerator. These are frequently used when preparing food, so having ready access to them is critical. You'll be able to access these places with a central kitchen island readily, resulting in a more practical and effective kitchen space.
The best part might be adding a built-in sink to a kitchen island (via Kitchinsider). A sink in the center of the room is far more practical than a sink in the corner. You might even choose an intriguing design or material for the island to create a standout centerpiece.