The Least Expensive Wall Art For Your Home At Target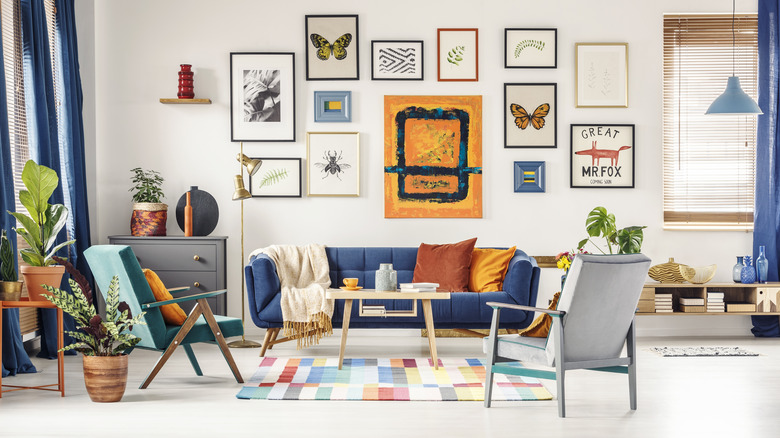 Photographee.eu/Shutterstock
When searching for inexpensive wall art, it can be hard to find timeless pieces. Many of the least expensive options can look trendy or out of style. Other times the materials can make the piece look cheap. Finding beautiful art without breaking the bank can almost feel impossible.
However, Target's wall art section has some timeless-looking pieces you may want to check out. Each of these options are from Target's Threshold with Studio McGee collection, which emphasizes neutral colors, light shades, and earthy elements. With classic wood materials, stunning metallics, and beautiful canvas paintings, these pieces won't go out of style anytime soon. And the affordable 8 by 10-inch canvas could be dressed up to fit a maximalist space or dressed down for a minimalist room. Another plus? When purchased online, these items are only $10 each. Below are some of the most inexpensive wall art options available at Target.
Minimalist and neutral pieces
Target's Threshold Collection currently has two minimalist and neutral pieces. The first is a thinking portrait of a face resting on a hand. The second is two hands clasped together in a pinky promise gesture. Both of these 8 by 10-inch pieces are surrounded by a light wood frame and are $10 each. These canvases would add subtle femininity to any space. Particularly, they would look great in the bathroom or the bedroom. They could be styled separately or together.
The art here is clearly minimalist. The earthy, neutral tones and simple designs don't command lots of attention. However, even maximalists (or those somewhere in-between the two) may enjoy the style. As The Design Tourist explains, a large part of maximalism is bringing together lots of different elements into one space. This is also sometimes called eclectic style. Therefore, when creating a gallery wall in a maximalist space, these neutral canvases would fit perfectly.
Wildflowers surrounded in gold
For a more colorful and detailed look, you could choose one of Target's $10 gold framed wildflower paintings. These 8 by 10-inch canvases come in a number of colors and designs. One option is an earthy taupe backdrop with whimsical white and yellow blooms. Another features a bolder sky blue background with tall purple, white, and yellow flowers. Finally, you could choose a subtle mint green canvas with swaying lilac lavender stems.
All these pieces are surrounded by an antique-looking gold frame. According to Memory Box, gold frames are not going out of style. In fact, they can make a space look vintage and also timeless. For the maximalist, a gold frame could be used to make an art piece stand out. The minimalist could use the same frame to make a piece look cohesive in a space. Overall, gold and metallic frames look luxurious and chic anywhere they are styled.