The Best Desk For Your Home Office That You Can Buy Online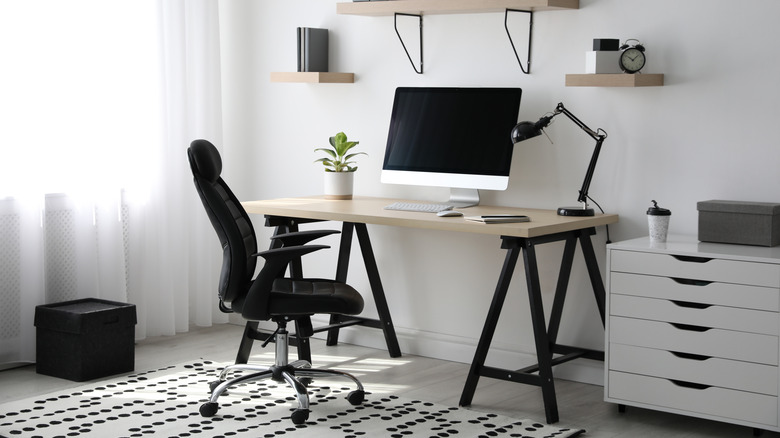 New Africa/Shutterstock
We may receive a commission on purchases made from links.
Home offices require a lot of space and necessities to function efficiently. A desk, computer, and a private room are just some of the long list of things needed. Additionally, each item or area serves its own purpose within the office. Obviously, the room is where everything is located and is a place of privacy. A chair provides a comfortable place to sit while working. A desk is the place where a person works and is where most of the other office items are located. Furthermore, it may be the most necessary piece of furniture in a home office.
According to CDW, a desk is important as it helps to increase productivity while you work from home. It needs to be functional and convenient to the person using it. For some, this means it needs to include certain aspects such as shelves or drawers. For others, a simple hollowed-out table works just fine. No matter your preference, there are a lot of desks that you buy online and have delivered to you. Online retailers such as Amazon have a ton of options to choose from, so you can pick the one that's right for you. If you're in need of a new working station, here is the best desk that you can buy online.
TOPSKY's computer desk
One of the best desks you can buy for your home office is TOPSKY's computer desk. First made available in 2017, as per its listing on Amazon, the desk costs around $170, depending on the color you desire. The standard rustic brown color is just under $170, while the espresso gray comes in at almost $180. A third and much more simple option is an oak brown color that costs close to $162. The frame of this desk is a solid black metal design, while the top itself consists of the color you choose. There is also a shelf underneath that's half the size of the top.
For those that have a computer or laptop and not much else, this is the perfect desk for you. There are no drawers, and the shelf underneath has just enough room for other office supplies. It's almost 30 inches tall and just over 55 inches wide, making it perfect for big rooms and small. To add to its convenience, it also includes a hole on the top along with a cover so you can run down any cords with ease. You will have to assemble this desk yourself, although all the tools needed are included in the packaging. It has a rating of 4.8 out of 5 stars and has been rated over 4,200 times.
A more spacious option
While most of the world is now digitized and pen and paper are needed much less, some may opt to continue using these supplies along with others. If this is something you do or you're still in need, then Bush's computer desk may be right for you. According to its listing on Amazon, it costs almost $600 and includes a lot of storage space.
For starters, the desk is in an L-shape allowing for two separate desktop areas. One side of the desk has a hutch on top that has various-sized shelves and a storage compartment with a lip that flips open. Underneath the same side of it is another small shelf with a larger vertical compartment and door. The other side has an open top along with another shelf and two drawers underneath. Like many modern desks, this one includes four USB ports for convenience.
Additionally, this desk comes in nine different colors, with most of them being natural and wooden tones. Of course, with all of these storage compartments, this desk is large in size as it is over 66 inches tall and almost 60 inches wide. Therefore, a large office is most definitely recommended; however, if desired, it could potentially work in a smaller setting as well. Out of 5 stars, this desk has a 4.4 rating, with it being rated over 1,600 times.