Which Furniture Store Has The Cheapest Coffee Tables?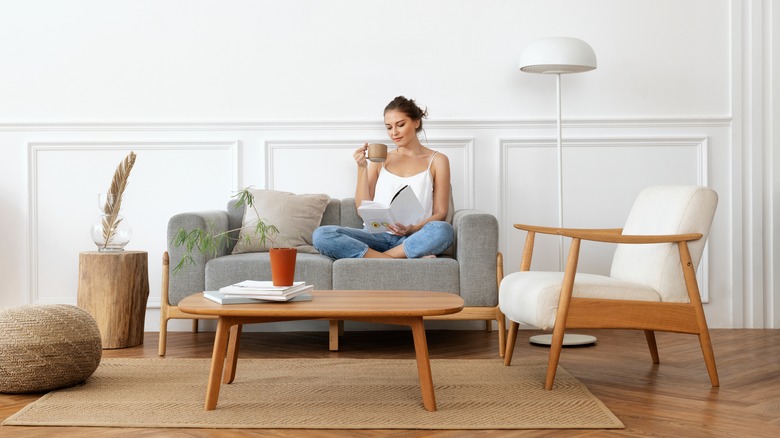 Rawpixel.com/Shutterstock
We may receive a commission on purchases made from links.
An estimated 40 million people move from one home to another in the U.S. every year between April and September, per MovingLabor. This is when 80% of moves occur, and the end of the month is quickly approaching. If you're moving or are currently settling into your new home, finding affordable furniture is key. Oftentimes, we must throw furniture out or create a whole new design scheme when we move, especially if the size and shape of our new residence is completely different than our old one. If your design process starts with the living area, there are a few ticket items you'll want to find at the best price.
A coffee table is definitely a major requirement for a living area, as it's dependable for both design and functionality. The average cost of a coffee table is between $200 and $400, according to La-Z-Boy. If you're in need of multiple furniture items, these costs can add up quickly. To save you from a major financial headache, we'll show you where to go to find coffee tables at the most affordable prices.
Shockingly low prices
There's a long list of stores where you can browse for coffee tables, and they all vary greatly in price and quality. It can get complicated to keep track of if you're shopping in-person. Luckily, online retailer Amazon may be where you can find the best prices, according to Run to Radiance. There's a good chance you'll find a style you love at at below average prices you can easily afford.
For instance, the Furinno Modern Simplistic Coffee Table shown above retails for just under $44. It offers a simple design great for those who are aiming for that rustic or farmhouse aesthetic. This table also comes in two different colors, espresso and French oak gray. The gray model costs even less than the espresso and will work well within many color schemes. The Furinno table is sized at about 43-inches wide, 16-inches high, and 20-inches deep. Amazon showcases other more stylish and adorable options, such as the Hexagonal Multifunctional Coffee Table. Just like the name suggests, it comes in a hexagon shape and provides open storage for items such as books or decor. This interesting piece comes in a walnut color for only $80.