Designer Justina Blakeney's Best Tips For Turning Your Backyard Into An Outdoor Oasis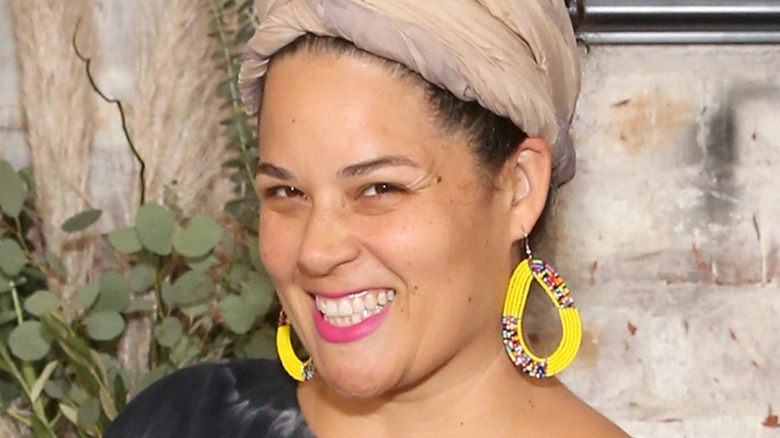 Jesse Grant/Getty Images
If you can't unwind in your own backyard, then we think it's about time for you to give that space a much needed makeover. Your backyard should be a sacred place for daily activities and hobbies, such as gardening, grilling, or sipping your morning coffee while you listen to the birds and get your scroll on. What better way to catch up on the latest House Digest news, right?
Although the temperatures are dropping, we still have plenty of time to relax in our yards and breathe in the crisp, autumn air. Redesigning a space can be a pain, and coming up with ideas may be the hardest part, but lucky for us, designer Justina Blakeney has already done all the thinking for us, as reported by Sunset.
Blakeney is not only a designer and the founder of the Jungalow home decor brand, she's also a blogger and the New York Times best selling author of "The New Bohemians." As an expert in her craft, she understands the importance of style in addition to function. That's why we're hopeful her tips will push you towards the stress-free and beautiful backyard you've been longing for.
An adaptable design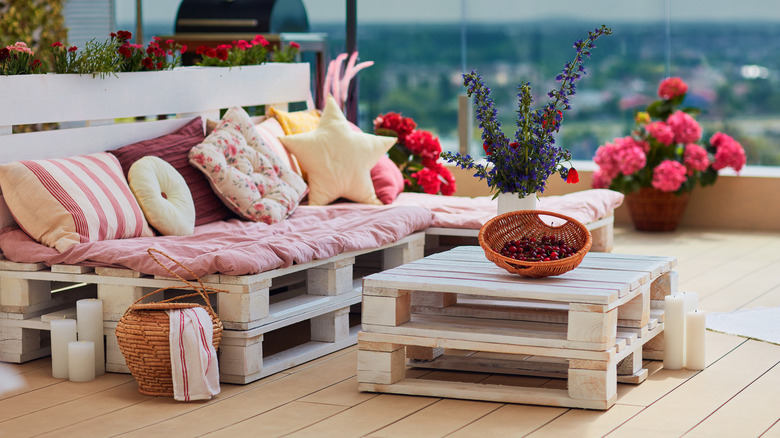 Olesia Bilkei/Shutterstock
If you want your backyard to be an oasis, then your outdoor furniture and decor should be just as easy-going as the vibe you're trying to create. "We move around this lightweight sectional all the time to create different arrangements for entertaining, naps, or dinners alfresco," Blakeney revealed to Sunset. So, just like the design expert, you'll want your furniture pieces to have multiple purposes for different activities. For example, HGTV suggests an outdoor bench with storage to provide seating as well as the ability to keep your space organized. Then, in the moments when you don't need extra seating, move it so you can put your feet up after a long day.
Blakeney also advises choosing decor that can be complemented by anything. "I like to pick neutral pieces so that I can switch things up with textiles and accents from season to season," she noted. You can do this with white and black decor for a neutral, modern design, or with brown wicker furniture, which can be nicely complemented with greens and blues, recommends lifestyle blogger Jane at Home.
Soft and inviting
PhotoMavenStock/Shutterstock
In order to create a relaxing environment, every step you take should feel not only welcoming, but also soothing. In order for Justina Blakeney's backyard to be comfortable enough for daily yoga and her daughter's playtime, she decided to layer her area rugs for additional softness, and as a way to combine complementary patterns, per Sunset. This design tactic can brighten up your backyard and emphasize beautiful decor pieces, according to Decoraid.
Another way to make your backyard more inviting is by creating a flow between the inside of your home and outside. Blakeney did this by installing French doors that lead from her bedroom out to her back patio. Other stylish options for your consideration include dutch doors for a rustic look or folding doors, as seen above, for something more modern. Even installing a standard door painted a beautiful and enticing color can work if it pairs well with the design scheme of your backyard, advises Schlage.