What Is The Best Outdoor Furniture Material? - Exclusive Survey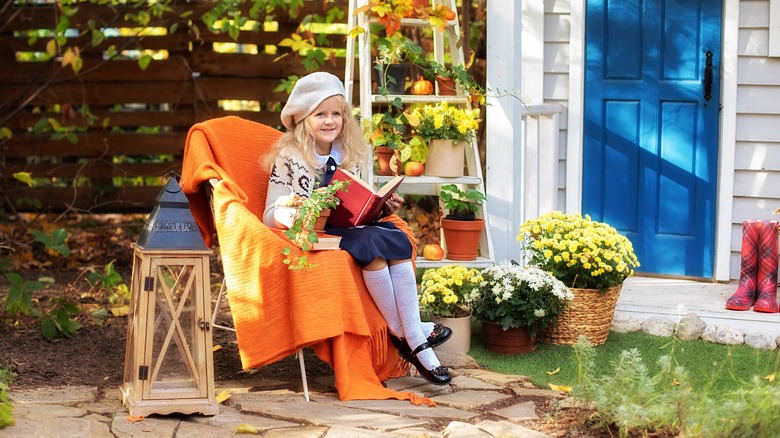 stock_studio/Shutterstock
In order to enjoy your pumpkin spice latte outdoors this autumn season, you'll have to make sure your furniture can hold up against the changing weather. The temperatures are dropping, and there is more moisture in the air, so House Digest conducted a survey asking participants their favorite material for outdoor furniture. We gave them six options: aluminum, all-weather or resin wicker, plastic, rattan, teak, and wrought iron.
If you purchase outdoor furniture made of a weak material, it may be prone to damage from the sun, water, and temperature changing, according to Outdoor Space Accents. The UV rays alone are enough to fade the color of your furniture, as well as disintegrate the materials holding it together. So, instead of purchasing new seating and tables for your patio each year, why not choose something that will last? We'll show you the most favorite outdoor materials of the six choices and explain why they may have been chosen.
Resistant to the natural elements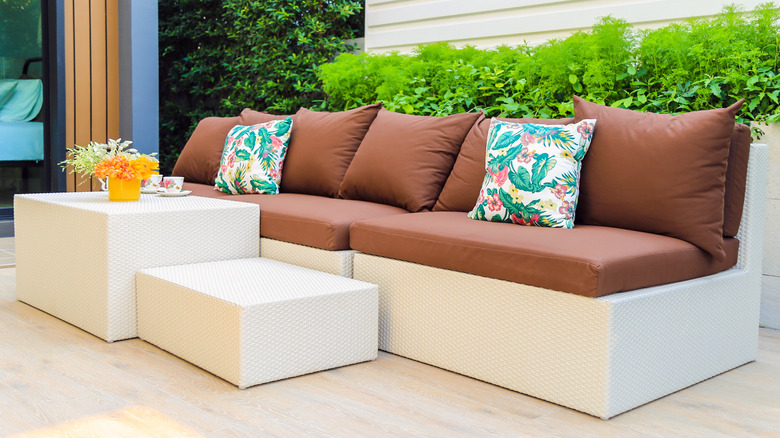 ET Tisomboon/Shutterstock
Out of the 627 respondents, 40.67% (255 people) chose all-weather or resin wicker as their favorite outdoor furniture material, according to our survey. Resin wicker, also known as all-weather wicker, is very durable and typically lasts longer than furniture made of vinyl or plastic, per Paddy O'Furniture. The resin that all-weather wicker furniture contains is derived from plants, and its hardening abilities make it impervious to a variety of natural elements, per Summer House.
This type of furniture material is also resistant to rust and moisture. The frame of the furniture is usually made of aluminum and steel, which can prevent rust, even if it's been left outside for an extended period of time. The resin material on wicker furniture will also prevent moisture absorption, as the water will typically turn into small beads and drip off. Due to these different characteristics, furniture made of this material usually will not mold or mildew when left outside. Lastly, this material can resist sun damage and maintain its beautiful shape and color.
Pretty and durable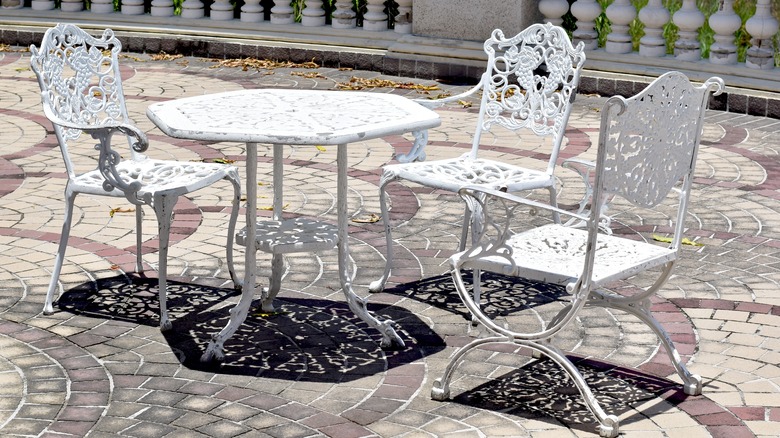 Takaeshiro/Shutterstock
Out of the 627 respondents, 18.50% (116 people) chose wrought iron as their favorite outdoor furniture material, according to our survey. Today's Patio says this type of material is known to be very durable and is very hard to break. It is resistant to different weather patterns and is capable of lasting for years, which can become a great investment. Although it may seem like a material that is dark and cold, you can warm it up by introducing seat cushions, which will also give it a comfier appearance. Now and again, you will probably have to refresh its paint job to prevent your furniture from rusting. Wrought iron is most prone to rusting during seasons when it is raining or snowing, per Central Restaurant Products.
The following are the other choices listed from the most to the least amount of votes: aluminum with 92 votes (14.67%), plastic with 63 votes (10.05%), teak with 57 votes (9.09%), and rattan with 44 votes (7.02%).