15 Mid-Century Fireplace Ideas To Heat Up Your Space In Style
BondRocketImages/Shutterstock
As the temperatures drop, the idea of bundling up by a warm fire while carefully sipping a cup of hot chocolate becomes more appealing. However, we don't want an old and rusty fireplace but a stylish one to accommodate the aesthetics of our home décor. There are many styles to choose from, but we advise taking a look at fireplaces with mid-century characteristics. HomeServe says built-in and freestanding are the two types of mid-century fireplaces seen in most homes. Built-ins are typically installed into the wall surrounded by either brick or stone. Additionally, the freestanding version is usually set up with a slender chimney and arched opening.
We have found a few examples of how mid-century fireplaces have been able to enhance the overall visual appeal of a residence, so if you live in a state where winter lasts about half the year, we suggest perusing through the different ways you can cozy up your home with this popular design aesthetic.
1. Create a sleek design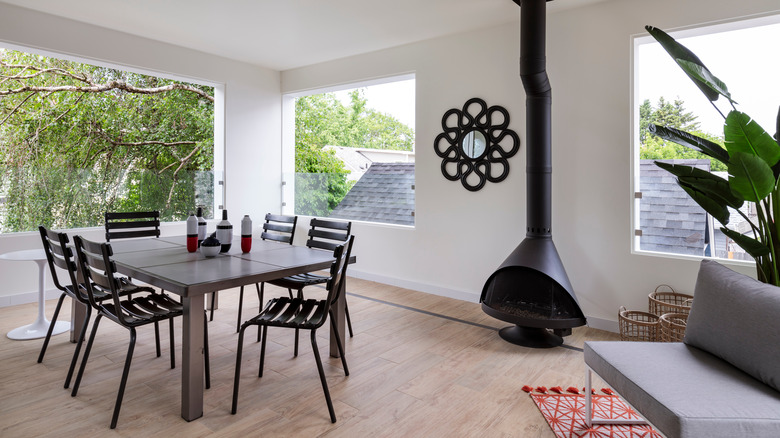 David Papazian/Shutterstock
This black fireplace is simple but unique due to the skinny chimney attached to the ceiling. It has a curved shape, which is a characteristic of mid-century décor, and the black color makes it a focal point in the room.
2. Add a touch of charm
ppa/Shutterstock
This built-in fireplace seems as though it was designed with a porcelain tile that mimics the look of real stone — which would be a much more affordable option. To add a bit of charm and a sense of nature, there are also wood logs placed off to the side.
3. Go big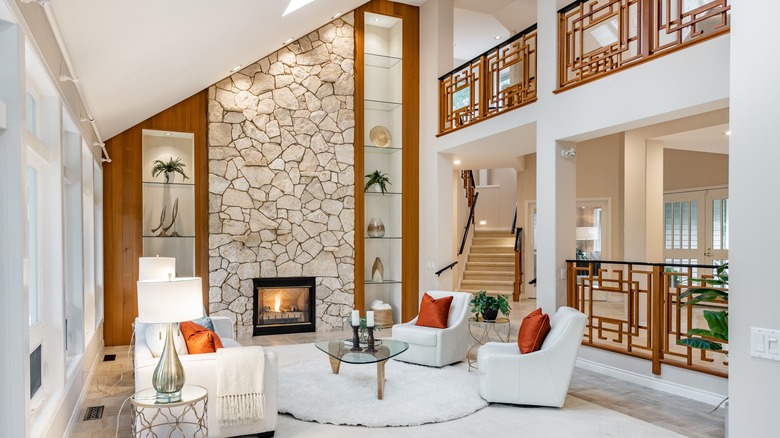 Sheila Say/Shutterstock
It's true; bigger is sometimes better. This fireplace was installed with large stones that travel vertically toward the ceiling. This, mixed with the wood paneling on the wall, creates a stunning mid-century design.
4. A substitute for stone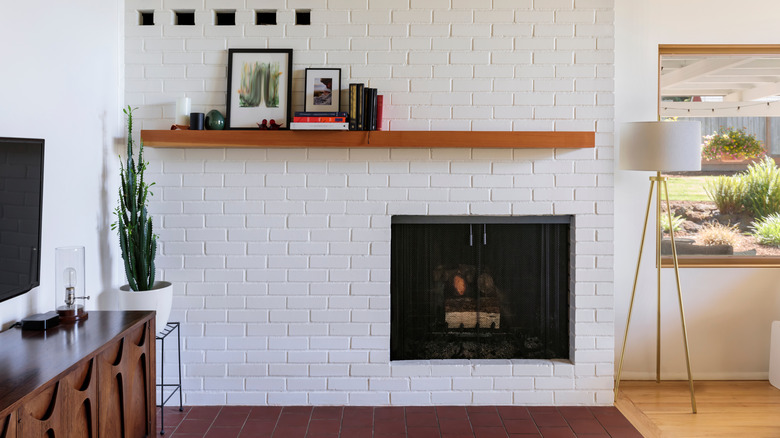 David Papazian/Shutterstock
If a stone fireplace is out of reach due to budget constraints, we suggest installing bricks instead. Although you won't get the same pattern, you will still be able to introduce texture into your space.
5. Balance out the shapes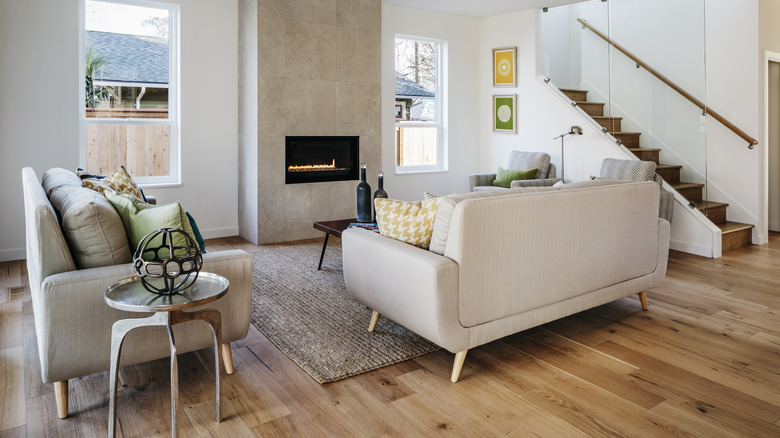 David Papazian/Shutterstock
Mid-century design is all about incorporating different types of shapes and lines. The seating here is curved, as well as the side table. The fireplace is created with straight lines in order to contrast the other forms and introduce something new.
6. Pair it with artwork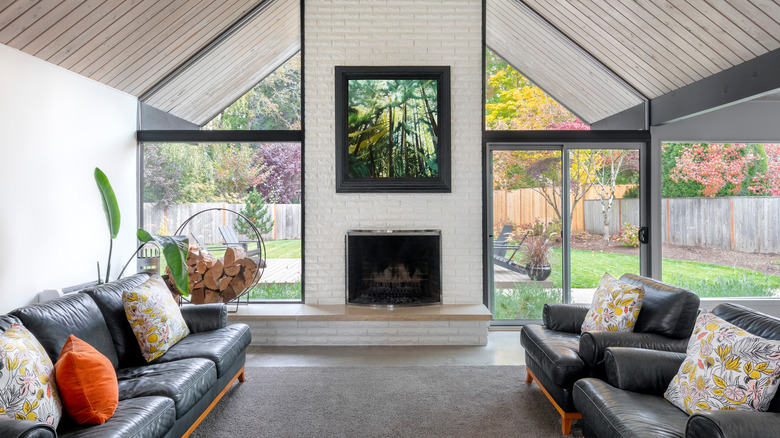 David Papazian/Shutterstock
If you build a tile fireplace in your living area, we suggest hanging art in the available space. Nature is a characteristic of mid-century design, so choosing something that relates will create a harmonious visual.
7. Think about different shapes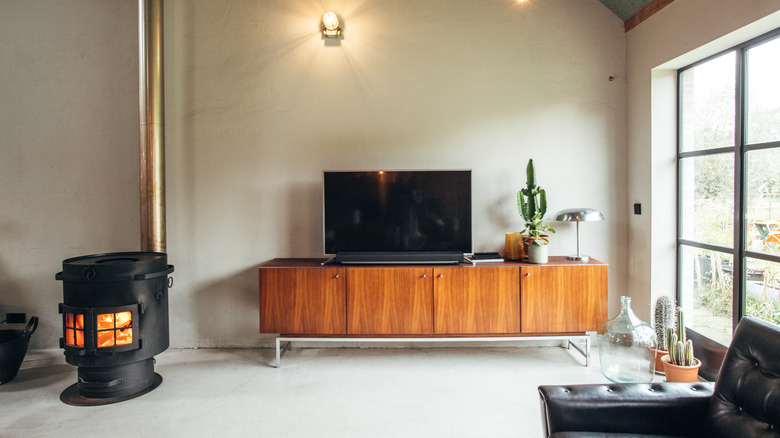 Hugo Goudswaard/Shutterstock
Chimney fireplaces come in different shapes and sizes to choose from. This cylinder-shaped option helps balance out the shapes and angles of the room.
8. Combine materials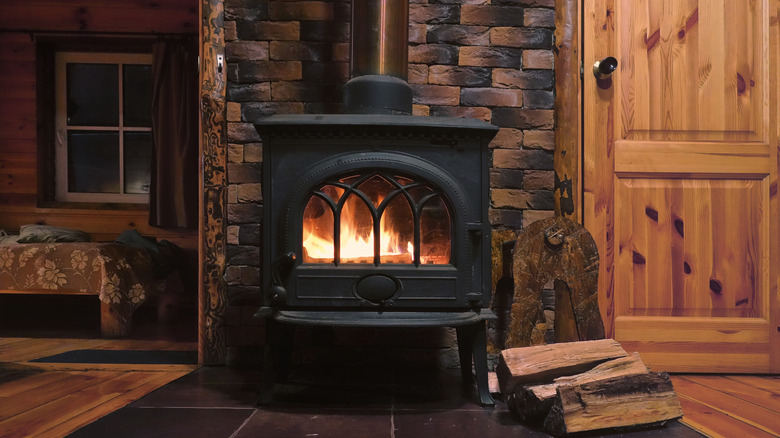 Anatoliy Eremin/Shutterstock
If you're having trouble deciding between a metal chimney fireplace or a brick fireplace, why not combine them both? Here, the metal fireplace has a beautiful brick backdrop, and the colors add a touch of warmth to the design.
9. Add a new color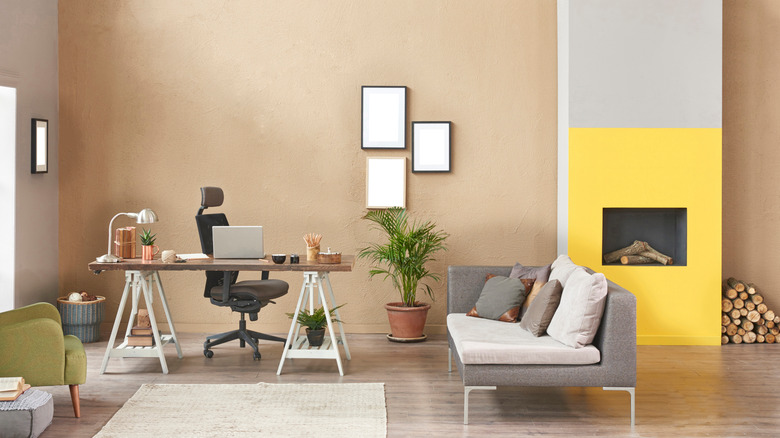 united photo studio/Shutterstock
The thing about mid-century design is that it is not afraid of color. If you're finding that most of your décor is made up of neutrals, then painting your fireplace a fun hue can brighten up the entire space.
10. Small but powerful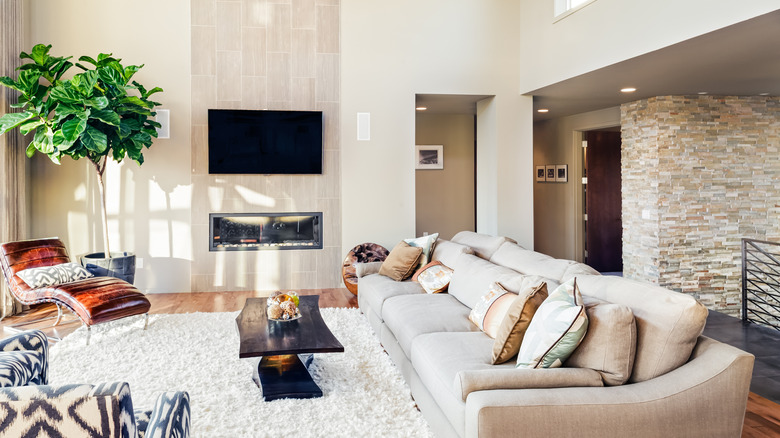 Justin_Krug/Shutterstock
Your fireplace doesn't have to be large to also be impactful. In this design, they've laid down porcelain tile vertically to create a feeling of height in the living room, and this also makes the TV and fireplace's horizontal shapes stand out. Once you set the fire on, it'll create the exact mid-century look you're hoping for.
11. Introduce distressed stones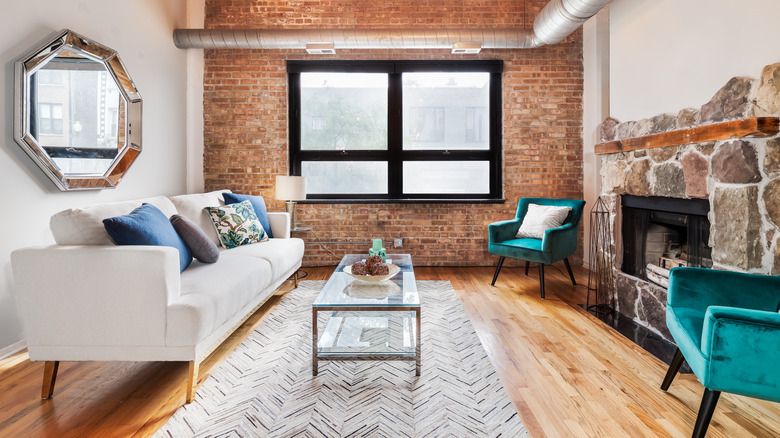 Hendrickson Photography/Shutterstock
If your living area décor is already a combination of glass and soft textures, we suggest installing a mid-century fireplace with distressed stone. The rugged material will create enough texture to balance out the soft aesthetic of the space.
12. Think inside the box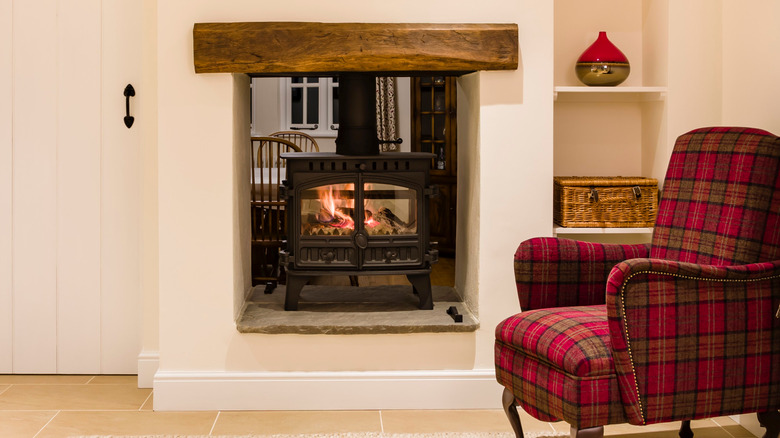 Paul Maguire/Shutterstock
You can create the look of a built-in fireplace by constructing an insert. This will create a designated space for the freestanding chimney instead of having it out in the open.
13. Create layers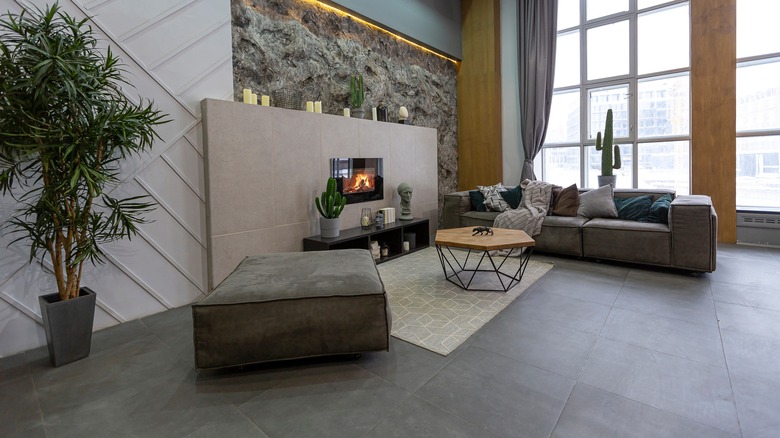 Pinkystock/Shutterstock
If you want your fireplace to be a major focal point in a room, we suggest creating layers behind it. This way, you have multiple different textures that will keep pulling the eye toward this spot.
14. Make it a camping experience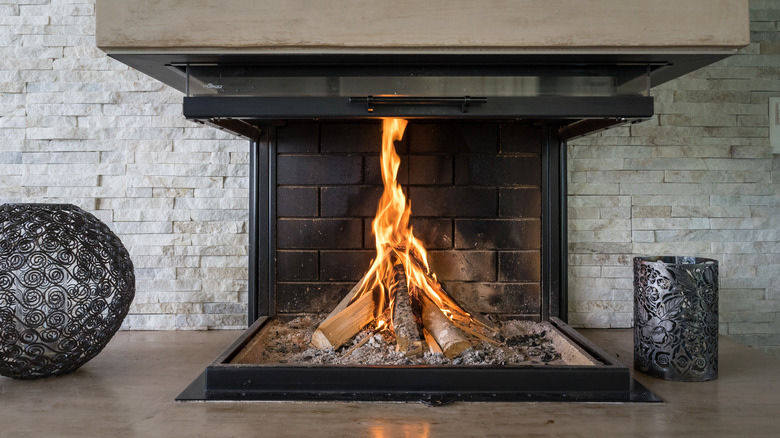 Marvin Minder/Shutterstock
Since mid-century modern is all about incorporating nature, we think this design best does that. It looks as though you're enjoying a fire right outside! The stone wall behind adds brightness to the design, while the wood material that wraps around the chimney brings in an organic feel.
15. Dual purpose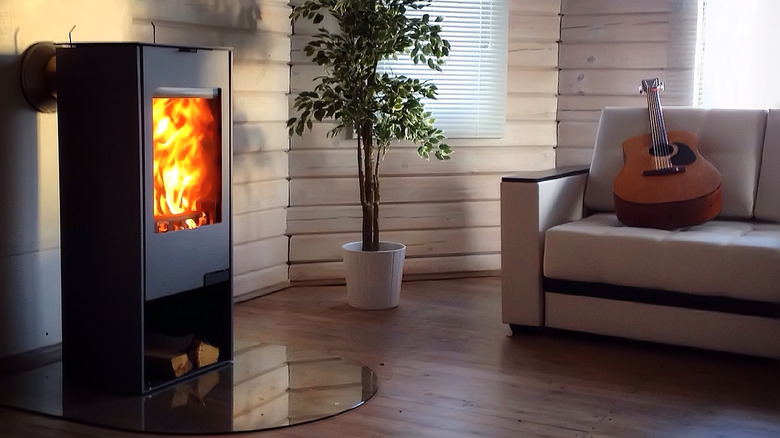 Larich/Shutterstock
Storage is your best friend if you live in a home with limited square footage. So, choosing a fireplace that both warms up your space and holds firewood will prove to come in handy.