Home Depot Or Lowe's: Which Has Better Deals On Gutters?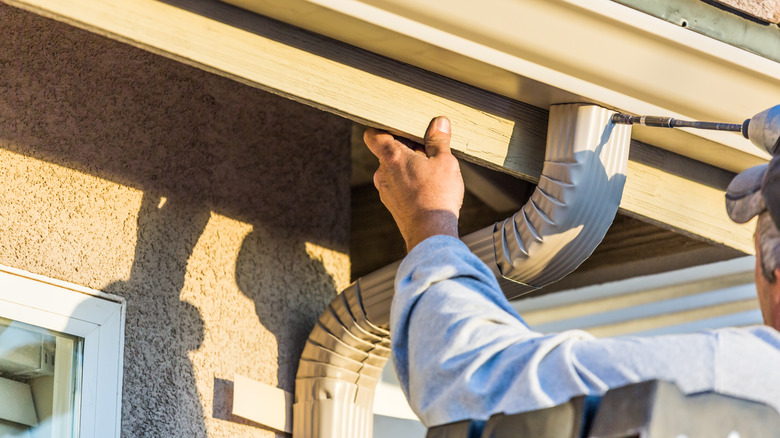 Andy Dean Photography/Shutterstock
Having high-quality gutters installed on your home offers many benefits, according to Slavin Home Improvement. Rainwater runoff can cause problems like soil erosion around the perimeter of your house, basement flooding, and foundation damage. With gutters in place, your siding is protected from stains and mold.
There are a few tale-tell signs that it is time to replace your gutters. Although Thompson Creek states they can last from 20 to 50 years with proper maintenance, you may want to update them with a newer style to improve your curb appeal, or there may be structural issues that require replacement. Large cracks and paint peeling anywhere around your gutters are signs they are failing to work efficiently, according to Hansons. So, if it is time to replace your gutters or if you just need to add some to protect the value of your home, Home Depot and Lowe's has afordable options for you.
Amerimax K Style Gutter
The Amerimax K Style Aluminum Gutter is 5-inch wide by 10-foot long and is available for $12.98 at both Lowe's and Home Depot. While there may not be many options from which to choose, this gutter is highly rated on both sites and comes in a variety of colors to match your home's facade. Silver Leaf Contracting states that installing your own gutters is a relatively easy task with the right tools. 
Overall, reviewers on both sites were happy with this product which has a 4.4-star average at Lowe's and a 4-star average at Home Depot. Since this product is made to be used as a DIY project, the 10-foot lengths must be connected, which some reviewers noted does not offer the seamless look of a professional installation. Although several reviewers noted that this is clearly a budget-friendly option, with the right installation and tools, it is difficult to tell the difference from a distance. A common complaint among buyers is that they felt the accessories required to install the product themselves did not fit well. Still, most people agreed that for the price, this is a good way to help protect their home from rain damage.