How To Choose The Right Type Of Gutters For Your Home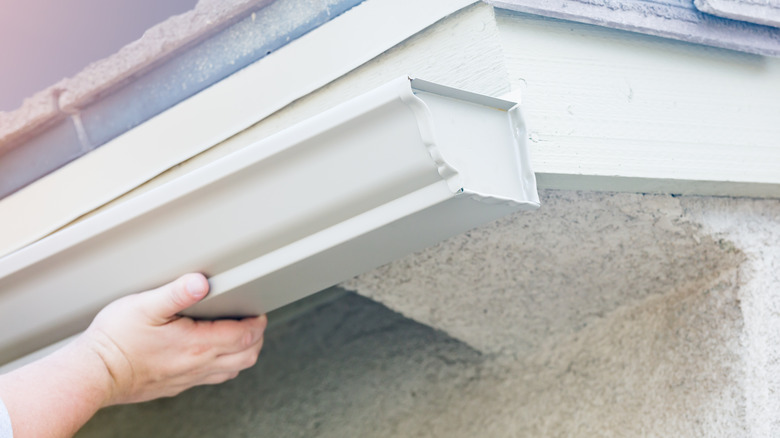 Andy Dean Photography/Shutterstock
It's time to replace those old gutters that are falling off your home and no longer working as they should. Little did you know there were so many options available, and now you're unsure where to start. There are various components to gutter systems, but your first priority should be to purchase a quality product.
Gutters are an essential component of the roof system because they help move the rainwater away from the roofing structure, reducing mold and rotting risk, and potentially extending its lifespan. Additionally, the system keeps water from reaching the siding or foundation of the property, also protecting those areas from moisture risks, according to GutterMaid. It's worth investing in a high-quality, professionally installed gutter system to minimize these potential challenges. Yet, it is also worth spending a few minutes considering the options available to you when it comes to these important roofing elements. Here are some things to consider when choosing gutters.
Focus on materials first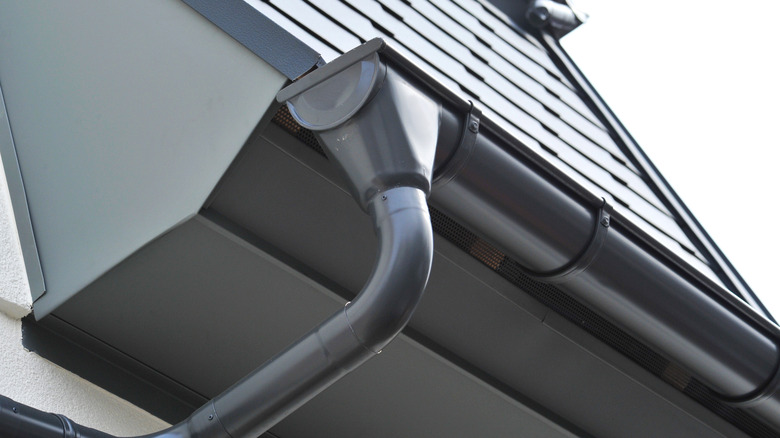 klikkipetra/Shutterstock
The biggest differentiator in gutter types is the material itself. Vinyl gutters are some of the most affordable options, according to Forbes, and they tend to be aesthetically pleasing because they are available in a wide range of colors. You may be able to install them yourself if you're a handy DIYer. However, they have limitations; for example, they are not ideal in areas where extreme weather is common. Also, if they have seams, they may not be as reliable long-term.
Aluminum gutters are lightweight, still competitively priced, and available in numerous colors, but they offer more durability. However, they carry some risk of corrosion over time. Galvanized steel gutters are more expensive but far more durable in difficult climates, lasting longer than other types of gutters. They are not as versatile in color and style, though.
Zinc gutters are a fourth material option, offering excellent long-term lifespans and a beautiful patina that develops over time, adding beauty to the home. They're also rather easy to maintain but typically require professional installation and cost a sizable amount more. A final option is copper gutters, which can last as long as 100 years, don't rust, and develop a patina. Again, their biggest drawbacks are high cost and professional installation and maintenance requirements.
Other factors to keep in mind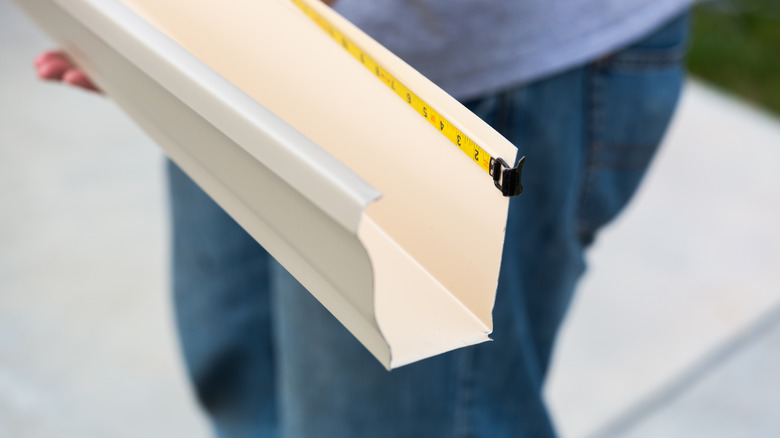 Andy Dean Photography/Shutterstock
Before you decide on gutters based on material, there are other factors to consider. Gutter Helmet recommends ensuring the style, size, and type all meet local building codes and regulations, including for your city and HOA. Also, consider not just the style that suits your budget but also how the color and material fit the look of your home. Curb appeal matters with gutters, too.
It's also a good idea to focus on seamless options rather than sectional components when possible. Seamless products are stronger and limit the risk of weak points in the system, which can create risks for the gutters falling out of place in heavy snow or rain. Finally, be sure to speak to your professional about installing gutter protection, which helps keep leaves and materials out of them, holding them free-flowing and limiting maintenance. Installing this with new gutters could save you time and money later.