15 Simple Ways To Bring The Cottagecore Aesthetic Into Your Bathroom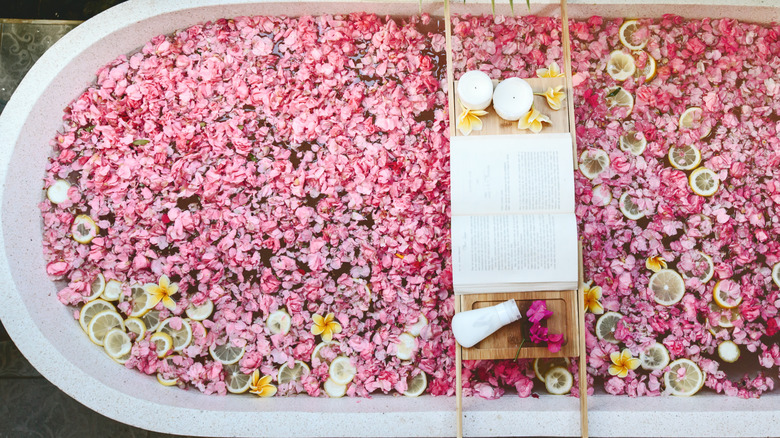 Alena Ozerova/Shutterstock
Cottagecore style, marked by its emphasis on nature, rural living, and the past, has been at the forefront of popular social media trends, personal style, and interior decor discussions for the past several years. Arising in places like Tumblr and TikTok from trends among younger generations, cottagecore, according to The Vou,  delves into an idealized version of rural life that filters through fashion and decor. Think rustic materials, soothing neutrals, and lots and lots of plants. 
Cottagecore places an emphasis on simple, rusticated living, complete with vintage touches and important considerations of sustainability. It's an aesthetic rooted in nature, from materials and decor motifs to the abundance of greenery and floral designs found in most cottagecore interiors. If you are looking to infuse some cottagecore style into your bathroom space, there are a number of key elements and considerations –materials, fixtures, vintage materials, etc. — that will quickly transform any bathroom into a relaxing, nostalgic, and rural-inspired oasis.
1. Light and bright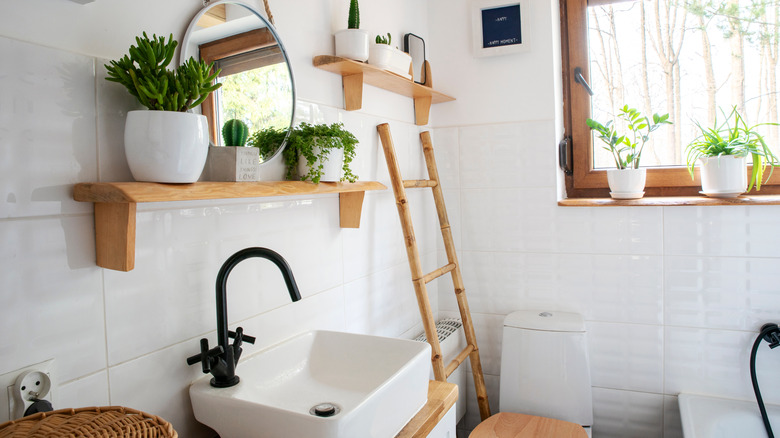 liloon/Shutterstock
Cottagecore spaces love the sun and natural light, so they are typically light and airy, bringing as much of the outdoors in as possible. The wooden accents like a ladder towel rack and toilet seat cover in this bathroom are a lovely contrast against clean, white tiles and other natural accents.
2. A luxurious bathtub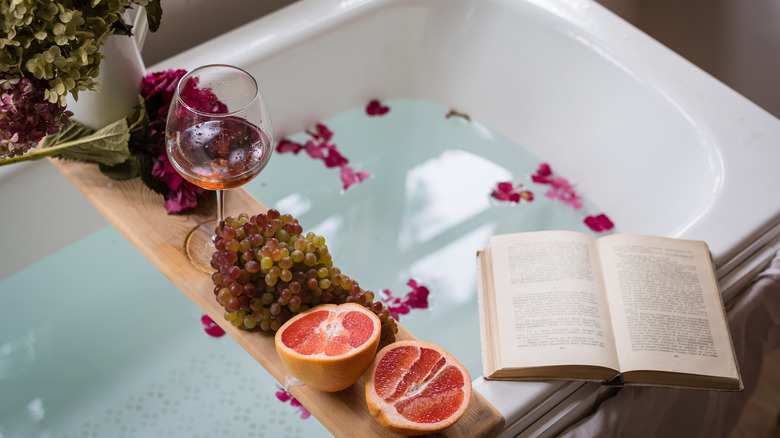 Katia Seniutina/Shutterstock
With its emphasis on slow, countrified living, the bathtub is a centerpiece of the cottagecore style bathroom, and the bigger and more luxurious, the better. While iron and clawfoot tubs are a perfect match for the aesthetic, any tub can receive a little cottagecore magic by making it a center for relaxation with touches like a wooden bath tray. 
3. Natural materials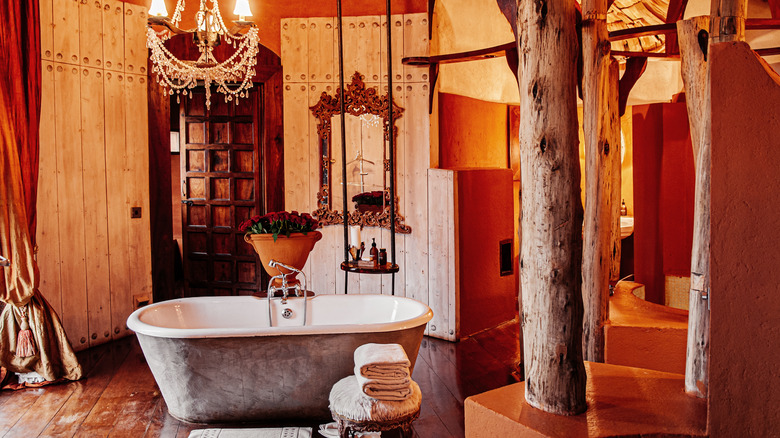 PixHound/Shutterstock
Cottagecore emphasizes natural materials and outdoor living, with interiors boasting touches like plenty of wood, stone, and other materials drawn from nature. This luxe and rustic bathroom combines unfinished wood beans, a stone finish tub, and vintage accessories like mirrors and lighting.
4. Wood paneling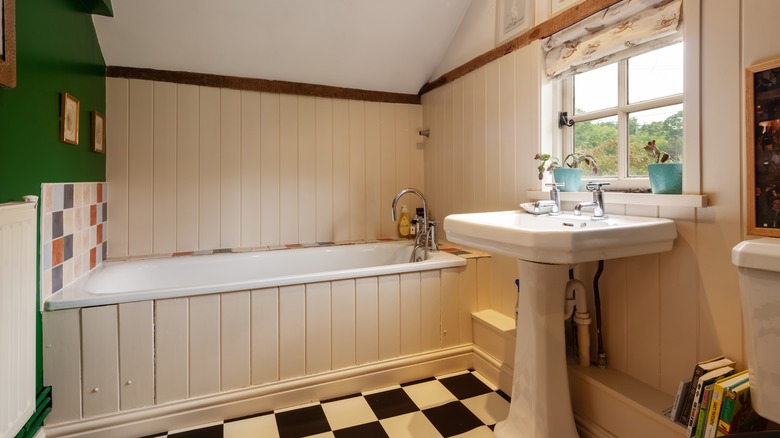 Mike Higginson/Shutterstock
Wood paneling is a way to instantly add a cottage feel to your bathroom. Here, white wainscotting combined with tile forms a charming tub surround with a vintage pedestal sink and checkerboard floor. 
5. Vintage touches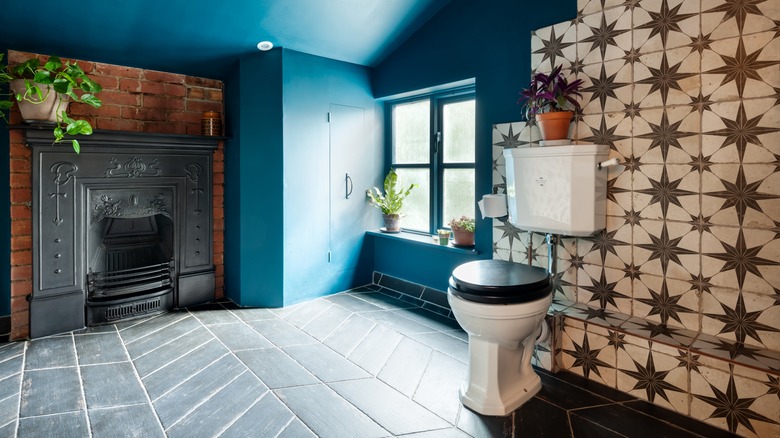 Mike Higginson/Shutterstock
Vintage and old-world styles are key elements of cottagecore. In this nostalgic-inspired bathroom, vintage starburst tiles are combined with herringbone stone floors and an antique fireplace, making a super cozy and dynamic deep blue bathroom.
6. Baskets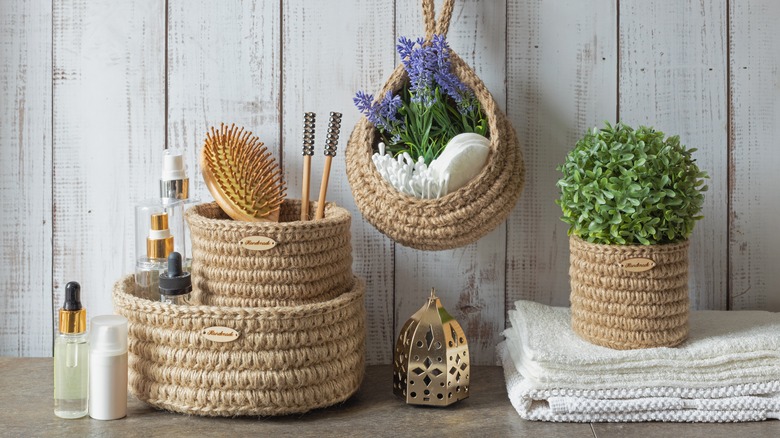 Leka Sergeeva/Shutterstock
Baskets are another important cottage core element, used in everything from toting produce and garden yields to storage. If you are looking for a beautiful and functional way to stash bathroom necessities, you can choose a variety of woven baskets. 
7. Farmhouse style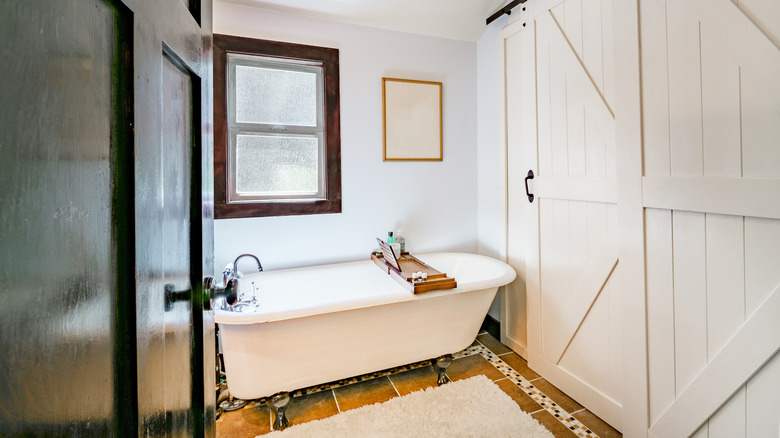 Sheila Say/Shutterstock
With an emphasis on rustic elements, cottagecore shares a lot of qualities with other design trends like farmhouse and flea market styles. Here, wooden barn doors fit perfectly into the style, in addition to a beautiful clawfoot vintage-style tub and terracotta tiles.
8. Vintage wooden vanity
Justin_Krug/Shutterstock
Vintage wooden vanities are a perfect addition to cottagecore style, giving an old-world feel along with much-needed storage beneath. Here, farmhouse-style sinks are embedded in wooden vanities and topped with corresponding wood-framed mirrors. 
9. Useful storage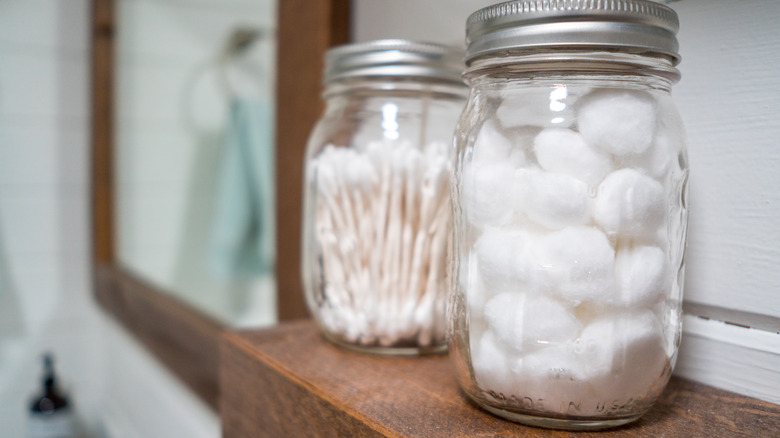 RelentlessImages/Shutterstock
Cottagecore's emphasis on simple living includes the use of functional everyday objects like these mason jars for bathroom storage. They are perfect for small bathroom necessities and give a vintage flair to the style of the room.
10. Rustic materials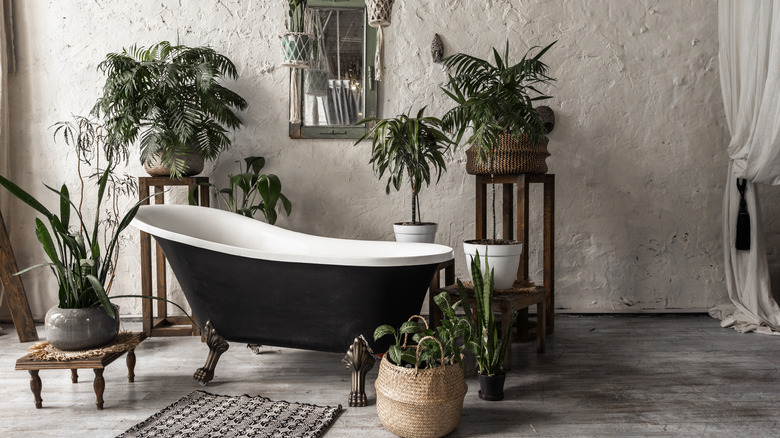 brizmaker/Shutterstock
Cottagecore rooms typically include a mix of rustic materials. In this antique-inspired bathroom, a cast iron tub is paired with a texture stone wall, abundant greenery, baskets, woven fabrics, and wooden floors to create a beautifully rich space for the eye. 
11. Pattern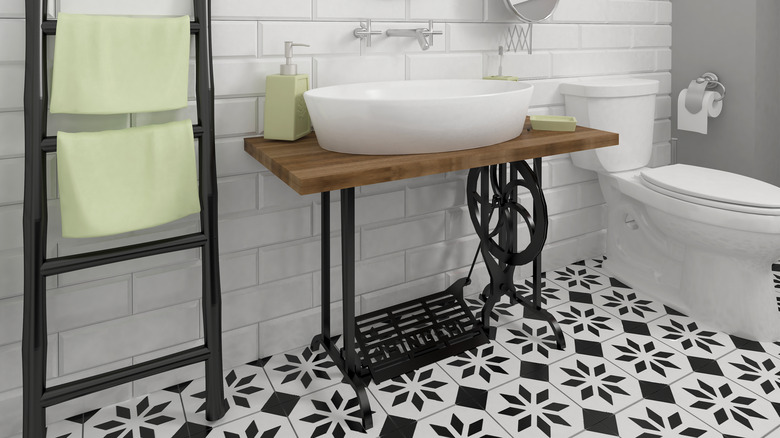 Zuzulicea/Getty Images
Patterns are a great way to bring some extra visual interest to cottagecore spaces. Here, vintage-inspired floral tiles form a gorgeous backdrop to otherwise simple pieces. 
12. Plants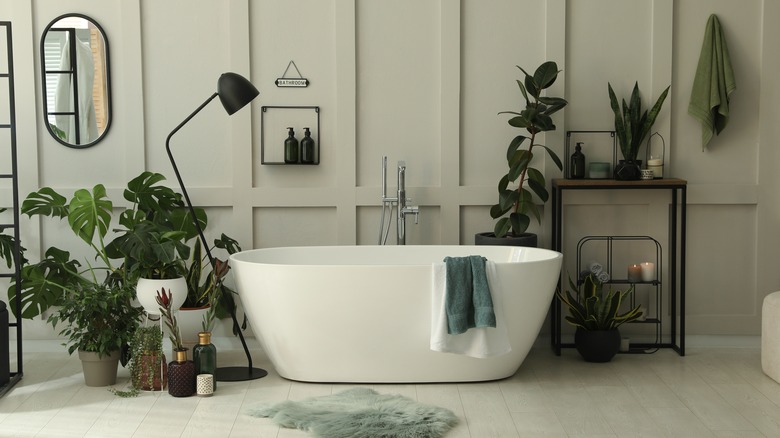 New Africa/Shutterstock
In the interest of bringing the outdoors in, cottagecore-inspired rooms feature plenty of plants and greenery. The rustic room above combines loads of plants with a sleek, modern tub and simple black accents.
13. Neutrals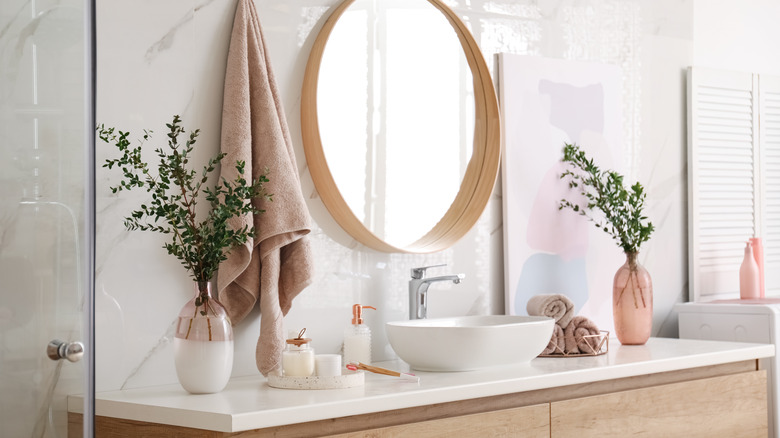 New Africa/Shutterstock
With their emphasis on natural materials, many cottagecore-style bathrooms opt for a mostly neutral palette. Here, pale wood, tan linens, and amber glass form a simple and relaxing vanity space with touches of nature. 
14. Soft, muted colors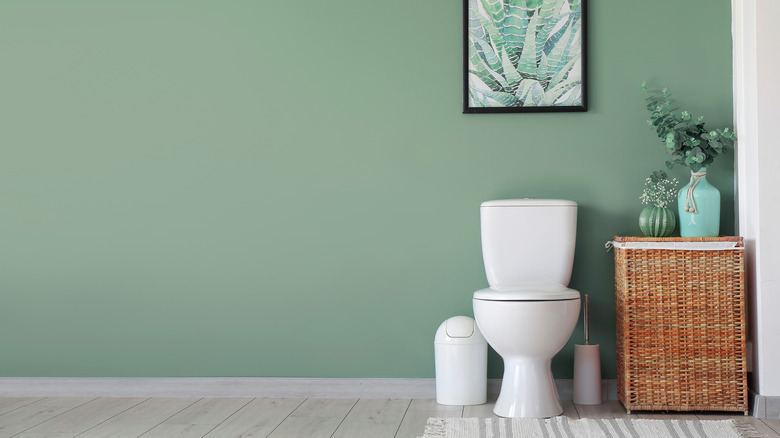 Pixel-Shot/Shutterstock
Other great color options for cottagecore spaces include pastels and soft-nature-inspired shades like pale green and yellow. This soft-green wall complements bright white fixtures and a wicker hamper.
15. Old and new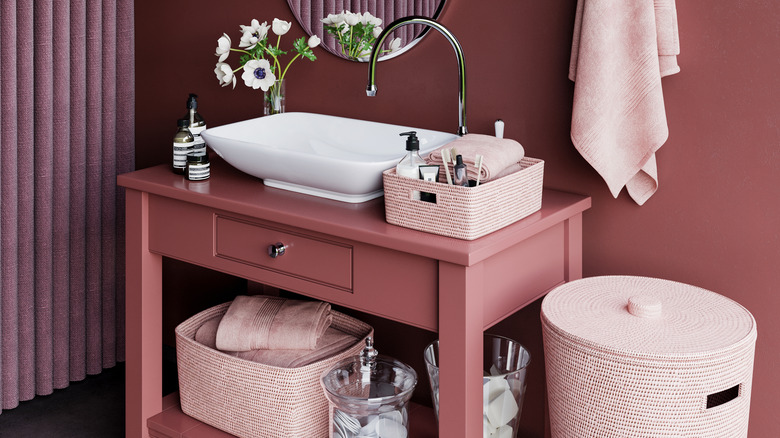 Miljan Andjelkovic/Shutterstock
A great way to create a cottagecore feel is to mix old and new elements. In this pink bathroom, a sleek, modern sink is seated atop a vintage wooden vanity painted in a muted shade. The soft, dusty rose color makes it feminine and nature-inspired with woven accents and flowers.