15 Colors To Decorate With For A Cottagecore Aesthetic
If you're on the internet, odds are you have heard of or come across the "cottagecore" aesthetic. But what exactly is cottagecore? As the name suggests, it is a stylistic approach of both clothing and decor that centers around the elements common to idyllic cottage living. More specifically, according to The Vou, it focuses on rural, farmlike lifestyle aspects, including a focus on simple, technology-free life, animals, gardening, flowers, nature, local and homemade food, and more.
The aesthetic first started circulating on platforms such as Instagram, Tumblr, and TikTok in 2017, reaching pique popularity in 2019. In terms of clothing, there is an emphasis on natural and organic fabrics (linens, cotton, wools), floral prints, loose fits, and flowy silhouettes.
In terms of decor, there is also a focus on organic, natural materials, such as warm-toned woods, clays, terracottas, and stone. There is also a focus on life — live plants, flower gardens, fresh-cut flowers, etc. Delicate floral patterns are also popular. In terms of colors, there is a range of approaches. Some prefer a more rustic, neutral beige palette, some prefer more pastel-centric decor, and some like bold colors, both bright and dark. There are many color options for those wanting to decorate in a cottagecore aesthetic — keep reading for examples, ideas, and inspiration.
1. Bold color mixing
While cottagecore is a softer aesthetic, that doesn't mean it can't play around with bold colors. Mix colors that match well but offer contrast — bold mustard with a pale sky blue or a soft sage green.
2. Wood and copper
Cottagecore focuses on organic and natural living, and the materials used should reflect that. Lighter, raw woods, and coppers will pair amazingly together and create a rustic, organic feel.
3. Floral inspirations
Floral patterns are a major part of the stylistic aspects of cottagecore. Opt for daintier patterns, though. Make it stand out by utilizing floral colors (greens, blues, purples, reds, pinks, etc.) to enhance the patterns.
4. Cream and baby blues
For a lighter approach, incorporate lots of rustic, rougher cream tones. Incorporate hints of baby TIffany blue for a soft look. Add fresh-cut flowers for some lively color.
5. Rustic yellow
Yellow is a great color to incorporate in a cottagecore room, bringing up images of bees, honey, dandelions, and wildflowers. Opt for a rougher, rustic shade as opposed to a bright, sunshine yellow for a more authentic farmhouse, cottage sensibility.
6. Pastel pinks
Even the daintiest of patterns can overwhelm when being mixed and matched. Avoid this by sticking to one light pattern with a consistent color, such as the pastel rose pink pictured above.
7. Primary color clutter
Clutter is a popular aspect of cottagecore decorating. However, it should be somewhat intentional and coordinated. For an easy, visually pleasing, but not overwhelming clutter approach, opt for lighter primary colors.
8. Sky blue and natural green
Live plants are a crucial part of the cottagecore aesthetic. Offer a colorful backdrop from vining plants and climbing greenery with sky blue.
9. Avocado green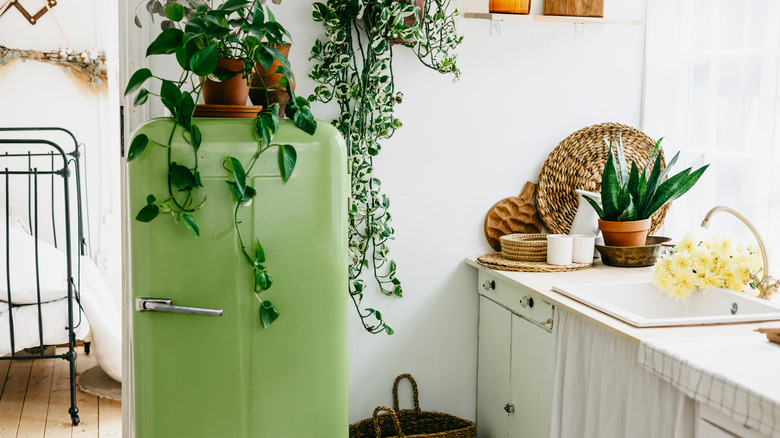 KlavdiyaV/Shutterstock
Green is a very natural, organic color and goes excellently in a cottagecore room. Heavily incorporate it or just add aspects of it throughout.
10. Pastel mix and match
Cottagecore tends to be quite vintage and busy, but it doesn't have to be. For a more streamlined, modern cottagecore look while still having a rustic, organic feel, mix and match natural, pastel shades.
11. Granny chic pink and mahogany
For a more granny chic twist on cottagecore, incorporate lots of rich, warm, mahogany-toned wood, golds and bronzes, and rosy pinks.
12. Baby pink and blue
As stated throughout, baby pink and baby blue are great colors to achieve a cottagecore aesthetic — so why not combine them? Baby blue can be incorporated in furniture, paint, etc., and baby pink in fresh flowers, decorations, and accent pieces.
13. Ivory
White can be a bit of an aggressive, synthetic color when compared to the soft tones of a cottagecore aesthetic. Cream, on the other hand, may be darker than what you prefer. Opt instead for ivory or milk tones, which are softer and have more depth and more of an organic feel.
14. Wood tones and china blue
Another granny chic element that transfers well to cottagcore is blue china patterns. Pair this with heavy, warm woods for a vintage cottage, farmhouse feel.
15. Exposed teal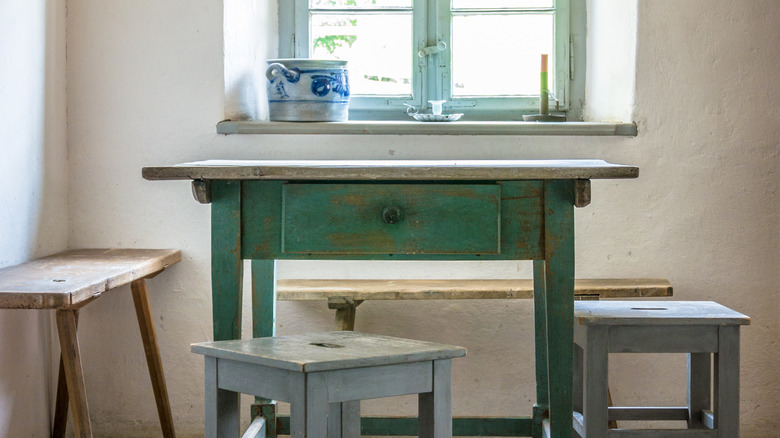 FooTToo/Shutterstock
Exposed paint and wood is a common material in cottagecore decor. Choose a color to paint a table, such as teal, and then rough it up with sanding paper for an exposed, rough and rustic farmhouse look.