25 Modern Kitchens That You'll Want In Your Home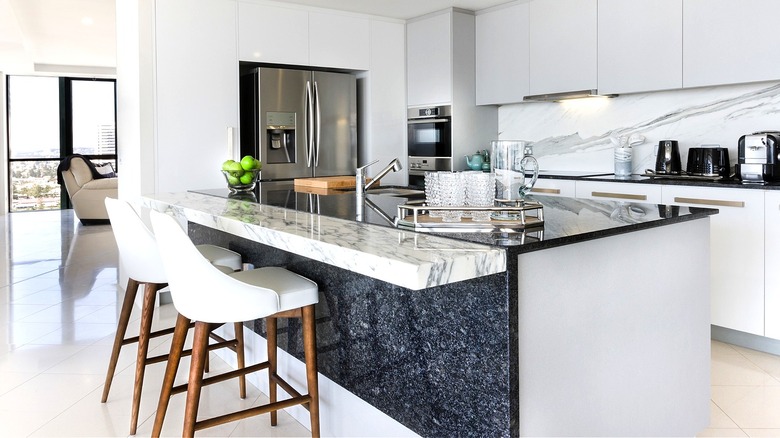 JR-stock/Shutterstock
Modern design is a little hard to define, since it's ever-changing depending on the time period you're referencing. Modern architecture in the '60s and '70s is a lot more futuristic and brutalist than it is now, whereas modern design in the noughties may seem outdated or even tacky by today's standards.
However, there are a few elements that unite modern design throughout different time periods and aesthetics. Clean lines, geometric silhouettes, large windows with lots of natural light, neutral or monotone color palettes, open floor plans, and an emphasis on natural but sleek materials are all typical components of a modern home, per Schumacher Homes. No room can benefit from the influences of modern design quite like your kitchen, though. The sleek lines and sophisticated palette meshes wonderfully in the already quite simple room, and helps remove some design pressure like you may feel when decorating your living room or bedroom. If you want some inspiration for how to incorporate modern design in your kitchen, keep reading.
1. Modern farmhouse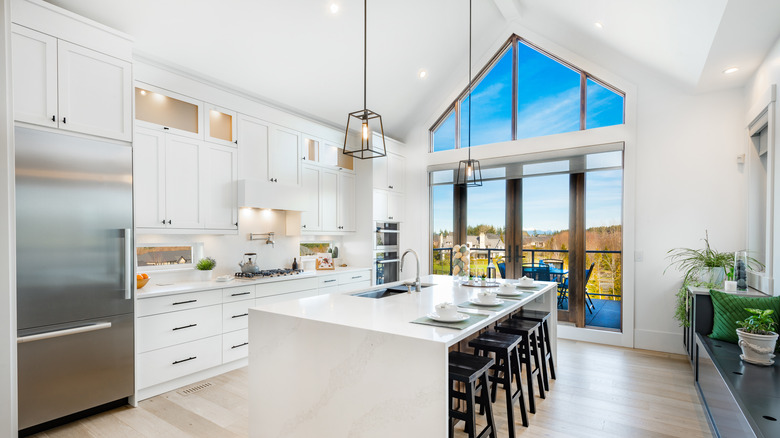 Sheila Say/Shutterstock
Modern doesn't have to be a standalone design choice — it can be combined with other aesthetics. For example, a farmhouse modern kitchen combines the layout and architectural structures of a farmhouse kitchen with the materials and silhouettes of modern design, like marble counters, steel appliances, and a bright white color palette.
2. Rustic modern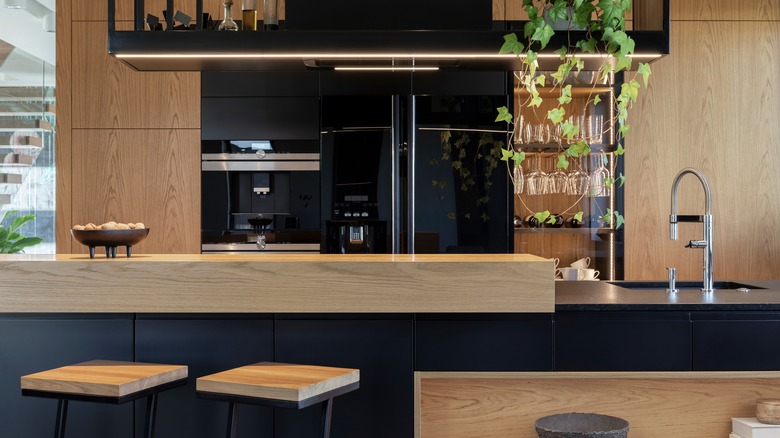 Followtheflow/Shutterstock
Another modern fusion design is rustic modern, which combines the raw textures and bulkier silhouettes of the rustic aesthetic with the flat and neat aspects of modern design. The end result is something very bachelor-esque. 
3. Japandi modern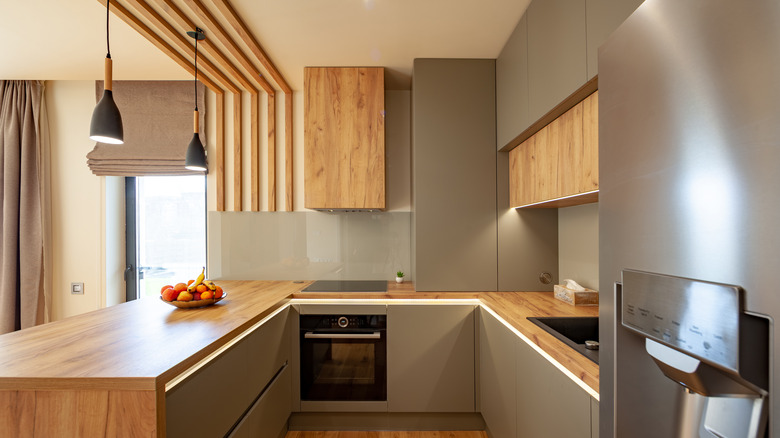 Gabi Moisa/Shutterstock
Japandi is an aesthetic that combines Scandinavian design with modern Japanese décor elements. It involves a lot of warm-toned neutrals and shades of gray, wood tones, steel, and high functionality. This makes it a great option for your kitchen, as it prioritizes ease of use while still being visually appealing. 
4. Lighted cabinets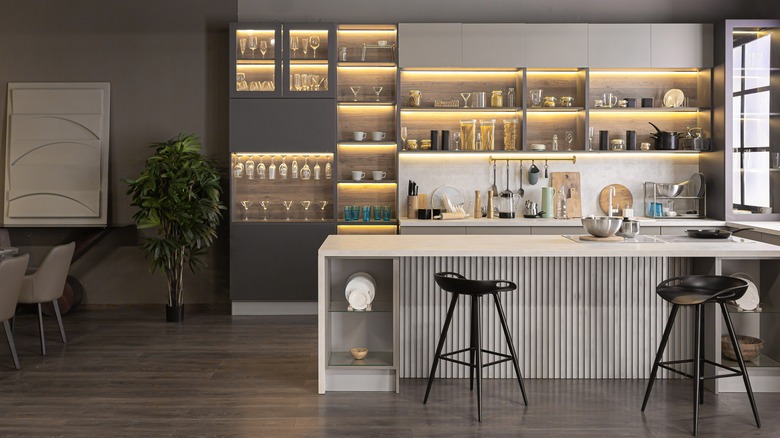 Pinkystock/Shutterstock
Modern kitchens tend to have a lot of unique and functional, but nonetheless luxe, upgrades. One simple way to make your kitchen feel more modern is to add strip LED lights to open shelves. The lights help you see your glasses or dishware better, but also add an undeniably modern element. 
5. Matte black cabinets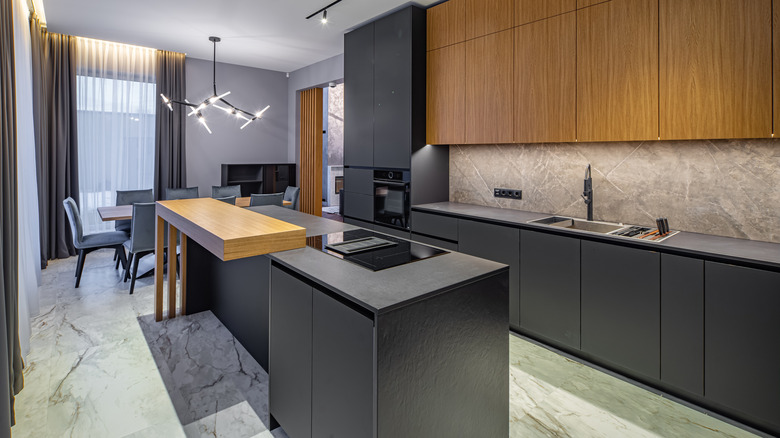 Aleks Kend/Shutterstock
Black on its own is already a starkly modern, if not minimalist, color to add to your kitchen. However, matte black goes the extra step in terms of refinement. Matte black cabinets with matching matte black countertops and sleek black appliances is a great way to incorporate modern design in your kitchen.
6. Stainless steel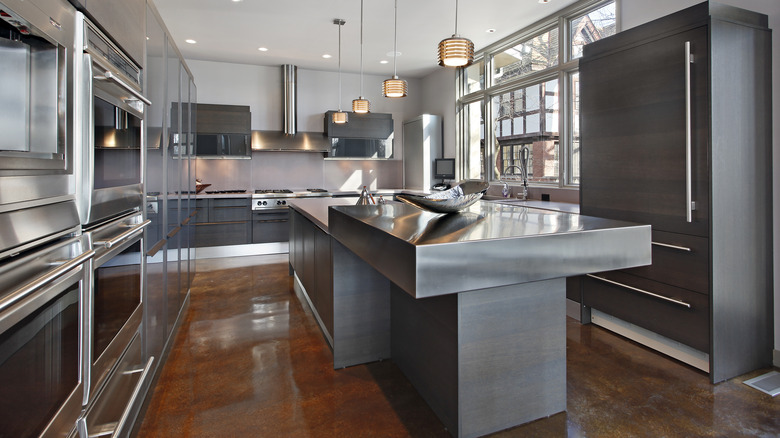 pics721/Shutterstock
In terms of appliance finishes, you can't get any more modern than stainless steel. It's sleek, functional, and clean — all hallmarks of modern design. Take it a step further with a stainless steel range hood, countertops, and hardware.
7. Marble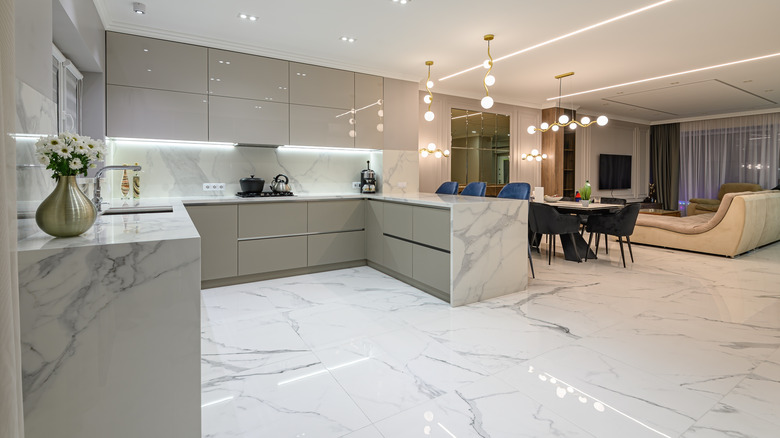 Serghei Starus/Shutterstock
Marble is another classic kitchen material. Not only does it look gorgeous, it is quite functional, and undeniably luxurious. It can merge with a variety of aesthetics, and especially modern design. Choose a low vein marble and pair it with grays or whites.
8. Classic contemporary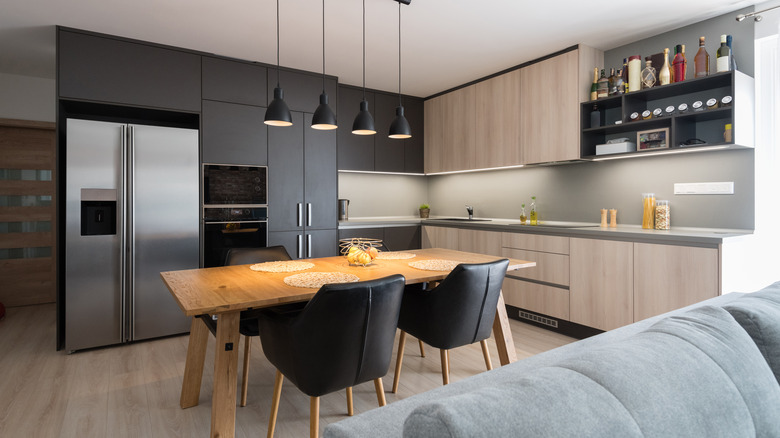 Ventura/Shutterstock
A classic contemporary color combination is black with steel appliances and varied wood shades. Go for warmer wood tones for a retro, mid-century feel, lighter wood tones for a more modern approach, or a blend of the two.
9. Pops of wood
Aspects and Angles/Shutterstock
Don't be afraid to introduce bold pops of wood in your modern kitchen. Keep it simple with a black-and-white base with steel appliances. Then, subtly add in wood accents — a barstool, island base, hood range, etc. — something unexpected and fresh.
10. Small kitchen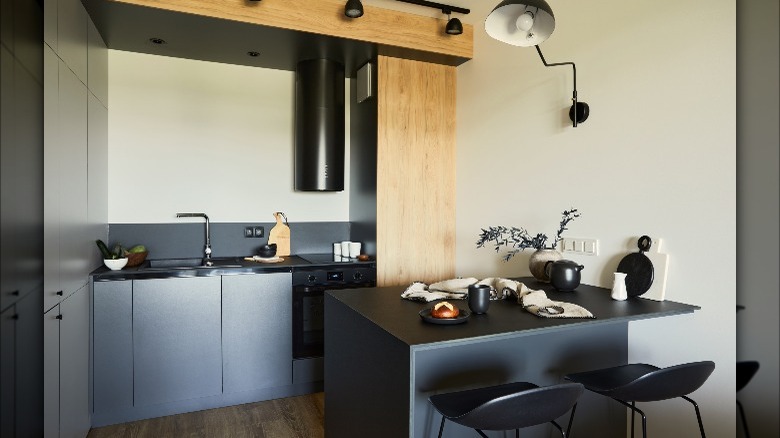 Followtheflow/Shutterstock
When you think of a modern kitchen, odds are it's large and expansive. You can make a small kitchen look just as modern as a large industrial-sized kitchen, though. Keep it simple with matte black counters, cabinets, and appliances, lighter walls, low profiles, and simple, straight sightlines. 
11. Handle-less drawers
A simple way to make any kitchen feel instantly more modern is to remove all the handles, and opt for pull-out drawers instead. It removes a ton of bulkiness from your cabinets, and creates that ideal, modern smooth sightlines.
12. Modern coastal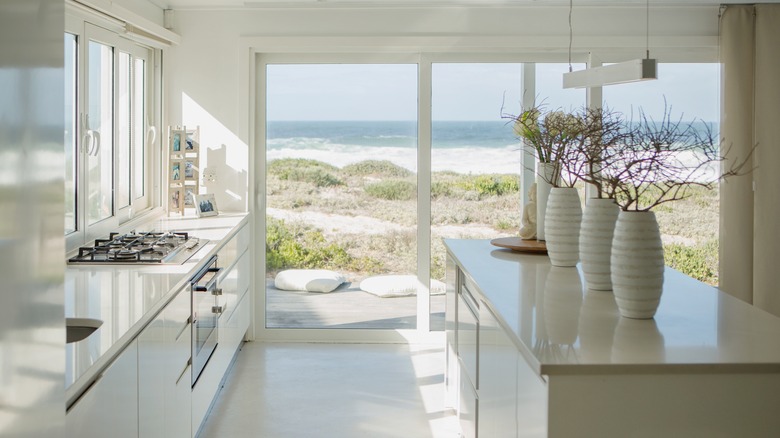 KOTOIMAGES/Shutterstock
While many people associate coastal decor with more rustic, traditional design elements, a modern kitchen looks just as great. Opt for lots of clean white features, like glossy white countertops, handle-less white cabinets, white or light steel appliances, and light floors and walls to carefully combine the coastal aspects with modern elements.
13. Clean lines
Anatoli Igolkin/Shutterstock
They key element of modern design is clean and straight lines, sometimes with some unique geometric flair. It's fine to vary the heights of certain architectural elements, but keep the edges sharp and defined. Length is another strength to play into — use up an entire wall for your kitchen cabinets and appliances.
14. Modern industrial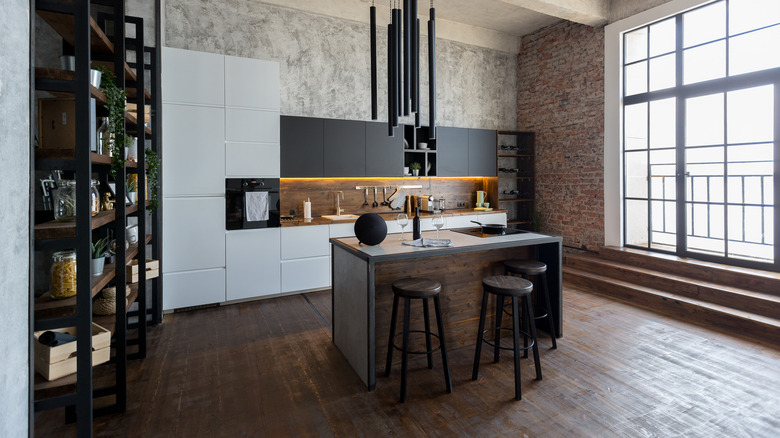 Pinkystock/Shutterstock
The industrial aesthetic is quite modern as is, but there are ways to make it feel even more modern. For example, choose Venetian walls or lighter bricks instead of heavy red brick or stone, and add in lots of black steel features: appliances, cabinets, lights, etc.
15. Tinted glass cabinets
Glass is another great modern material. However, clear or blue tinted glass can look out of place in a more demure, dark kitchen. Instead, opt for darker, brown or amber-tinted glass front cabinets.
16. Light and bright
White is a classic modern color, and is a wonderful shade for your any kitchen. Choose a flatter paper white, avoiding any creamy tones. Pair with a lighter, but slightly gruff and rustic wood to keep it bright and open.
17. Industrial studio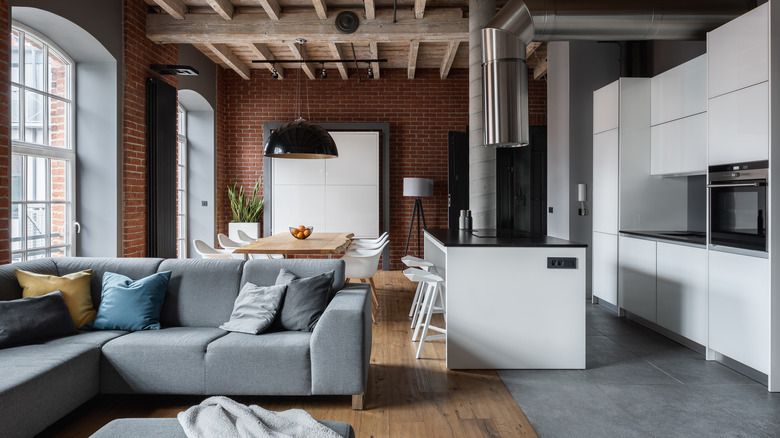 Dariusz Jarzabek/Shutterstock
A great way to keep a small space like a studio from feeling too cramped is to decorate in a modern and/or industrial style. The exposed pipes and beams are a great basis to work off. Keep the kitchen simple with white cabinets, steel appliances, and concrete floors.
18. Metal accents
A more subtle way to incorporate those modern industrial elements in your kitchen is by choosing a metal base for your kitchen island to accentuate your steel appliances. Even better, opt for a concrete countertop.
19. Loft style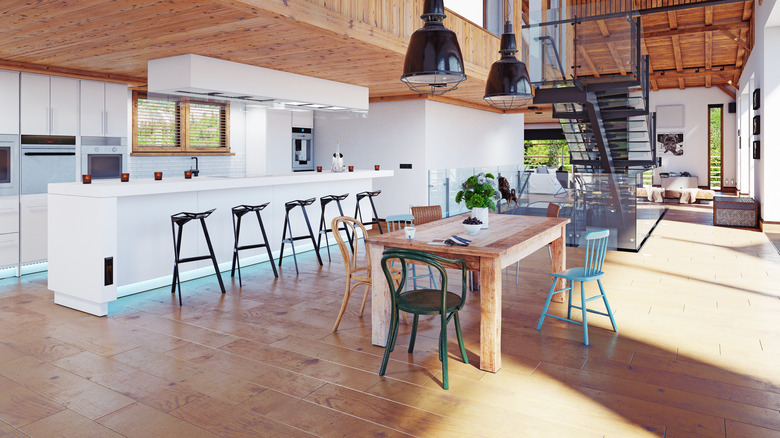 Vicnt/Getty Images
Lofts are an inherently modern architectural choice. Accentuate that with bright white kitchen counters and cabinets and flat modern appliances.
20. Monochrome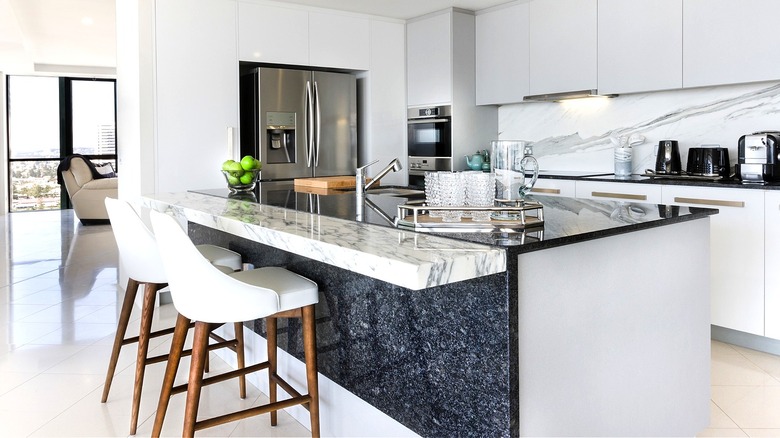 JR-stock/Shutterstock
You can't go wrong with a classic black-and-white, monochromatic color scheme in your kitchen — especially when your end-goal is a modern design. Add in some marble sparingly for texture, and keep the counters and cabinets stark and flat shades of black or white.
21. All black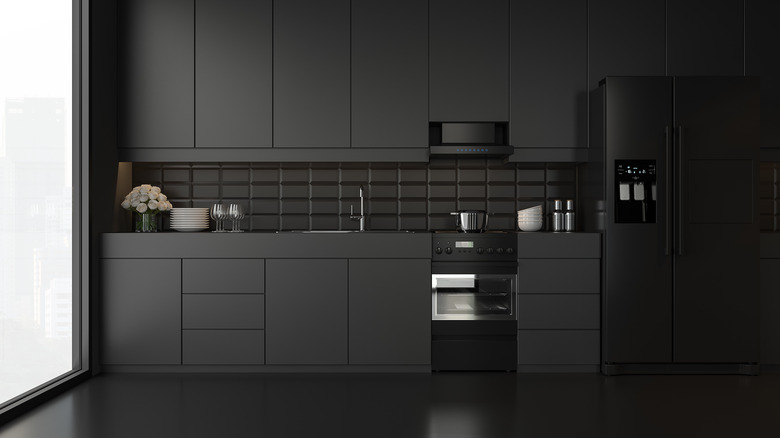 Runna10/Getty Images
If you are a fan of darker color palettes, go all in with an entirely matte black kitchen. Especially when paired with flat cabinets, sharp lines, and sleek appliances, the end result will be incredibly modern.
22. Modern galley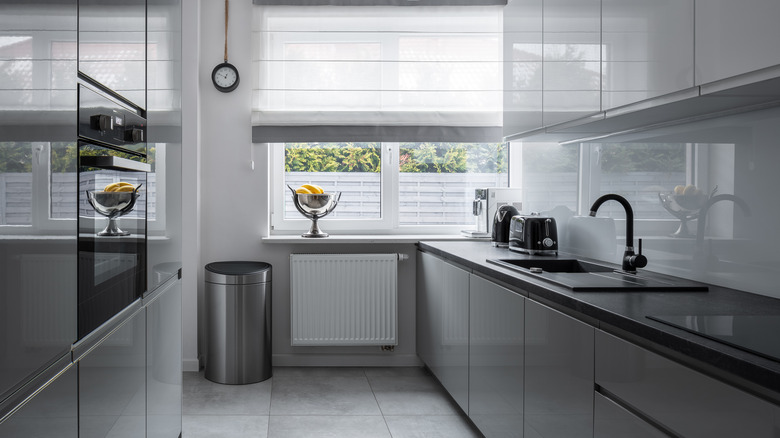 In4mal/Getty Images
Similar to a studio apartment, galley kitchens can very quickly feel cramped and overwhelming. Choose a cool gray and black, modern color palette and design approach to mitigate that confined feeling.
23. Colorful lights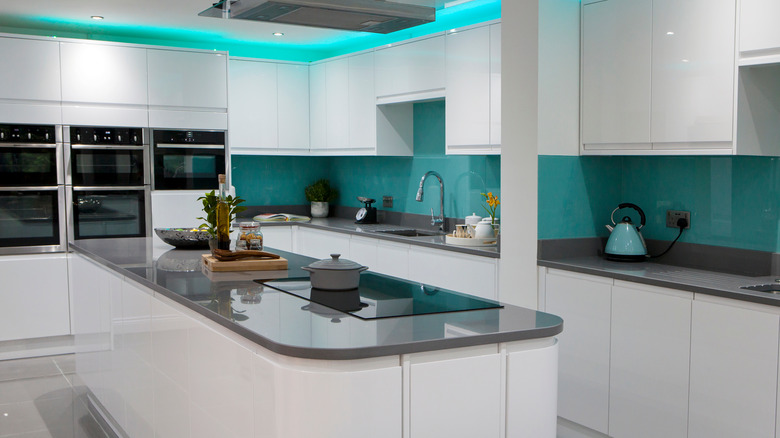 Magdanatka/Shutterstock
While most people approach modern design with a neutral palette, more retro interpretations of modern design are all about bold and bright colors. Combine the old with the new by keeping the base black and white, but adding in some colorful LED lights. 
24. Cool tones
If you want a more subtle inclusion of color in your modern kitchen, start with a very cool-toned base: grays, gray-toned whites, etc. Then, subtly incorporate slate blue shades.
25. Modern luxury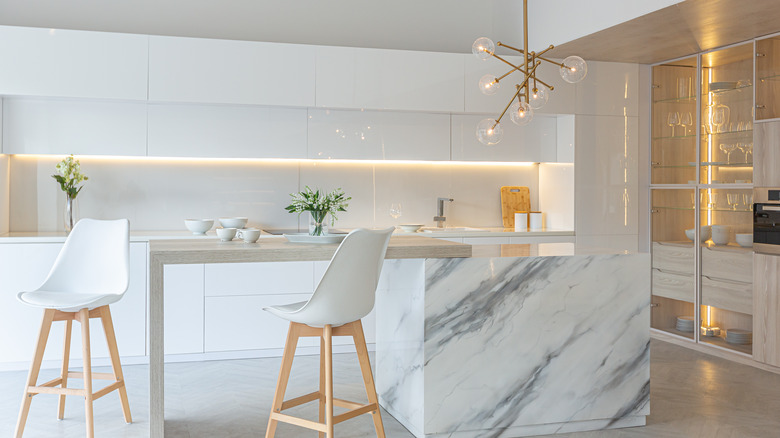 Pinkystock/Shutterstock
Modern doesn't always mean minimalist. Combine elements of modern design like cool tones and flat lines with luxe aspects like marble and gold.