This Tree Topper Trend Is One You Won't Want To Miss This Christmas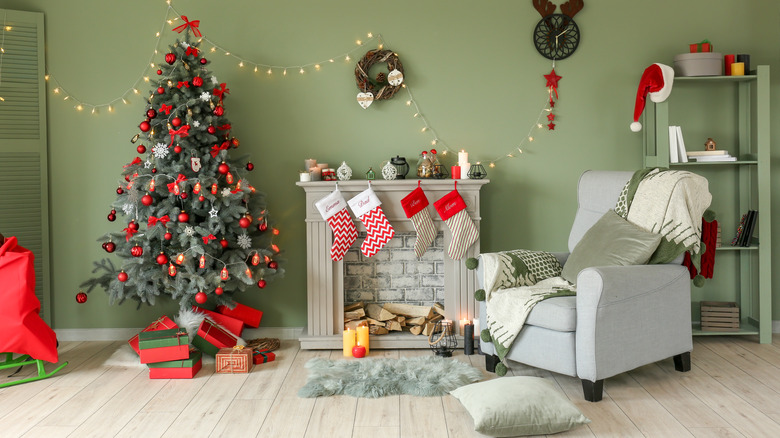 Pixel-Shot/Shutterstock
Decorating a Christmas tree takes a lot of time and effort. In fact, it can be stressful to figure out what color scheme to use, the style of ornaments to hang, how many candy canes to dangle, and which gleaming tree topper to adorn. HOM Living explains picking out a topper should be the first item on your to-do list before buying anything else to create a meaningful theme. There are various choices out there, such as an angel, star, bouquet, or this year's trending topper, a bow.
Star and angel toppers have been traditions for decades since they're both significant Christian symbols in the Nativity of Jesus (via News 8). The Christmas star (Star of Bethlehem) was a guiding light to the wise men on their quest to locate where Jesus was born. Conversely, the angel symbolizes the messenger, telling Mary she would have the baby. While both toppers reflect important history, the bow has made its way to the proverbial top. 
It was a hot trend last year, as bows were on seemingly every Christmas tree in celebrities' homes, catching many people's attention. That's why so many individuals and families are heading to different retailers to find the perfect style for their Christmas tree. This is one trend you won't want to miss. Here's a great way to style Christmas tree bow toppers.
Ways to style the bow tree topper
Styling any topper has to fit with the theme of your tree. If you're looking to hop on the bow trend, find one that matches the ornaments you already own, or purchase some ornaments after buying a bow. There are a variety of colors and patterns to choose from at any retailer, such as Lowe's, HomeGoods, Sears, and more. Or, if you're feeling crafty, DIY a bow and add your own personal touch.
Bows are made of different materials, like ribbon or metal, which can vary in weight. Metal versions are heavier than their ribbon counterparts, so you'll want to secure them tightly on your tree to prevent any from falling off. Balsam Hill suggests securing your tree topper with the surrounding branches, zip ties for heavier toppers, and using pipe cleaners or tape for lightweight toppers, like ribbon bows. Larger single-colored bows are easy to style with any ornaments and will sit easily on top of the tree. They're perfect for mini Christmas trees in small spaces.
For a gold and silver theme, use a sparkly silver bow, like this one, to top off the tree or a bright red and black patterned bow for red and white ornaments. If your tree only has twinkling lights, use a bow with long tails reaching the bottom half of the tree to add more color. Ultimately, your tree will look like a beautifully wrapped present.