The Best Color Palette For A Glam Home Decor Aesthetic
Tatiana Gordievskaia/Shutterstock
Incorporating a glamorous aesthetic in the home can be a great way to create a truly unique and luxurious interior. The glam home decor aesthetic is all about making a bold statement. It brings together luxurious materials, rich colors, and sophisticated details to create an opulent atmosphere that exudes luxury and sophistication. According to Hayneedle, the glam decor style is often associated with the luxury of old Hollywood and can bring that vintage opulence into the modern day. The key is selecting the ideal color palette.
The best color palette for achieving a glam look in your home decor depends on the overall aesthetic you're trying to achieve. Whether you prefer a classic, timeless look or something more contemporary, there are plenty of glamorous shades to choose from. Here are tips on how to create the perfect color palette for your glam home, with advice on neutrals, bright tones, and metallics.
Neutrals, pastels, and brights can all be incorporated into a glam color palette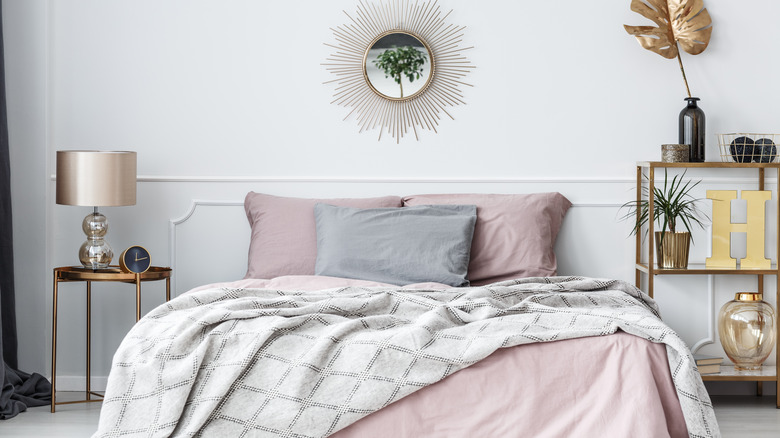 Ground Picture/Shutterstock
A common choice for glam home decor is a neutral color palette featuring white, beige, and other light shades, according to Wayfair. This creates an airy atmosphere, which allows for pops of bright colors in accent pieces such as pillows or throws. If you prefer softer tones, consider incorporating pastel blues and greens or muted purples and pinks into your design scheme. These subtle hues can bring an elegant touch to any room while still providing the "wow" factor of glam decor.
For those who like bolder choices, there are plenty of vibrant colors available as well. Rich jewel tones such as emerald green, ruby red, and sapphire blue are perfect for creating a luxe atmosphere in any space. For an even more dramatic effect, why not try pairing deep purple with hot pink? One popular way to incorporate jewel tones into your decor is through the use of velvet upholstery. Velvet has a luxurious feel that is well-suited for glam home decor aesthetics. A deep dark blue velvet sofa would bring a dramatic flair to any living room while an emerald green velvet armchair could add a touch of elegance to an office space. 
Accent pieces also provide an easy way to introduce jewel tones into your home decor in an unexpected way. You could use a bright yellow side table in your bedroom or hang a large ruby-red wall tapestry in your dining area for added drama.
Metallics make any room shine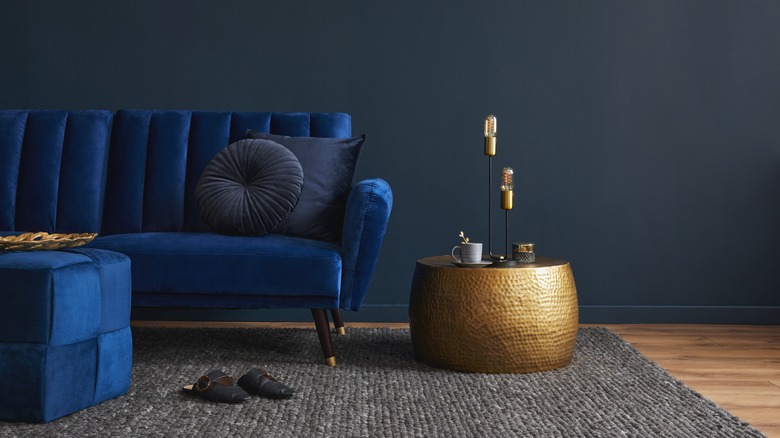 Followtheflow/Shutterstock
If you want to add some sparkle to your glam home decor without overwhelming the space, metallics such as gold and silver can provide just the right amount of shine. Better Homes & Gardens consider metallics to be neutral, so they pair nicely with most other colors on the spectrum — whether it's lighter pastels or darker jewel tones — making them incredibly versatile in terms of design possibilities.
Pair gold with yellows, greens, and soft pinks to create a fresh springtime look or opt for silver alongside cool blues and greens for a modern twist. When incorporating gold tones, consider adding warm elements like brass or bronze, which can bring a softer touch to the room. Silver should be balanced out with cool colors such as steel or aluminum. And if you really want to take things up a notch, why not opt for rose gold? It's one of the trendiest shades around right now and looks especially glamorous when paired with soft neutrals like white or pale pink.
Ultimately, the best color palette for your home decor depends on your personal style and the overall aesthetic you're trying to achieve. Whether you prefer classic neutrals or bold, vibrant hues, there are plenty of glamorous shades to choose from that will help you achieve the luxe look you crave in your home. Try experimenting with different combinations until you find something that expresses your unique aesthetic while still creating an inviting atmosphere that guests will love.