Is Velvet Furniture Going Out Of Style?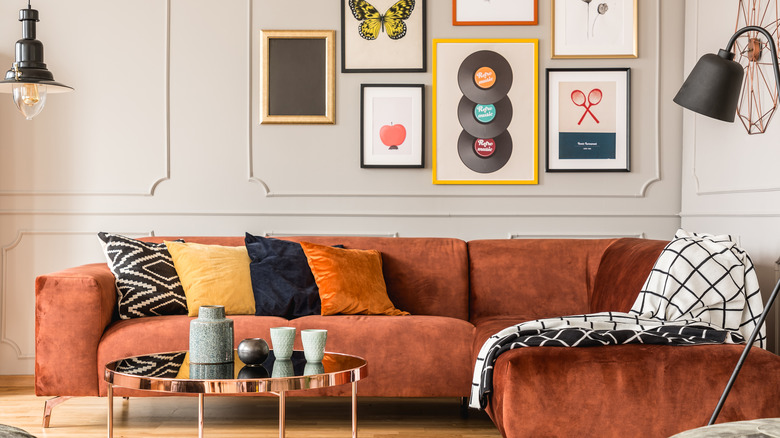 Ground Picture/Shutterstock
It's no secret that Millennials are by far one of the most populated generations that the U.S. has ever seen, and they are taking the design industry by storm. According to Indeed, Millennials are branded as an adaptive, creative, imaginative, and progressive generation. In an era that prioritizes self-expression, velvet furniture is something that remains a design staple for many and adds a much needed flair to a room.
Millennials are targeting innovative design in their everyday lives, especially as the world finds a new normal in the aftermath of the Covid-19 pandemic. Many are spending more time at home as remote work becomes more standardized and at the end of the day, we all want to be in a space that feels candid, charming, and calming.
Statista reported that 88.2% of Millennials intended to buy home furnishings in 2021, topping the other generations surveyed by over 20%. Clearly, Millennials are leading the race on which trends are staying in style as they become one of the most targeted demographics in the home furnishings industry. So, where does velvet stand?
Art deco is back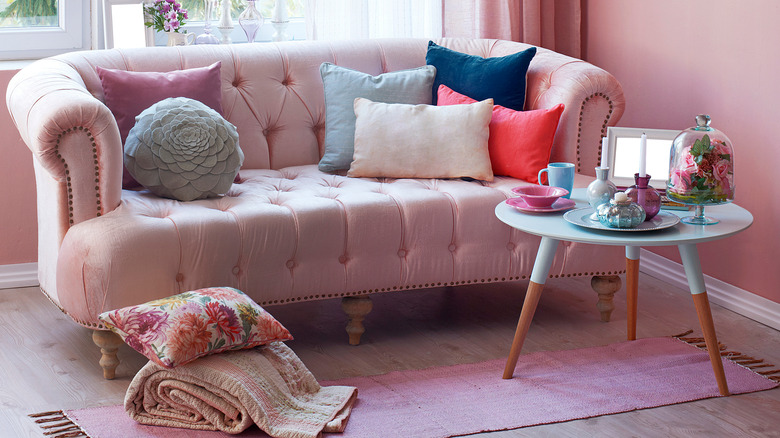 united photo studio/Shutterstock
According to Decorilla, one of the hottest trends we will see in 2023 is art deco. Described as a style that is rich in color, bold in geometry, and that features fine detail, velvet fabric fits in perfectly.
Another trend gaining increasing importance is wellness in the home (via Decorilla). It is essential for people's spaces to offer them a cozy feeling for decompressing at the end of a long day. This can mean serene colors that evoke feelings of nature, such as greens and blues; but it can also mean grounding textures like bouclé's and velvets that feel like a big, warm hug.
Saturated colors and contemporary shapes form another up-and-coming trend that PRNewswire calls "Midtown Modern." These spaces may have a busy look upon first glance, but they are an eclectic mix of statement pieces and one-of-a-kind layouts that speak to individualistic preferences. The addition of a velvet sofa, accent chair, or decorative pillow creates a unique conversation with other items in the room, enhancing the comfort one will find.
Velvet isn't just pretty, it's also clean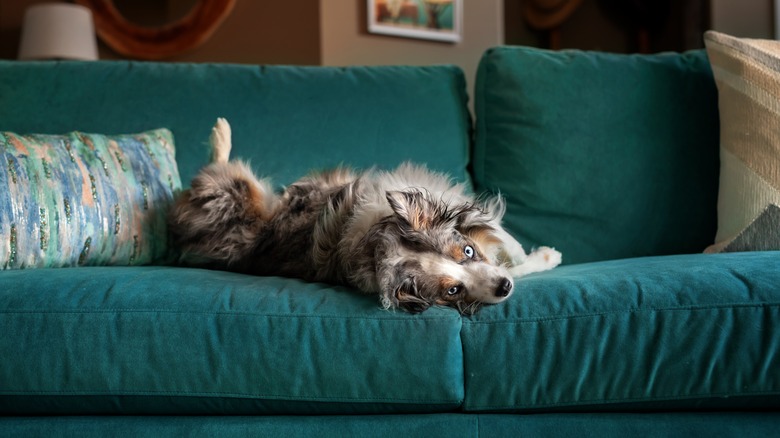 Danielle W Press/Shutterstock
Our homes are filled with color-happy toddlers, red-wine spills with friends, and beloved pets running wild. For many, it is an essential factor to think about cleanability and durability when buying furniture. Velvet happens to not only be versatile in style, but also provides a fair amount of longevity.
Even though velvet is not a flat woven fabric, it is without raised weaves, making the likelihood of loose, snagging threads a slim occurrence. Vacuuming velvet is an easy, standard way to rid it of dirt and hair, but the fabric can also be steamed to rid of wrinkles and treated with stain repellents, per One Kings Lane. However, Plumbs notes that velvet can be woven with different types of yarns such as cotton, silk or synthetic polyester. You should always know the type of velvet you are purchasing and how to properly care for it, much like any other material in the home.
Incorporating velvet into a space, whether on a large scale or small scale, will add new vibrancy and serenity to your home and is sure to last when taken care of. One may ask themselves, "Do trends ever really die?" The world of design and fashion continuously sees the rebirth and rise of trends, and it would be a stretch to say that plush fabrics, such as velvet, are going anywhere anytime soon.