The Best Flooring For Your Laundry Room, According To An Expert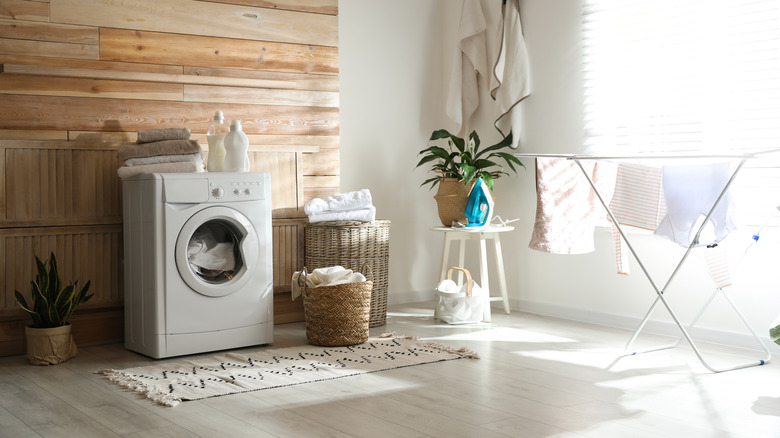 New Africa/Shutterstock
When renovating a laundry room, you must consider the aesthetics and how the space functions. That's not only about organizing your necessary tools and cleaning supplies, it's essential to take the proper steps to protect your home if you have rooms that come in contact with water. Traditionally, laundry rooms have been placed in the basement, according to Mosby Building Arts, but more modern homes are placing the laundry room on the main floor by the kitchen or on the upper floors by the bedrooms. The optimized position makes it much easier to complete the task. But no matter where you place the laundry room, choosing suitable materials is a must.
The right flooring is important whether there are a few drips from transferring clothes from the washer to the dryer or the chance you have a major water issue. In an exclusive interview with House Digest, Rotem Eylor, founder and CEO of Republic Floor, shares the unexpected flooring material ideal for your laundry room.
SPC floors have taken over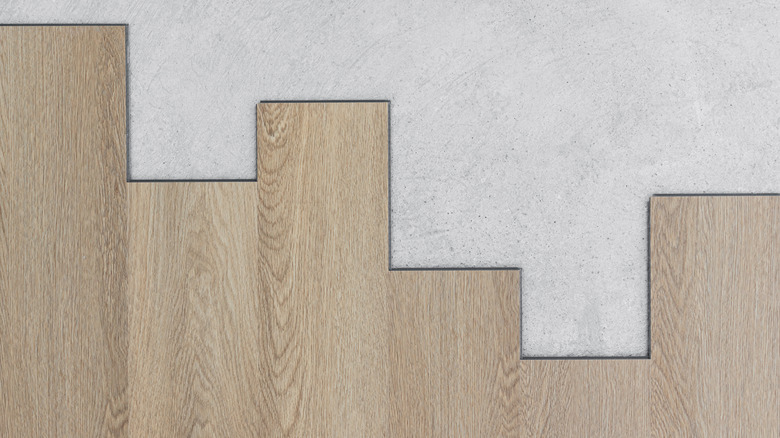 Sasin Paraksa/Shutterstock
When it comes to designing your laundry room, you want to have a good base. "The best flooring for laundry rooms ideally should be a waterproof flooring of some sort," Rotem Eylor says. Washing machines do experience leaks from time to time; leaks are usually caused by a loose or punctured drain hose. A fault with the drain pump or a worn-out hose can also cause a washing machine to leak.
Because of the risk of leaks, and a lot of water involved, the right flooring makes all the difference. "While the traditional choice was always tile, we see that SPC flooring (vinyl) is taking over as the preferred waterproof option for the simple reason that it is highly durable," Eylor explains. This flooring option is much preferred over wood and laminate because its water-resistant nature holds up to excess water. Floods, leaks, and excess water can lead to water damage, mold growth, and even structural damage if not addressed. Waterproof flooring like SPC can help prevent these major issues.
Additional SPC advantages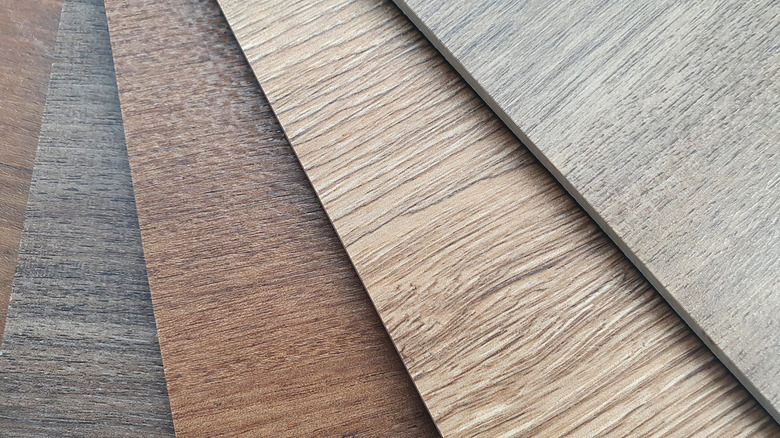 Wongsakorn Dulyavit/Shutterstock
When it comes to renovation, most homeowners want the process over as quickly and easily as possible. "SPC is a floating floor so it is quick and low-cost to install, and does not require a professional," Rotem Eylor says. This can be a benefit for anyone looking to complete a DIY remodel. A soft-faced rubber mallet, utility knife, measuring tape, and spacers are the main tools you'll need. A saw and moisture meter are optional instruments for the installation.
Don't worry about using a non-traditional material for your flooring. Advances in technology have improved the appearance of SPC to mimic traditional flooring. "Additionally, the visuals are very realistic, making your floors look more expensive than they are," Eylor says about SPC flooring. Available in different colors, SPC can look like hardwood and even match the other flooring in your home. It can also mimic the look of stone or tile.