How Much Does It Cost To Install Vinyl Plank Flooring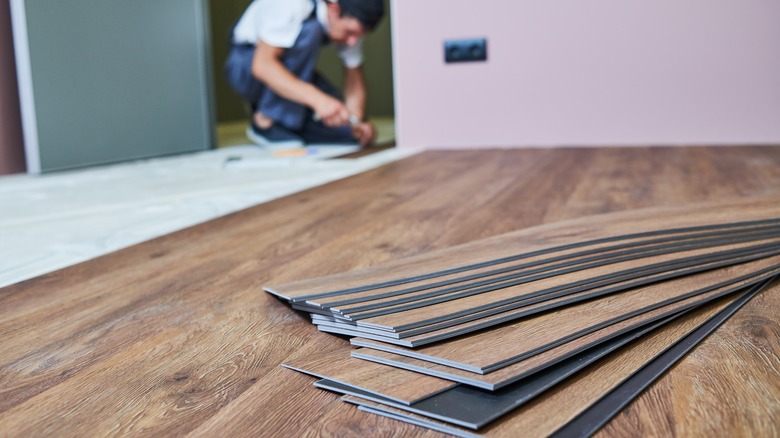 Dmitry Kalinovsky/Shutterstock
Vinyl plank flooring is a popular flooring choice in the modern home. The floor option provides a happy medium between the luxurious look and feel of a traditional hardwood floor without sacrificing durability in the face of moisture and other potentially damaging elements. Vinyl planks are one of two primary means of utilizing vinyl flooring throughout a room or the whole home (with vinyl sheeting representing the alternative). However, vinyl planks are great because the easy-to-install segments click together and provide the same style of seam sectioning that runs through a room sporting hardwood floor. As well, vinyl planks are easier to replace than a sheet-laid floor (via Bob Vila).
House Grail also reports that vinyl flooring choices range in the thousands, so finding the perfect undertone match to compliment your curtains, sofa, television stand, and surrounding furniture is simply a matter of browsing an outlet's catalog. Bob Vila reports that vinyl plank flooring costs an average of $2,286 to install, with a typical price per square foot ranging from $2 to $7, depending on the style and quality selected. For the most part, more costly options will come in a thicker format, providing greater durability over the long term and a more robust foot feel.
Factors for cost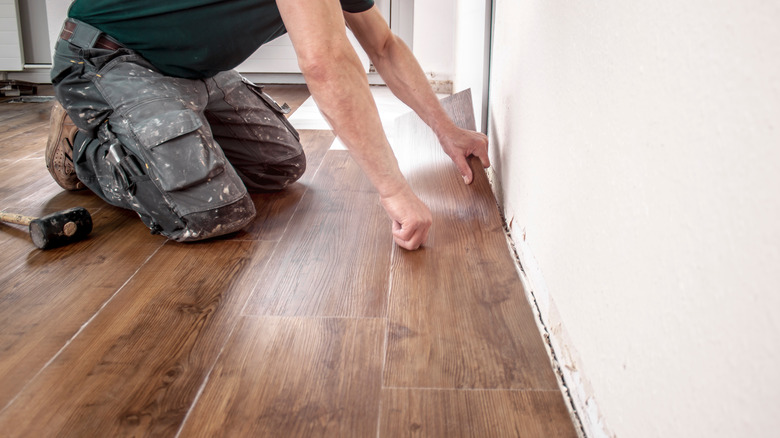 Anselm Kempf/Shutterstock
Installing a new vinyl plank floor is an exciting opportunity to revamp the style and quality of your home. These flooring options are comfortable on the feet and provide a touch of elegance at a fraction of the price of other flooring choices. As a result, vinyl plank floors make a great addition to nearly any room of the house. Considering these factors can help you gain a better sense of the overall cost of installation.
Labor costs must be considered
Labor costs are one of the first things that a homeowner should consider when making the switch to a new vinyl plank flooring in their home (or even in a single room, for that matter). Bob Vila estimates that a contractor will typically charge around $36 per hour for installation.
It should be noted, though, that vinyl plank flooring is one type of flooring option that is approachable by the average homeowner. DIY installation is within the wheelhouse of many people because of the simplicity of the locking plank construction. As well, vinyl plank flooring is usually installed as a free-floating installation, meaning it isn't glued, nailed, or otherwise fastened to the subfloor beneath it. Vinyl plank flooring can be installed over many existing floors, so you may not need to rip out an existing layer to accomplish the installation either.
Plank selection
Finding the right planks is a task in and of itself. With thousands of color choices to peruse, many homeowners spend a long time picking out the perfect vinyl flooring for their home to an exacting standard.
However, finding a great color choice isn't the only component of the plank selection process. House Grail reports that core construction, overall thickness, and added topcoat elements are all important features to consider as well. In the core, you can choose wood-plastic, stone polymer, or solid vinyl (a newer choice on the market). House Grail notes that stone polymer cores are the most common option among vinyl plank floors and that this choice is the cheapest as well. A wood-plastic core is softer and, as a result, provides a more forgiving foot feel. Yet, this core type is also prone to denting and damage as a result of its pliability.
All these choices factor into the overall price of the vinyl plank flooring material on the whole, but House Grail notes that these remain within the same tight price range whether you're selecting a cheaper or more expensive option. House Grail's cost estimate ranges from $1 to $6 per square foot, depending on your choice of construction and design.
Flooring removal can raise the price
Many homeowners may be moving from a carpet installation to a new vinyl plank flooring selection. While some flooring materials can be left in place, you should remove carpeting in order to successful install vinyl plank floors.
Removing existing flooring elements can make for a cleaner installation. HomeServe reports that tile removal costs between $1.50 and $4.15 per square foot, while HomeAdvisor estimates a cost of $1 to $1.50 per square foot to take out carpeting.
In addition to the removal and disposal of old flooring, it's important to begin laying your new vinyl plank flooring on a clean surface. Eliminating any residue, oils, or other gunk that is left behind after the removal is an important step in the process. It's certainly possible to take out old flooring without the help of a professional, but you'll need to factor in disposal, which can either be time-consuming or add to the price itself.
Additional costs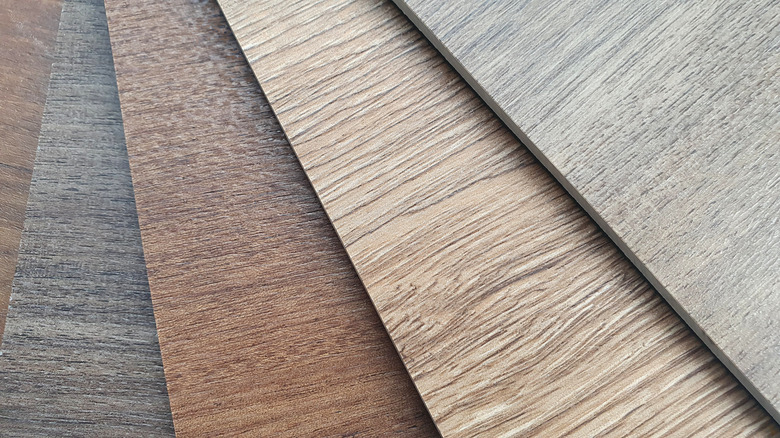 Wongsakorn Dulyavit/Shutterstock
In addition to the typical costs associated with installing vinyl plank floors, there are other factors that can raise (or even lower) the price of materials and installation. Taking these into consideration is just as important as the materials and labor costs that make up the primary cost calculation.
Geographic location plays a role in the overall estimate of any home installation
Contractor's fees and material prices can vary greatly in different locations across the United States. This is true for all home improvement and renovation projects. Bob Vila reports that labor and materials are often swayed by costs associated with transportation and delivery, so getting a few estimates is often a great way to understand the geographic factors that will play a role in your home's installation.
Often, home improvement costs are slightly elevated in city areas, but this isn't always the case. Remote areas can sometimes see inflated pricing as well. Geographic realities play a role in many of the cost factors involved in daily life, and this aspect is no different.
Tricky corners, stairs, and other features that need to be worked around may add to the price
Difficult areas can change the price of installation as well. If you are working with a contractor, they will likely quote you a price per square foot but may upcharge on the cost if the room in question includes stairs, tight corners that will need to be custom cut, or other tricky features that will increase the time and effort involved in the job (via HomeAdvisor).
Likewise, whether you're working on the project yourself or have hired a contractor to lay the vinyl planks, complicated interior layouts can increase the material requirements to get the floor laid in full. Additional boards will also naturally increase the cost of putting down a new vinyl plank floor.
Consider purchasing a warranty on this new flooring installation
Bob Vila suggests that homeowners laying new vinyl plank floors consider the additional protection that warranty coverage offers. While vinyl plank floors are highly durable and add unique water-resistance to the home, they can't be refinished or repaired once they do eventually become damaged. The alternative to repairing your flooring element is the addition of warranty coverage. Adding this layer of protection means that you can retain a unique peace of mind throughout the years of service that a vinyl plank flooring will provide in your home. Bob Vila also notes that some manufacturers will include a standard or even extended warranty policy on newly purchased vinyl planks, baking this included feature into the price from the start.
Why you need vinyl plank flooring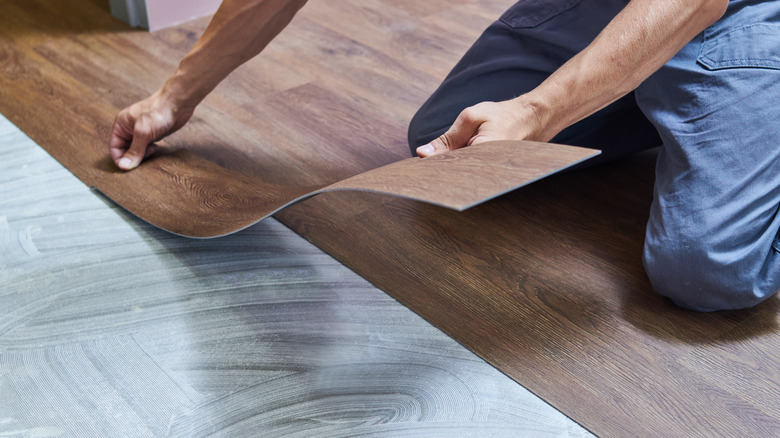 Dmitry Kalinovsky/Shutterstock
Vinyl plank flooring is cost-effective and provides a wealth of features in any home. The flooring style is durable and versatile, making it a great choice for homeowners in any circumstance or local area with concerns about regional weather or environmental factors. You can't overlook the value that vinyl plank floors provide to a home in a number of important ways. This choice may be the perfect installation for your property.
Vinyl planking can be installed without professional help, further reducing the cost
One great reason to invest in vinyl plank flooring is the DIY aspect of the project. Homeowners who enjoy engaging directly with their renovations will be able to easily take pride in the installation of a vinyl plank floor. The segments click together with great ease and without the requirement of fastening the flooring layer to the floor, making installation incredibly simple (via Bob Vila).
Vinyl plank flooring can be applied to many different subfloor types as well, meaning that preparation works to ensure a secure and lasting fit come down to cleaning and general care tasks. As far as flooring goes, vinyl plank floors are some of the easiest to lay down, according to Best Laminate.
Moisture and water resistance make this a great choice for bathrooms and other heavy use areas
Another core draw for homeowners is the moisture resistance that vinyl flooring provides. Hardwood, laminate flooring, and carpet all remain susceptible to damage from spills and humidity, but vinyl planks and sheeting are unaffected by these elements of a typical home. Kitchens, bathrooms, mudroom installations, and other areas of the home that see higher than average moisture content can benefit immensely from installing this cheap and durable flooring option.
Durability is a core feature of the flooring
Beyond the water and moisture resistance that vinyl plank flooring exhibits, the planks are typically dent and scratch resistant as well, per Mannington. This makes for a well-rounded option for any room in the home. Mannington reports that vinyl plank floors are made to be heavily used, and this adds an additional dimension that's supportive of pets and young children, too. The combination of great looks and a durable finish that's built to last make vinyl plank flooring a wonderful addition in any home.
Benefits of a vinyl plank floor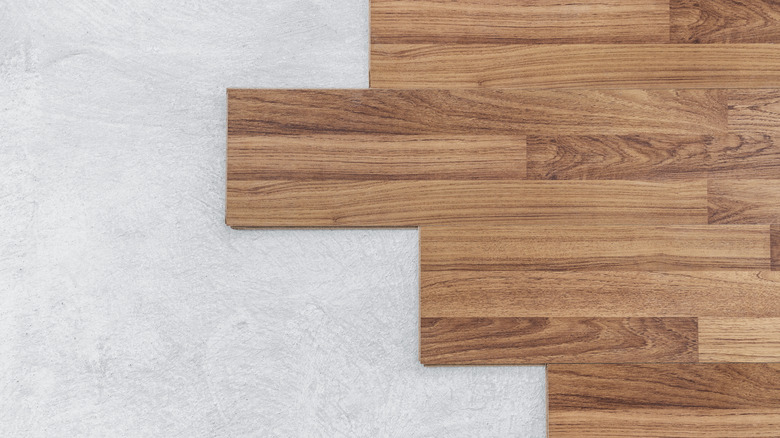 Sasin Paraksa/Shutterstock
Durability, easy installation, and cost-effectiveness aren't the only benefits that vinyl plank flooring offers the homeowner. The flooring choice creates a unique opportunity to make your life and cleaning routine much easier. With the virtually endless list of options for visual style and construction type, there's a vinyl plank flooring selection out there for everyone's tastes.
Vinyl plank flooring is amazingly easy to clean
Homeowners with carpets or open-pore tiles know how difficult it can be to keep the floors of the home clean. A gritty or grimy floor is unpleasant to walk on, and it can make for a home that is constantly dirty, as the grit that's brought into the home continues to be tracked throughout the property.
Vinyl plank flooring is different in this regard. The durable finish and flat profile help make vinyl an easy material to clean and keep clear of debris. Mannington reports that simple vacuuming or sweeping is often all it takes to clean a vinyl plank floor, and for spills or other messes, mopping is also a viable option. This makes vinyl both a versatile flooring material and one that can be cleaned with ease through the use of a versatile toolbox of cleaning supplies.
A vast catalog of style and color options means that you can find an option that matches any interior decorating style
Vinyl planks come in a vast catalog of finishes, interior construction, and outward-facing designs. This makes vinyl planks a great option in any home or room. The style choices range across a massive spectrum, helping homeowners with virtually any taste profile find a solution that's right for their home.
Mannington also notes that vinyl planks can be fabricated to look and feel just like real hardwood floor panels. The stunning appearance of vinyl flooring coupled with cost savings over traditional hardwood floors makes this a uniquely interesting option.