Why Recessed Lighting Is A Great Choice, According To The Property Brothers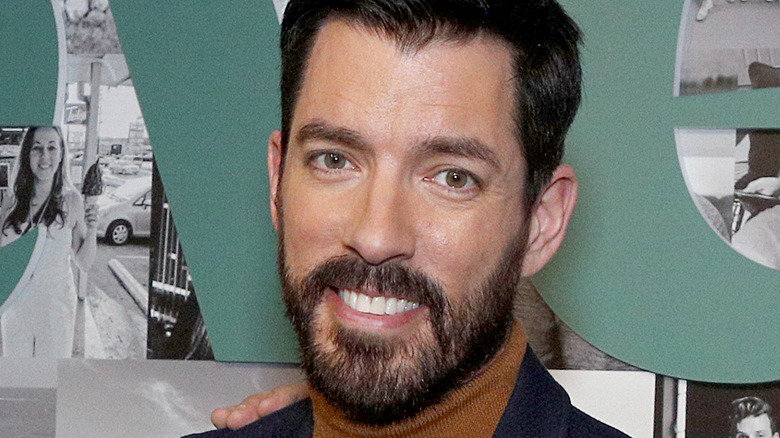 Astrid Stawiarz/Getty Images
Figuring out the perfect lighting for a home is tricky when you're dealing with so many types of fixtures and light bulb wattages. You might want your space to have a certain ambiance, such as open and airy; in that case, you'll need to find brighter lighting. Sometimes your home won't get the natural lighting it needs from windows to create that airy environment, but using 60-watt-equivalent LED light bulbs will create the same vibe by emitting a white light that feels natural.
On the other hand, recessed lights are a great choice if you prefer to have minimal light fixtures around the house so rooms appear larger and sleeker. Recessed lights, or can lights, are set inside metal housings that are installed in the ceiling. In this position, recessed lights illuminate the space directly below them. There are many benefits to recessed lighting. According to Realtor.com, as the Property Brothers, Jonathan and Drew Scott, renovated a home in South Pasadena, California with the help of Drew Barrymore, they discussed the perks of recessed lighting. Here's what they said.
Recessed lights are valuable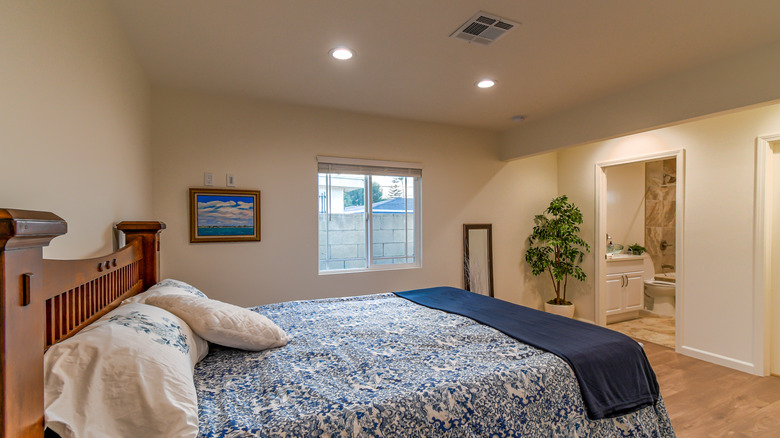 Justin P Bradley/Shutterstock
When the famous design duo was renovating Drew Barrymore's best friend Deb's home, they wanted to add brighter, natural lighting to the house. While there were a few windows and doors to let in the sunshine, it wasn't enough to reach the middle areas. So, the brothers decided that recessed lighting was their best option. "Everything is going to be bright and beautiful. It's just going to make a world of difference," said Drew Scott (via Realtor.com).
Not only does recessed lighting make a space brighter, it's also more valuable and affordable. Jonathan Scott claimed, "As these are LED lights, they cost less to operate, we get the widest spread of ambient light, and they run less hot." LED recessed lighting with the proper housing included can cost as little as $20 or more than $60, depending on the quality of the lights. In addition, if you want dimmable LEDs, the rate goes up to between $45 and $75, according to The Recessed Lighting Company. Of course, these costs will vary depending on whether you install the recessed lighting yourself or hire an electrician to set it up for you. Ultimately however, recessed lighting can really transform your home at a low price.
How to use recessed lighting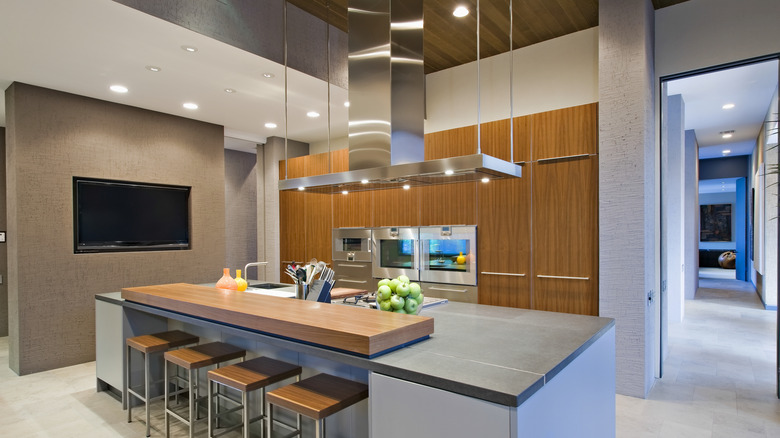 sirtravelalot/Shutterstock
Finding the perfect spot to install recessed lights is simple. Units can be placed in areas with low ceilings, such as hallways, kitchens, bedrooms, and shower stalls, per Experts In Your Home. If you don't have low ceilings, but still enjoy the sleek look of them, you might use them for accent or spotlighting instead. For example, say you have an art piece that would benefit from a spotlight to make it the room's focal point. Recessed lighting angled toward the artwork will bring it to life with illumination. According to Lumens, it's best to cast a soft glow over works of art, so lighting projected at a 30-degree angle is optimal to prevent harsh glares.
Another way to effectively use recessed lights is by installing them in the bathroom. Jonathan Scott is so taken by this lighting option that he goes so far as to say, "I always include recessed lights in a bathroom, even if there is a chandelier," per Yahoo. "For your mirror wall, sconces don't typically do the trick. Anyone trying to use a mirror or apply makeup knows that most sconces do not give you the best light," he further explains. Instead of having light fixtures that cast harsh shadows or provide a yellow hue, recessed lighting brightens the bathroom with its broad wash of white light. So, when applying your makeup, you'll know exactly how the products look on rather than guessing if the foundation matches your skin tone.