A Design Expert Weighs In On Joanna Gaines' Back Porch Color Scheme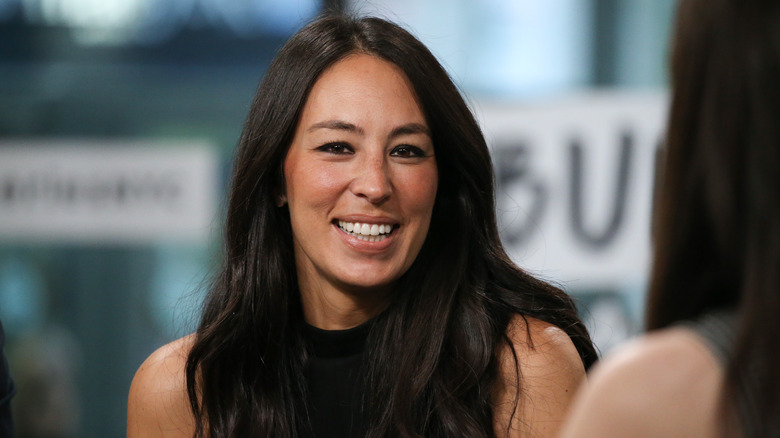 Rob Kim/Getty Images
Outdoor spaces like porches, patios, and verandas are some of the most-used and most-loved options for homeowners to combine the comforts of home with the natural tranquility of outdoor living. Designer and Magnolia Network cofounder Joanna Gaines' back porch recently prompted a flurry of praise on Instagram and from design experts. The porch, which flanks her family's beautiful home in Waco, Texas, shows off the designer's signature mix of farmhouse chic style, modern simplicity, and vintage-inspired decor. The resulting look is something that we've come to expect from the folks who put the modern farmhouse style on the map.
The porch features old-world and contemporary touches, including beautiful black iron lanterns and black-framed French doors, which form a striking contrast against the cream shade of the home's exterior and its white trim. The look is augmented by the rich, weathered wood tone of the floor, classic red brick steps, and an abundance of greenery that brings the surrounding natural world right to the door. "Black and white is classic, elegant, and timeless – and it's a bold combination that can be dressed up or down depending on how you style it," says Raf Michalowski, President of Meble Furniture (via Homes & Gardens).
The beauty of natural tones
Joanna Gaines is known for her love of neutrals and uses an abundance of textural elements that add dimension and richness to conservative palettes. Her porch is no different. The effect of layered neutrals remains classic and elevated. The subdued tones of the paint colors are augmented by the abundance of greenery, the most striking color on the porch, which varies from the neutrals and calls extra attention to its lushness. According to Michalowski, using plants as a key element is one of the best additions to liven up a neutral space. "'I also recommend using plants, an easy way to make a monochromatic look vibrant," Michalowski explains (via Homes & Gardens). "Plant containers with black and white patterns add a special touch, while greenery complements the neutral look."
The neutral black, white, and cream dynamic also leaves a great opportunity to add interest through other textures and patterns without worrying about matching or becoming too visually overwhelming. While the floor of the porch and the bricks are two completely different materials, they still look cohesive due to their rustic textures and neutral backdrop.
Getting the look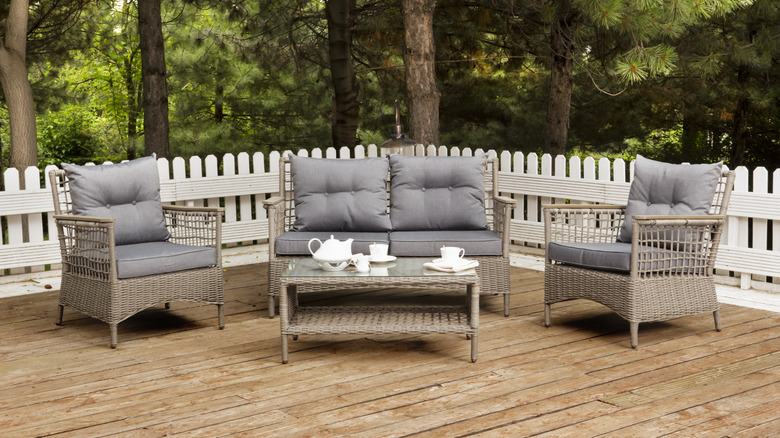 Trismile/Getty Images
Even if you don't have Gaines' design acumen, fortune, or fame, there are some excellent ways to make her signature aesthetic work for your outdoor space. Sticking to her neutral palette is a perfect way to avoid overwhelming a design with color, pattern, and texture. These natural shades inherently complement each other, making selecting accents like seating and fixtures simple. Although the white trim is a subtle difference from the home's cream exterior, the sleek black of the door and the lanterns form a delightful high-contrast look, while the floor and steps ground the space with rustic charm.
Michalowski suggests using similar neutral bases when choosing elements that complement a modern farmhouse-style exterior. However, he also leaves the door open for more decorative flourishes. "Neutral outdoor furniture, throws, pillows, and hanging string lights are a great way to get the look," he says (via Homes & Gardens). You can even add cozy elements like rugs and cushions in similar shades that add texture but don't ruin the classic elegance of your neutral palette. Since most neutral shades find their inspiration in nature, this creates an easy way to make the perfect transitional space between your home's interior and the outdoors.