60 Ideas To Turn Your Front Porch Into An Outdoor Oasis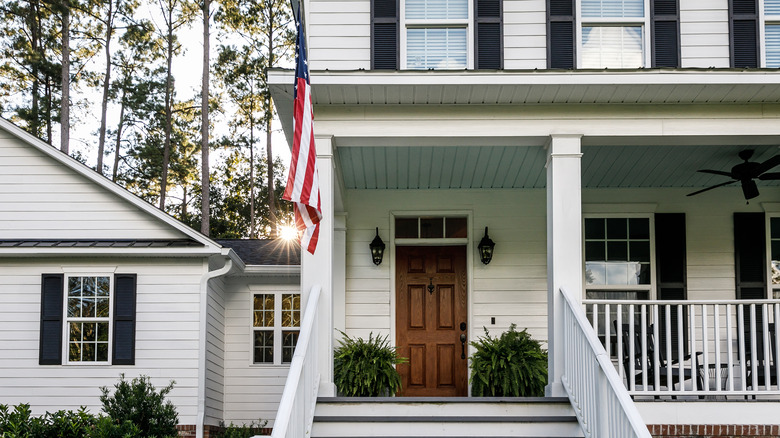 Ursula Page/Shutterstock
We can't help but scroll Pinterest regularly to get inspiration for our outdoor spaces. Creating an outdoor oasis has become just about as essential as upgrading every other area of our homes and that includes the front porch. As Homes & Gardens points out, your front porch has the ability to make a major first impression on guests coming to your home, so we're sure you will get inspired to create a beautiful setting. "Your front door and surround [sic] is the perfect introduction to what lies beyond, consider elements such as the vernacular of the build and a palette that has empathy with the architecture," says Farrow & Ball Brand Ambassador Patrick O'Donnell.
The Spruce points out that there are a few ways to style your porch to create a truly amazing space, including adding ample seating, creating privacy with drapery, bringing luscious plants, and of course, accessories.
1. Decorate your she-shed porch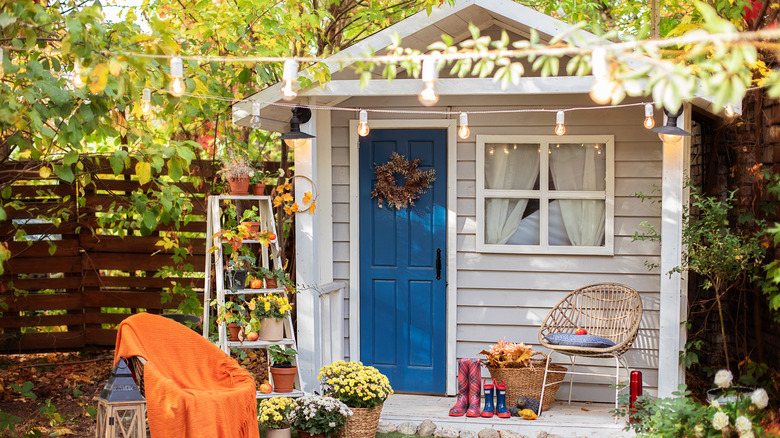 stock_studio/Shutterstock
If you have a backyard retreat, popularly known as a she-shed, you may want to consider decorating the porch with rattan seating, pretty flowers, and a wreath! You can make your escape enticing, too, whether you use it as an office, for recreation, or a gym.
2. Coordinate pillows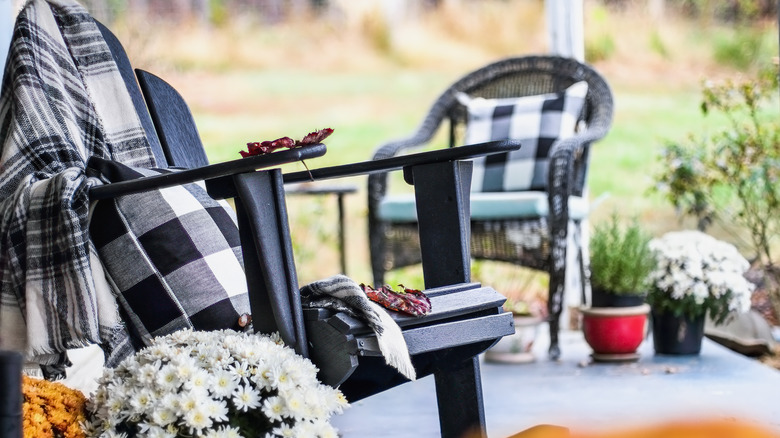 Stephanie Frey/Shutterstock
Make your porch an enticing hangout with coordinating pillows, like this buffalo check blanket and pillow set that can bring style to your front entrance.
3. Go crazy with the plants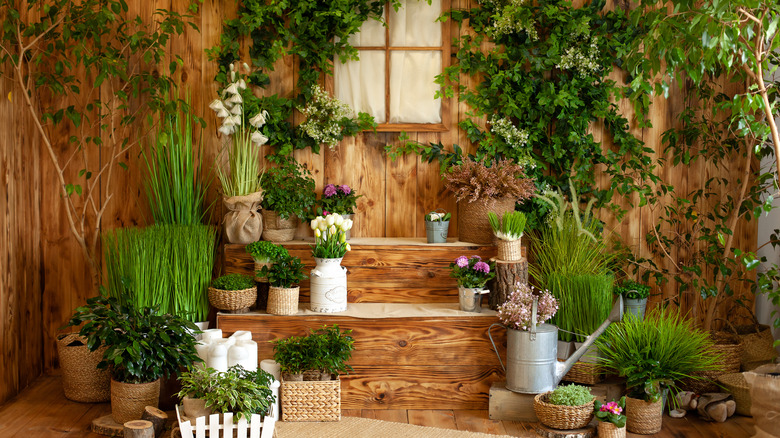 stock_studio/Shutterstock
This home is truly brought to life (quite literally) with a slew of lush greenery. Creeping vines crawl up the house, while an array of potted plants are scattered just about everywhere.
4. Dress up your RV's porch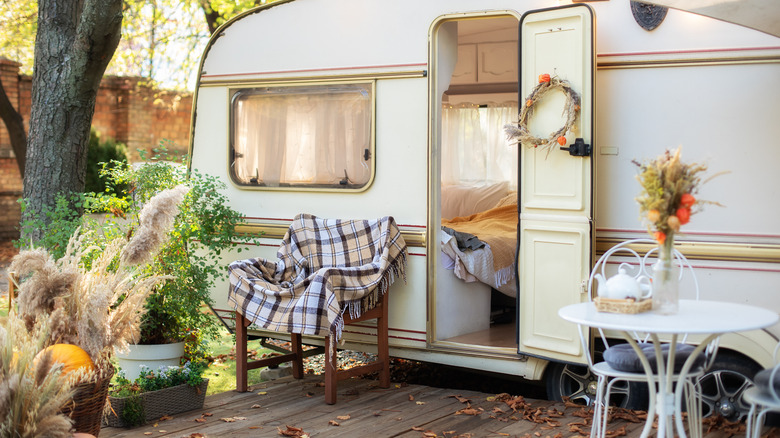 stock_studio/Shutterstock
Whether you have an RV on your property and use it as an Airbnb, or you have a little retreat for yourself, don't forget to decorate the porch. We love the white table and chair, potted pampas grass, and a seat with a throw blanket for when night's get chilly.
5. Get a classic look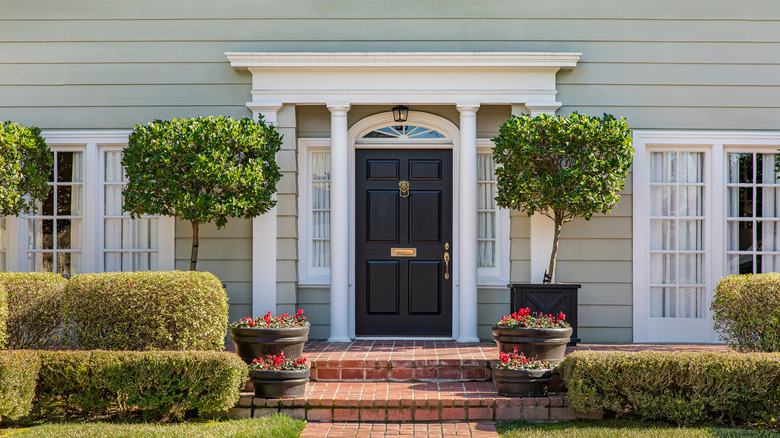 David Papazian/Shutterstock
This classic home's green exterior paint and black door bring a ton of style to the home's entrance, but it's those perfectly trimmed trees on this gorgeous porch that get our attention.
6. Bring in unexpected accessories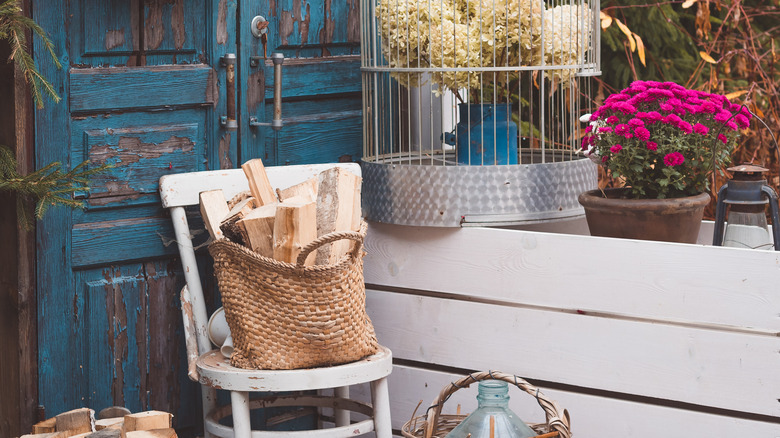 Katia Seniutina/Shutterstock
The bohemian disheveled blue door grabs our attention. A floral arrangement in an antique birdcage? Why not! We love a bit of whimsy, so don't be afraid to incorporate it into your front porch's decor.
7. A beautiful seafoam porch swing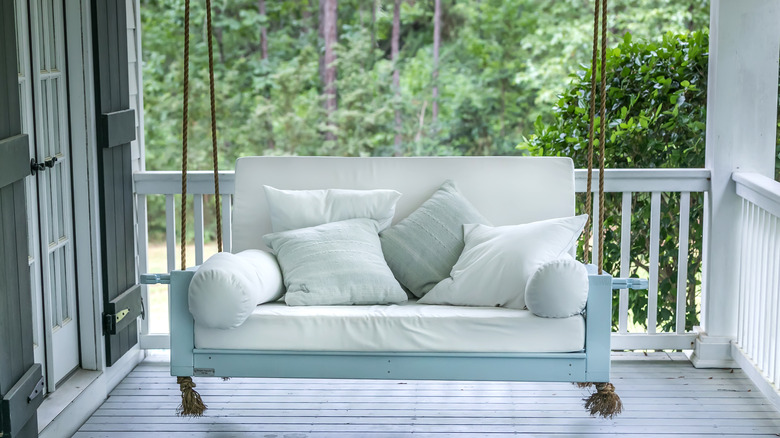 Ursula Page/Shutterstock
We could honestly spend most nights relaxing on this seafoam green porch swing. Crisp white cushions keep the look fresh.
8. Perfect for entertaining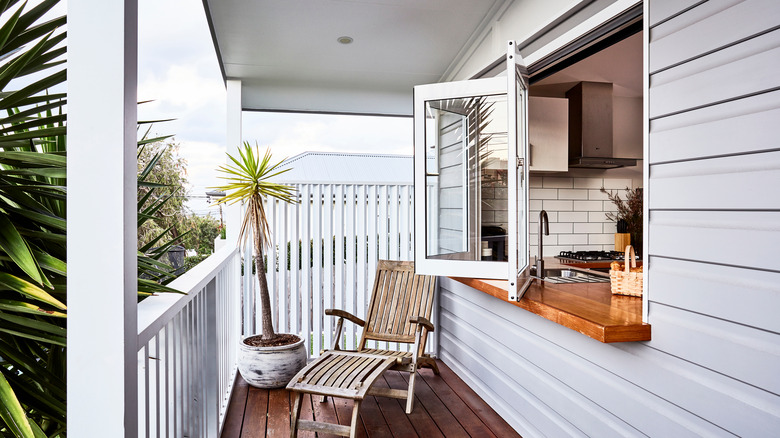 PhotoMavenStock/Shutterstock
The positioning of this porch couldn't be better. With a window that opens to the kitchen, passing coffee or cocktails to guests on the porch is easy breezy!
9. Highlight season-specific accessories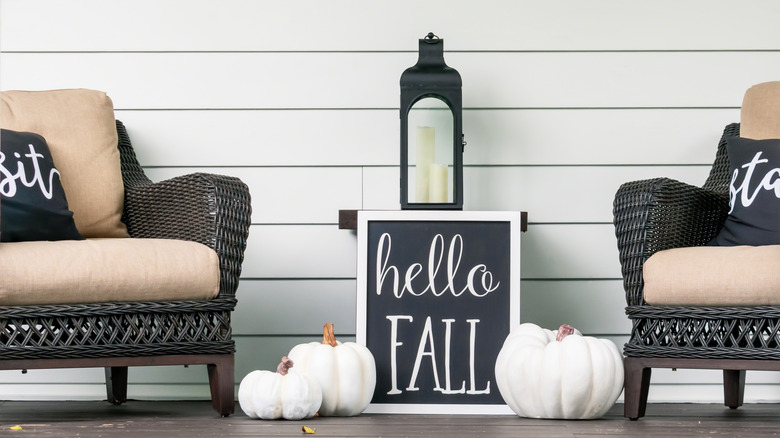 Kristen Prahl/Shutterstock
Celebrate the start of a new season with accessories that say it all. It's a fun way to introduce the beginning of your favorite season (like fall) and liven up your comfortable setting.
10. Bring in the music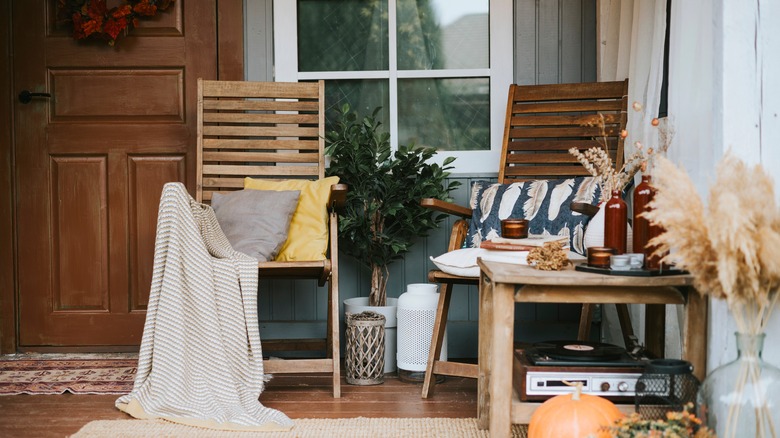 KlavdiyaV/Shutterstock
Besides bringing in unique accessories, such as bright pillows on your rustic seating, bring in some music by having a record player on your porch.
11. A poppy red door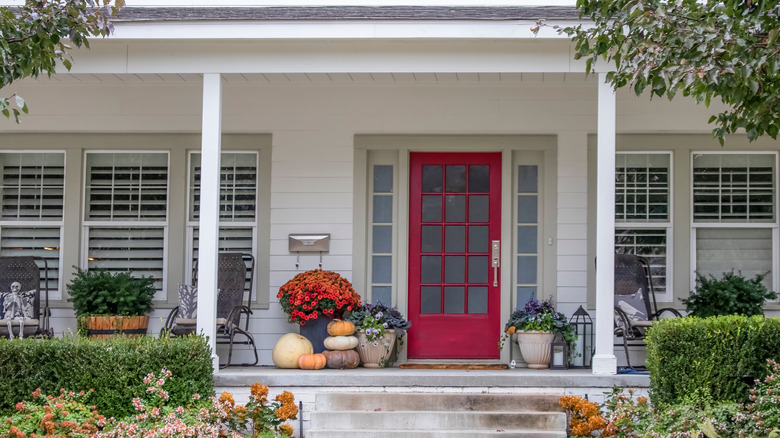 Vineyard Perspective/Shutterstock
A bright red door can surely add some pizzazz to an otherwise basic porch. Add matching potted plants on either side, and your entrance is ready for guests.
12. A traditional swing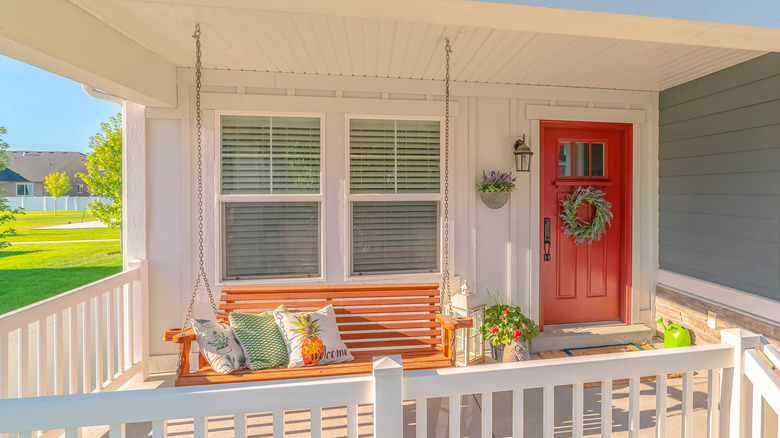 Jason Finn/Shutterstock
If you're all about tradition, a wood swinging chair front and center is absolutely recommended – just change out the pillows each season for a fresh take.
13. Add plants in bright colors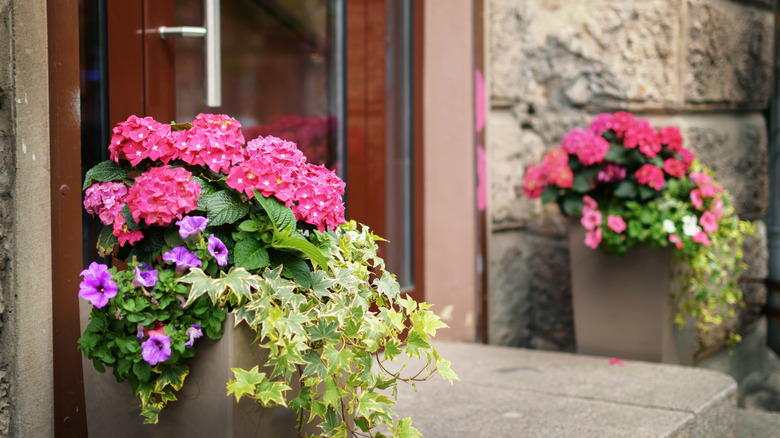 Nadia Brusnikova/Shutterstock
One of the best ways to spruce up your porch is by changing out your potted plants to flowers in season, such as pink peonies or marigolds.
14. Simple seating looks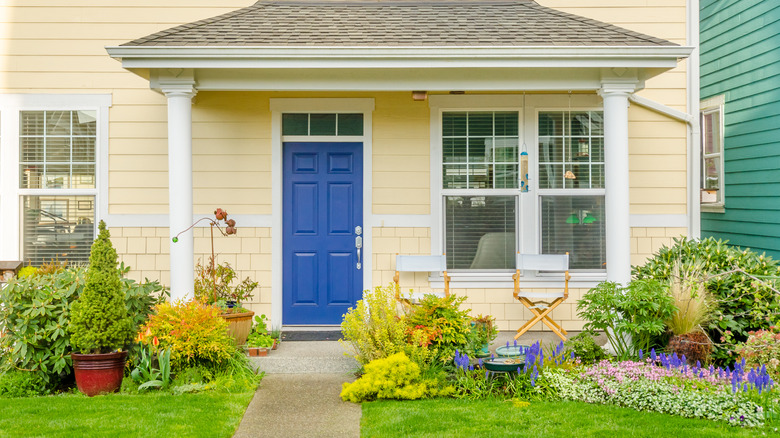 karamysh/Shutterstock
If you ask us, the light yellow exterior and the bright blue door offer a lovely paint duo, but having a set of unique seats can be a welcoming and simple way to dress up your porch.
15. Square planters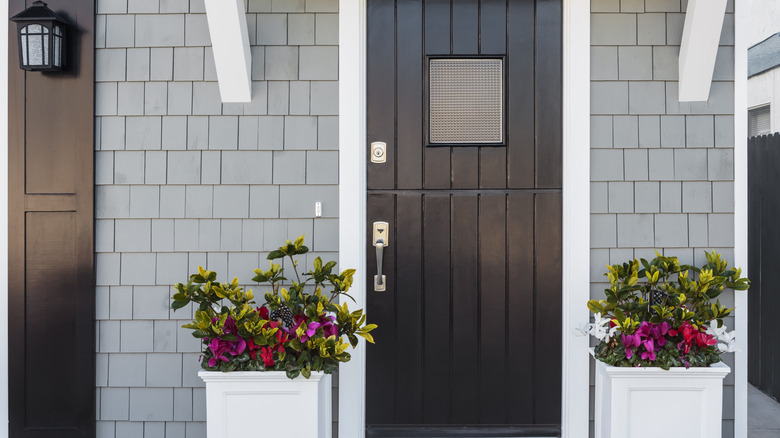 David Papazian/Shutterstock
Instead of your regular rounded plant pots, consider finding a square set and painting them white. Then add your favorite seasonal flowers for color that will pop against the white pots.
16. Introduce unique colors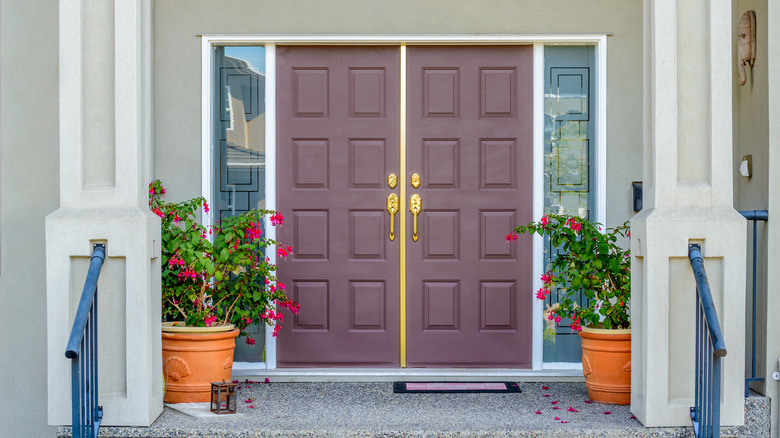 karamysh/Shutterstock
This gorgeous mauve front door is incredibly enticing, and the terracotta planters with lush plants set the scene for this dazzling porch.
17. Jungle vibe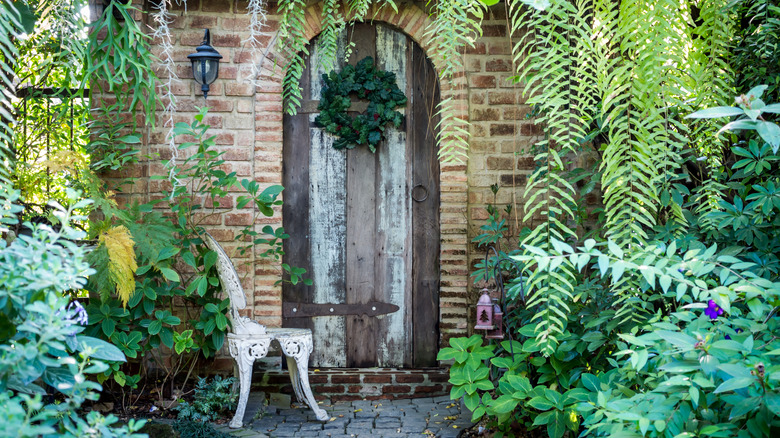 Naphat_Jorjee/Shutterstock
Create a luxurious space that offers the beauty of plants everywhere you look. This front-porch escape has a serene atmosphere.
18. A punched up floor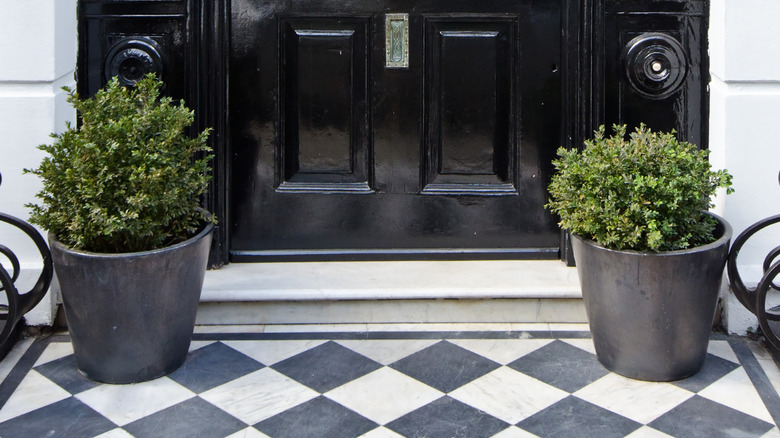 Konmac/Shutterstock
At first glance, the first thing we notice on this chic stoop is the black and white checkered floor, but the two black potted plants bring plenty of symmetry to the design.
19. Lovely wrought iron seating
Rose Makin/Shutterstock
If lounging on your porch isn't your primary goal, consider accenting it with a black wrought iron garden table and chair set.
20. Dress up the porch steps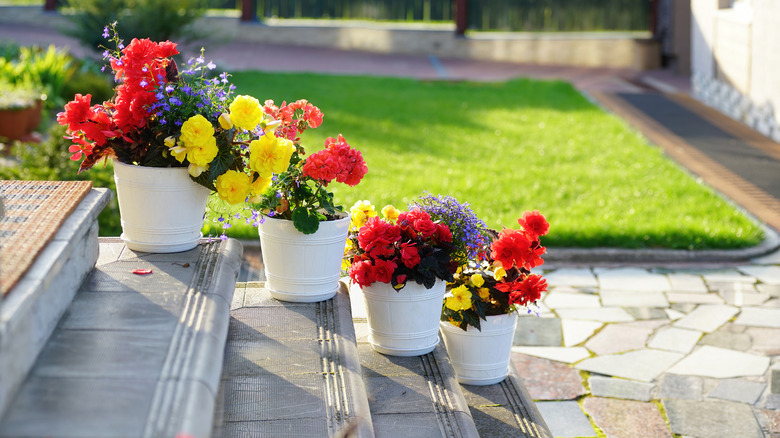 LedyX/Shutterstock
Add beautiful flowers leading up to your home's front door, which is an excellent way to create a stunning setting.
21. Consider two-toned flooring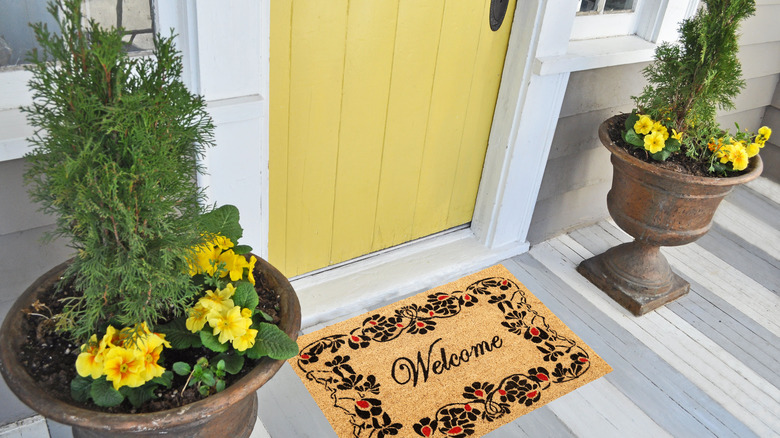 Appz Dreamer/Shutterstock
Just add paint for an easy update to your porch's flooring. We love the two-toned stripes in white and gray, which is definitely attention-grabbing.
22. A simple bench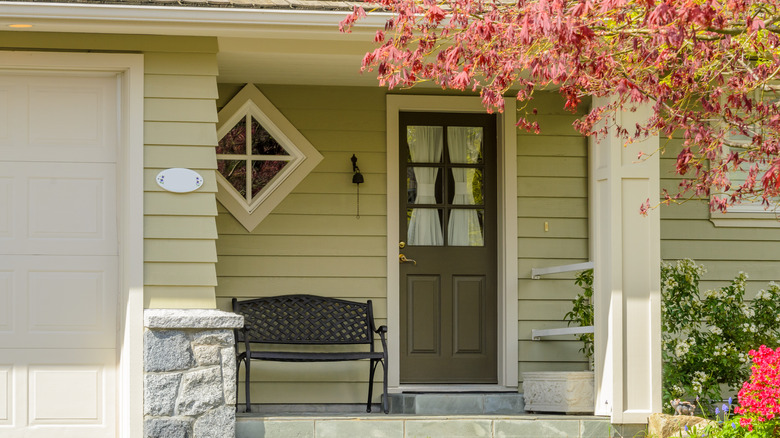 karamysh/Shutterstock
Just add a bench, which can be convenient for many homeowners. According to The Spruce, the type of bench you add to your porch depends on your home's architectural style.
23. Wooden potted plants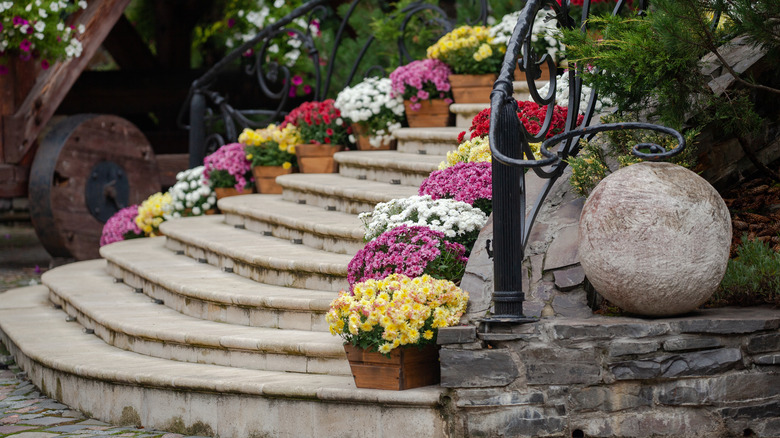 Vasyl Rohan/Shutterstock
Create a trail that leads up to your home's porch in the fall with stunning chrysanthemums that make a statement.
24. Two perfectly positioned chairs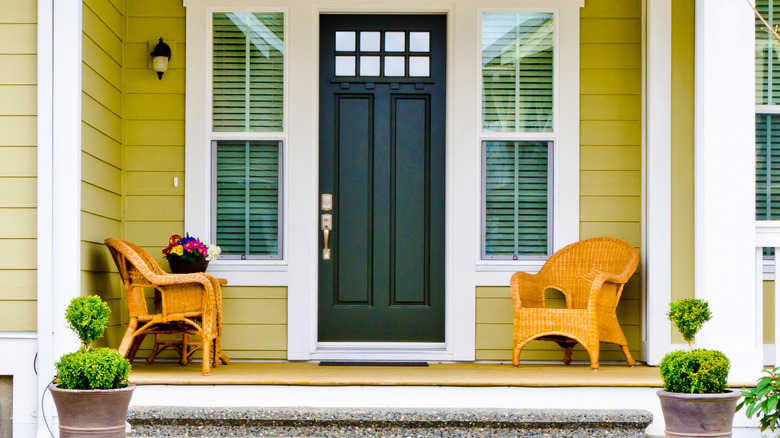 karamysh/Shutterstock
This mustard yellow home features a simple enough setup. Two strategically placed wicker chairs make it the ideal spot for long conversations.
25. Play with height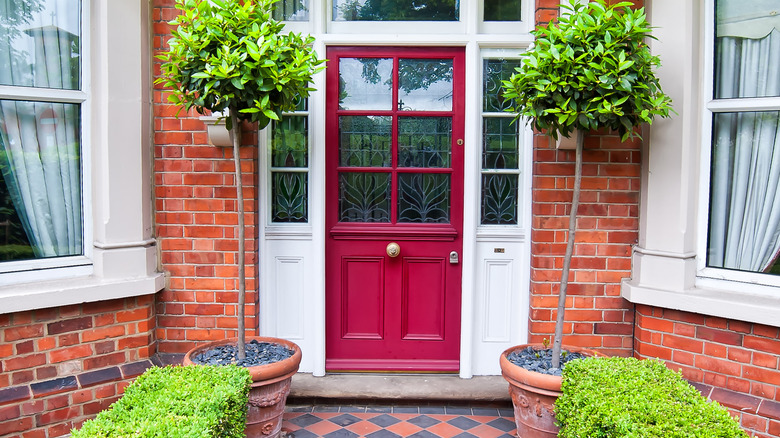 Jozef Sowa/Shutterstock
Beautiful orange and black flooring leads guests up to this gorgeous brick home, but it's the massively tall plants that catch our eye.
26. A neutral abode
karamysh/Shutterstock
This beige home has a pretty yellow wreath and a red pot with a beautiful green plant to make guests impressed.
27. Simplicity goes a long way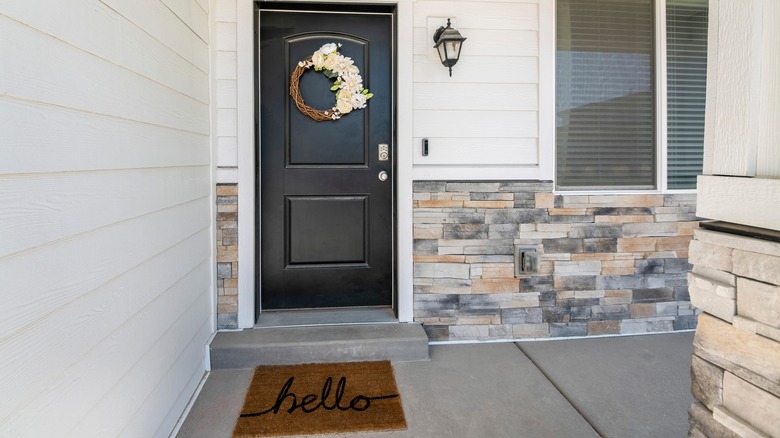 Jason Finn/Shutterstock
Pretty porch decor doesn't require a complete overhaul of the area. You can simply add a welcoming mat and a pretty wreath for a fresh look.
28. A traditional porch
David Papazian/Shutterstock
This beige home is anything but boring. With blue accents on the columns, door, and shutters, the porch looks beautiful dressed with two potted trees with a touch of flowers situated on either side of the door.
29. Cherry hanging plants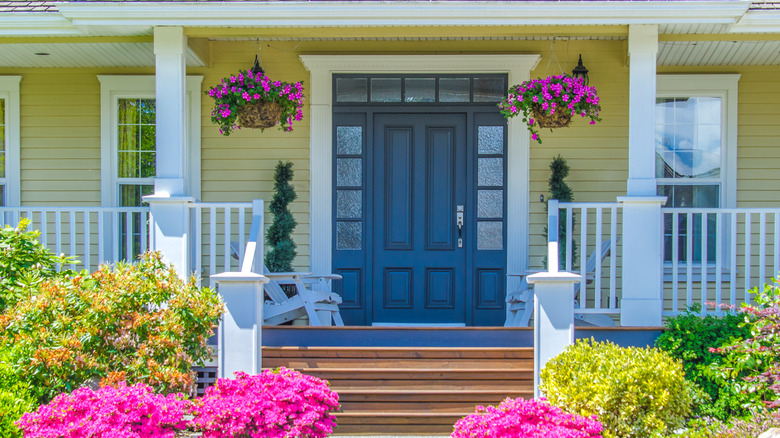 romakoma/Shutterstock
This yellow home with white trim has the right idea for their porch that features a set of bright pink hanging plants.
30. Shapely bushes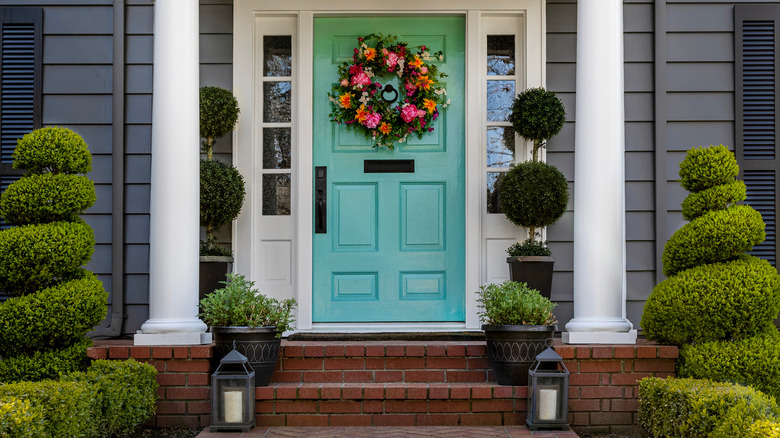 David Papazian/Shutterstock
The dark gray home is beautiful on its own, but add two shapely topiary plants on either side of this turquoise door on this brick porch, and you're sure to make a stylish statement.
31. An Impeccable garden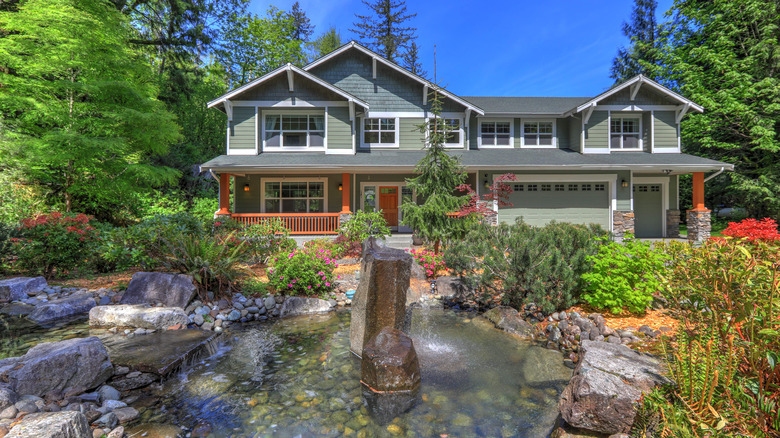 Artazum/Shutterstock
Lead guests to your porch with gorgeous landscaping design that is sure to turn heads. Not to mention, it's beautiful to look at from the porch's comfortable seating area.
32. Modern black and white look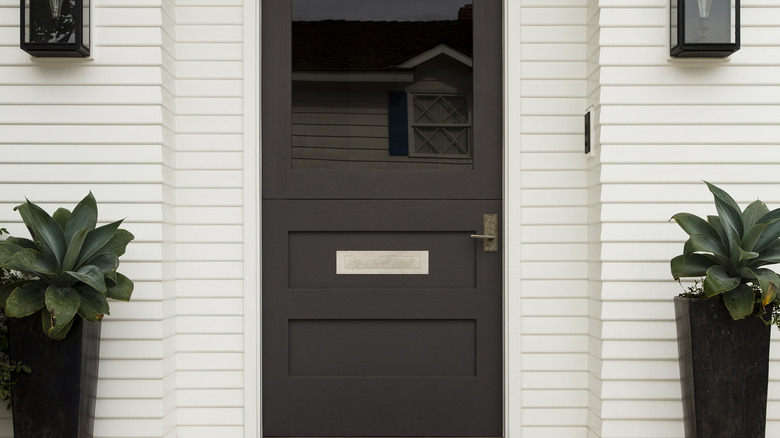 David Papazian/Shutterstock
This white home with white siding has a modern update. The dark door, dual lighting, and potted plants punch up this porch's design.
33. A beautiful potted cactus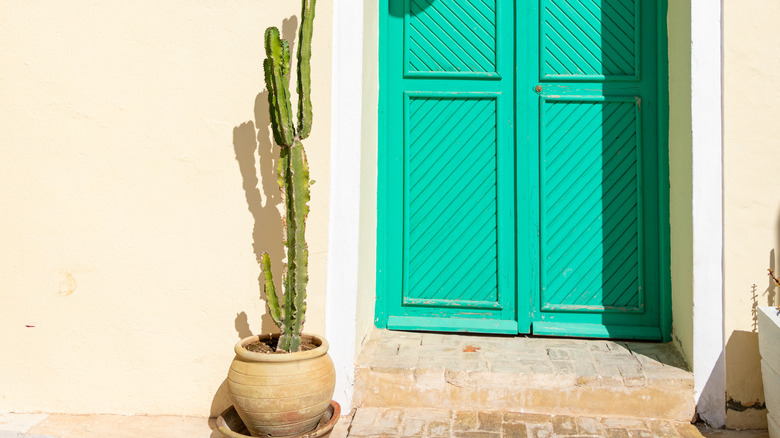 KatarzynaZakowska/Shutterstock
This beige home with a turquoise double door has a gorgeous potted cactus to greet guests. The style adds a little something extra to the basic adobe look.
34. Simple stone flooring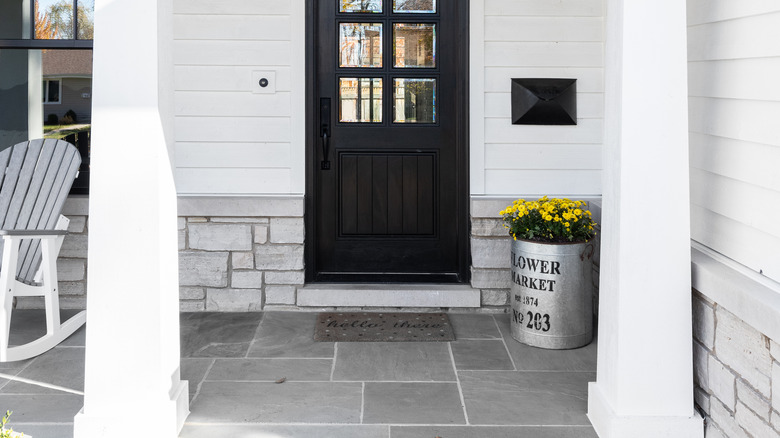 Hendrickson Photography/Shutterstock
This porch has beautiful stone flooring accented with an oversized potted plant decorating the front door, making for a welcoming stoop.
35. Wicker furniture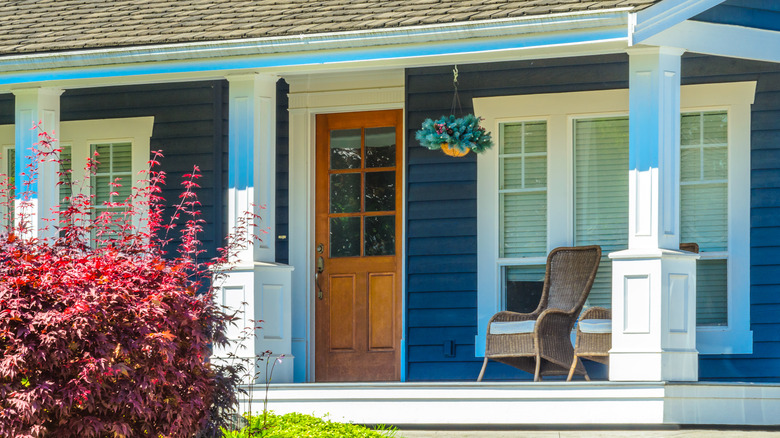 romakoma/Shutterstock
The front porch of this blue home with white trim is made even better with a seating area of beautiful wicker furniture.
36. An Italian stunner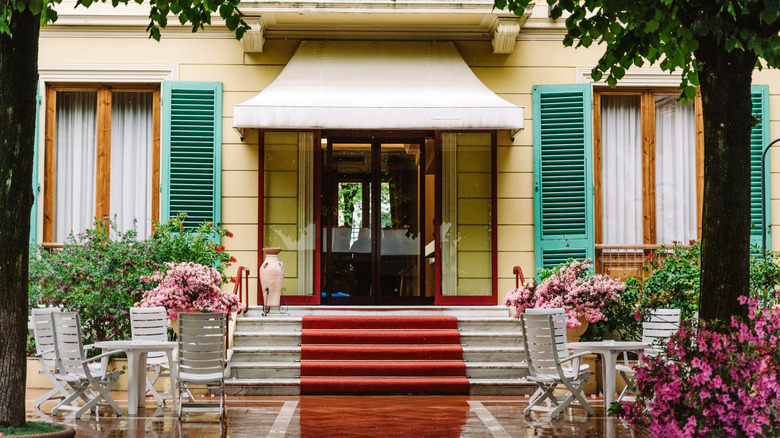 butterfly_lady/Shutterstock
This stately Italian yellow home with turquoise shutters features lovely seating areas leading up to the marble staircase.
37. A strategically placed tree
Kristina Bessolova/Shutterstock
This gorgeous cherry tree blooming in front of this home is everything this porch needs to stand out.
38. A Grecian feel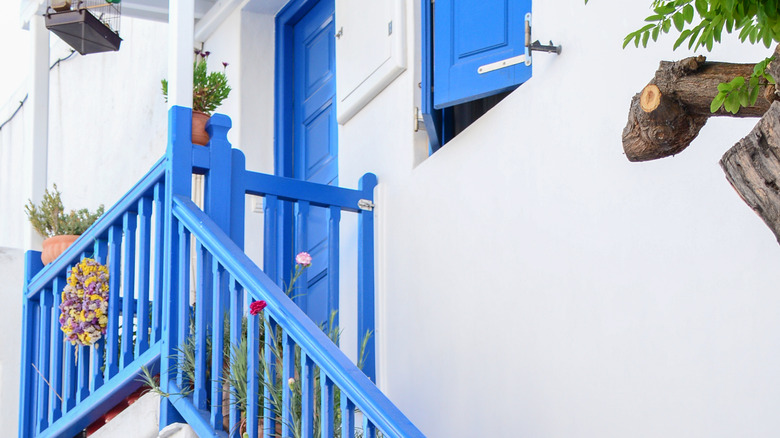 TRoberts/Shutterstock
A white home with bright blue paint on the railings, door, and shutters can make a small porch extremely enticing. Placing plants along the stairs all the way to your entrance is a spectacular idea!
39. Pull out your unique plants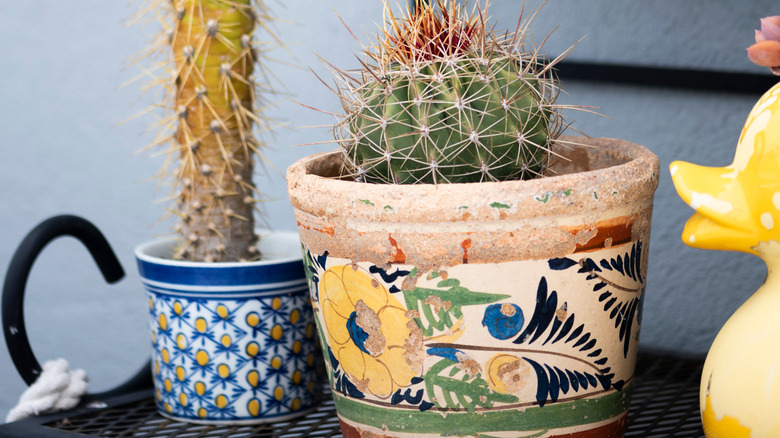 Michaela Warthen/Shutterstock
If you have a smaller porch, consider adding an array of unique potted planters like these hand-painted options, giving your porch an eclectic look.
40. It's all in the details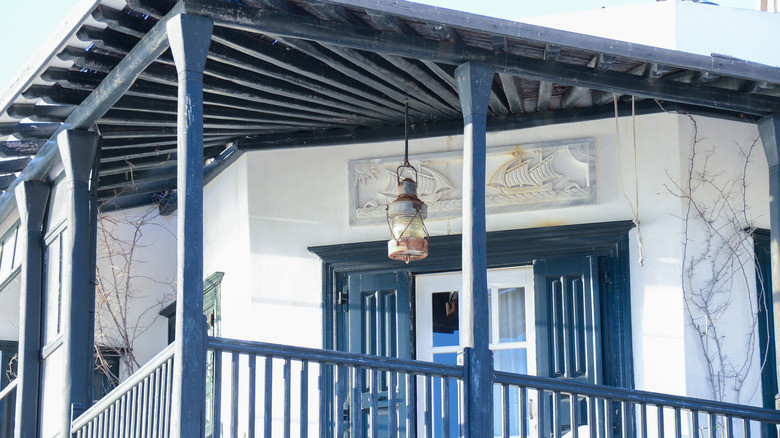 TRoberts/Shutterstock
To make your porch stand out, consider painting the ceiling, shutters, and railing in the same hue. Finish off the look with a rustic lantern-style light.
41. Create a dreamy atmosphere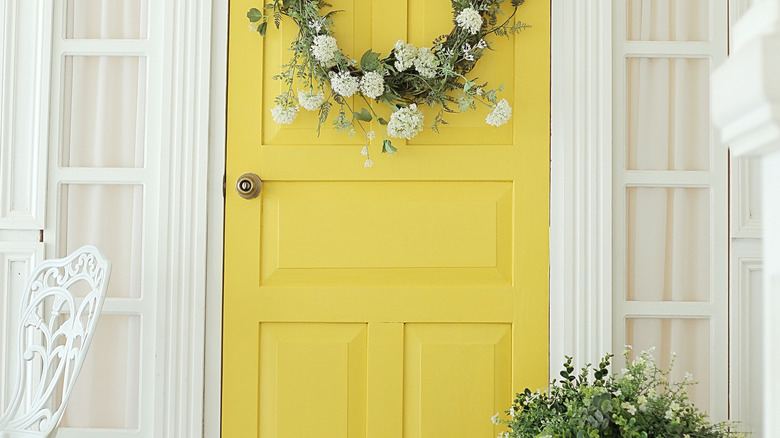 shyshechka/Shutterstock
This dreamy porch space features a romanticized white floral wreath on a bright yellow door, a stately potted plant with greenery, and white wrought iron seating.
42. Time for tea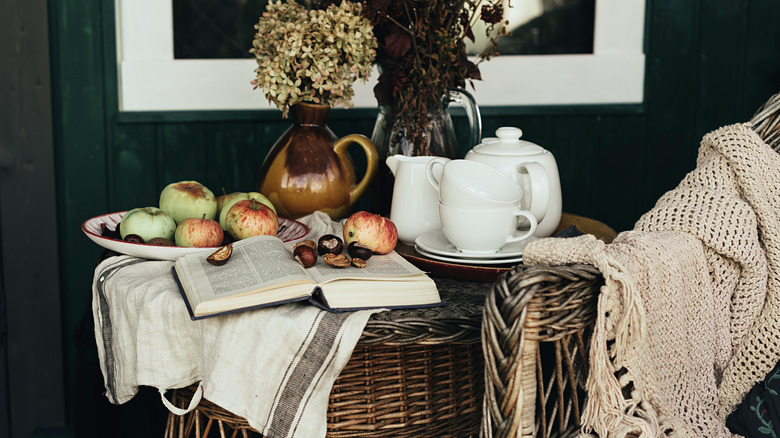 KlavdiyaV/Shutterstock
A front porch can be a stunning place for tea time set atop a wicker table –- and the perfect place to catch up on reading!
43. Add a simple table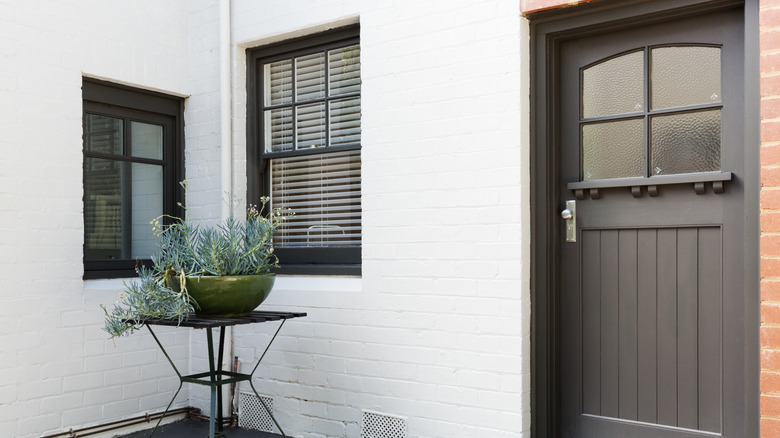 Jodie Johnson/Shutterstock
Our eyes are drawn to this black, uniquely-shaped table in the corner of this gorgeous porch. We love that they featured potted greenery, but any accent piece would look beautiful!
44. Brown and yellow looks divine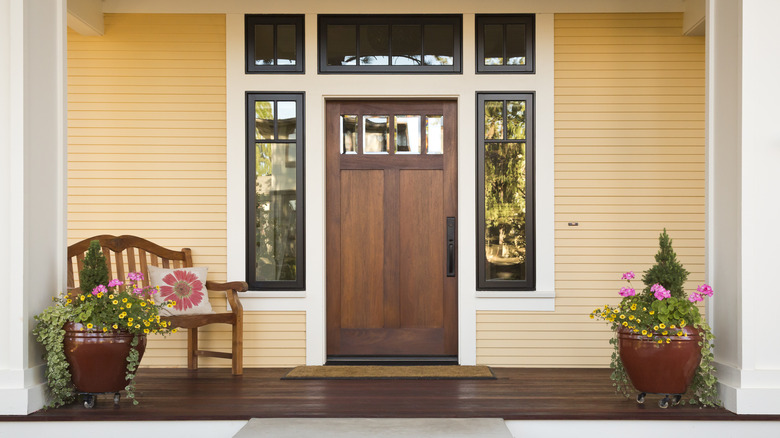 David Papazian/Shutterstock
The home's yellow exterior paint pairs well with the wood front door and matching wood bench accented with a floral pillow and plants.
45. Warm brown tones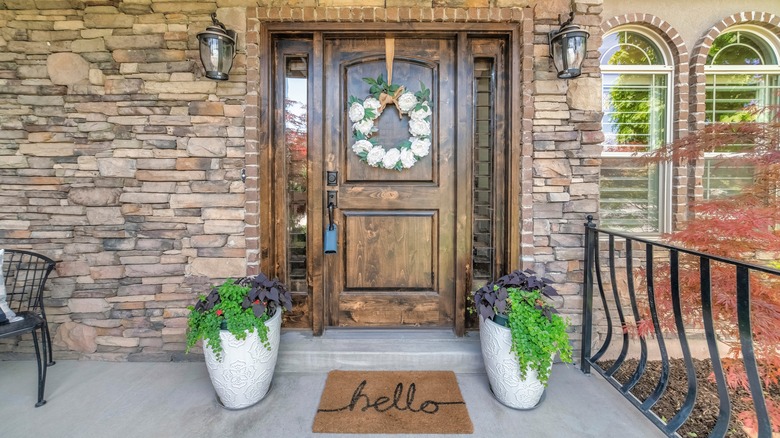 Jason Finn/Shutterstock
This brown home made of stone with a wooden door looks marvelous dressed up with lush potted plants and a welcome mat.
46. Go green with envy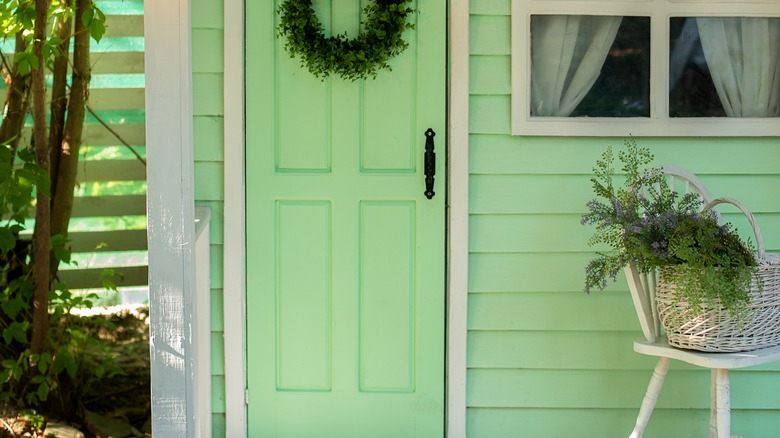 stock_studio/Shutterstock
A house and door are painted the same light green and sets the scene for this porch. A simple white chair that has a basket filled with greenery from the garden would make any neighbor green with envy.
47. A color-coordinated porch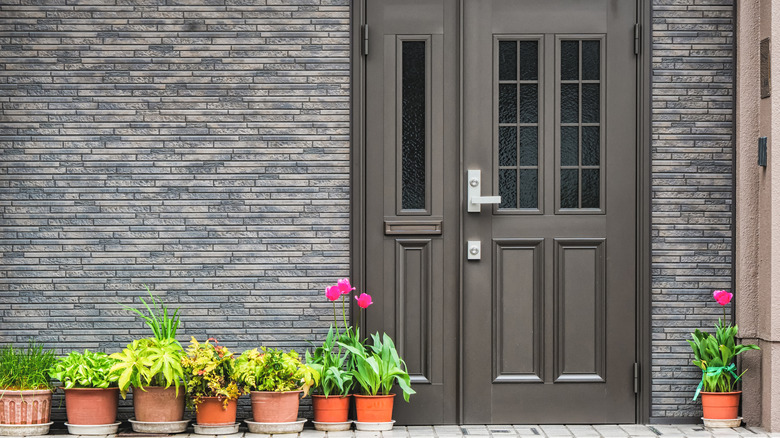 bzzup/Shutterstock
This gray home's porch pops with a straight line of several terracotta-colored planters filled with vibrant green plants that bring your attention down.
48. Southern inspiration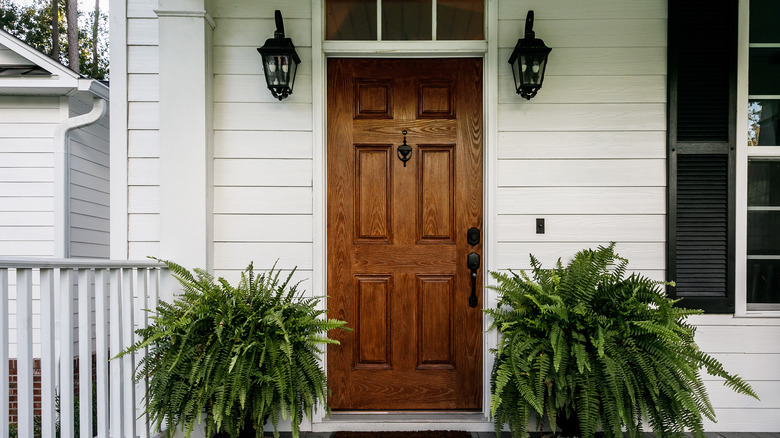 Ursula Page/Shutterstock
We love ferns, one of our favorite Southern traditions, so we are totally enthralled with adding two potted ferns on either side of our door to spruce up our porch.
49. High-end finishes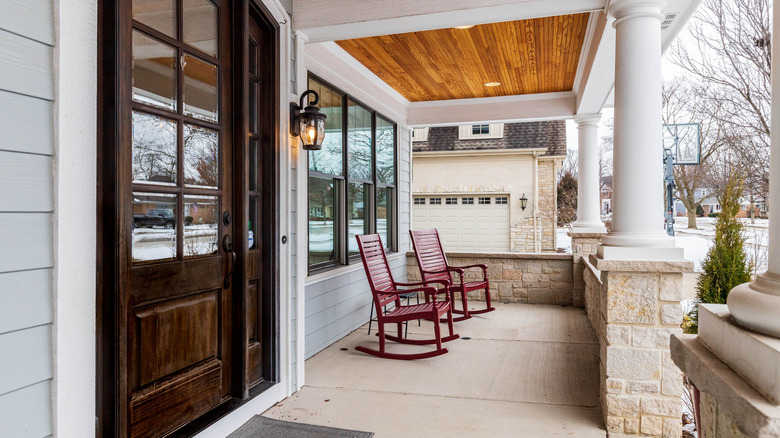 Hendrickson Photography/Shutterstock
The oversized door made of stained dark wood and glass is the first thing we notice on this gorgeous porch. The light wood porch ceiling is another magnificent detail with a simple seating area.
50. Gorgeous beach bungalow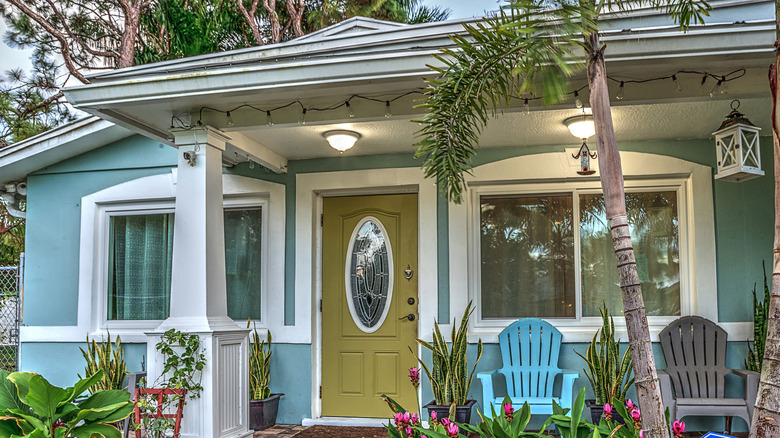 SunflowerMomma/Shutterstock
If anything, this tropical home's porch is a dream. The mix of the house's exterior blue paint color and the green door, mixed with Adirondack chairs for seating, is entirely inspirational.
51. A pop of red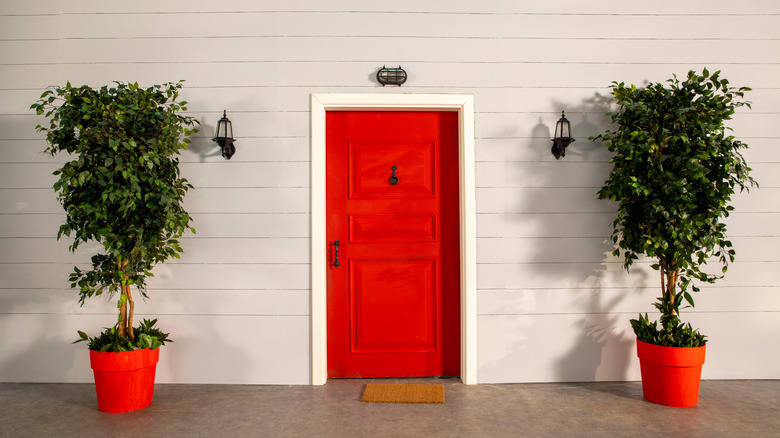 Cumhur Kaplan/Shutterstock
This white home is brought to life with incredible yet simple attention to detail. The bright red door and the two red potted plants look stunning on this porch.
52. Display your plants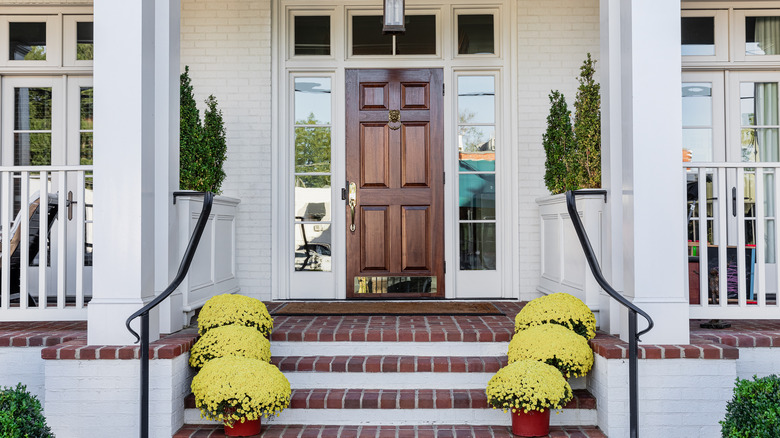 David Papazian/Shutterstock
Guests will love how this porch is styled. Purchase your plants in multiples—the same flowers and color schemes to create a symmetric look.
53. Southern charm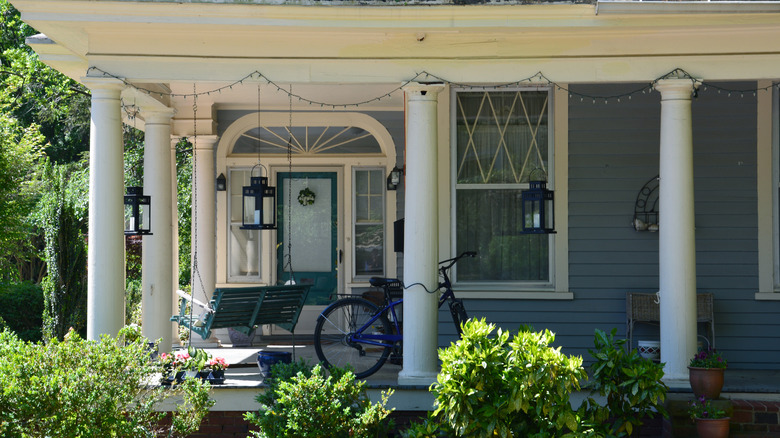 D Guest Smith/Shutterstock
Is there anything more gorgeous than a wrap-around Southern porch? We don't think so. The hanging lantern-style lighting is giving us major inspiration for our own porch.
54. Add interesting functional elements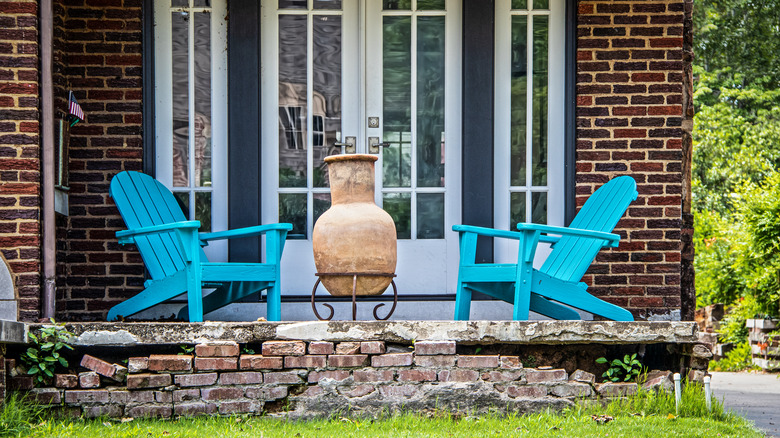 Vineyard Perspective/Shutterstock
This porch features a chiminea, a popular cooking tool used for cooking and baking, and two bright turquoise Adirondack chairs.
55. Get creative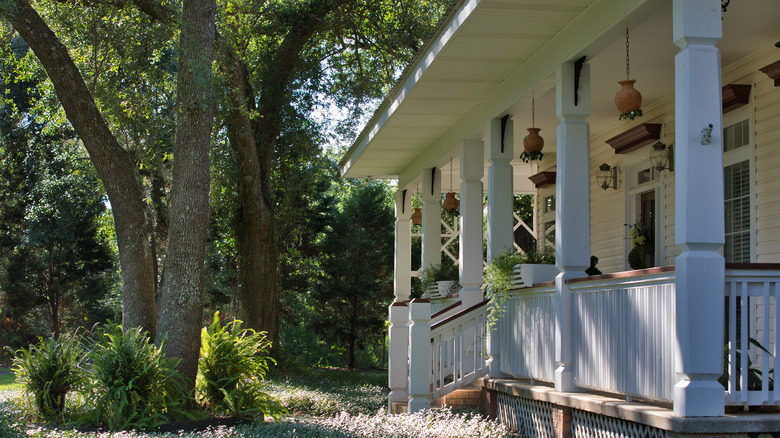 glenrichardphoto/Shutterstock
This rural home thinks outside the box a bit. Instead of hanging traditional ferns, the homeowners hung unique pots from their porch's ceiling.
56. Mix blues and greens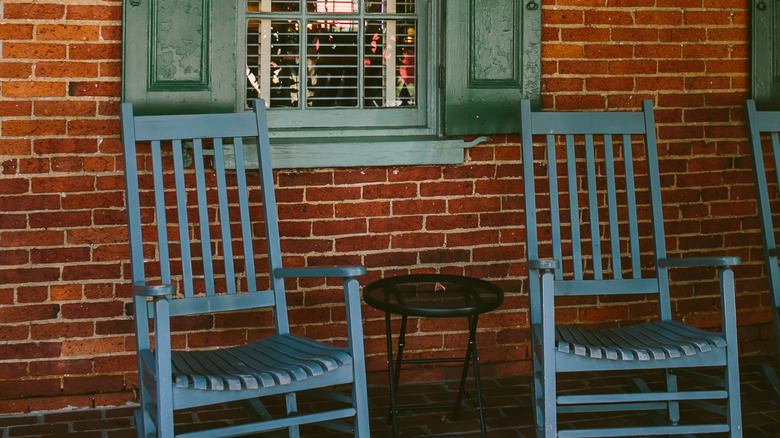 Oksana Tysovska/Shutterstock
This craftsman-style brick home looks fantastic with kelly green shutters paired with a simple sitting area with light blue rocking chairs.
57. Neighborly mash up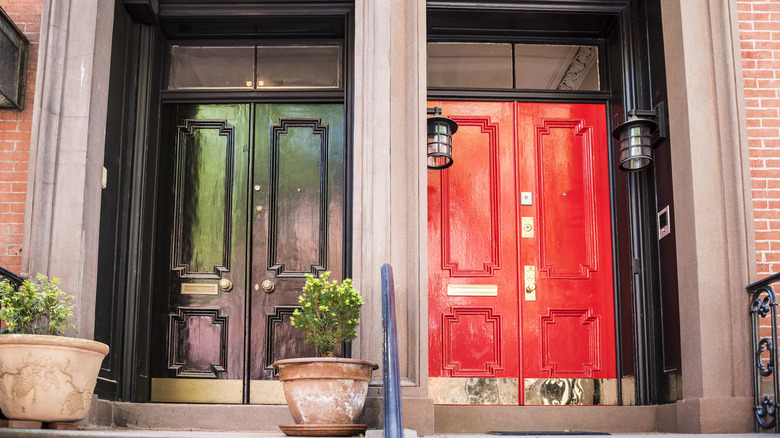 Andriy Blokhin/Shutterstock
If you live in a city apartment, there is no need to design your porch just like your neighbors! We love how this city stoop features shiny doors, one black and one red, and how one has unique lighting and the other focuses on potted plants.
58. Layer in style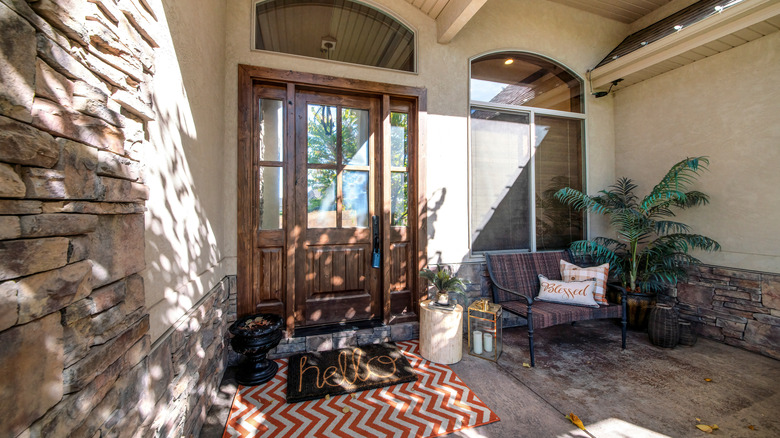 Jason Finn/Shutterstock
An expansive porch can be refreshed just by including different types of accessories. We can't get enough of how the homeowner has layered different-sized rugs and added a mix of planters and pillows in coordinated colors.
59. A modern wrap-around porch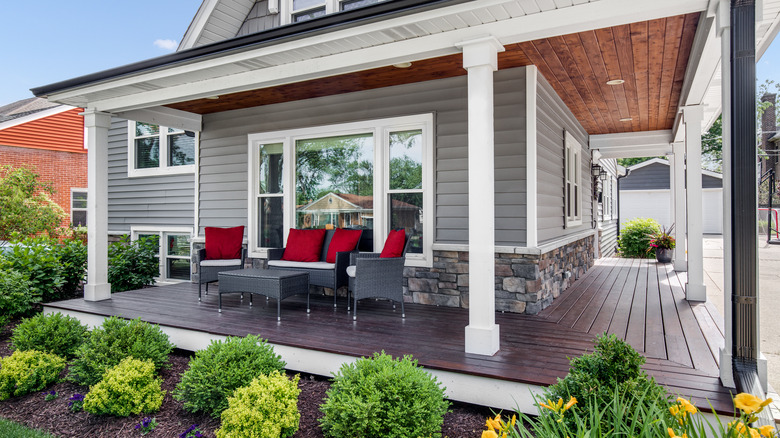 Hendrickson Photography/Shutterstock
This beautiful wrap-around porch has plenty of comfortable seating and room for entertaining guests. The color choices really make things pop.
60. White home with lush greenery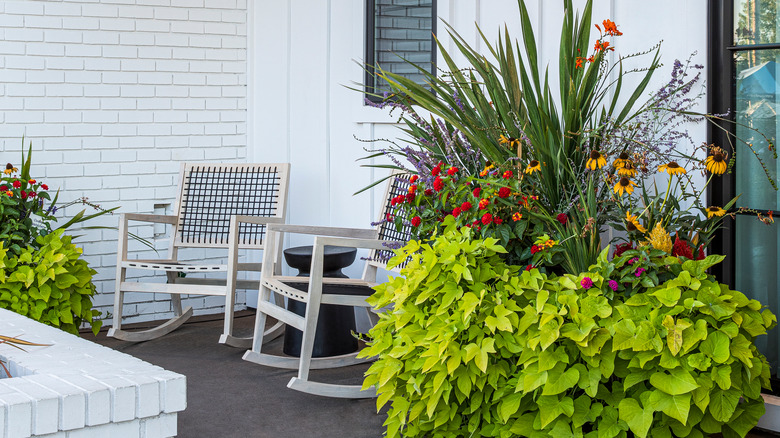 David Papazian/Shutterstock
Relax outdoors with a friend in matching rocking chairs, which is the perfect way to pass the time if you ask us! Add plenty of lush plants in vibrant colors to set the vibe.