Ask A Contractor These Questions Before Hiring Them For A Kitchen Remodel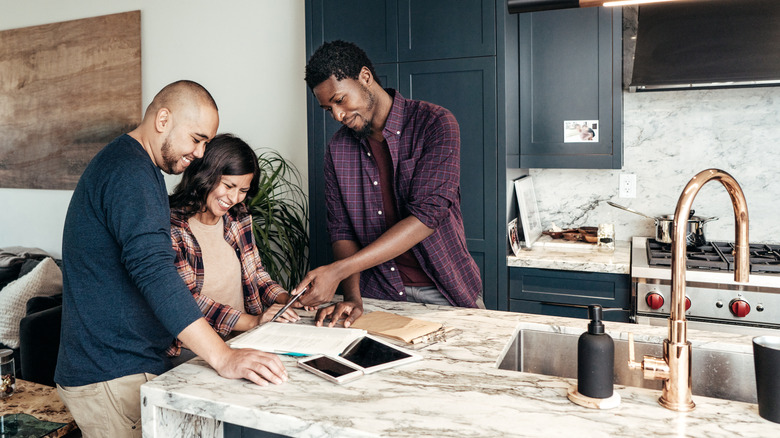 Kate_sept2004/Getty Images
The kitchen is the heart of your home. It's where food is prepared, and families and friends gather. When designed to your aesthetic preference and household needs, it boosts your quality of life. A gorgeous kitchen remodel creates a happier living environment and increases your home's property value, upping its appeal to potential buyers when it comes time to sell.
Considering a kitchen's impact on an entire house's atmosphere, you don't want to take any shortcuts when starting a new renovation. Hiring a contractor isn't just a business deal; you're entrusting your home to someone with complete control over its design and infrastructure. With that in mind, there are a few important questions you should ask a contractor before you get started on your next kitchen remodel.
Are you a general contractor or kitchen remodeling specialist?
First and foremost, you need to know who you're hiring. General contractors are easy to find, and many of them offer kitchen-related services. However, there are contractors out there who strictly identify as "kitchen remodeling specialists" as they specifically focus on this area of your home. According to a 2022 Houzz study and studies from the years prior, more homeowners and landlords are turning to these specialists instead of general contractors.
People opt for these individuals because of their reputations for quality, reliability, and customer service. Kitchen renovators are experienced beyond basic construction and sub-contracting as needed. They often lead the design process, ensuring an end result that meets or exceeds your expectations. Since they have chosen to make kitchen renovations their area of expertise, they should be involved in the entire scope of the project, including the demolition, restoration, and construction of the room.
Ask if they are a member of the National Kitchen + Bath Association (NKBA), which is a network of established kitchen and bathroom professionals. Members of the NKBA are up to date on the latest codes, guidelines, and standards in their industry, can earn certifications, and have connections to other excellent subcontractors for kitchen work. You should also ask if they are affiliated with the National Association of the Remodeling Industry (NARI) and the National Association of Home Builders (NAHB), which serve similar purposes to the NKBA. You can search all three of these associations' online directories for contractors in your area to verify your potential hiree's membership.
Are you licensed and insured in my state?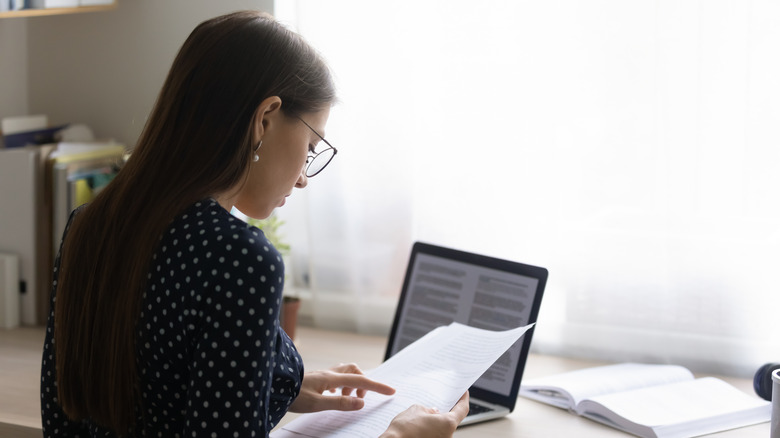 Fizkes/Shutterstock
Contractor licenses aren't just for show; they exist for the best interests of everyone involved by prioritizing worker and client safety, ensuring all workers do their jobs, and making sure that finances are exchanged as agreed upon. Every state has different requirements when it comes to licensing, and sometimes they even vary by county or city. Most states offer two types of licenses; a general and a specialty. If your contractor is going to be working with plumbing and electrical hookups, such as those connected to many kitchen appliances, they're likely to need multiple licenses.
Ask for proof of licensing within your state by requesting their numbers and current status. Remember that just because they have a license from another state, it doesn't mean they can perform work anywhere. Rules and regulations differ by state, and both of you could face legal trouble if they aren't registered to work in your location. While many of these rules vary by municipality, you should know that most local governments also require contractors to have liability insurance to hold their licenses. If you want to confirm a valid license, you can use online sources like Angi's Search Tool to look them up. Some states also provide tools for these checks, such as Florida's Licensee Search directory.
Do you use subcontractors?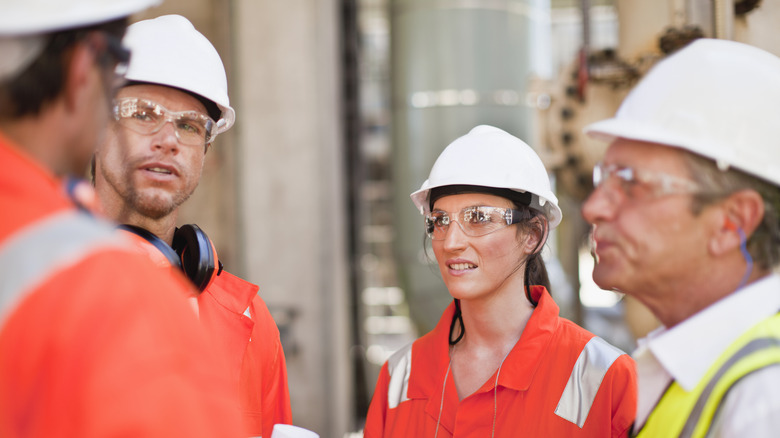 Hybrid Images/Getty Images
When speaking with your primary contractor, ask them if they have a certified team for plumbing, electric, carpentry, and other related fields. If you're working with a larger company or corporation, they likely will, but it's also common for these businesses to use outside help. Renovating an entire kitchen requires several specialties, including interior design, plumbing, electricity, and other knowledge. No matter how experienced they may be, smaller companies don't always have an in-house team for highly-specialized work. 
It's common for them to subcontract to other professionals in their field, often finding these connections through networks like the NKBA, NARI, and NAHB. Hiring subcontractors is not a sign of weakness— rather, it shows that a contractor is willing to hire more qualified individuals to do certain tasks to ensure they deliver a better project.
Depending on your documented agreement, who they subcontract may be out of your control, but you can ask questions to get a better feel for who will be working on your new kitchen. Ask who they plan to subcontract and for what jobs. This allows you to Google other companies or professionals yourself, so you can investigate them the same way you vet your primary professional. You want to make sure they're also licensed and carry insurance, for the same reason you need these qualifications for the formerly discussed. Ensure the subcontractors are listed in your finalized agreement. It should document their contact, license, and insurance details, as well as who is responsible for providing them payment.
Does your team take care of project permits or is it up to me?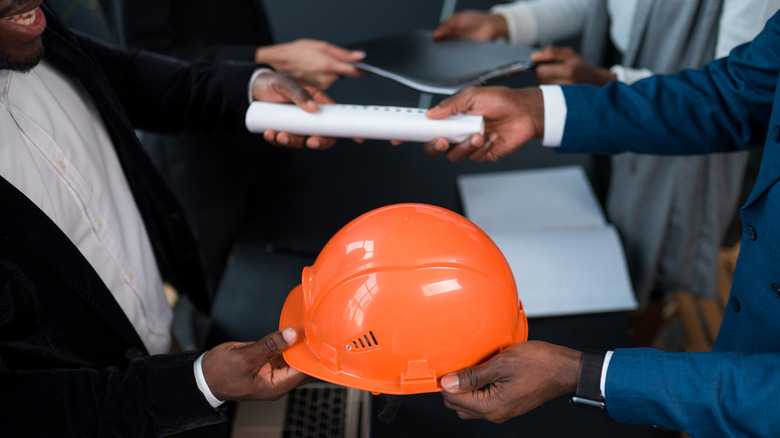 DmitryStock/Shutterstock
There's a very high chance your kitchen remodel will need a permit at some point. You'll need a permit for structural work, including moving walls, adding exterior doors, and installing windows and skylights. They're also necessary for moving and installing sinks, changing electrical wiring and outlets, and rerouting ventilation. All of these listed projects are common in kitchen renovations, making it likely you'll need to obtain permits to complete them.
What happens if the proper permit isn't pulled? Having no permit can cause future buyers to back out of your home when undocumented changes are discovered, or they can make you responsible for issues even after you sell your home. Insurance companies may refuse to provide coverage, and local authorities can fine you. While permits typically range from $100 to $600, fines often double this.
You can apply to your local municipality to acquire these rights to construction yourself, however, many contractors obtain these permits for you. This saves you the time and effort of making sure you get all the right paperwork, which is difficult if you aren't experienced in the construction industry. Ask your contractor if their scope of work includes acquiring the permits, taking care of the payments, and arranging necessary inspections. It's smart to inquire about the permits they'll need if they're using subcontractors. In most cases, reputable professionals automatically include this process, so you won't lose much sleep over organizing permits and inspections.
What is the extent of kitchen remodeling services that you provide?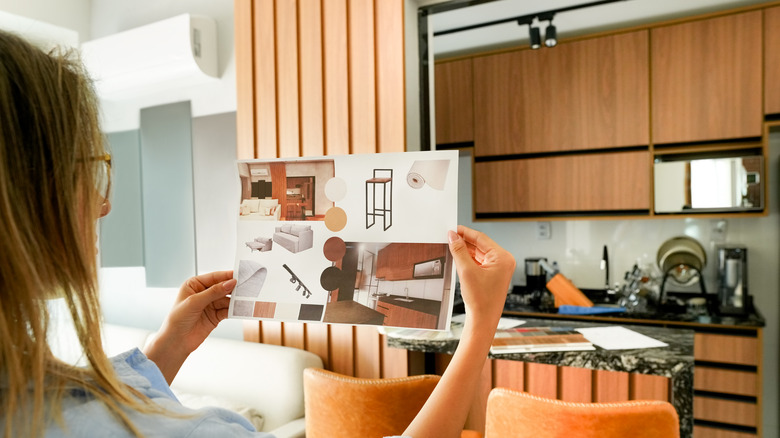 Giselleflissak/Getty Images
Once you've fully audited your contractor and their in-house or outsourced team, you can start asking more project-specific questions. It's important to know what kitchen remodeling services they're licensed and able to provide. Full-service contractors are more expensive because they perform the full scope of a kitchen renovation. You won't have to hire other specialists along the way, which saves money, stress, and work in the long run. Contractors that perform architectural and interior design services in addition to demolition, restoration, and construction are ideal for kitchen projects.
Make sure they know what work you want done, and be open to any recommendations they may have. Remember, they're the expert in their field, and their suggestions come from previous experience. For example, you may have only wanted new countertops, but your contractor may suggest swapping out the cabinetry as well. This may be because your chosen countertops are not compatible (too heavy) with the older cabinets. 
This is also why having a full-service kitchen specialist is a smart move. They can look at your overall project plan and identify flaws before starting the physical construction. When construction professionals up-sell you on kitchen renovations, remember this isn't just to give them a better payout. Paying for quality upgrades and changes is necessary to create a beautiful and long-lasting kitchen.
Can you show me a portfolio of your previous (but recent) work?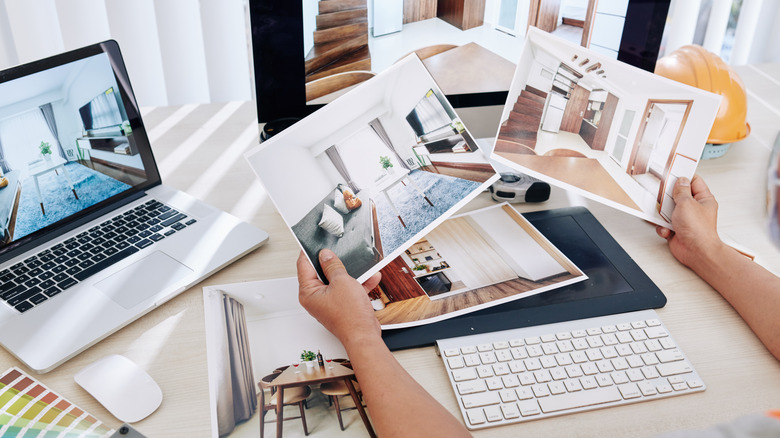 Dragon Images/Shutterstock
Nothing is more indicative of a designer's abilities than their previous projects. Ask to see a portfolio of their recent kitchen work. This provides insight into their design taste and versatility, helping you to determine if they're a good match for your project. When asked for previous work examples, they may present you with a physical binder of photos or direct you to an online gallery. 
Get a full feel for their customer service and results by exploring various online sources, including their website, Facebook page, Google business profile, and any other social media pages they may have. Companies don't have control over public reviews, meaning you can see people's good and bad experiences working with them. 
Above all else, when looking at their past work efforts, ensure you're seeing both the before and after photos. If you're ordering a complete demolition and reconstruction of your kitchen, you want a kitchen specialist who has experience with full transformations. If there are no "before" photos, there's no way to tell how much of the "after" photo is a result of your contractor's work.
How many other projects is your team currently working on?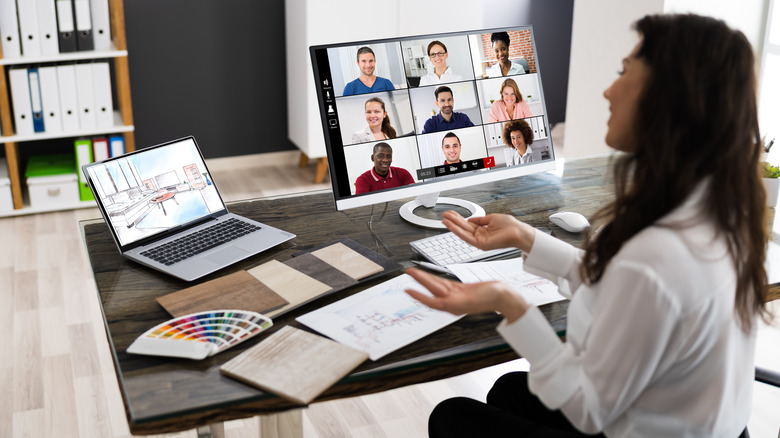 Andrey_Popov/Shutterstock
At the end of the day, your contractor is running a business, and you're likely not their only client. Keep in mind that most reputable professionals know how large of a workload they can handle and will schedule accordingly. However, they're human, and they may make the mistake of taking on too many clients at once. This can greatly affect the timeframe of your own renovation and lead to frustration over when it will be finished. 
You can determine the potential for this problem by checking out former reviews from previous clients. However, you should keep open communication with your contractor. Ask them about the size of their company and how many contracts they typically take on at once. They should know how many simultaneous projects they can handle, and their answer should give you insight into how organized their company is. 
Keep in mind that a busy company isn't necessarily disorganized; this is also a sign that their team is very popular and in demand. They may take on a lot of projects at once but be methodical in their approach. They may even ask you to delay your start date until they finish a current project to ensure they don't restrict your kitchen access any longer than necessary. A wait time isn't always a bad thing. It gives you time to prepare an alternate kitchen room and start moving valuables out of the work zone.
Will I be able to use my kitchen throughout the construction?
Unless you plan on getting take-out or dining out for every meal, you will need to make a plan for meal preparation during renovation ahead of time. The best course of action is to set up a temporary kitchen. When you're packing up your kitchen wares, set aside plates, bowls, utensils, and cups. Move your microwave, coffee maker, and any other necessary small appliances to another location in your home where they can be safely used. Of course, not everyone has the space to set up a temporary kitchen. In this circumstance, you must let your kitchen renovators know you want access to your kitchen as often as possible.
They should be willing to work with you, as your kitchen shouldn't be unavailable for the entire project duration. When going over the scope of work, have them outline the times when you'll have free rein in your kitchen. The times when contractors bar you from the kitchen area are usually during re-surfacing work, such as changes to the countertops and floors, which need time to dry and set before use. Just like any personal or business relationship, communication is key. If any setbacks arise during the process, the construction company should be open with you about the resulting schedule changes.
How long do you estimate the renovation will take?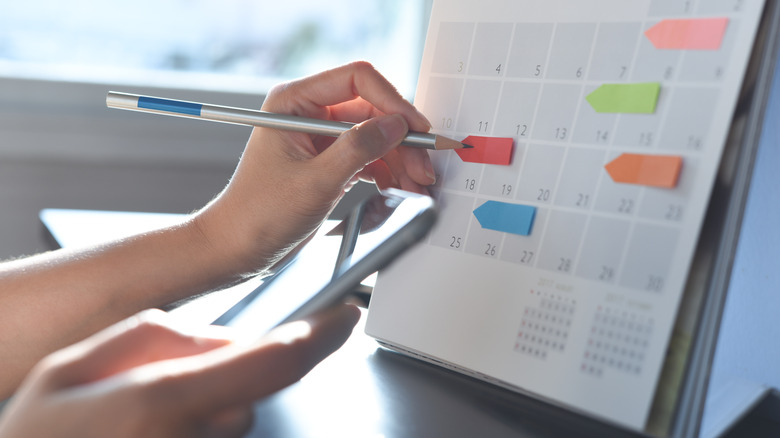 TippaPatt/Shutterstock
In addition to calculating when you can use your kitchen, a contractor should know the general timeline of your kitchen renovation. Your budget, project scale, and kitchen size are the biggest players throughout the remodel. Before the final contract is signed, a contractor should cover all the factors that could affect your proposed timeline. Shipment delays can affect the delivery of appliances and building materials. Electrical and plumbing layouts may not work with the initial plan of action, leading to redesigning layouts. There may even be ventilation issues when appliances are moved around.
Murphy's third law, "Everything takes longer than you think it will," is an outlook to keep in mind throughout your project. The secret of a good contractor is that they plan ahead for these issues to develop along the way, and they'll leave buffer periods in their calendar to compensate for such delays. If a project miraculously concludes without a single hiccup, the worst that'll happen is they finish ahead of time. Ask for a full plan detailing the research and planning, demolition, construction, and finishing touches to your kitchen renovation. Expect a cosmetic remodel to take between three to seven weeks and a full-scale remodel to take up to six months.
Keep in mind that your contractor doesn't necessarily have control over the delivery of some items. Your appliance and material suppliers can also affect how the final schedule rolls out, especially if you have to ship a one-of-a-kind stone slab from another country. Given their extensive experience in kitchen remodeling, your contractor should have advice on which suppliers are more reliable and have more prompt delivery histories.
How can I pay and what are my options?
Studio Romantic/Shutterstock
Now it comes down to the roots of your business deal; the payment plan. There are two types: fixed-price and cost-plus plans. Fixed-prices are more common for predictable projects, so most kitchen renovators avoid this type of plan. A price is determined from the beginning, and the contractor can't deviate from the agreed amount even if they spend more on materials and labor. In contrast, a cost-plus plan allows reimbursement throughout the project. Kitchen specialists usually take this route, providing an estimated financial exchange that is vulnerable to changes. 
Basically, if there are project changes or setbacks, a client can end up paying more. If you do strike a cost-plus plan, make sure there is a cap or maximum limit that your contractor can demand. Remember that a cost-plus plan isn't all bad. It allows more flexibility in a project, so contractors can use higher-quality materials and perform better work. On a fixed-price plan, they are held to strict timelines and restricted budgets that may force them to cut corners throughout the process.
Once you agree on the type of plan to be used, you must discuss how payments are deposited. You should not pay for the entire project upfront; if a contractor completely botches or abandons their job, getting that money back can be a legal struggle. Most require a downpayment and don't take the rest of the funds until other project phases are completed, and your new kitchen is completely finished. Certain states have requirements regarding pay, for example, California requires 10% or $1,000 down on any project (via Angi). You should take a look at your own state's requirements so you can have a better idea of what is acceptable to agree upon.
Does your contract include all the necessary considerations?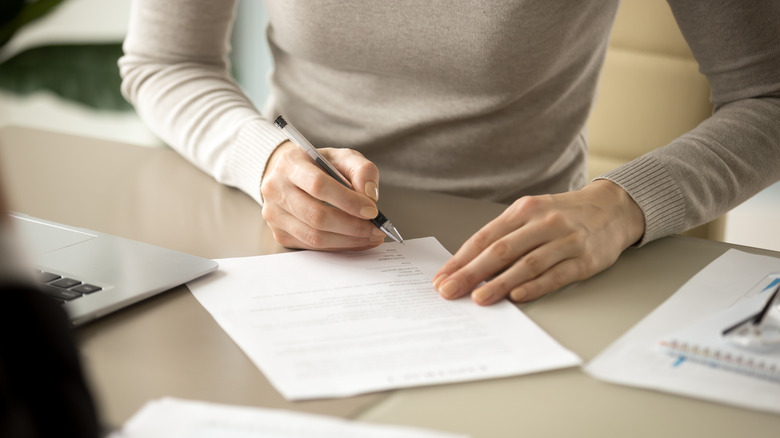 Fizkes/Shutterstock
It all comes down to the finalized document outlining your contract with the hired professional. These contracts are lengthy, to say the least, and share many requirements throughout the United States. However, some areas might have additional requirements since different states have construction rules based on the local environment, geography, climate, and natural risks. For example, states in the midwest, such as Kansas, must have windows built to withstand the dangerous wind speeds of tornadoes (via Up Codes). Factors like this should be covered in the first section of the contract, which often includes the written scope of work, material supply and storage details, and diagrams of the project.
Read over the rest of the contract for other important notes, including a lien waiver that ensures your payments are used honorably, an estimated but specific timeline, and a license and authorization clause that promises your contractor can legally do the work they intend to do. For your own protection, you should also look for a penalty section that allows you to deduct or delay pay if work falls behind. 
An outline of the aforementioned costs and payment plan should also be included, as well as any details of site clean-up once the project is finished. This is a lot of information to cover, and a contract can be confusing. Don't be afraid to ask your contractor for clarification, to define terms, or specify certain details. In the end, you're just trying to protect yourself, your home, and their business by ensuring the contract is up to snuff.
What is your warranty or company guarantee?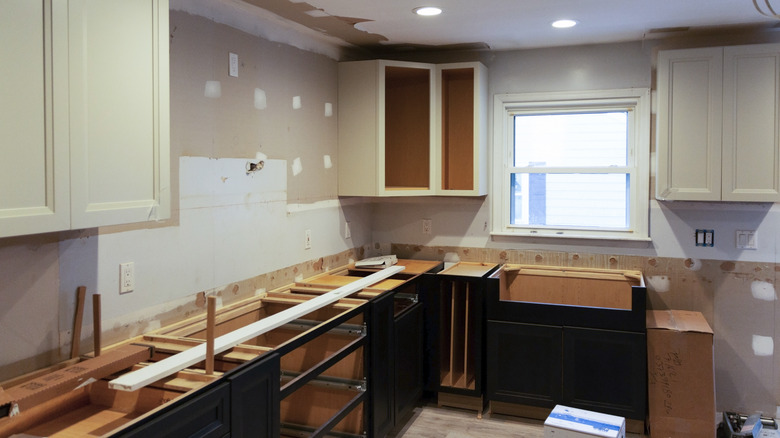 Woodysphotos/Getty Images
Company warranties and guarantees are the foundations of American businesses. It keeps them competitive, assuring their end product will be to your satisfaction and well worth your investment. Some companies offer better warranties than others, and usually, larger corporations can offer better promises since they have more funds to fall back on if something goes wrong.
When asking about your warranty and guarantee rules, make sure they're specific. Vague wording creates loopholes for them to get out of agreements you might've thought you had. Manufacturer warranties are separate from your contractor. These cover the appliances and installations in your home. If any of your new kitchen fixtures break down, the procurement and installment of new ones should be at no cost to either of you. However, the original manufacturer may not cover the replacement if products were installed incorrectly the first time. In this case, you need to ensure you have a signed guarantee from your contractor that they will cover the appliance, installation, and labor costs of replacing the unit, which was their mistake. 
Kitchen renovation warranties are usually valid for at least a year. This gives homeowners a year to find defects and issues with their setup.  Ask your contractor how long their warranty lasts and what it covers. Make sure the types of damage and all kitchen components are included in your written contract. If anything is left out, they won't be legally liable to help you out after the job is finished.