100 Ideas For Your Kitchen Remodel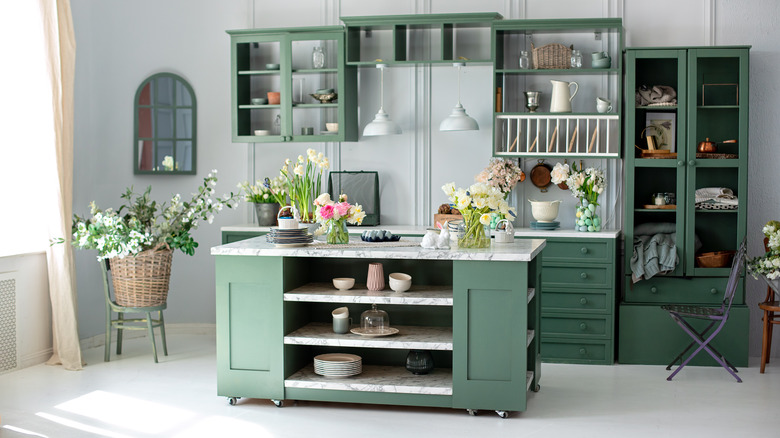 stock_studio/Shutterstock
The kitchen has become one of the most important rooms of the home because it is the place where you gather with your family and friends to enjoy delicious meals together. Remodeling your kitchen has become a popular way of updating the home, and there are tons of design and functional choices to make when remodeling your kitchen.
The Spruce explains some things to keep in mind for your kitchen remodel. Design is one of the most important elements to think about when remodeling your kitchen. Do you want to stick with a specific design style, such as Scandinavian or farmhouse, or do you want to include elements of many different design styles? You can also start thinking about colors. Do you want a colorful kitchen or a more neutral space? The colors you choose for your kitchen set the tone for the overall design. Different backsplashes can also completely change the feel of your kitchen. Countertops are another important decision because there are so many options to choose from. From concrete to quartz to granite, the options are seemingly endless for kitchen counters, so there are sure to be some that work perfectly in your kitchen. From there, you will pick out your appliances and hardware, including lighting, cabinet handles and pulls, and any other details you want to include in your kitchen.
Here you will find 100 ideas for your kitchen remodel. This article is your ultimate guide to kitchen design, from design style to lighting choices.
1. Scandinavian inspired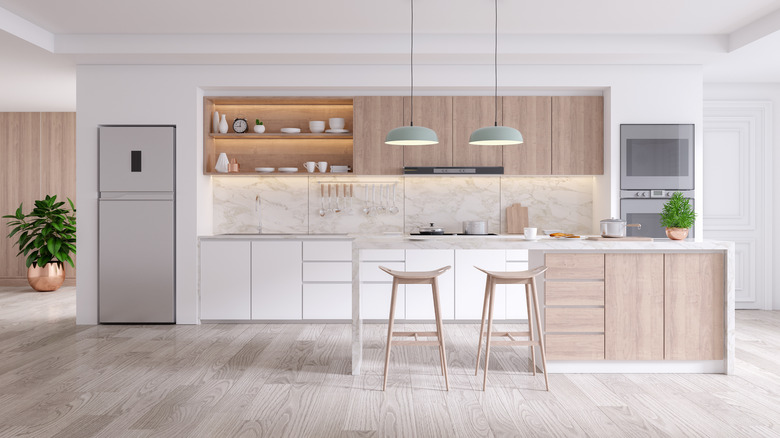 LEK_3DPHOTO/iStock
A Scandinavian-inspired look is a great kitchen design if you want to create a more minimalistic and simple space. This style kitchen will have clean lines and light and bright colors for the ultimate calming room.
2. Farmhouse inspired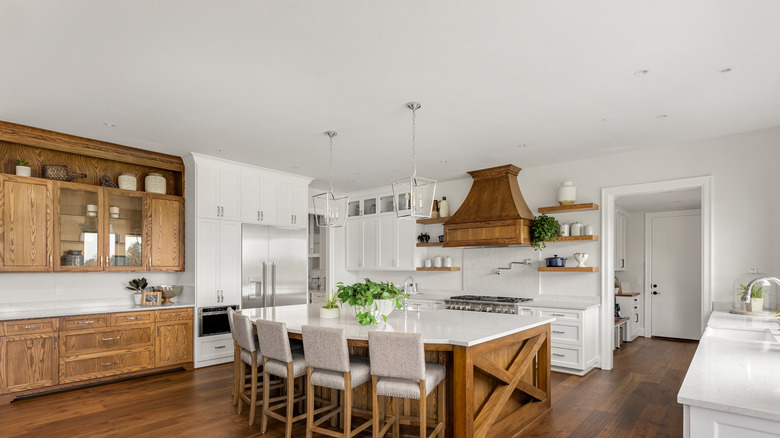 hikesterson/iStock
For a beautiful farmhouse-inspired kitchen, try mixing lots of wood tones and whites. The white tones give the space a modern feel, while the rustic woods are grounding and bring in the farmhouse design element.
3. Cottage-style kitchen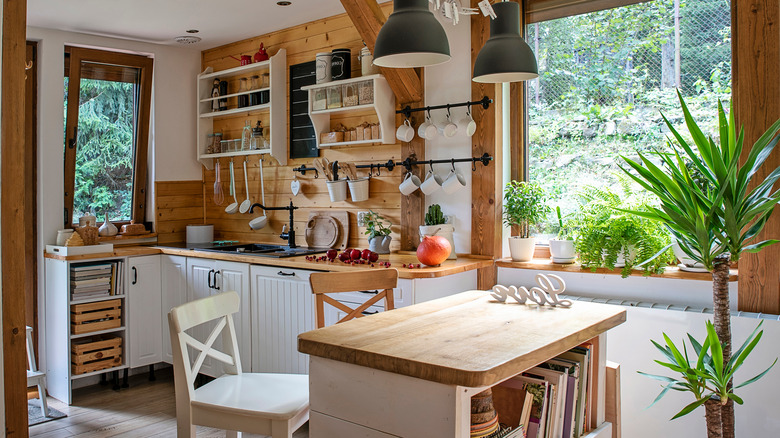 liloon/Shutterstock
A cottage-style kitchen features lots of light wood and knick-knacks, creating the perfect cozy space to cook. These kitchens are typically smaller but make good use of the space by hanging mugs or utensils from the wall and using shelves for storage.
4. Colorful cottage style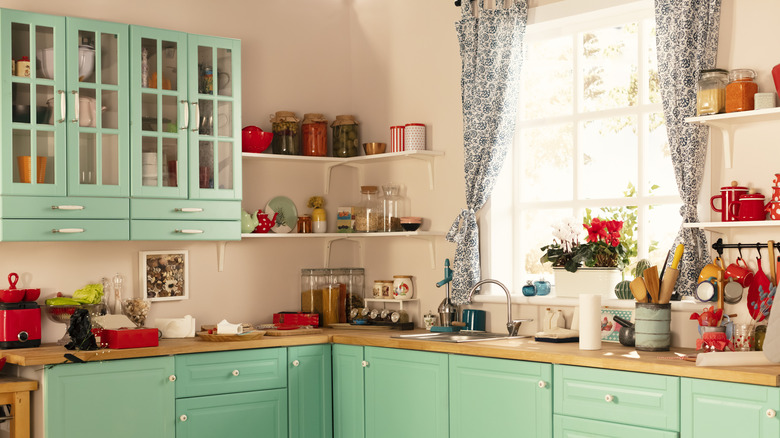 Dreamer Company/iStock
For a brighter feeling cottage kitchen, try painting your cabinets or walls a fun color, like these blue cabinets. Also, incorporate floral curtains and colorful décor to finish the look.
5. Rustic wood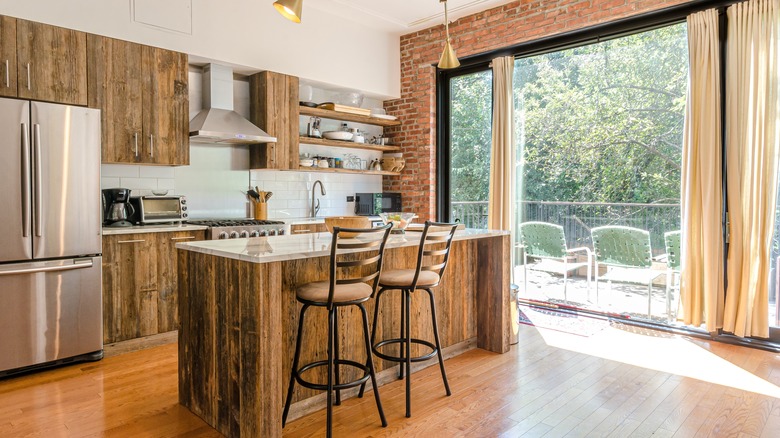 Chastity Cortijo/Unsplash
A rustic-style kitchen is a warm and cozy space that makes you feel like you're in a cabin in the woods. Using natural or reclaimed wood cabinets is the perfect way to create a rustic feel in your kitchen. 
6. Beachy colors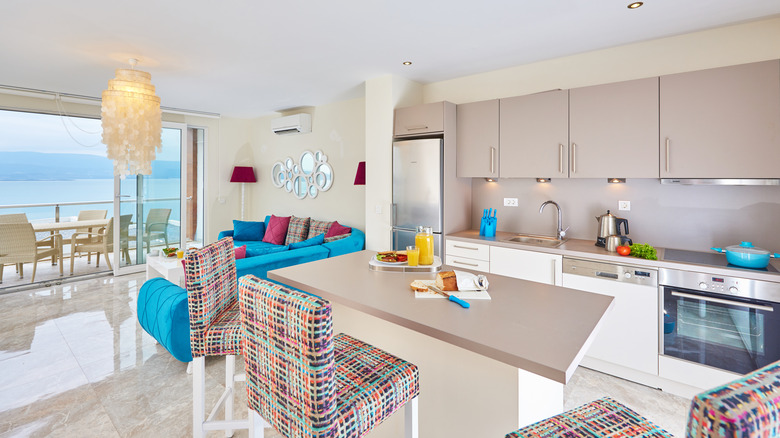 Jaroslav Francisko/Shutterstock
If you're looking to create a beachy feel in your kitchen, using blues, sandy tones, and whites can help achieve that look. Emulating the colors found at the beach will help mimic the same feeling in your kitchen.
7. Art deco inspired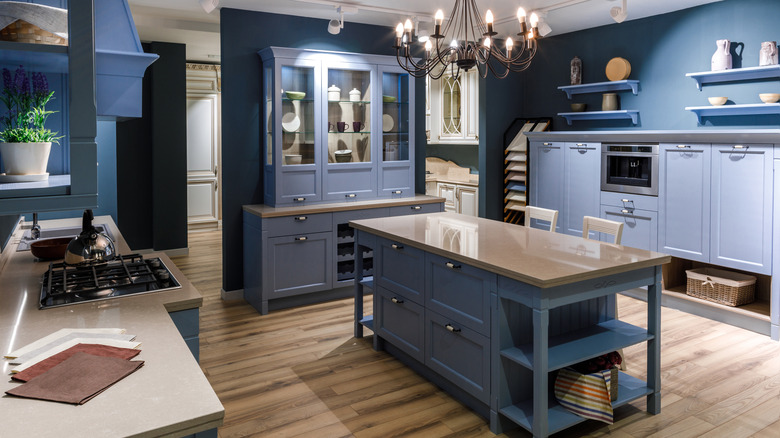 LightFieldStudios/iStock
Characterized by bold colors and geometric shapes, the art deco style translates well into kitchen design. This kitchen features bold blue shades and plenty of areas to display geometric-shaped décor.
8. Light gray modern style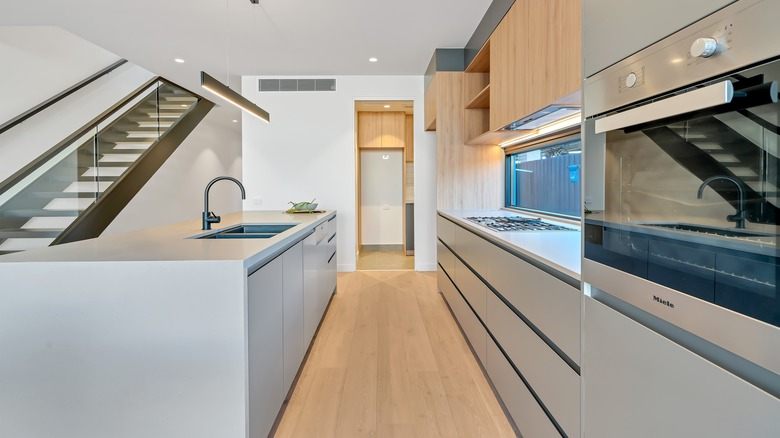 R Architecture/Unsplash
Modern design is characterized by clean lines and simple and sleek design elements. These kitchens may feature neutral colors, and no cabinet handles for a clean finish.
9. Family oriented design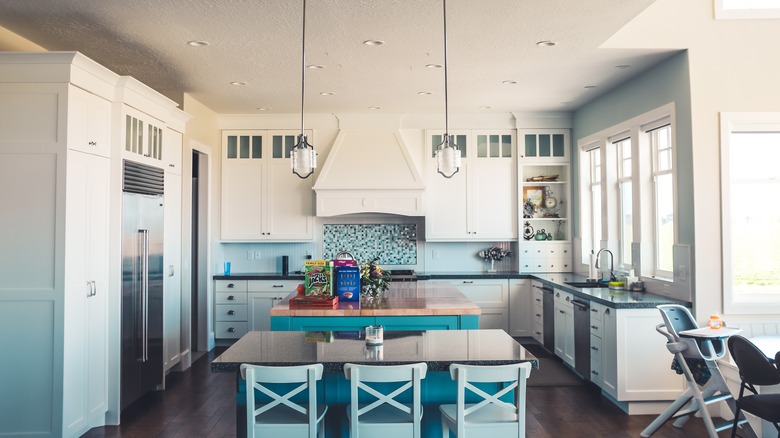 NeonBrand/Unsplash
The kitchen is the place where families gather in the home. Creating a family-oriented kitchen means including lots of seating options and plenty of storage for food, appliances, and cookware.
10. Mediterranian inspired
Followtheflow/Shutterstock
A Mediterranean-designed kitchen is a beautiful way to incorporate color and wood tones into your space. Including hand-painted tiles in coastal colors is a great way to achieve this design style.
11. Plain white kitchen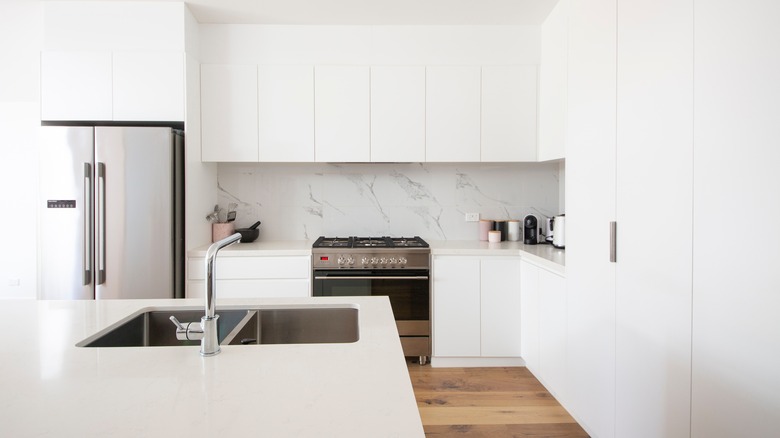 Simona Sergi/Unsplash
If you're going for a minimalist or simple feel for your kitchen, including white cabinets with no handles and white countertops can achieve that look. This clean and straightforward design is a great starting place if you want to add more personal touches.
12. White single-line kitchen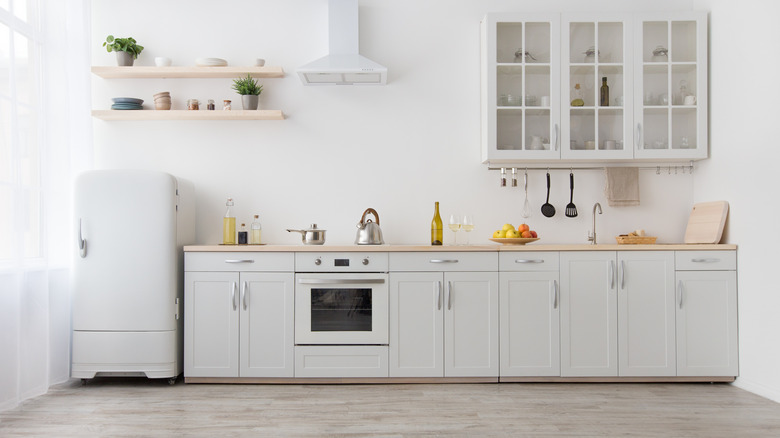 Prostock-studio/Shutterstock
If you have a smaller kitchen space, you may need to build a single-line kitchen, which is a kitchen where everything is along one wall of your home. Although these spaces may be small, you can create a cohesive look by using all white cabinets and appliances.
13. No upper cabinets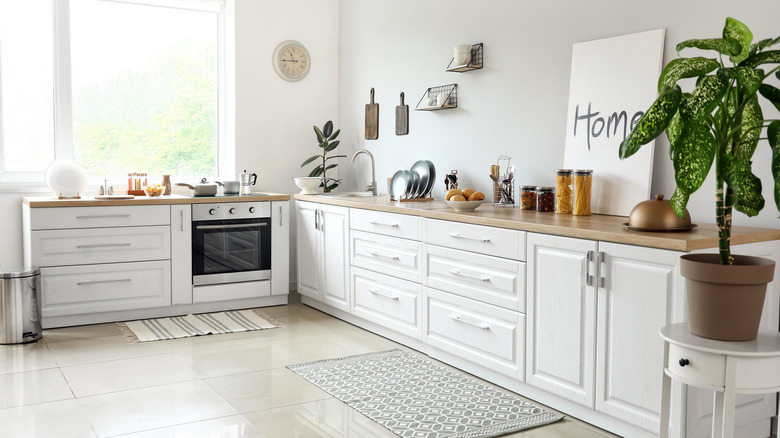 Pixel-Shot/Shutterstock
Open up your kitchen space by using only lower cabinets. This allows you to hang décor or cutting boards and other useful kitchen tools on the walls above your cabinets. 
14. Modern U-shaped cabinets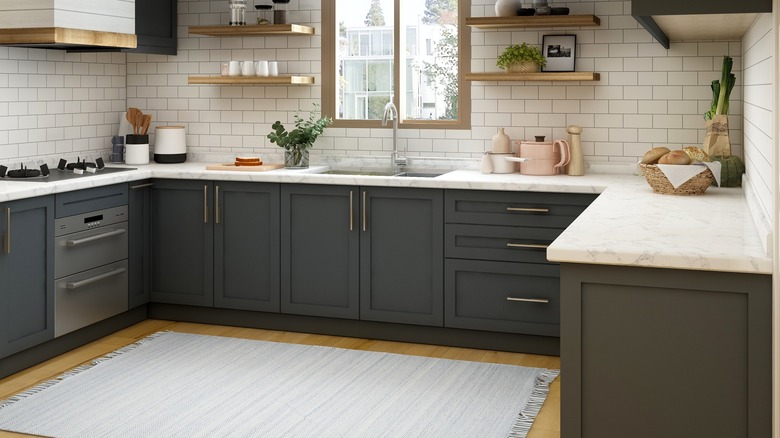 Collov Home Design/Unsplash
Dark cabinets and subway tile make for a perfect modern kitchen. Configuring your kitchen in a U-shape is a great way to utilize space and maximize storage in your kitchen.
15. Lots of drawers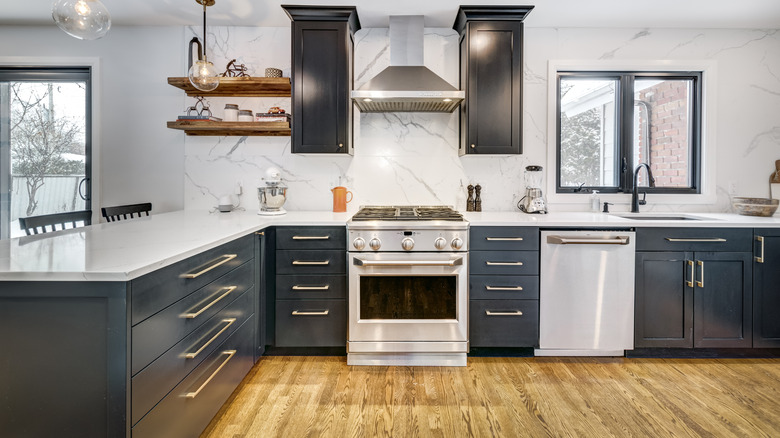 Anatoli Igolkin/Shutterstock
If storage is your top priority for your kitchen design, drawers are an excellent element to incorporate. Using drawers in your kitchen design can help keep your cookware and other kitchen tools organized in a way that cabinets may not allow.
16. Fun glass cabinets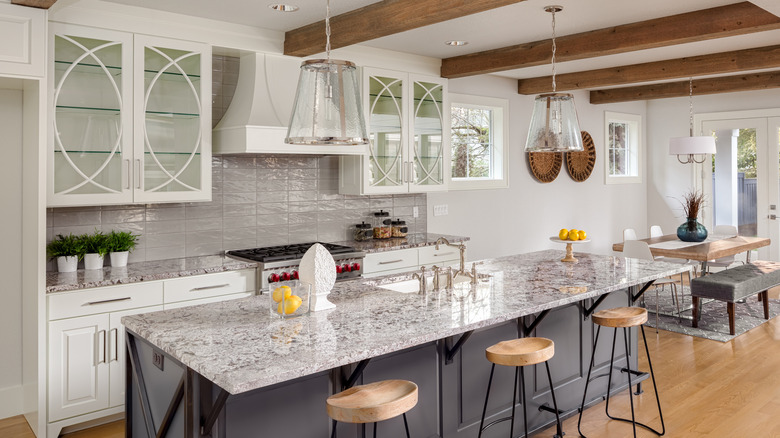 hikesterson/iStock
Glass cabinets are a fantastic way to display dishes and decor items in your kitchen. A more intricate design on your glass cabinets can make them an even more unique element of your kitchen design.
17. Above cabinet storage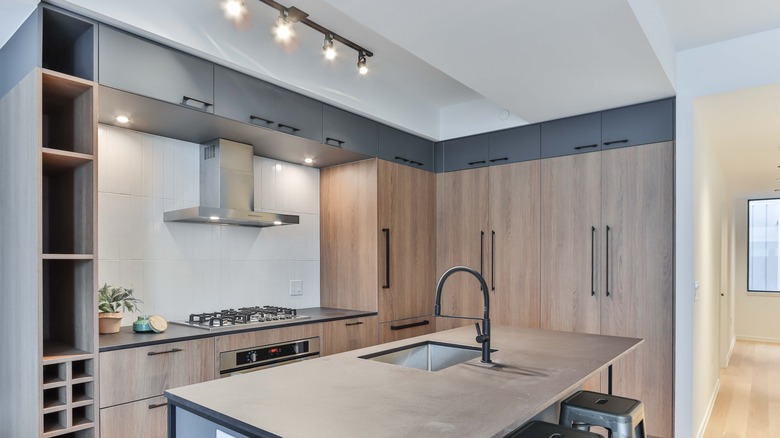 Sidekix Media/Unsplash
If you're lacking storage in your kitchen, one solution is to find storage in higher areas of your space. Having storage spaces above your cabinets to store items that aren't used often can be really beneficial for your kitchen organization.
18. Built in bottom bookshelf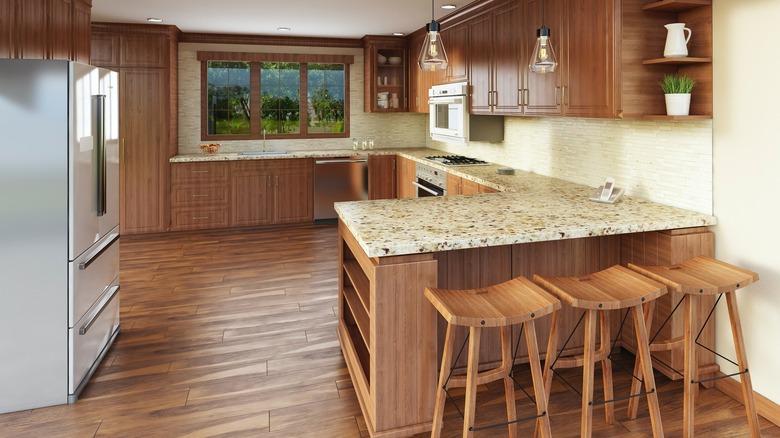 gaurav dhiman/Unsplash
A built-in bookshelf in the bottom of your cabinets is a wonderful place to store cookbooks. This design element can benefit you if you have many cookbooks or décor items that you would like to display in an understated way in your kitchen.
19. Upper cabinet cubbies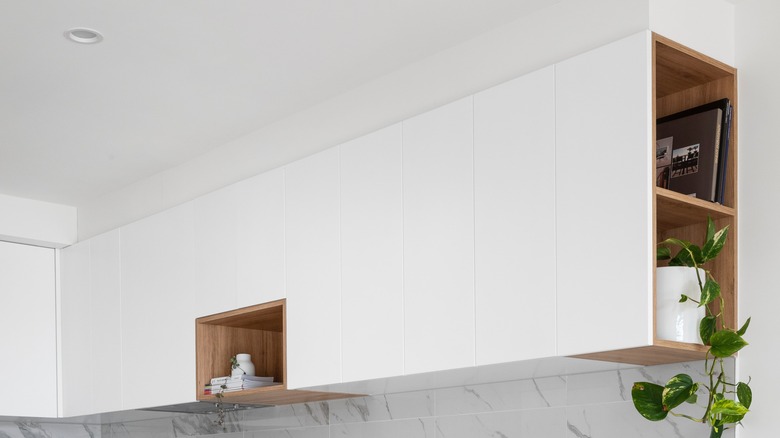 R ARCHITECTURE/Unsplash
If you want some open shelving but don't want to give up the cabinets' storage, a great solution is to include some upper cabinet cubbies. These little shelves built into your cabinets give you a place to style décor items without giving up too much storage space in your cabinets.
20. Hidden fridge and large cabinets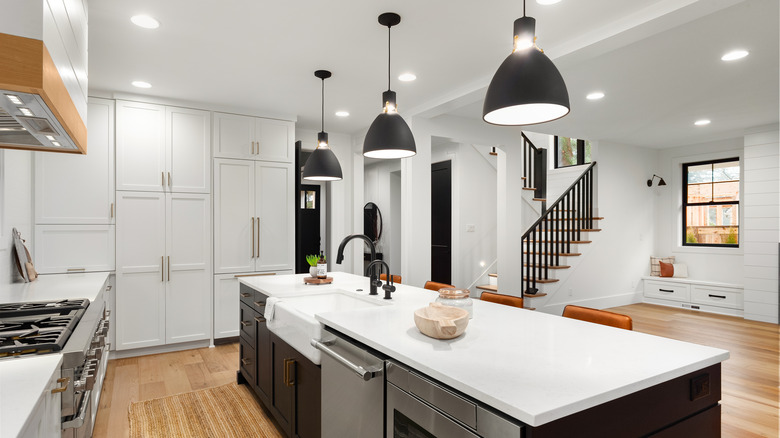 Breadmaker/Shutterstock
If you're hoping for a clean and sophisticated look to your kitchen, a built-in refrigerator might be the answer. You can also incorporate large cabinets for extra storage around the refrigerator.
21. Glossy cabinets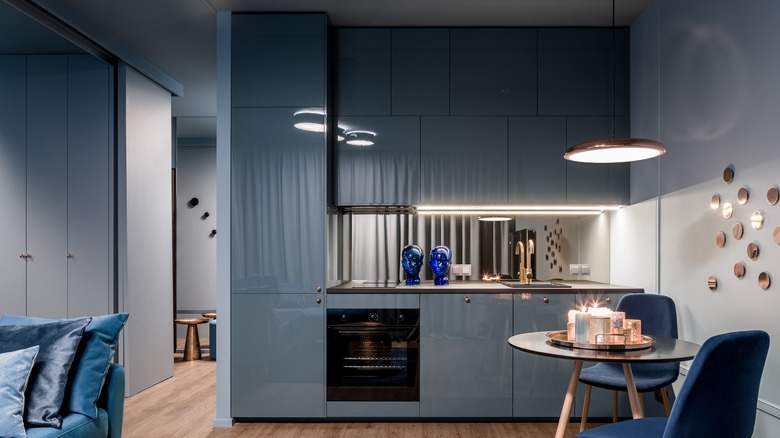 Dariusz Jarzabek/Shutterstock
For a sleek and minimalist look to your kitchen, try incorporating glossy cabinets. No matter the color, glossy cabinets will make your kitchen feel sophisticated.
22. Warm gray cabinets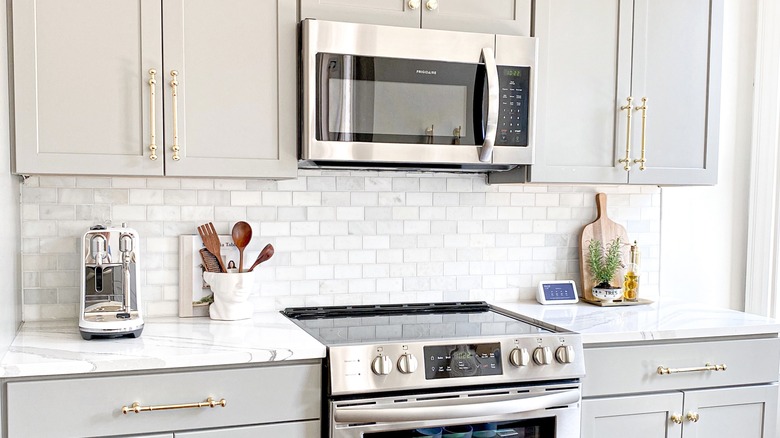 JOSBRA design/Unsplash
Gray cabinets can sometimes feel cold and sterile, but choosing a warmer toned gray paint color can help create a warmer space. Warm gray cabinets are also a great alternative to plain white cabinets in a kitchen.
23. Warm cream colors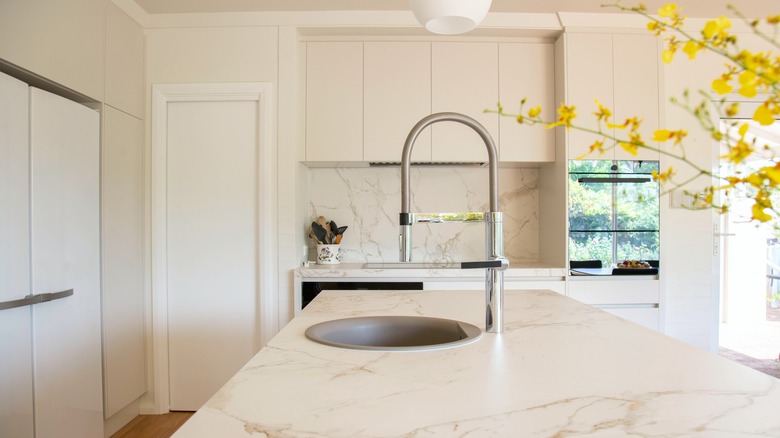 Simona Sergi/Unsplash
Do you like the look of stark white kitchens, but you're worried about it feeling too cold or sterile? A great option is to paint your cabinets a warm cream or tan color. These warmer colors will keep your space from feeling too plain and create a warm and inviting environment in your kitchen.
24. Yellow and gray colored
iD Interiors/Unsplash
For a unique look to your kitchen, try pairing yellow and gray cabinets together with silver hardware. This pairing will give your kitchen a futuristic feel.
25. Lime green cabinets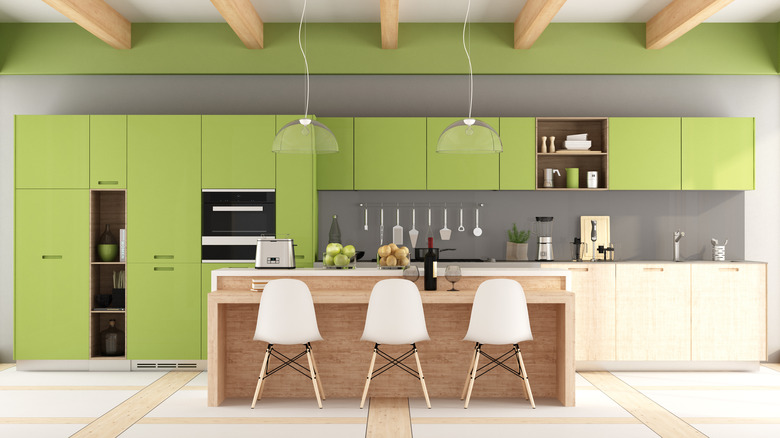 archideaphoto/iStock
A popular color often seen in kitchens is green. Playing off the trend of green kitchen cabinets, these lime green cabinets create a fun and playful feeling in your kitchen.
26. Two toned cabinets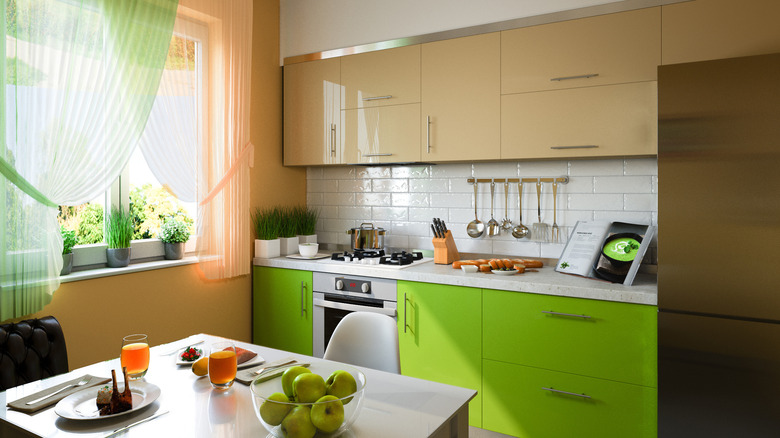 Richman21/iStock
If you want a super colorful kitchen space, these two-toned cabinets are perfect. By using one bright color for your upper cabinets and a different color for your lower cabinets, you can create a unique and colorful space.
27. Orange cabinets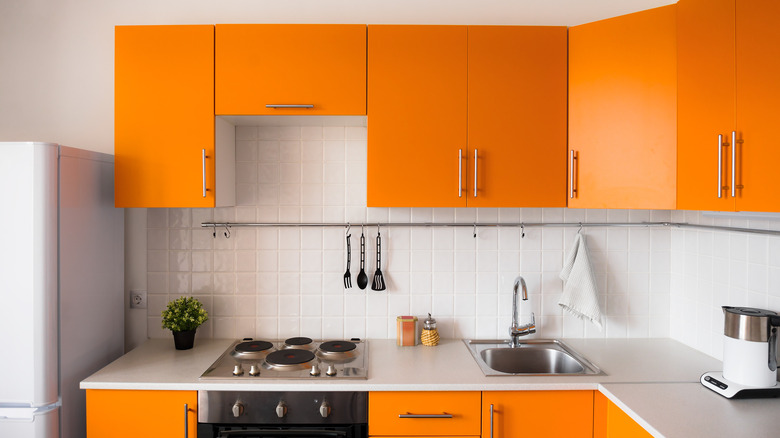 Yury Gubin/iStock
Brightly colored cabinets are sure to make your kitchen a fun environment to spend time in. These bright orange cabinets make the kitchen space feel cheerful and sunny.
28. Multicolored cabinets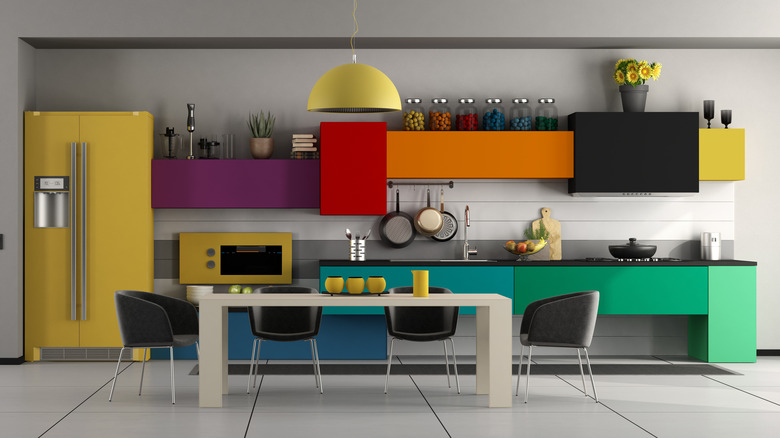 archideaphoto/iStock
If you're a big fan of color, this kitchen design concept is perfect for you. With cabinets of all different colors and colorful appliances, this kitchen is a fun way to incorporate color into your home.
29. Dark green cabinets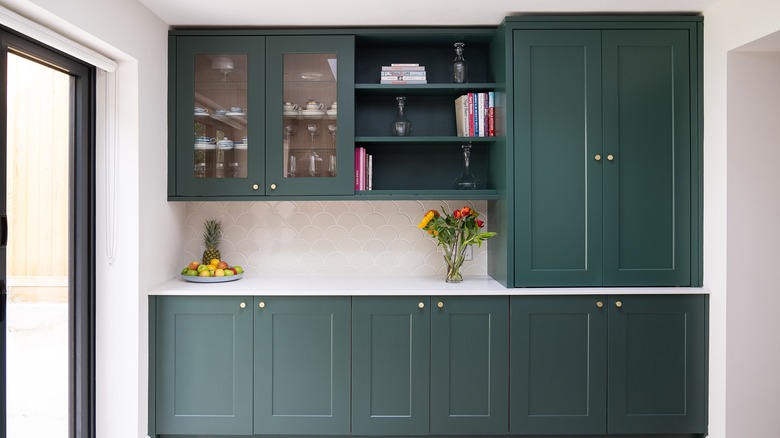 Laurence Katz/Unsplash
If you are considering a color for your kitchen but don't want to go too bold, dark green might be perfect for you. Dark green cabinets are a great addition to your kitchen space and help create a sophisticated but cozy feeling in your room.
30. Sage green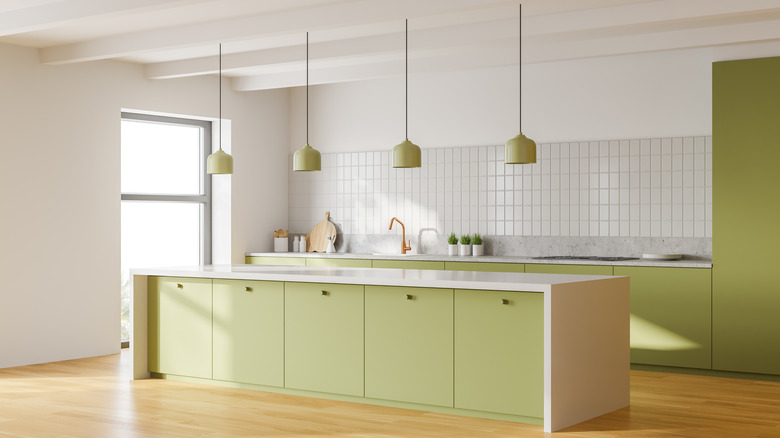 ismagilov/iStock
Sage green has been a popular color used for home design in recent years. Painting your cabinets sage green is a beautiful way to add some color to your kitchen space.
31. Matching colored table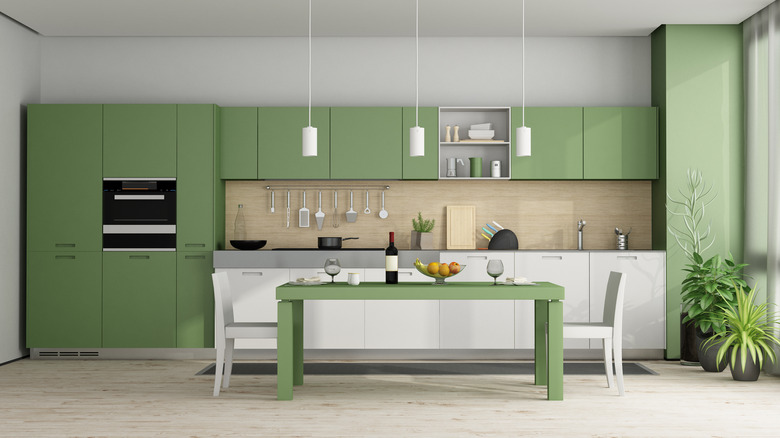 archideaphoto/iStock
If you want a cohesive-looking kitchen, choosing a dining table that matches your cabinets is a great option. You can select a colored table to match your colored cabinets, or you can match wood tones.
32. Blue gray cabinets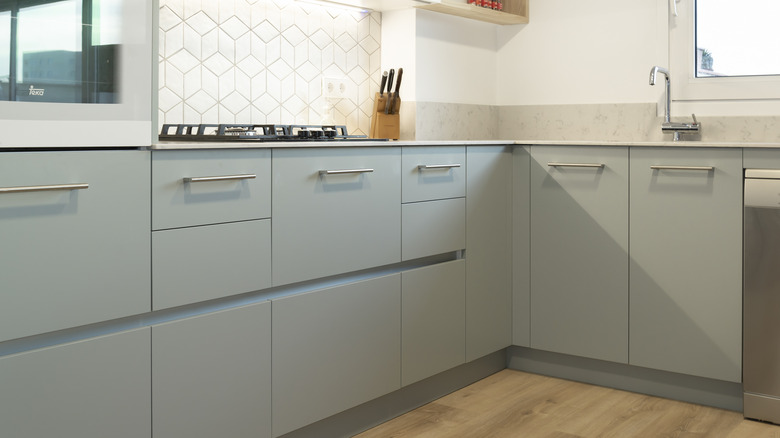 huellabcn/iStock
Another popular color you can use in your kitchen is blue-gray. Blue-gray cabinets will add some color to your space without being too overpowering.
33. Different color lower cabinets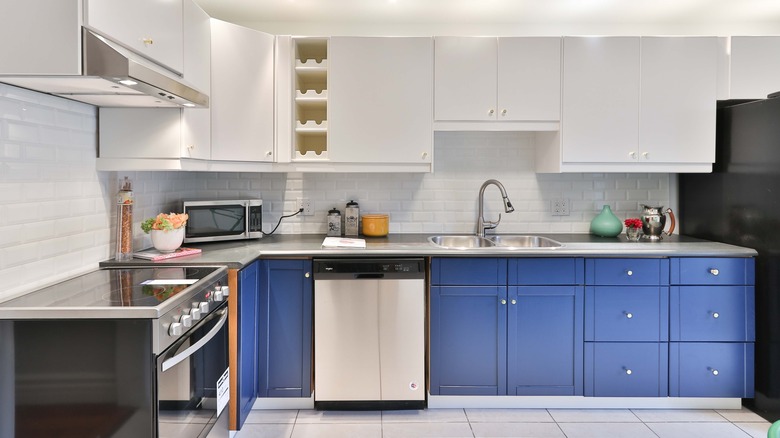 Sidekix Media/Unsplash
If you want colored kitchen cabinets but aren't ready to commit to a completely colored kitchen, painting only the lower cabinets is a good option. These lower cabinets are painted blue to contrast with the white upper cabinets, but you can explore many other color options.
34. Colorful walls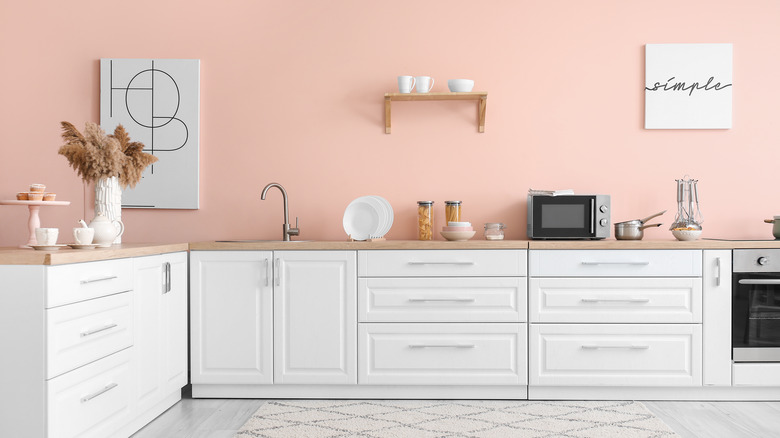 Pixel-Shot/Shutterstock
Painting your kitchen is the perfect, low-cost way to change your space. Using a bright color on the walls in your kitchen can completely change how the room feels with little stress and work.
35. Pop of color cabinet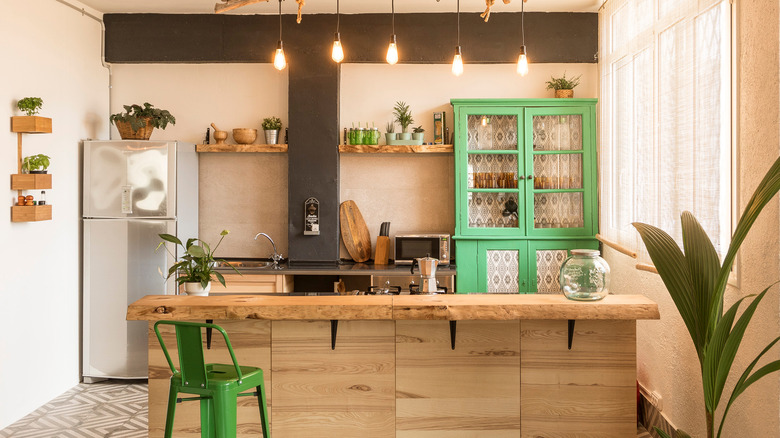 Malquerida Studio/Shutterstock
A colored cabinet can add a pop of color to your otherwise neutral-colored kitchen. If you plan a neutral-colored or wood-toned kitchen but want some fun color, consider adding one colored cabinet that can stand out in your space.
36. Open concept with corresponding color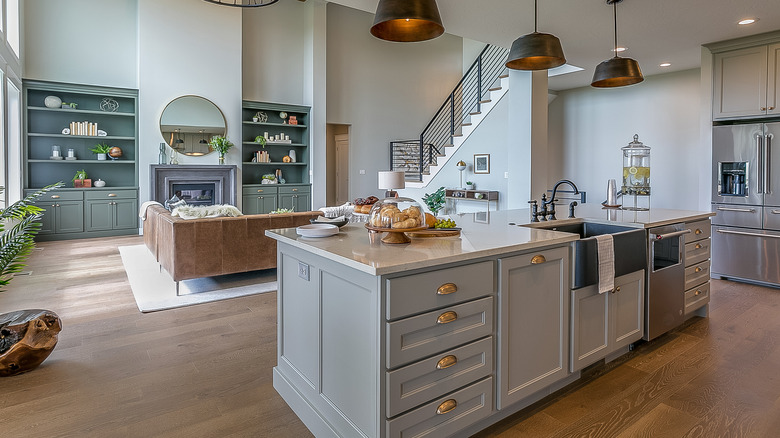 PC Photography/iStock
An excellent way to tie together separate spaces when you have an open concept floor plan is with color. This kitchen uses a light blue-gray for the cabinets, and that same color is featured in the living room bookshelves, tying the two spaces together.
37. One color scheme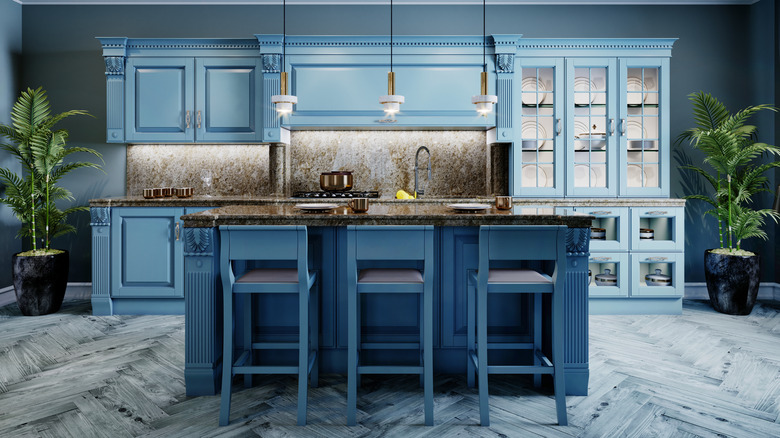 Peter_visual/iStock
For a cohesive look to your kitchen, try choosing elements that are all similar in color. This kitchen has blue cabinets and walls with blue-toned floors and a dark countertop that plays off the blues.
38. Wood and marble island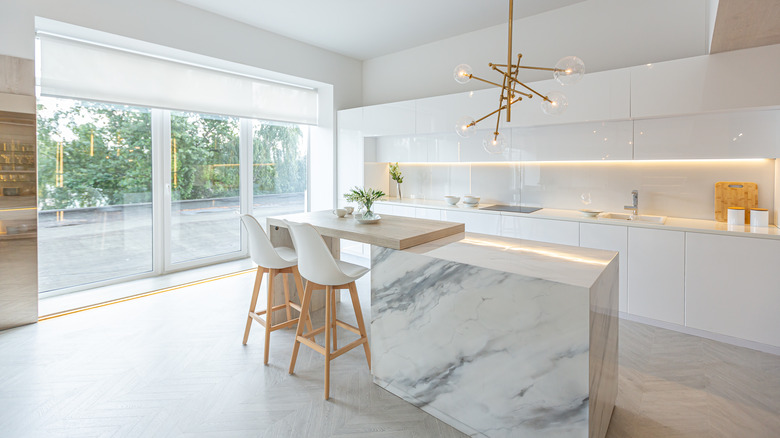 PinkyWinky/Shutterstock
A great way to add some visual interest to your kitchen is with an island, and this half marble and half wood island does just that. A wood and marble island also gives you an area to prepare food and a separate area to serve food in your kitchen.
39. Double islands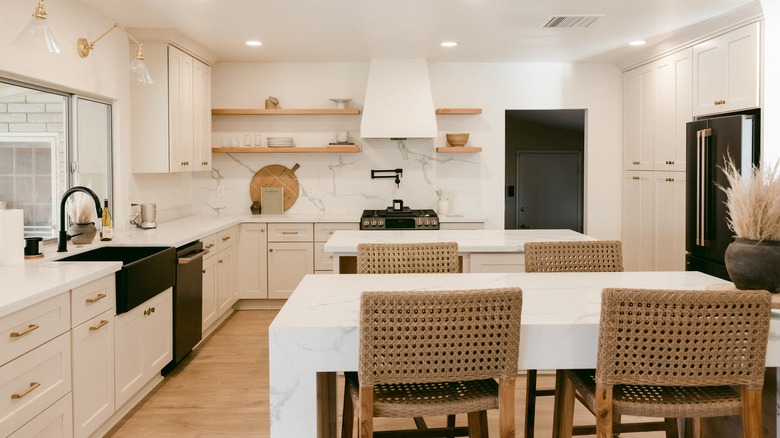 Jakob Owens/iStock
If you have a large space for your kitchen, you may want to consider including double islands. Double islands are a great way to create a space for preparing food and a space for dining.
40. Contrasting island color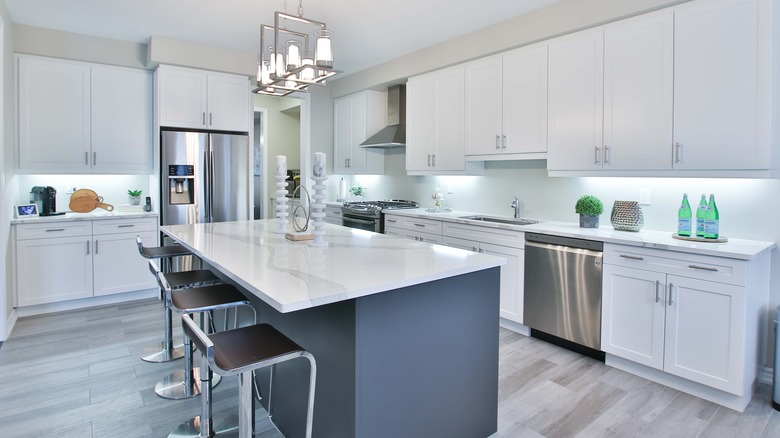 Sidekix Media/Unsplash
For some variety in an all-white kitchen, choose a darker paint color for your island. Painting your island a darker color will be a perfect contrast to your otherwise light-colored kitchen.
41. Pentagon island
Artazum/Shutterstock
A fun addition to a larger-sized kitchen may be a pentagon-shaped island. This shape adds a unique touch to your kitchen and ample storage and seating space.
42. Waterfall island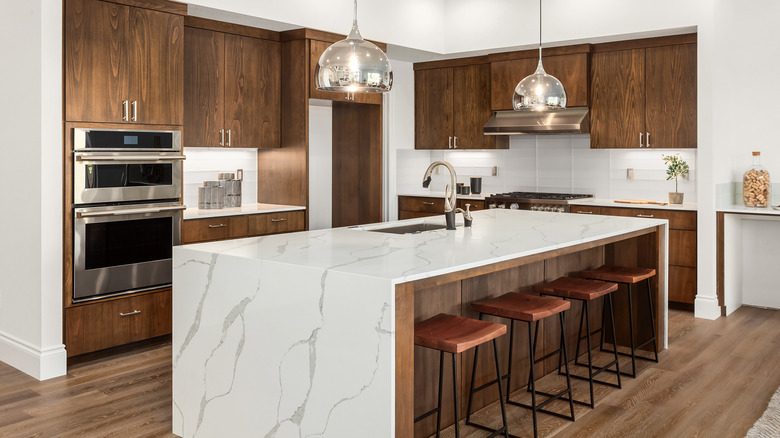 Breadmaker/Shutterstock
An island where the countertop spills down the sides, or a waterfall island, is a great way to add a sense of sophistication to your kitchen. A waterfall kitchen island is a beautiful addition to any kitchen.
43. Partially finished island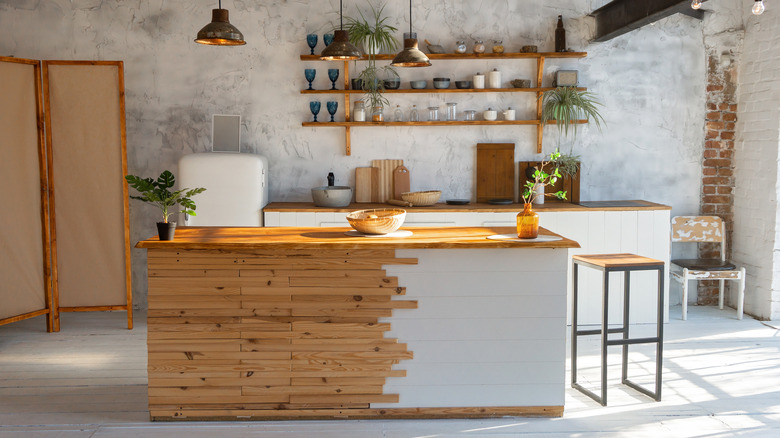 nat624xa/iStock
For a truly unique look to your kitchen, this half wood half white shiplap island gives your space a partially finished but styled look. This idea can be incorporated into many kitchen styles and can be changed to suit your specific style.
44. Bright colored island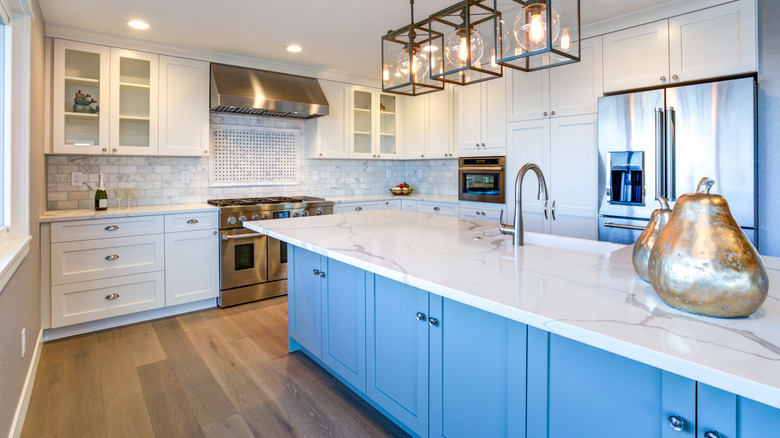 alabn/iStock
Another way to design your kitchen island is to incorporate a brighter color for the island. A brighter colored island brings in a pop of color, especially if the rest of your kitchen is all white.
45. Unique island and range hood
Ludmila Khvoshch/iStock
There are tons of kitchen design options that can make your space look unique. This blue and gold island and range hood is an excellent example of a unique kitchen design.
46. Statement wood under island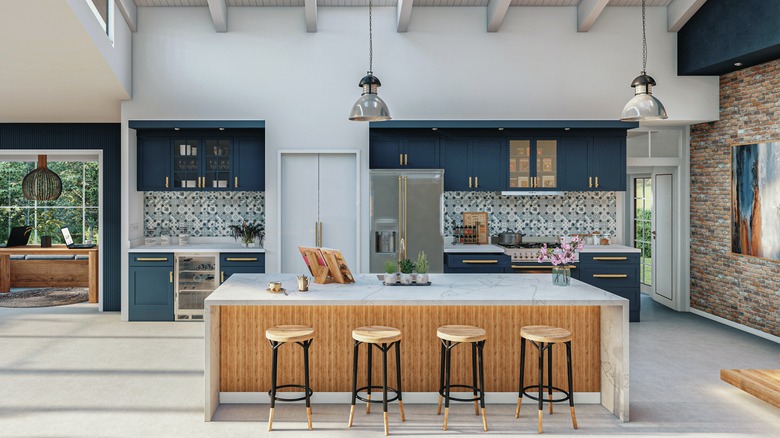 Murat Demircan/Unsplash
To add an interesting visual element to your kitchen, try adding accent wood underneath your island. With stone countertops and darker cabinets, an accent wood under your counter is sure to stand out.
47. Island storage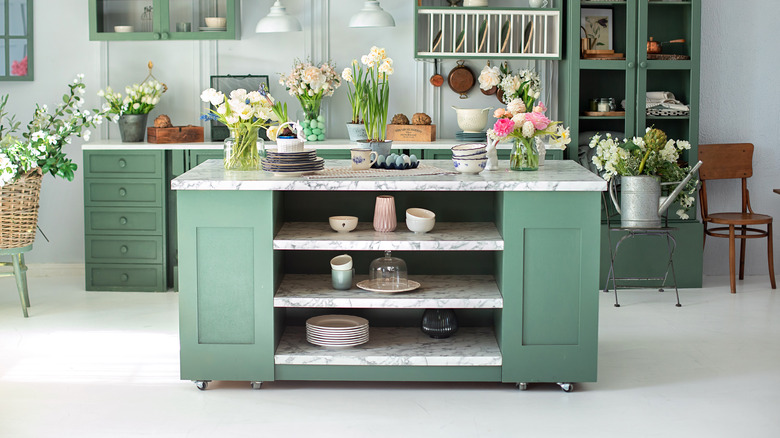 stock_studio/Shutterstock
Utilizing your island for storage purposes is a great way to add additional storage to your kitchen. This island features open shelves, but you can also include drawers or cabinets.
48. Wood countertops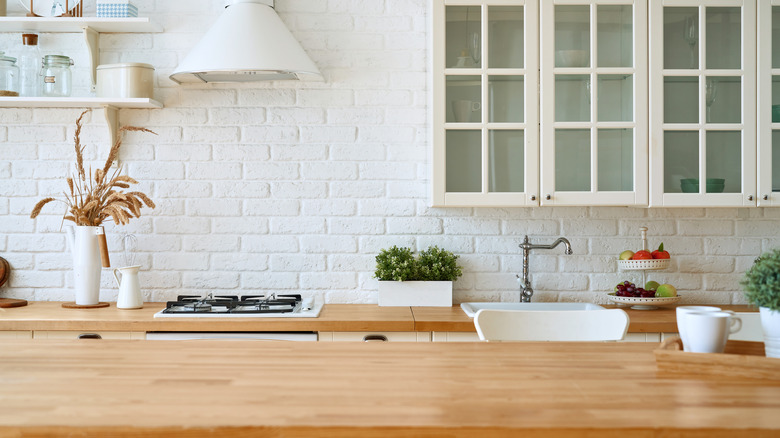 Tanya Sid/Shutterstock
Wood countertops make a lovely and practical addition to any kitchen. Butcher block counters help warm up an all-white kitchen, and they can add a sense of hominess and coziness as they age because they get nicked and scratched beautifully.
49. Contrasting counters and cabinets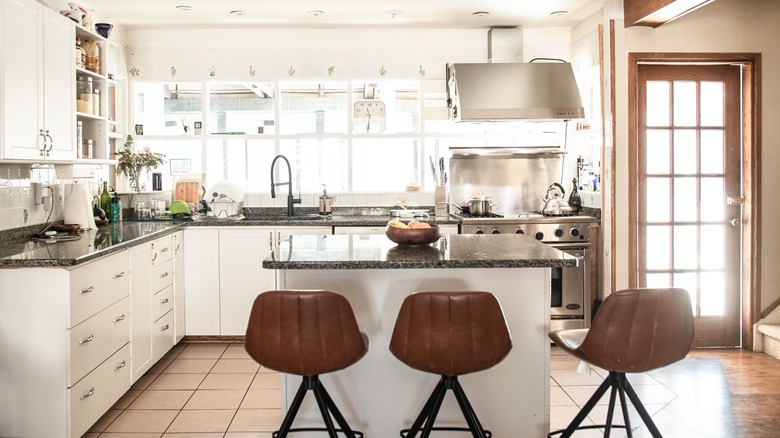 Anastasia Krachkovskaya/Unsplash
Using lighter cabinets and darker counters, or vice versa, creates a sense of harmony in the space. This is a great design element to incorporate when designing a kitchen because it works with different décor styles and finishes.
50. Dark wood cabinets with granite countertops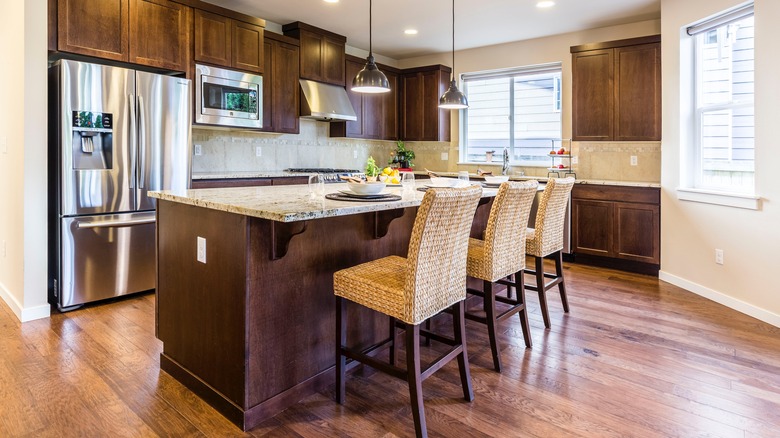 Francesca Tosolini/Unsplash
Dark wood cabinets are a classic choice for kitchen design. Pairing dark wood cabinets with a brown-toned granite countertop creates a cozy and homey kitchen space.
51. Gray tones everywhere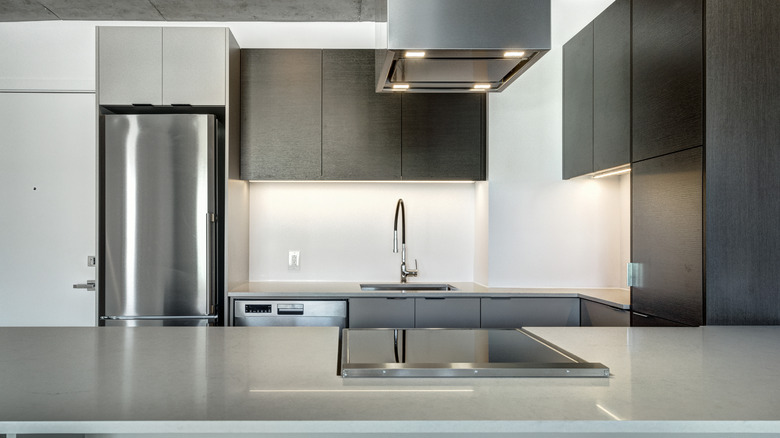 Anatoli Igolkin/iStock
Gray can be a great color to incorporate into your kitchen because it can be light or dark and matches well with other colors. You can also design an all-gray kitchen with gray counters, cabinets, and walls. These design elements also tie in with stainless steel appliances. 
52. Black cabinets with black counters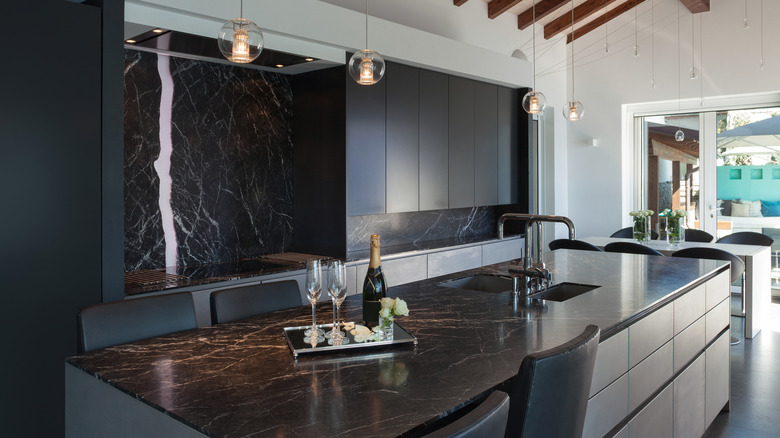 piovesempre/iStock
Dark colors make for a sophisticated and classy feel to a room, and using dark colors in your kitchen does just that. Black cabinets paired with black marbled countertops and backsplashes can create a moody and cozy feeling in your kitchen.
53. Light wood and black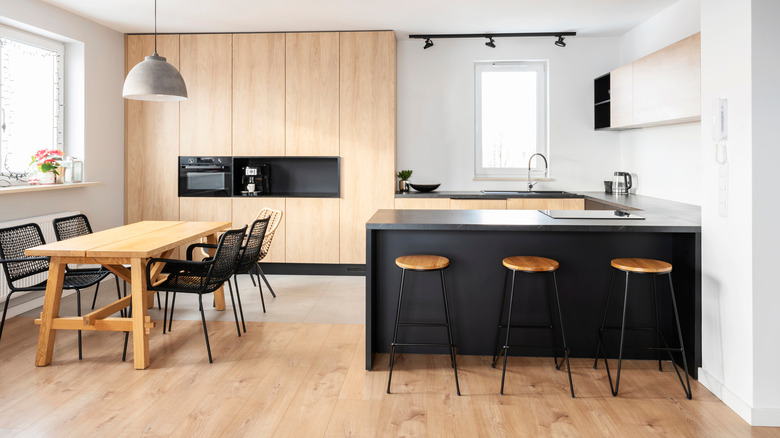 liloon/Shutterstock
For a lighter feel, try pairing black countertops and lower cabinets with light wood floors and upper cabinets. The light wood brings in some warmth and color that pairs beautifully with the darker black tones and gives your kitchen a modern feel.
54. Blue cabinets with natural wood counters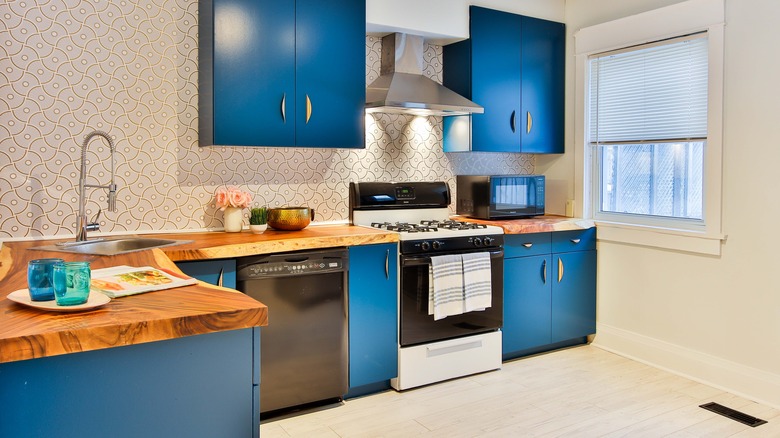 Sidekix Media/Unsplash
Natural wood counters are a beautiful addition to any kitchen and bring in an element of nature. Pairing natural wood counters with bright-colored cabinets, such as blue, can really make them pop in your space.
55. Natural stone with light and dark wood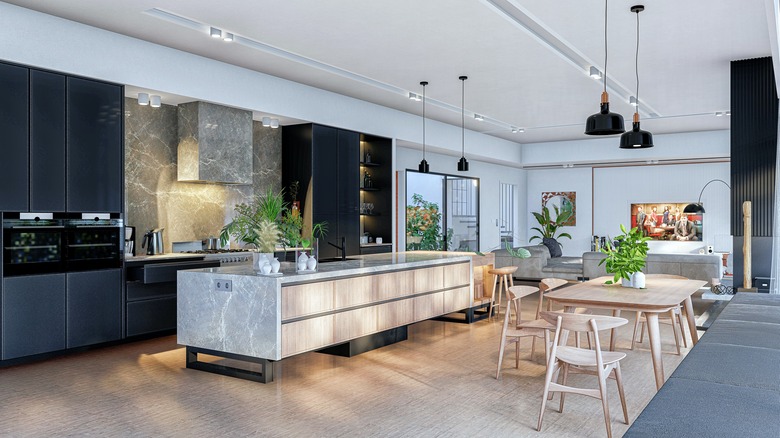 Murat Demircan/Unsplash
Natural stone is a beautiful addition to any kitchen and is often used for countertops and backsplashes. This gray marbled stone pairs wonderfully with the contrasting light wood and black cabinets.
56. Gray and warm wood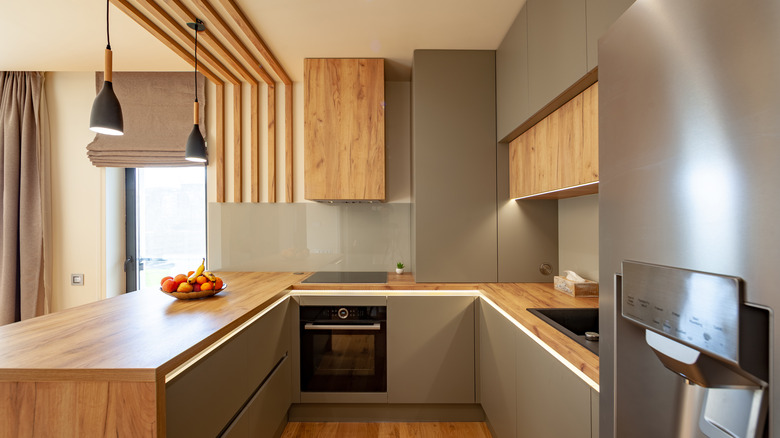 Gabi Moisa/Shutterstock
If you want a modern feeling kitchen, but don't want dark black cabinets, try a warmer gray tone instead. Gray tones look great with wood cabinets, and creating a sleek and minimal design makes for a beautiful modern kitchen.
57. Shades of white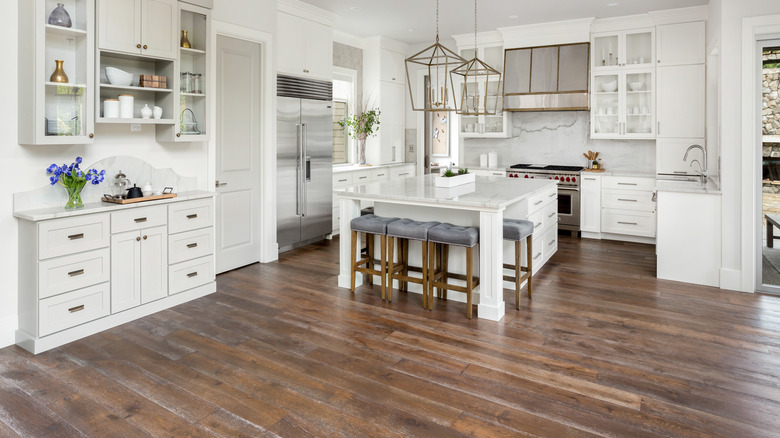 Breadmaker/Shutterstock
A popular trend in kitchen design over the past few years has been white kitchens, but that doesn't mean you need a stark white kitchen to have a beautiful space. Pairing different tones of white together can create a warm and inviting kitchen space.
58. Concrete countertops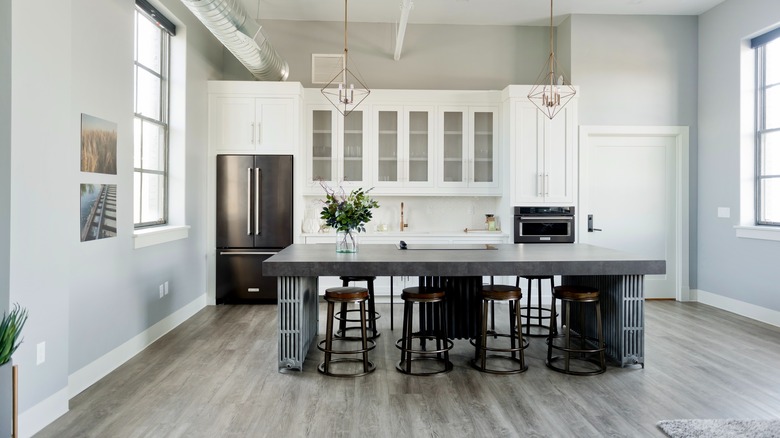 Adam Winger/Unsplash
If you're aiming for an industrial-style kitchen, concrete countertops are a great element to incorporate into your design. This concrete island helps ground the space and bring in that industrial element.
59. Stone counter and backsplash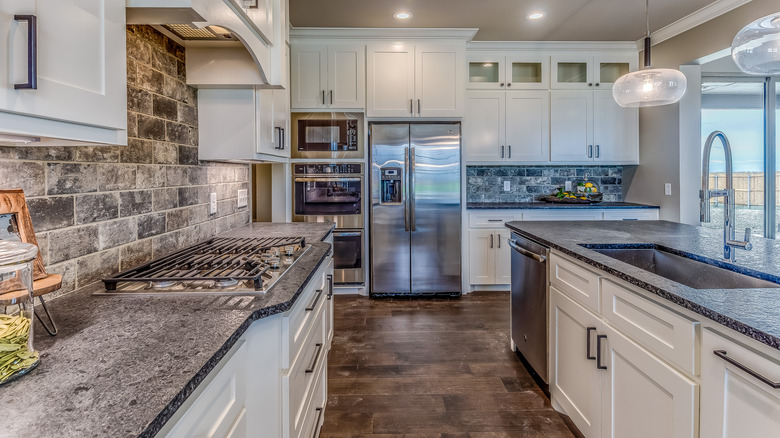 PC Photography/iStock
Using a stone countertop and stone backsplash can help create an earthy feel in your kitchen. Stone is a perfect element to include if you want a more rustic-styled kitchen as well.
60. Marble flooring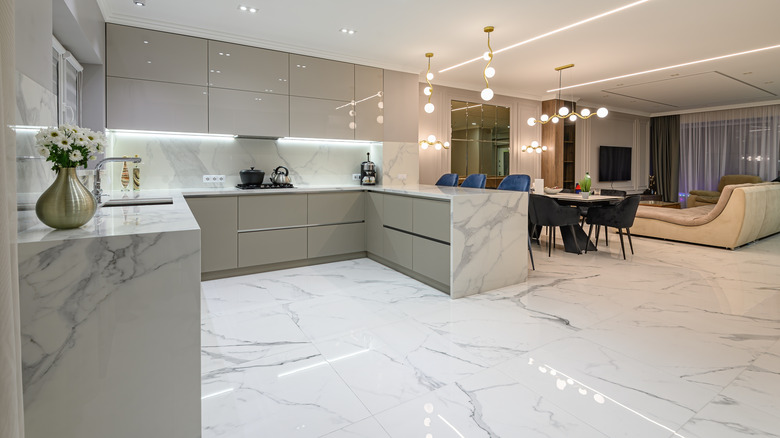 Serghei Starus/Shutterstock
Marble countertops are popular in kitchens because they create a classy and sophisticated feeling space. Continuing that marble from the countertops to the floor can create a cohesive and beautiful space.
61. Herringbone flooring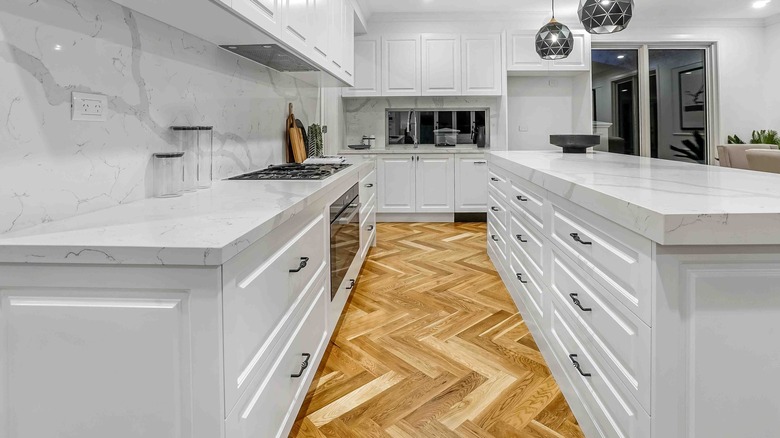 Optical Shades Media Sangroha/Unsplash
Something to keep in mind when remodeling a kitchen is the flooring. Flooring can significantly impact the overall feel of a kitchen, and this herringbone flooring creates a sense of fun in this otherwise plain white-styled kitchen.
62. Checkerboard floors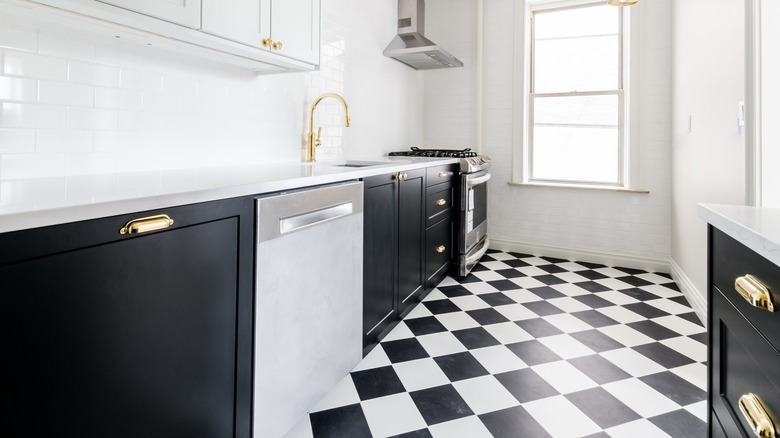 Chastity Cortijo/Unsplash
Checkerboard flooring is a classic look for any room of your house, but it can work particularly well in your kitchen. If you are planning a colorful or neutral kitchen, like this black and white design, checkboard floors are a great way to bring some fun into your design.
63. Terracotta flooring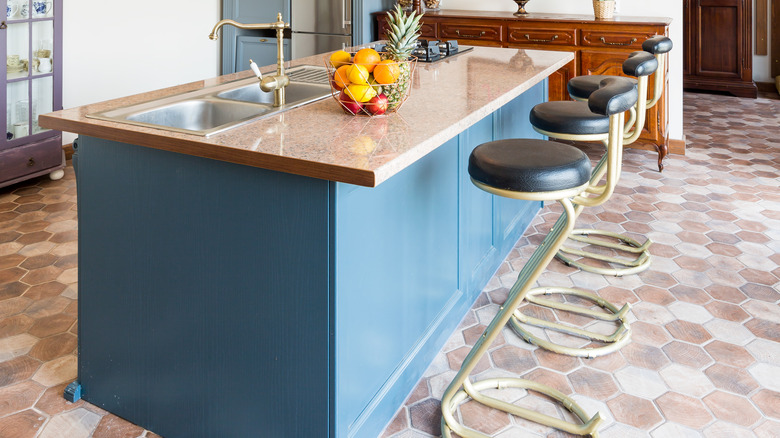 KatarzynaBialasiewicz/iStock
It can be fun to play around with different flooring for your kitchen design, and terracotta tiles are a popular choice. This kitchen has hexagonal terracotta tiles that work really well with the bright-colored island and neutral-toned countertop.
64. Hexagon backsplash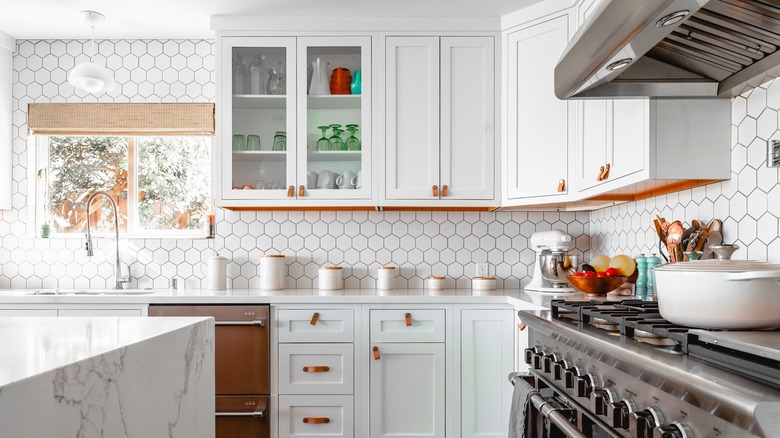 roam in color/Unsplash
The backsplash you choose for your kitchen can set the tone for the whole space. Incorporating a hexagonal patterned backsplash can create a sense of fun in your kitchen. 
65. Gray counter to ceiling backsplash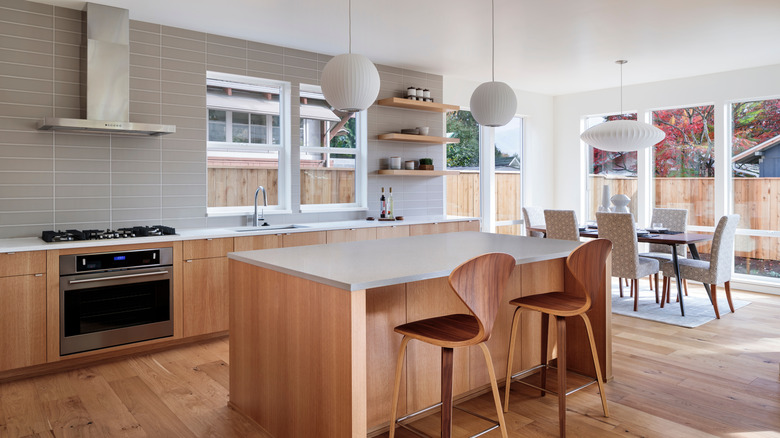 David Papazian/Shutterstock
Matching your backsplash to your island is a popular choice for kitchen design, and it creates a cohesive look in your space. This counter to ceiling gray backsplash matches the gray island to create that cohesion.
66. Mismatched design backsplash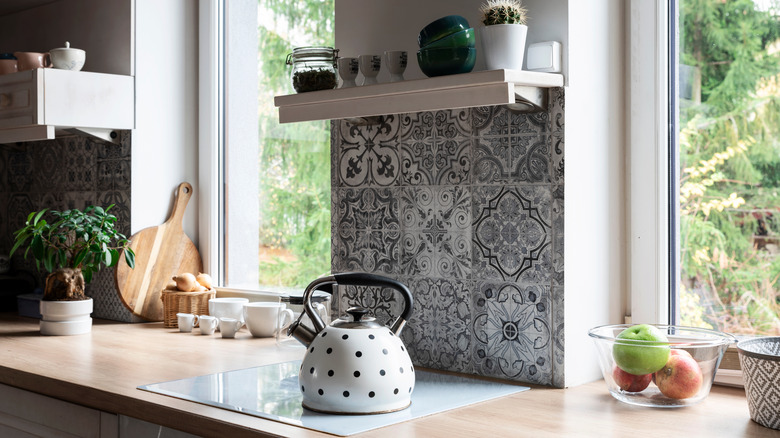 liloon/Shutterstock
Using mismatched designed tiles for your backsplash will create a whimsical feel in your kitchen. These beautiful blue and white tiles are all different designs, but they work together wonderfully because of the cohesive color scheme.
67. Subway tile backsplash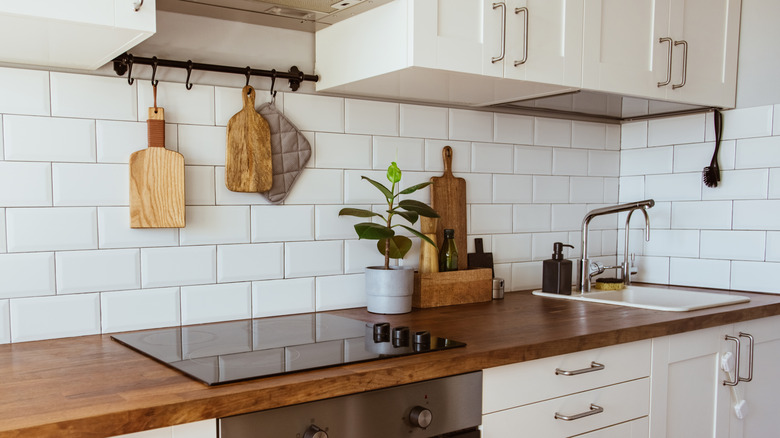 Katrina Era/Shutterstock
A popular kitchen backsplash in recent years is subway tile, which is stacking rectangular tiles in a brick-like pattern. This backsplash style is classic and is a great way to create a clean and modern kitchen space. 
68. Foral backsplash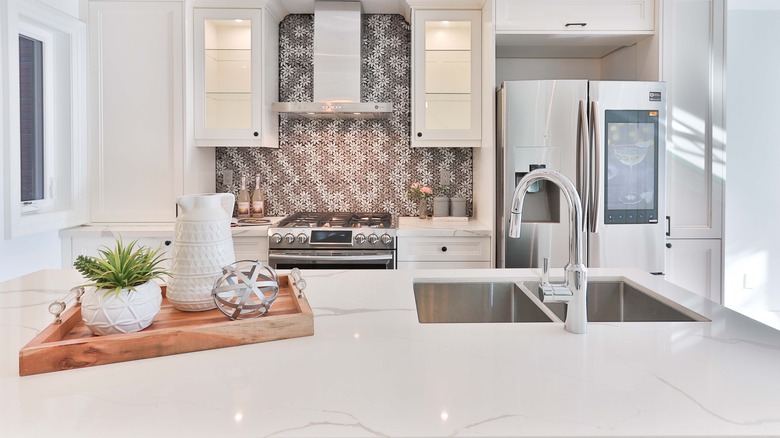 Sidekix Media/iStock
Using a floral backsplash in part of your kitchen, such as behind the stove, is a great way to bring a more whimsical design element into your kitchen. If the rest of your kitchen is neutral-colored, a floral backsplash can give you a pop of color.
69. Dark backsplash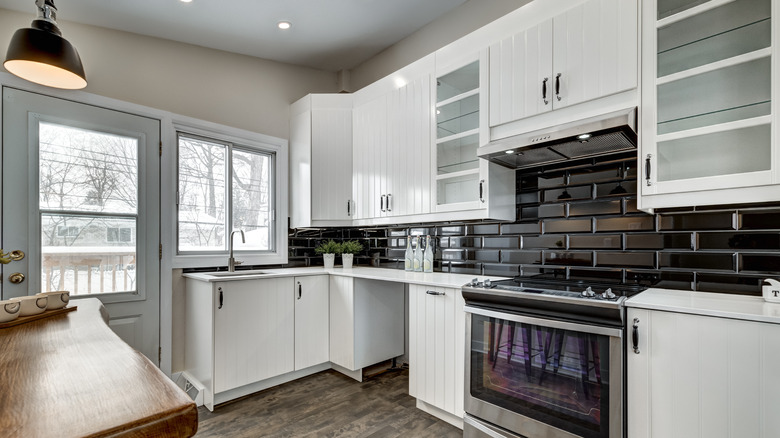 Piixel Thing/Shutterstock
A black backsplash is a unique design element that can create a more moody and sophisticated feel in your kitchen. Using a black backsplash in your kitchen can also add contrast to white cabinets and countertops.
70. Counter to ceiling colorful backsplash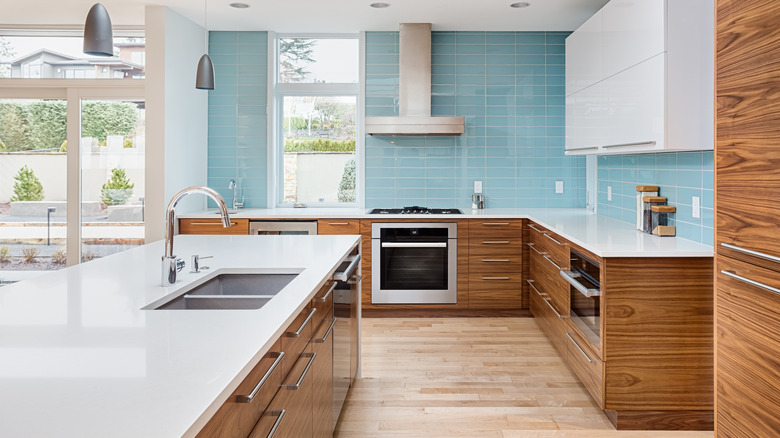 Breadmaker/Shutterstock
An element that you can add to your kitchen for some added drama is counter a counter to ceiling backsplash. This is an especially fun element to include if you choose to do it in a bright color.
71. Terrazzo backsplash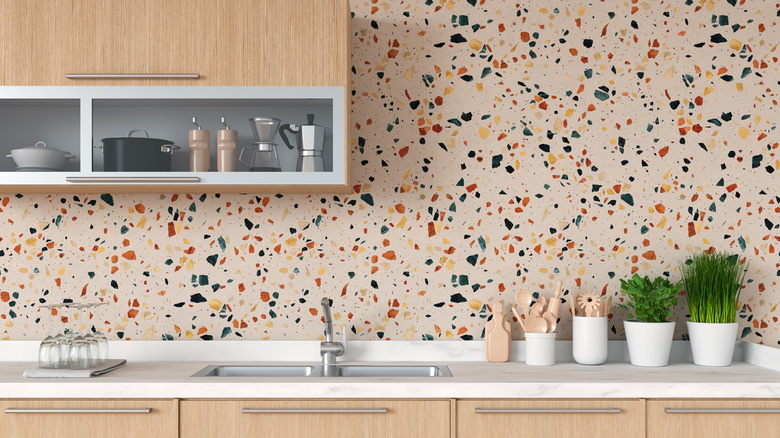 wuttichaijangrab/iStock
Terrazzo makes a beautiful and fun addition to any kitchen. Using terrazzo as a backsplash is a popular option to incorporate this design element into your space.
72. Matching backsplash and cabinets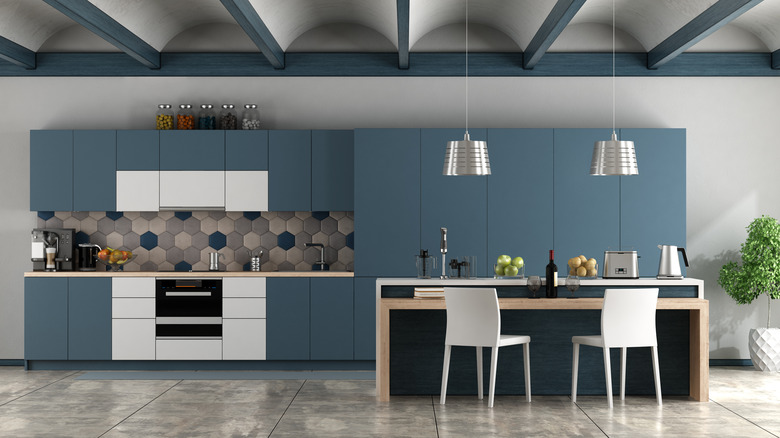 archideaphoto/iStock
A great way to create cohesion in your kitchen space is to stick to one color palette for your design. An example of this concept is using blue and white cabinets and a blue, white, and gray backsplash.
73. Marble walls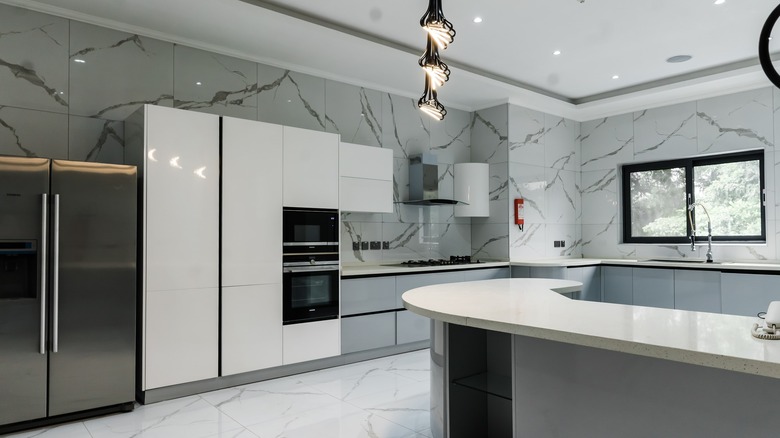 Emmanuel Ikwuegbu/Unsplash
Another way to use marble in your kitchen is to use it as a backsplash but pull it all the way to the ceiling. This not only creates some visual interest up your walls, but it can also make it feel like your ceilings are higher than they are.
74. Matching backsplash and ceiling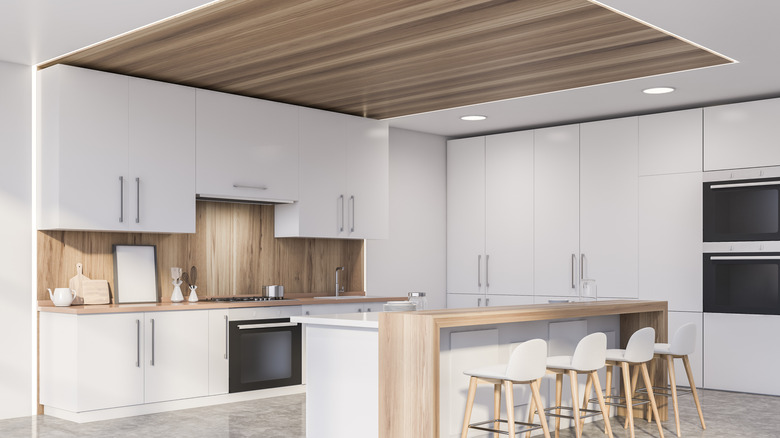 ismagilov/iStock
This kitchen features a wood backsplash that continues onto the ceiling of the space. This design element adds some visual interest and a unique design to the kitchen.
75. Exposed brick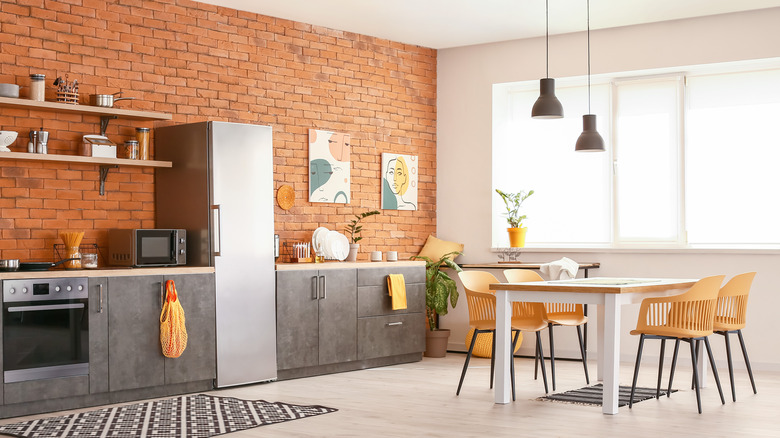 Pixel-Shot/Shutterstock
Featuring exposed brick or a brick backsplash in your kitchen creates an industrial feeling space. This is a great design choice if you want to add other industrial elements or open shelving.
76. Colorful appliances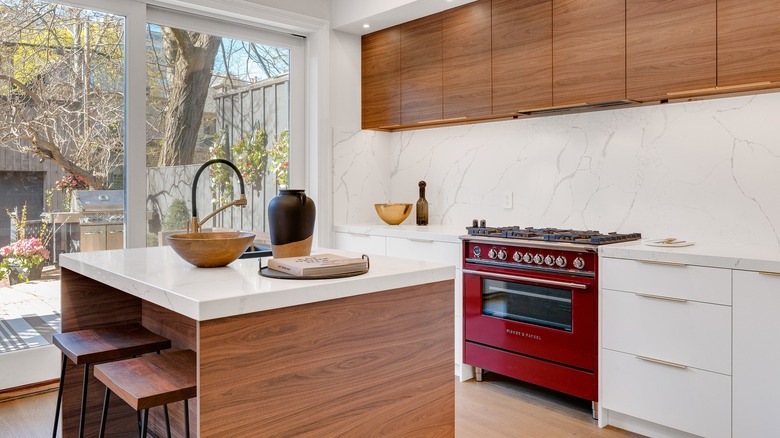 Andre Francois McKenzie/Unsplash
A fun way to add a pop of color to your kitchen design is to incorporate colorful appliances. Colorful appliances, like this red stove, can add some color to an otherwise neutral-colored kitchen design.
77. Matching cabinets and range hood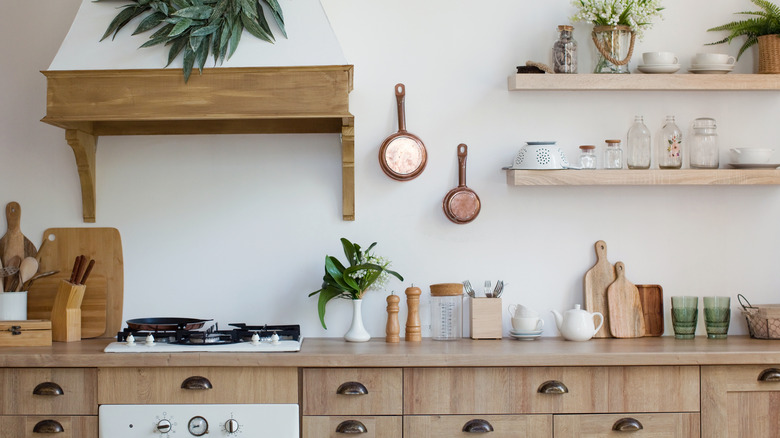 aprilante/Shutterstock
For a cohesive kitchen, use matching wood tones for the different elements of your space. Using the same wood tone for the range hood, counters, and cabinets creates a cohesive space.
78. Eye catching range hood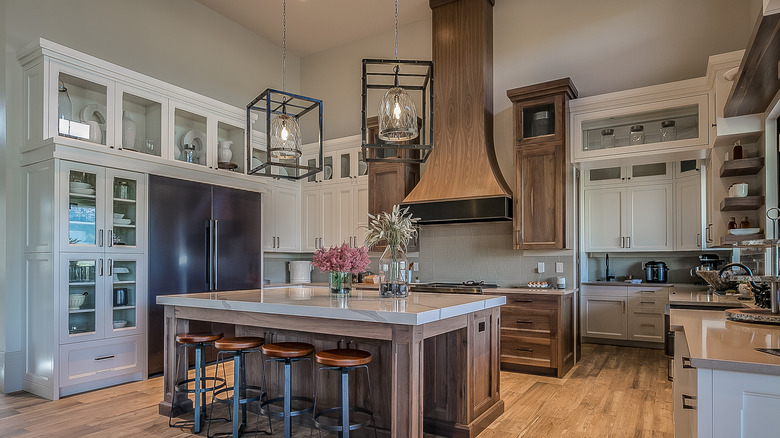 PC Photography/iStock
A necessary element in every kitchen is a range hood or vent. You can choose from many range hood styles, and you can really make a statement in your kitchen design by choosing a large and prominent hood.
79. Farmhouse sink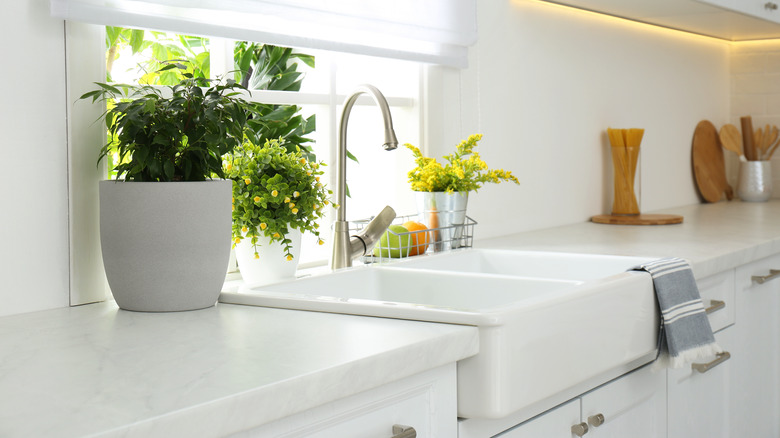 New Africa/Shutterstock
A farmhouse sink is an excellent addition to any kitchen because its large size gives you ample room to clean your dishes, and its clean finish looks beautiful with any countertops. Even if you don't have a farmhouse-style kitchen, including a farmhouse sink in your kitchen has its perks.
80. Large refrigerator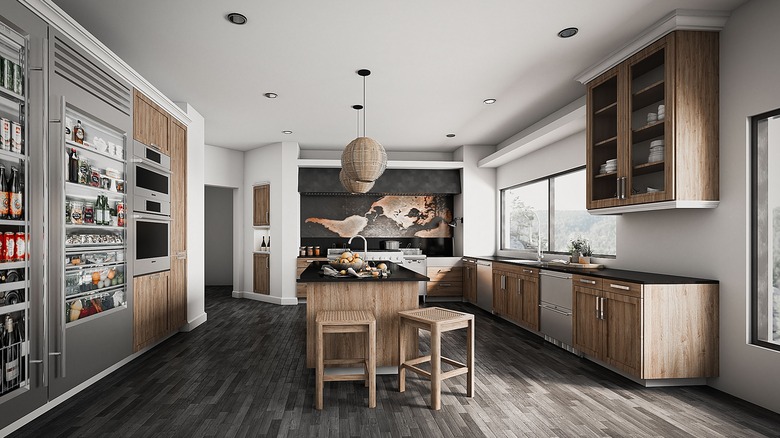 Billy Jo Catbagan/Unsplash
If you use your kitchen for entertaining or have a large family, installing a large refrigerator might be a must for your kitchen design. A large refrigerator is a practical element of your kitchen design, but it can tie in with other appliances if they have the same coloring, for example, stainless steel.
81. Under cabinet lighting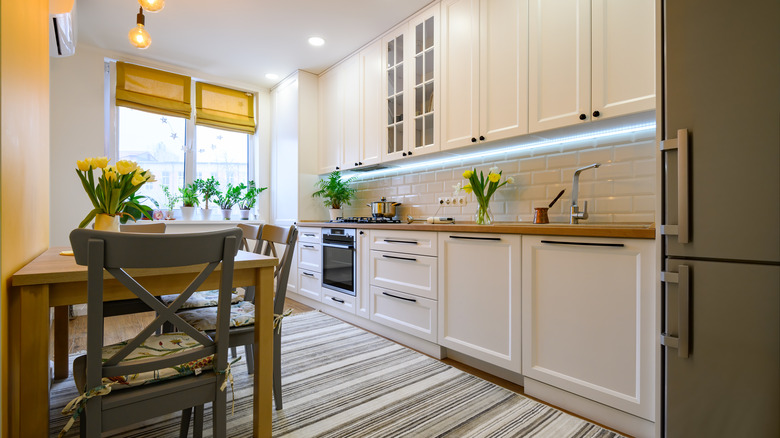 Serghei Starus/Shutterstock
Under-cabinet lighting is a fun way to add some color or visual interest to your kitchen. You can install this lighting quite easily, and often you can change the color of the lights.
82. Large windows
Cat Han/Unsplash
Incorporating large windows in your kitchen can be a fun way of bringing in tons of natural light. A large window will also create a sense of connection with the nature outside.
83. Upper cabinet lighting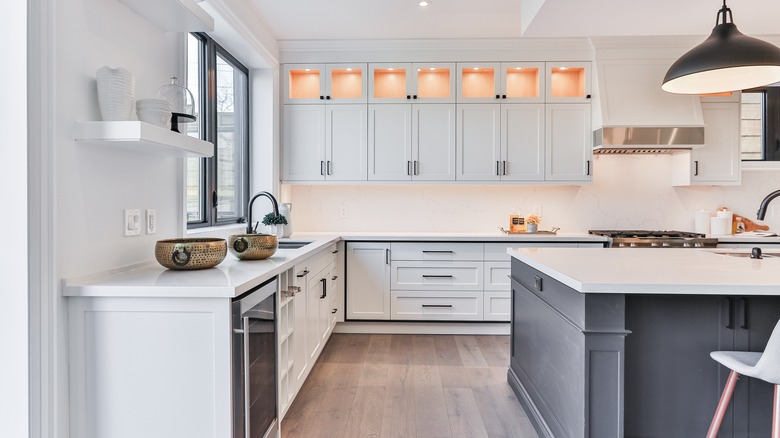 Sidekix Media/iStock
Upper cabinets with lighting are a great addition to any kitchen. These smaller cabinets give you a space in your kitchen to display various knick-knacks and décor items.
84. Multiple hanging lighting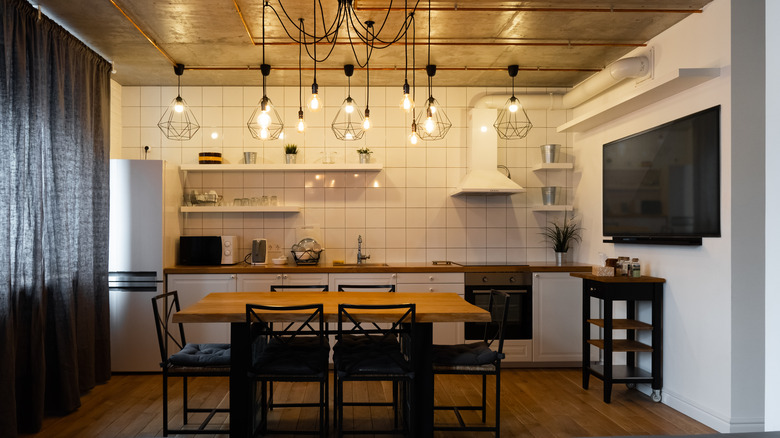 Jin Odin/Shutterstock
Lighting is an essential aspect of your kitchen's design because it can help create different spaces' moods. A kitchen with more lights will feel warmer and cozier, while a kitchen with less lighting may feel too dark. Having multiple light sources in your kitchen can add not only visual interest but also lots of light to the space.
85. Lots of windows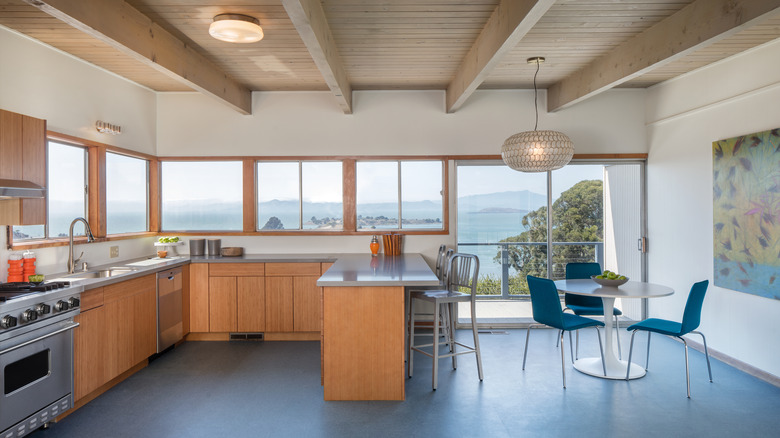 BondRocketImages/Shutterstock
If you have a breathtaking view from your kitchen, you may consider installing lots of windows. These wall-to-wall windows help capture the views of this kitchen from anywhere in the space.
86. Colored hanging lights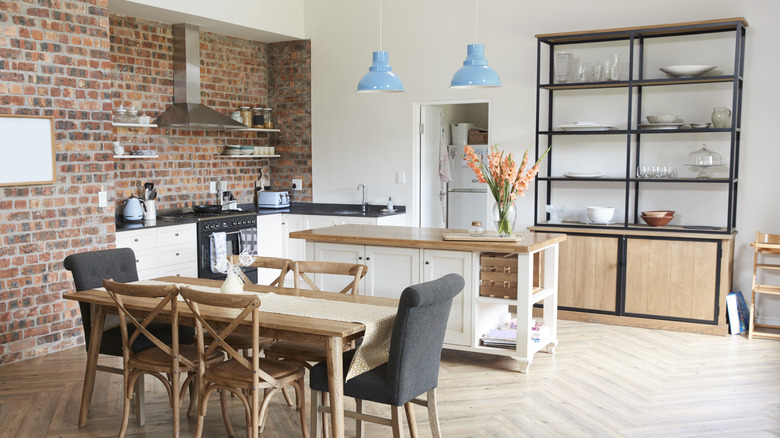 monkeybusinessimages/iStock
Colorful hanging lights, such as the blue lights in this kitchen, are a great way to add a pop of color to your space. If you're creating a neutral-colored space with lots of wood tones and white colors, brightly colored hanging lights over an island make a fun addition.
87. Modern light design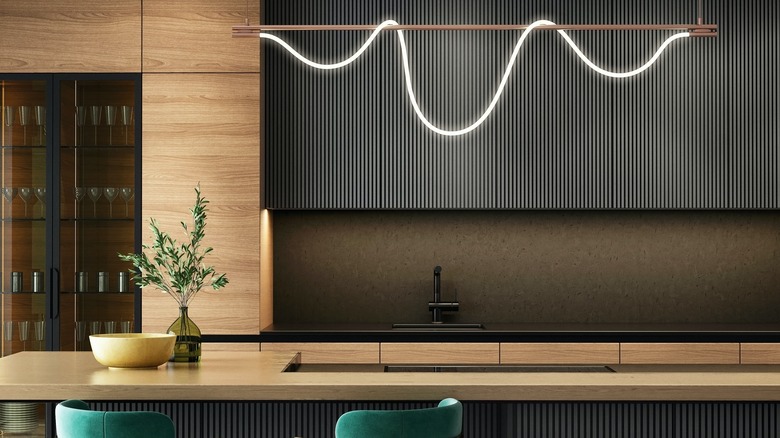 Kam Idris/Unsplash
If you are designing a modern kitchen, considering a modern light fixture can be a fun addition. This light fixture adds a whimsical element to the otherwise modern kitchen design.
88. Dark cabinets with warm light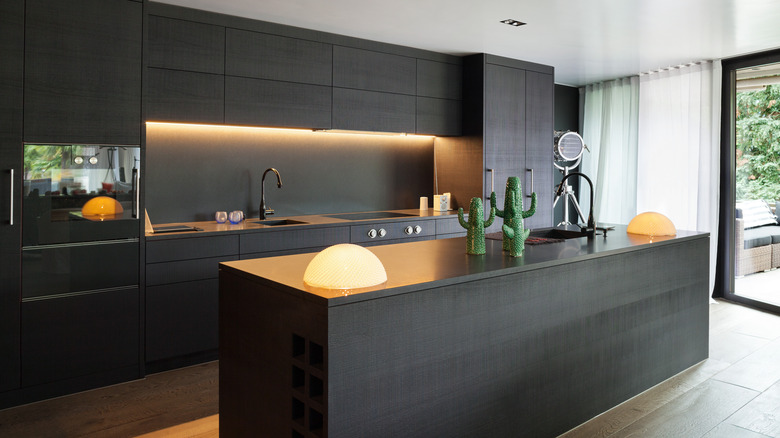 piovesempre/iStock
If you choose to use black cabinets in your kitchen, you may find that the space feels dark or uninviting. To create a warmer environment in your kitchen, try incorporating warm yellow and orange-toned lights in your space.
89. Futuristic lighting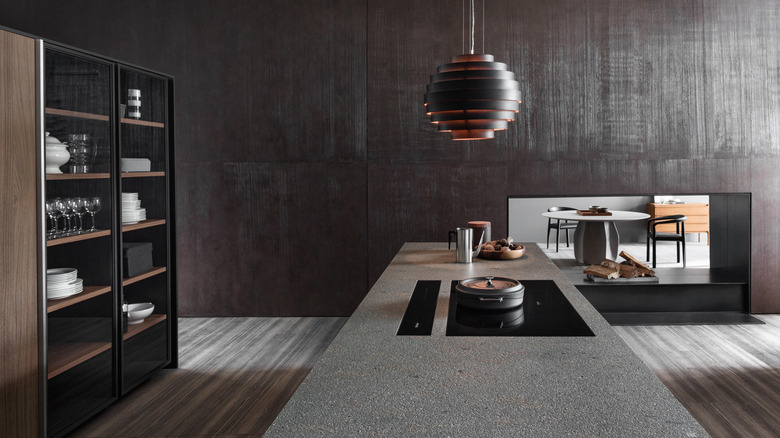 Fran Antolini/Shutterstock
For a modern and futuristic feel to your kitchen, try incorporating a metallic light fixture over your island. This style of lighting is rising in popularity and is a beautiful design element to incorporate into your kitchen.
90. Gray and gold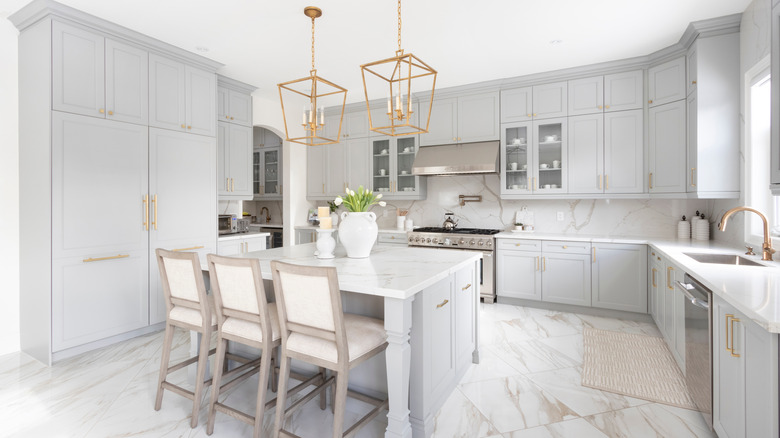 Xi Bai/Shutterstock
Another way to warm up gray colors in your kitchen is to use gold accents. Gold hardware and lighting pair beautifully with gray cabinets and can create a sophisticated and warm feeling kitchen space.
91. Open shelving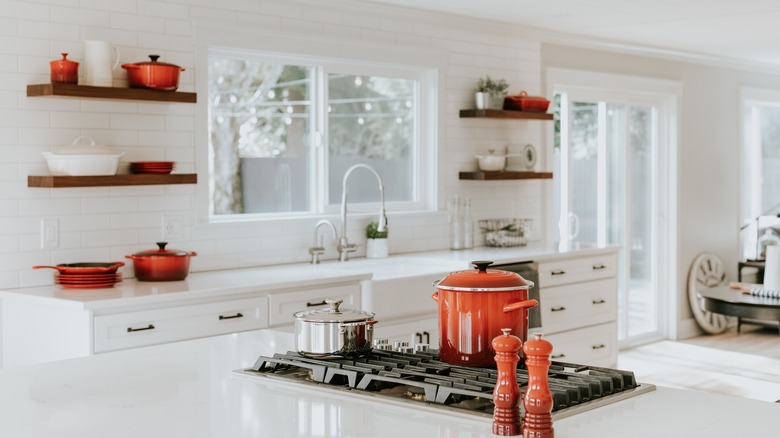 Becca Tapert/Unsplash
Open shelving is a great way to display beautiful china or cookware. It also helps create an open and airy feel in your kitchen because you won't have bulky upper cabinets.
92. Gold accents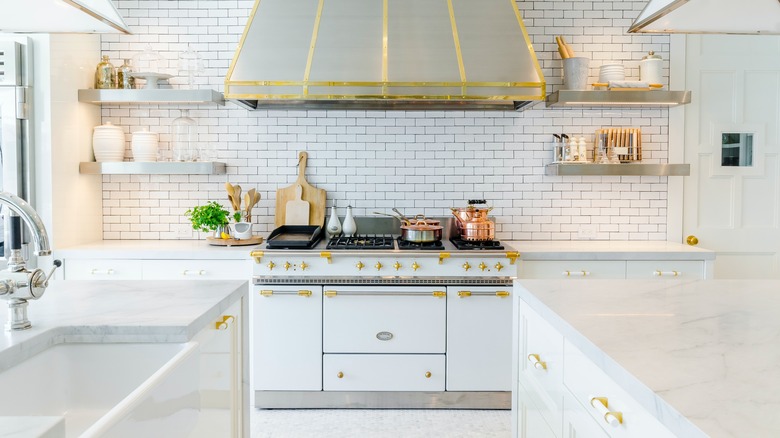 Chastity Cortijo/Unsplash
Do you want to warm up your kitchen space but don't want to paint cabinets or buy new countertops? An easy way to create a warmer feeling in your kitchen is to replace your current hardware with gold hardware. Gold cabinet pulls and handles can drastically change the feel of your kitchen.
93. Copper hardware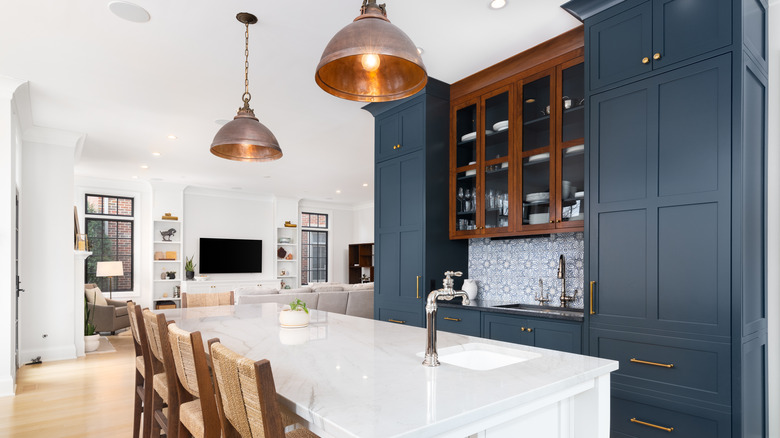 Hendrickson Photography/Shutterstock
Copper hardware is the perfect choice if you aren't a big fan of silver or gold but still want some colored metal in your kitchen. Copper hardware looks beautiful in a neutral-colored kitchen or a brightly colored kitchen and pairs well with just about any color.
94. A few wood accents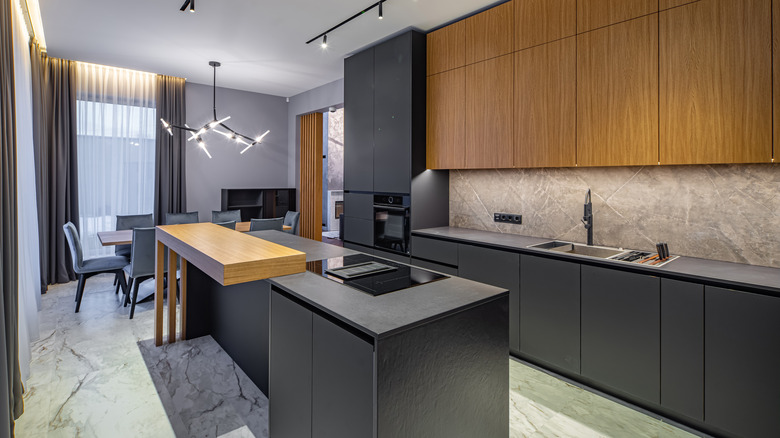 Aleks Kend/Shutterstock
If you don't want a completely wood kitchen but still want to incorporate a few wood elements for warmth, this is a great design. With a bit of wood on the island and a few wood cabinets, this kitchen incorporates wood in a way that doesn't overpower any of the other design elements.
95. Hanging plants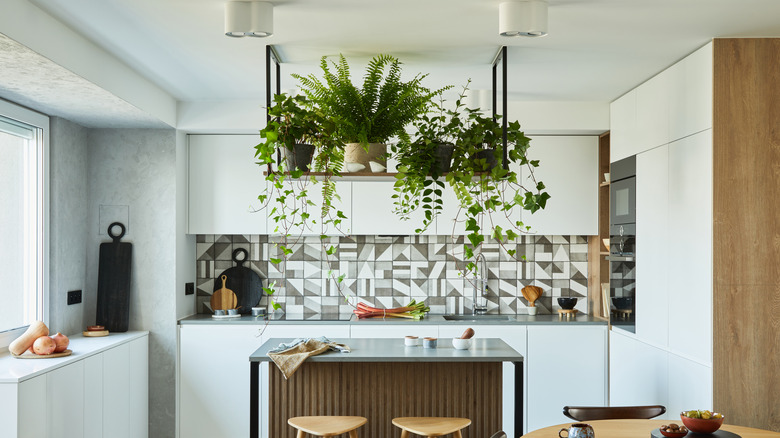 Followtheflow/Shutterstock
To add some life and greenery to your kitchen space, you may consider hanging plants, such as in this kitchen where they hung plants above their island. You can hang herbs for cooking or just beautiful plants that you want to have around you in your kitchen.
96. Built-in bookshelf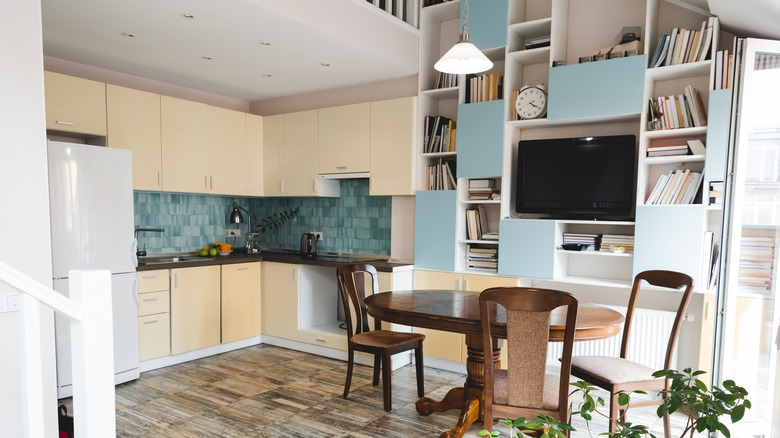 LightFieldStudios/iStock
If you have many cookbooks or other books, a built-in bookshelf in your kitchen is an excellent option for storage. Built-in bookshelves also give you a space to display décor and knick-knacks.
97. Shelf for extra storage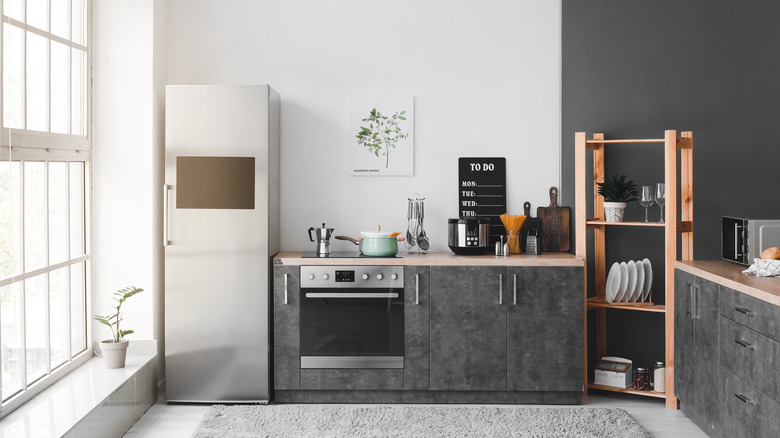 Pixel-Shot/Shutterstock
Sometimes kitchens just don't have enough storage, especially if you are in a smaller space. Using a shelf for extra storage can be a great solution, and there are tons of shelf designs that you can choose from to match the overall design of your kitchen.
98. Rugs for added color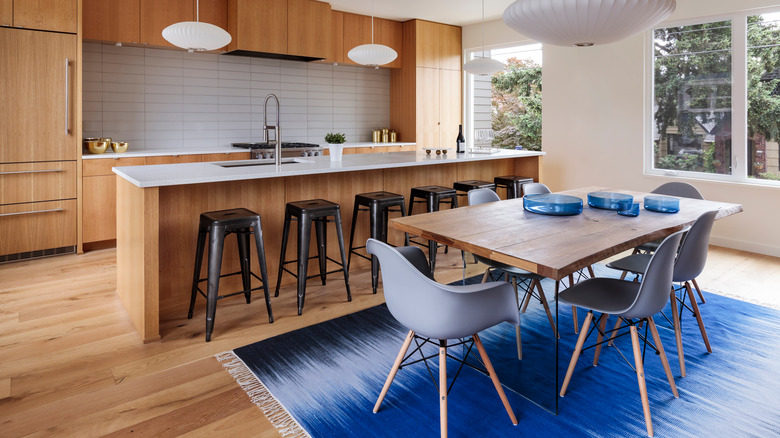 David Papazian/Shutterstock
An easy way to change up the design of your kitchen is to incorporate different rugs. Rugs add some color to your space and can completely change how your kitchen feels.
99. Mismatched chairs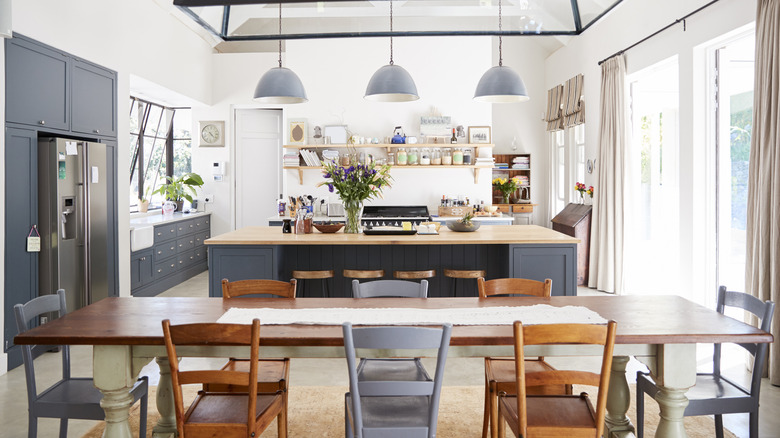 monkeybusinessimages/iStock
For a more eclectic feel to your kitchen, try using mismatched chairs. Using different chairs can make a space feel more homey and relaxed.
100. Hanging pots and pans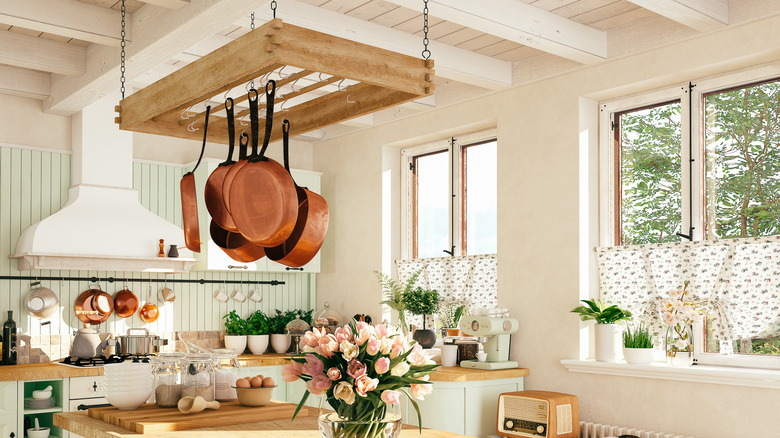 2Mmedia/iStock
A classic design element in many kitchens is hanging pots and pans. By hanging pots and pans, you are creating not only a beautiful design element and way to display your stylish pots and pans but also a practical storage solution for these often difficult-to-store cookware items.