The Unique Home Feature HGTV's Jenny Marrs And Christina Hall Have In Common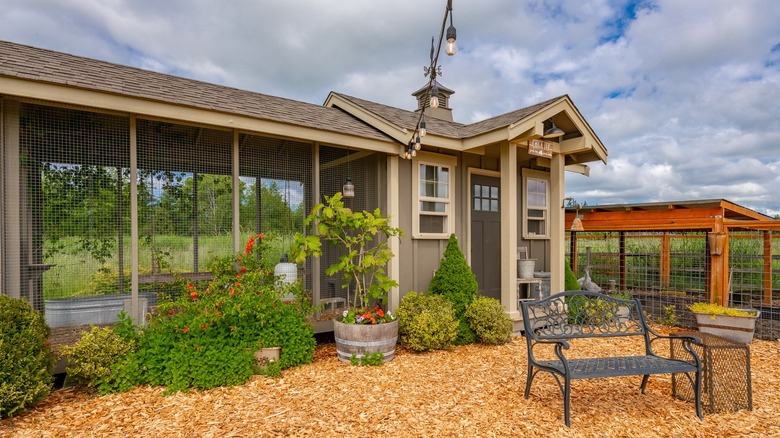 Sheila Say/Shutterstock
We have a lot to learn from the choices of TV design personalities as they transform their clients' homes. However, the personal design choices they make in their own properties also offer a lot to consider and even emulate as we plan ours. One unique feature that the family homes of Jenny Marrs, Christina Hall, and Chelsea DeBoer all share is the presence of a custom chicken coop.
Last year, Christina Hall and her family decided to add chickens to their Nashville farmhouse and built a stylish coop with similar paint colors and roofs. "I love that the coop matches our house and has so much space, so we can get endless amounts of chickens and roosters," said Christina Hall to People. Also last year, Jenny and Dave Marrs added a chicken coop to the historic Arkansas house they restored on their show "Fixer To Fabulous: Welcome Inn". The beautiful coop matches the main building, now an English country themed B&B, and gives guests the added perk of fresh eggs during their stay.
Pros and cons of a backyard chicken coop
Building a backyard chicken coop can be a rewarding project, for your family and the chickens you home, but it also comes with its share of pros and cons. First, it demands a lot of time and effort. Raising chickens and maintaining their living space requires regular care, attention, good hygiene, and sanitation. Starting up this project will also involve considerable expense if you want a luxury coop like Jenny Marrs or Christina Hall. In addition, there's the risk of attacks by predators, so you need to be alert if you decide to have a coop in your home.
On the other hand, a chicken coop gives you access to fresh, healthy eggs. It also provides your household with entertainment and a lot of opportunities for learning, because it gives both children and adults daily responsibilities that can be fun and rewarding. Raising chickens in your backyard can also be a sustainable practice since they consume kitchen scraps and are good for pest control.
How to create a backyard chicken coop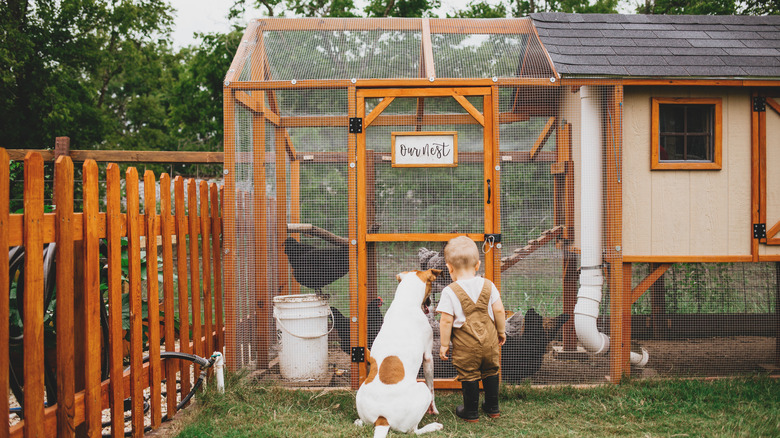 Megan Betteridge/Shutterstock
First, check with your local authorities to determine the rules or requirements for keeping chickens and building a coop in your area. Confirm that you can have one and you're ready to get your coop. If you want to DIY, pick one of the many free building plans online based on your skills and it will list out the necessary materials, tools, and steps. Determine the dimensions and layout of the coop based on the number of chickens you intend to keep. Aim for a minimum of four square feet of floor space for each.
Once you have your measurements, you'll need to build the base, roof, top structure, and walls. Create a door to access the coop and secure it with a latch to keep it closed at night. Have window openings to let light in and help with circulation, and line them with mesh to keep out predators. Pre-built coops are also great. Dave and Jenny Marrs are more than happy with the custom coop built for them by Carolina Coops. "I know when I'm out of my element and when it comes to coops, it blows me away how much ingenuity goes into the feeding systems, just down to the minutest details of where they drink and where they poop," said Dave on PodBean.