What Is The Right Way To Paint Over Wallpaper?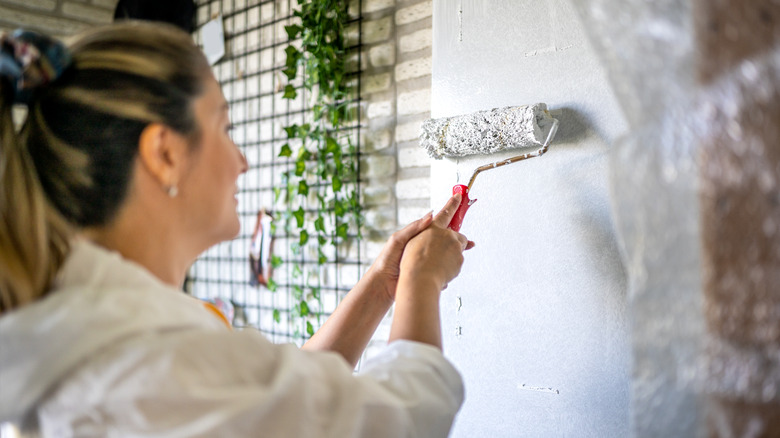 Su Arslanoglu/Getty Images
Some people believe wallpaper is better than painting. You may have agreed with this sentiment at one point, but have since grown tired of the wallpaper pattern and are ready for a renovation with paint. Once you start researching the best ways to remove wallpaper, though, you realize it's going to be a time-consuming job that may be more work than you're looking to do. If you're looking for a better solution, you can paint directly over the wallpaper, but the right conditions and following the proper techniques are necessary for satisfactory results you will be proud to show off.
If the original wallpaper application has peeled edges or noticeable damage, such problems are going to make it extremely difficult to achieve good results by painting over what's currently there. If this is the case, you are going to need to remove or repair these areas of damage before you can do anything else. If the seams are visible now, they're also going to be visible after painting.
If you believe the surface is sturdy enough to accept paint without having to remove it first, you need to use oil-based primers, rather than water-based primers. "I recommend using an oil-based primer, so the wallpaper glue does not react with your primer," Faraz Tajik, president of Crest Builders, told Martha Stewart. Water-based primers tend to soak into the wallpaper as well, negating the primer's effects.
Tips for repairing the wallpaper before you paint over it
Dimitris_k/Getty Images
If there are any areas that are peeling, you need to reattach or remove them before you are able to continue. You can use wallpaper seam adhesive to fix these areas. Or, you may prefer to cut away these loose pieces, especially if they have tears in them. Uneven seams may show through the paint.
After repairing or removing any tears or loose seams, you then should sand the edges using a palm sander or an orbital sander. This will smooth out the rough edges, so they are less noticeable after painting over the top. Sanding is also important if you are using wallpaper that has some textured aspects to it, as sanding can make the texture less noticeable through the paint.
After doing all the patching and repair work, it's time to clean the surface thoroughly using a sponge. Any remaining dust or debris will affect the quality of the paint job. If the wallpaper has a bit of grease or grime on it (think in a kitchen near a stove), you can use corn flour mixed with water to create a paste to clean it. Just apply the paste, let it try, and then brush it off. This is essential, as oil-based primer will not adhere well to a greasy surface. "When it comes to painting over wallpaper, preparation is everything," Faraz Tajik says. "If you skip the necessary steps, you run a risk of witnessing your fresh paint starting to peel off the wall just weeks after."
Techniques to successfully paint over top of existing wallpaper
You're now ready to apply the oil-based primer to the existing wallpaper layout. Be sure to tape off areas where you don't want to use primer. You can use a roller or a brush for applying the primer, just as you would any other kind of paint. Wait until the oil-based primer dries completely before continuing onto the paint. It can take almost 24 hours for the primer to dry completely. Even though it may be dry to the touch within just a few hours, it's better to wait until it fully cures.
It's important to note that dark colors or patterns from the original wallpaper may show through if you are using a light paint color, and therefore it may require multiple coats to cover it. It's also possible that, several weeks in the future, the darker patterns on the wallpaper start to bleed through your paint, forcing you to add further coats. In doing this, the extra weight from the layers of paint could start to pull the wallpaper loose. Therefore, if you are choosing to cover dark wallpaper with a light paint color, it may be in your best interest to just remove the wallpaper first. But, if the wallpaper is subtle and the paint is dark enough, painting over should not be a problem.