The Real Reason Wallpaper Is Better Than Painting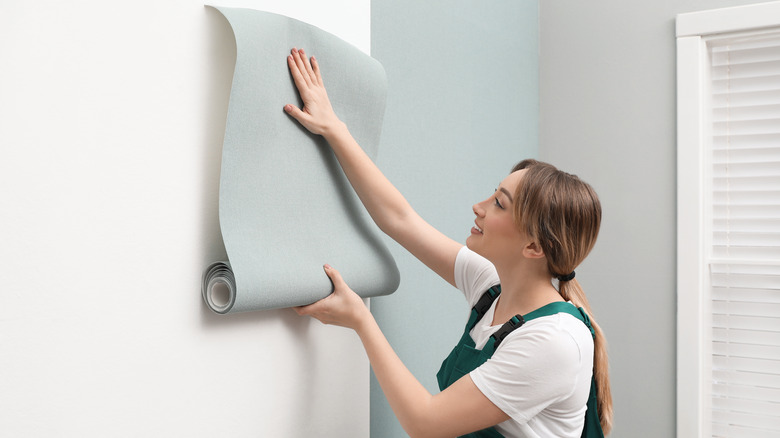 New Africa/Shutterstock
Are you looking for a cost-effective way to decorate your home that will last for years? If so, wallpaper may be your answer. Compared to painting, wallpaper makes a bold statement as an accent wall, protects your walls, and can be cheaper than paint in the long run if you play your cards right, per Home Advisor. 
People usually think of their grandparents' house and busy floral designs when they hear about wallpaper, but that's only a fraction of the patterns available. In fact, there are a variety of colors, patterns, and types of paper to fit in with your design style, from rustic brick walls to artistic murals. Even 3D wallpaper is available, giving you an easy way to add texture and depth to your home. Furthermore, adding just an accent wall is enough to add character to an otherwise plain room. Paint can feel empty and flat, with one solid color on your walls. Finally, in small rooms, wallpaper adds visual appeal and interest, without breaking your bank.
Protect your walls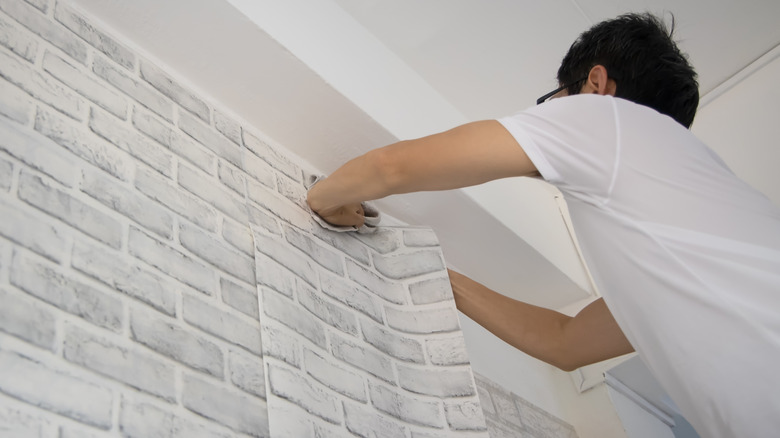 Nok Lek/Shutterstock
Unlike paint, wallpaper is very durable, and it's easy to clean and rarely stains. So if you have children who love to draw murals on your walls, vinyl wallpaper is your best choice, per Wallpaper Warehouse. It's also waterproof and scratch-resistant, so you can scrub your walls clean. Wallpaper even acts as a shield to protect your walls, as well as hides any imperfections and prevents more from occurring. Additionally, it works as a physical barrier because of its thickness. This is better than paint because anytime you accidentally scratch, dent, or put a nail into the wall you have to spackle, sand, and repaint the area to make your walls flawless again. But, it's not always enough to only patch a small area if you don't have the same paint color; then you're left repainting the entire room.
Another pro for wallpaper is that it adds soundproofing to any room you put it in, according to Better Soundproofing. And yes, you should wallpaper your bathroom! While it won't completely soundproof your rooms it will make a difference compared to if you only painted.
Save your money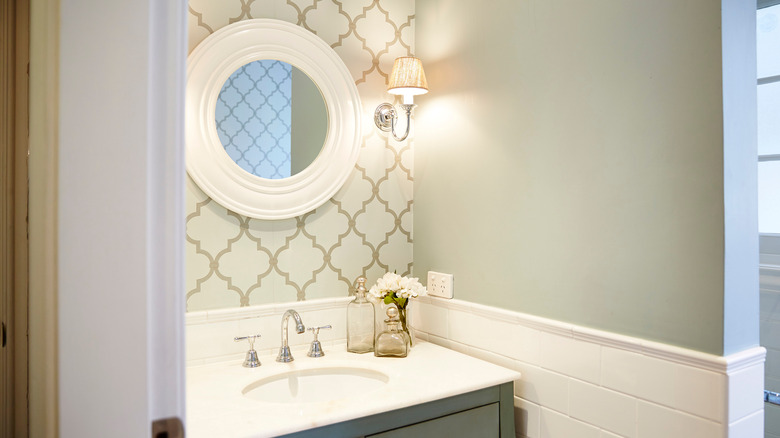 PhotoMavenStock/Shutterstock
Wallpaper is a good choice, especially if you are committed to the pattern. While it costs more than paint at first, it's designed to last; if well taken care of, wallpaper can last for a minimum of 15 years, as noted by Wallpaper Boulevard. Depending on the type of wallpaper you choose, the cost of one roll can average from $10 to $50, with the most expensive and artistic wallpaper reaching $500 a roll. This is frightening to think about when you have to buy multiple rolls to cover a room!
Paint costs an average of $15 to $30 a gallon, with multiple gallons needed to paint a room and extra for touch-ups over the years (via Home Serve). However, when you look at the initial cost and the upkeep needed for painted walls, wallpaper is cheaper. So as long as you aren't swayed by fleeting trends and fall in love with super expensive wallpaper, the upfront cost will be cheaper than painting.