Nate Berkus Offers His Expert Advice To Help You Style A Bedroom With Bold Patterns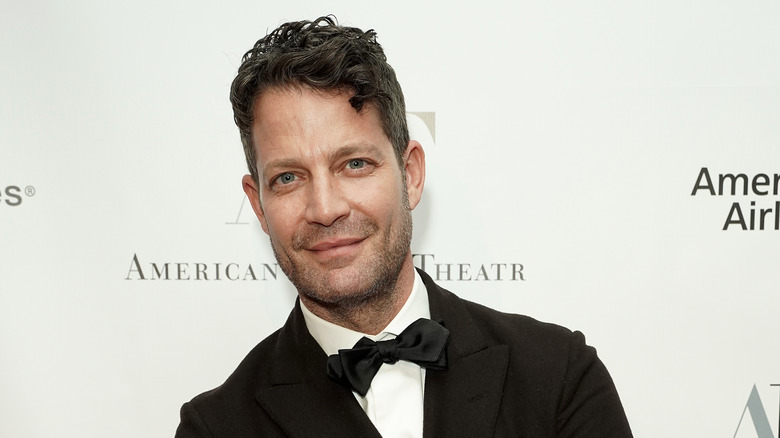 Sean Zanni/Getty Images
HGTV star Nate Berkus certainly knows how to wow his fans with amazing looks he's incorporated into his own home. Lucky for us, he shares some of these ideas on his social accounts so we can glean inspiration. This includes how he decorated his son Oskar's room with statement-making patterns. "One thing I'm always fascinated with is when you introduce a bold pattern to a room, which we've already done with wallpaper. But on the bed, how it can completely shift the way the room feels," Berkus says on Instagram. Layering the bedding elements is one of the ways he pulled off the look in this inviting children's room.
The main focal points include a coordinating decorative pillow and a comforter with a distinctive print paired with a contrasting white blanket and sheets. Berkus really made this work by drawing the eye to a key color — a rich caramel brown — combined with a contemporary geometric shape that compliments the fun animal-themed wallpaper behind his son's bed. You don't have to confine decorating with bold patterns to a kid's bedroom, however, they look great in primary bedrooms and guest rooms, too.
How to get started decorating with bold patterns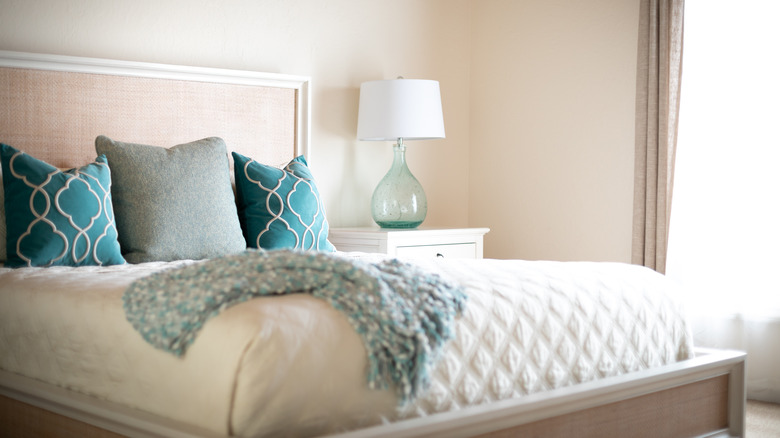 VDB Photos/Shutterstock
If you've followed Nate Berkus for any time at all, you know that he's been a proponent for decorating with bold patterns for, well, as long as he's been sharing decorating ideas. He used lavish forest-inspired wallpaper in his own bedroom, in fact. It's not always easy to take a big step like wallpapering a room to make a statement, but you can take some cues from Berkus for incorporating patterns in a less intimidating way.
For example, Berkus' pillow philosophy suggests starting with some beautifully textured throw pillows saturated with color; then, you can mix in some bold patterns that tie the look together. Adding a throw to the back of a chair or the end of your bed is also a way to experiment with patterns without stretching your budget too far. Boho patterns, modern geometrics, and '70s-inspired florals are all options to explore.
If you're not completely comfortable going all out with florals, oversized checks, and other bold prints, there's a simple pattern Berkus swears by for beginners: stripes. When decorating his son's room, in fact, he adds even more interest to the bed with a striped pillowcase that has a bit of texture to it. Even if you just ease into the use of patterns and work your way up to something bolder, you can indeed transform a bedroom in a simple yet eye-catching way.