Nate Berkus' Pillow Philosophy Will Change The Way You Decorate Your Space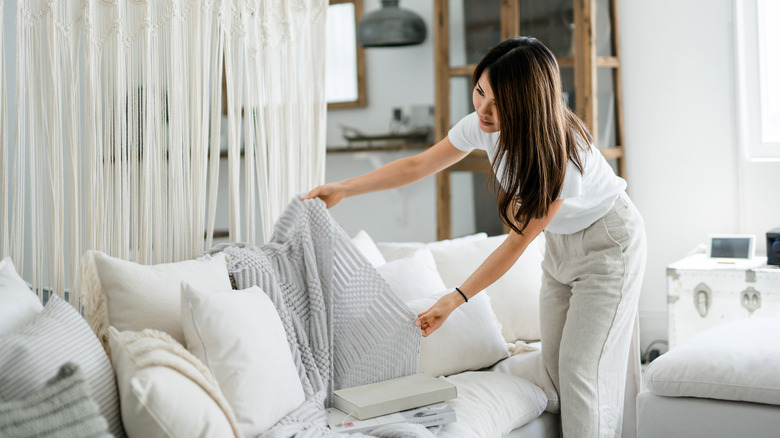 Asiavision/Getty Images
Pillows might just be one of the most versatile (and addictive) home decorations around. One perk of using pillows to help enhance a space is that you can vary the number you use to change the vibe. Minimalist areas only need a couple while eclectic or maximalist interiors can benefit from a multitude of different shapes and sizes. However, it's Nate Berkus' pillow philosophy that might really shift the way you think about these soft accents, because he believes that opting for texture over color will alter the entire vibe of your interior design.
In fact, in an Instagram video, he highlights the benefits of seeking out heavily textured pieces, mainly because they pair so well with other textures and patterns. The designer explains in his caption, "My pillow philosophy: heavy on texture > heavy on color. I love a pillow that can be mixed, matched, and honestly taken to any room of the house and blend right in." 
Using a thick, velvety material, for example, next to a lightweight linen fabric will offset both, bringing depth and dimension. No matter what the upholstery and material your furniture is made of, you can play with combining different throw pillow materials. Here's how to pull it off in your own space.
Textured pillows add depth and dimension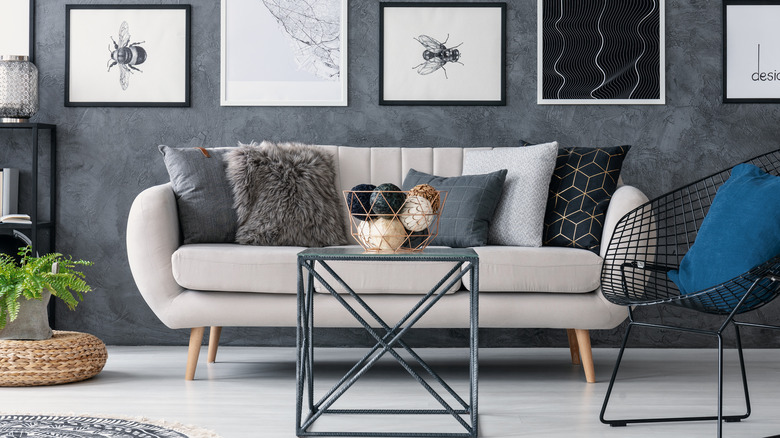 Ground Picture/Shutterstock
When choosing throw pillows, think about bringing texture to a room with these subtle pieces, and how they can complement other design elements. Neutral shades in varying materials and textures are perfect to add to mix-and-matched patterned pillows. They allow you to inject another element of interest without competing with the current prints. Plus, if you keep the same palette throughout your home, you can easily swap pillows between living spaces and bedrooms whenever you want to change up your looks.
Or, you can create a monochromatic pillow arrangement with a wide variety of textures. So, while the materials can range from cotton to alpaca to faux fur, they create a polished look that still feels lively. Another way to turn your textured pillows into statement pieces is to add simple, understated pillows that act as a backdrop for heavily textured ones. This will draw the focus to your favorite materials and patterns. You can likely save some cash, and you'll still have a full set of cozy pieces scattered across your furniture.