Ways To Repurpose Hangers In Every Room Of The House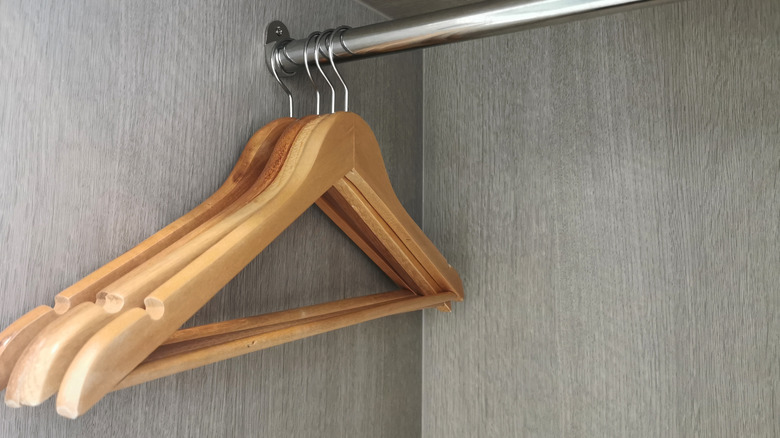 Omkoi/Shutterstock
If you've recently downsized your wardrobe, then you might find yourself left with more hangers than you need. In that case, you can upcycle your hangers in a range of different ways. You simply need to know about and take advantage of various clothes hanger hacks that will turn these items into multi-purpose pieces.
The fabulous versatility of hangers has to do with a few factors including their shape. When used as they are, they can hold more than you might expect and in ways that you may not have thought of. On top of that, both thicker wood hangers and thinner wire hangers can be transformed to create household items that you surely never expected but will definitely want. That's not to mention clippy hangers that can grab also onto countless tidbits that can be found in various rooms in your particular abode. Fortunately, we can give you plenty of ideas when it comes to ways to repurpose hangers in every room of the house.
Hanger magazine holders
If you like to keep the latest edition of your favorite magazines nearby, then you have the perfect use for your extra hangers. Take an attractive piece of chain or hooks and place them on a wall or the back of a door. You can then suspend hangers at staggered heights. Finally, put the magazine on the bottom bar of the hanger by folding it over. If you have quite a few magazines, then you can put more than one on each hanger. This also works for books as long as they're not too heavy.
Hanger coffee table
Take on an impressive DIY project by putting together a coffee table that's made of wire hangers. Although this may seem a little complicated and might intimidate you at first, it's really not that hard. All you need to do is gather quite a few hangers so that you'll have enough for a sturdy structure. Then, connect and weave the hangers both around in a square shape and on top while adding extra wire at the joints if needed. On top, place a piece of glass, hard plastic, or even wood to create the table's surface.
Hanger scarf and belt holder
Although you can throw your scarves on a hanger as it is, you can also make some creative changes that make it more functional not to mention an attractive addition to any space. Simply take a wire hanger and bend the lower bar until the center is pulled down to a point. Next, add wooden rings (or Styrofoam ones that are painted or wrapped in fabric) to the inner section and secure them with twine. Hang your items from the rings, place the piece on your bedroom wall, and you'll surely love the result.
Hanger word art
Wire hangers are great at holding their shape when you want to use them for your clothes. However, they can also untwist and bend as needed which makes them ideal for DIY projects. In this case, fully unwind them before reshaping them into specific letters to create word art for your walls. You can spell out any word that is special to you such as names, dates, or locations. You can also create inspiring text on your living room, bedroom, or family room wall that reminds you to embrace joy, love, and happiness at home.
Hanger art holders
Hangers with metal tops and wooden bottoms are a fantastic option if you need to hang up pants. They're also handy at holding onto plenty of other things thanks to the fact that they can simply clip onto whatever you have in mind. Just use a hook to easily hang them up. Slip art into these hangers and pop them up to create a trendy gallery wall in your living room or bedroom that can be easily changed whenever you find a new piece to add.
Hanger dish tray
We bet you never thought of using old hangers as a dish tray, but that happens to be a savvy way to repurpose these items that may still have a lot of use in them. For this hack, start by taking the metal hook off of the top as it's not needed and would only rust. Next, put two full hangers on opposite ends of wooden rods that you can take off of the remaining hangers. Then use these additional hangers and place them upside down next to the first two and then right-side-up in the middle.
Hanger fruit bowl
A hanger bowl may be another unexpected piece, but it will also be a practical addition to your kitchen. Take wire hangers — preferably ones with a plastic coating so that you don't have to deal with rust — and bend the sides up. Continue to do this with hangers until you have enough to create the bowl shape. Then use a little more wire or some twine to tie the hangers together at certain spots to keep it in place. Add some fruit and this DIY project is ready to show off.
Hanger shoe holders
Hangers are obviously meant to hold clothes but you might not have realized that they can also be used to sort your shoes. Just take a wire hanger and clip off the bottom section. Once you've done that, you can bend each side up before giving it a nice little swirl at the end so that you don't end up with any sharp bits on the outside. Keep the bent sections big enough to slip a sandal on either side before hanging them up in your bedroom or foyer closet.
Hanger necklace holder
Make it easy to find your favorite necklaces while also preventing them from getting tangled by placing them on a hanger. If you want to keep things as easy as possible, then you can simply clip them onto the bottom bar of the hanger and let them flow down from there. On the other hand, you might want to add small hooks to the upper arms of the hanger and then suspend your necklaces from each one. If you're happy with the result, then you could make one for bracelets, rings, and earrings as well.
Hanger paper towel holder
If you're in need of a paper towel holder, then you have another use for a hanger or two. Instead of buying something that's premade, just turn a hanger into a paper towel holder by clipping one end which will allow you to slip the roll on and off when you want to switch it up with a new one. To keep the clipped part from hanging down, simply add a piece of wire or string to tie it up. You can do the same with a roll of parchment paper, wax paper, or aluminum foil.