Your Old Wooden Hangers Can Be Repurposed Into An Adorable Side Table - Here's How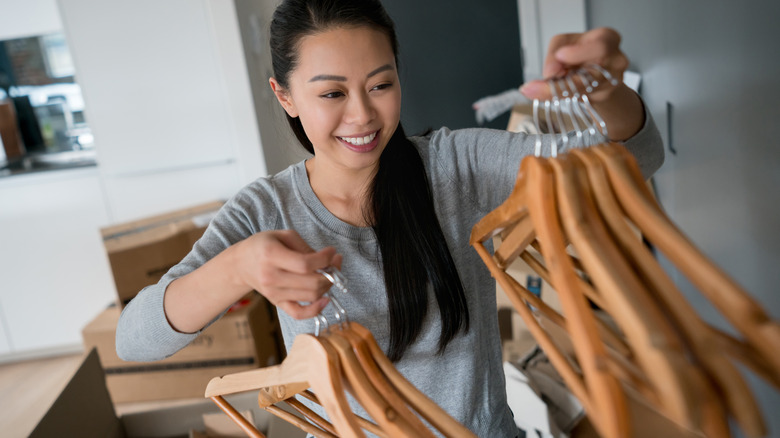 Andresr/Getty Images
We may receive a commission on purchases made from links.
One way of creating a home that truly represents your personality is by incorporating customized pieces of furniture — but that doesn't mean you have to break the bank in order to decorate your home. You can make DIY customized pieces on the cheap by using items you already own. For example, One Instagrammer easily created an adorable tiny side table made from some wooden clothes hangers. The result looks like a trendy piece you'd see at a Brooklyn flea market that would easily cost quite a bit of money.
This clever hack uses just four wooden hangers, some dowels, wood glue, and a wooden circular tray to create her cute little side table. It's perfect for placing next to a chair, on a covered patio, or near a low bed to hold drinks, remotes, books, or a small potted plant. It has far more personality than this similar small side table from West Elm and will cost you less than $50 to make. 
How to make a DIY side table with wooden hangers
You'll need a small wood tray Like this one from Amazon, four wooden hangers, which are also available on Amazon, dowel pins, wood glue, and pliers. You may or may not need a drill such as this option for $47 on Amazon. Remove the hooks from the four hangers — you'll probably need to use the pliers to get a good grip in order to do this. Then check to see if your dowels fit inside the holes left in the hangers, if not you will need to drill them out. Fill the hole with wood glue and push your dowel inside. There should be enough excess dowel sticking out to fit into another hanger securely. Add glue to a second hole and fit this hanger onto the other side of the dowel. 
Repeat this with your other two hangers and let them dry completely. Flip a glued set of hangers on their side. Place the other set on top of the first set where the hangers meet in the middle, which should give you four prongs on top and four on the bottom. Place your tray in the center of the open top. The groves to hang your clothes from will catch the plate and hold it in place. You can also use a little hot glue underneath the tray where it hits the prongs to keep it secure.