Inside The Luxurious Home Of Von Miller From The L.A. Rams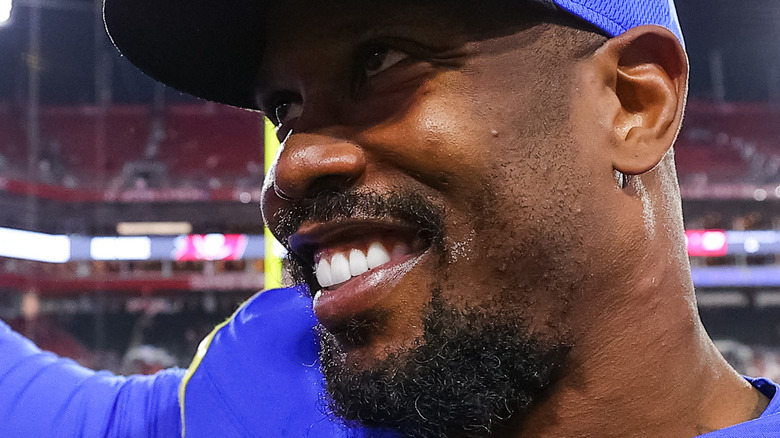 Kevin C. Cox/Getty Images
Los Angeles Rams outside linebacker Von Miller is set to leave behind his Denver mansion in preparation for the Super Bowl, where he and his teammates will compete with the Cincinnati Bengals. Miller purchased the mansion in 2012 for $925,000, as reported by Velvet Ropes. Though there are few pictures of the house since its recent update, it is currently reported to be 10,595 square feet, with seven bedrooms and 10 bathrooms, all sitting on over 4 acres of property.
Miller did a house tour with Bleacher Report in 2016, showing off the gorgeous, Las Vegas-inspired mansion pre-renovation. With how stunning the mansion was then, it can only be imagined how spectacularly grandiose it is now. One of the house's main features is the basement, complete with a full bar, saltwater fish tank, and swanky leather couches.
The NFL star is estimated to make over $17.5 million a year, according to SportsKeeda. With bonuses, it is estimated that he made over $22 million during the 2021 season alone. His mansion (as well as his jewelry, cologne, and car collection Miller boasted in the Bleacher Report video) most definitely reflects his astronomical salary.
Von Miller's Vegas style bachelor basement
While all of Von Miller's Denver-based mansion is luxurious, the real star of the show is the NFL star's basement. Miller's 2016 house tour with Bleacher Report shows off the luxurious bachelor paradise, which boasts a full Vegas-style bar with three televisions behind it, large flat-screen television and speaker system, a pool table, a gaming table, arcade machines, pub tables, and Miller's framed jerseys. "It was like a number one priority," Miller told Bleacher Report. "My inspiration was kind of like a little Cosmo in Las Vegas, you know."
More than just the expensive amenities, the basement features multiple lounge areas, including expensive leather armchairs, a large sectional, and a fancy white leather couch. However, the real kicker is Miller's impressive 300-gallon saltwater aquarium. "This is one of my jewels of the basement," Miller said. He added that watching his fish takes his mind off of the stress of football. "You come in here and watch the fish. Watch the fish and chill."
The luxurious master suite
The luxury doesn't stop in the basement, though. Von Miller's impressive master suite is also inspired by Vegas-style luxury suites, he told Bleacher Report. It features a large bed, a PC setup with professional speakers, a modern fireplace, large television, and a workout bench. Attached to his bedroom is a custom-built walk-in closet, where Miller stores his over 800 pairs of shoes and more than 150 pairs of glasses.
Miller's en suite bathroom boasts a large jetted tub, television, a large shower with frosted glass squares, and his extensive (and expensive) collection of colognes. The Texas native also showed off his collection of cowboy hats.
Miller wrapped up the tour by showing off his multiple cars, one which was modeled after the famous Batmobile, complete with Batman decals both on the car's outside and the interior. With the immense luxury exuding from the mansion pre-renovation, it is likely his home as it currently stands is even more stunning.