The Best-Reviewed Product At West Elm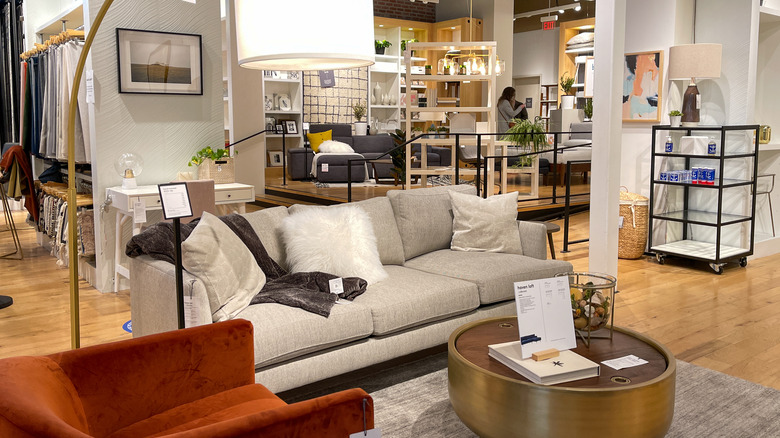 Joni Hanebutt/Shutterstock
West Elm prides itself on being a very sustainable company, according to their official site. The furniture store has so far pledged and donated 60% of its product sales to support sustainability initiatives they believe are important. Their own products, such as bedding and bath towels made of organic cotton, have also saved 2.3 billion liters of water in 2019. West Elm has been around since 2002 and has been thriving ever since, according to Williams Sonoma, Inc. Annual Reports says, the furniture store made $8.2 billion in 2021, increasing its revenue by 22%. During the midst of the pandemic in 2020, its revenue grew by 15%. Its modern and sustainable furniture has had a successful course so far, and consumers are raving about its products.
One of its most beloved items is the minimalistic floor mirror, according to Reviewed. Floor mirrors are a great way to bounce natural light around to create the illusion of a large space or to just check out your outfit before a big night out. Its design is minimalistic to accommodate many design themes, such as modern, contemporary, or even rustic if done right.
Mirror, mirror on the... Floor?
Reviewed says West Elm's Metal Frame Floor Mirror is a great decor item with an ideal size. The mirror is 30 inches wide and 72 inches high and comes in three colors; antique brass, antique bronze, and brushed nickel, according to West Elm. Although you cannot mount this mirror on the wall, it can be placed in every room, including the bathroom. To ensure your mirror doesn't fall on the ground and shatter your design dream, it also comes with a tip-resistant kit.
Not only can floor mirrors make your room feel bigger by reflecting light, but they can also be a great way to hide imperfections, according to Central Glass Utah. If you have a hole in the wall from a rogue DIY project, you can cover it up with the mirror while also making a statement. Depending on the color and style, mirrors can also be an easy way to create a focal point in the room without pulling out paint and tools.