What's The Difference Between Bath Towels And Bath Sheets?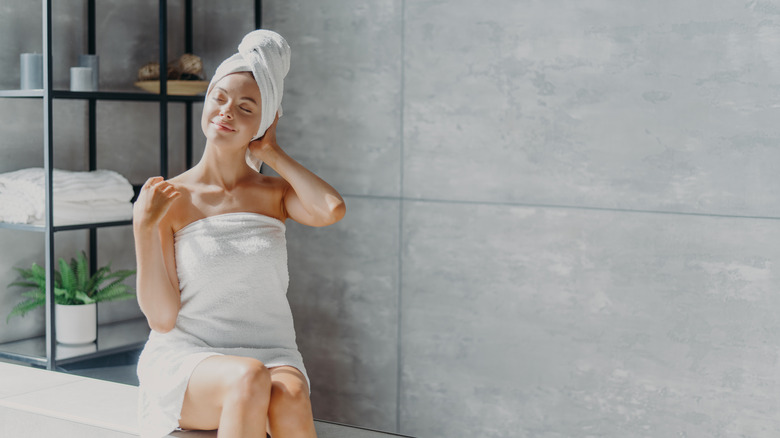 VK Studio/Shutterstock
Did you know you should replace in your towels about every two years, according to Parachute. If you notice your towels taking a long time to dry you off, a funny odor after one or two uses, or noticeable tears in the towel, it's time to buy a new set. As towels age, they cannot absorb water as well and become more likely to grow bacteria like mold and mildew. If any of these apply to you, it's time to start shopping. 
Bath towels and bath sheets are excellent buys and can be a great gift for newlyweds, birthdays, anniversaries, and more. So whether you're looking to replace a set or buy some as a thoughtful gift, you may be asking yourself — what's the difference between a bath sheet and a bath towel? This guide will walk you through the key differences and make the best choice in bath linens for yourself.
Size and absorbency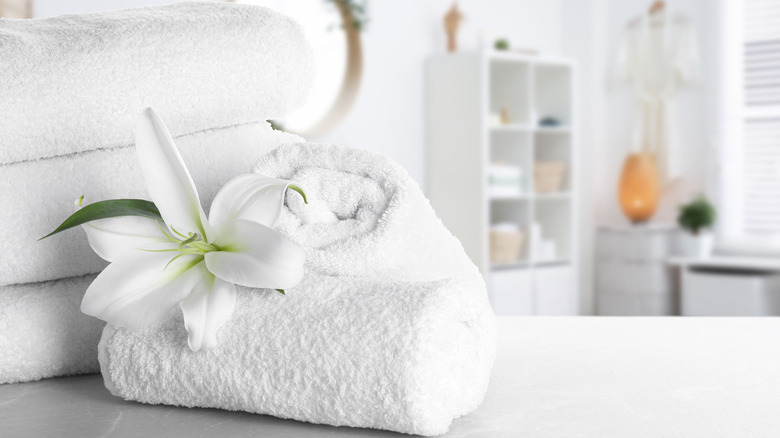 New Africa/Shutterstock
The key difference between bath sheets and bath towels is size. Bath sheets are typically much larger than bath towels, enough to wrap yourself up comfortably, while towels are smaller. The Plush Bath Sheet from Boll & Branch measures 30 inches x 76 inches, while their Plush Bath Towel is only 30 inches x 58 inches. If you remember being little and getting wrapped up in a towel, a bath sheet will have a similar effect. They are also great for plus-size folks who find regular towels to be uncomfortable and revealing. 
In addition to size, a related difference is absorbency. Because bath sheets are larger, they have more surface area for absorbing water off of your body, so you may notice you dry off faster with them. However, bath sheets are typically larger and even thought of as a luxury item and thus more expensive. So if you're shopping on a budget, bath sheets may not be an option for you.