How Much Does It Cost To Replace Your Bedroom Furniture?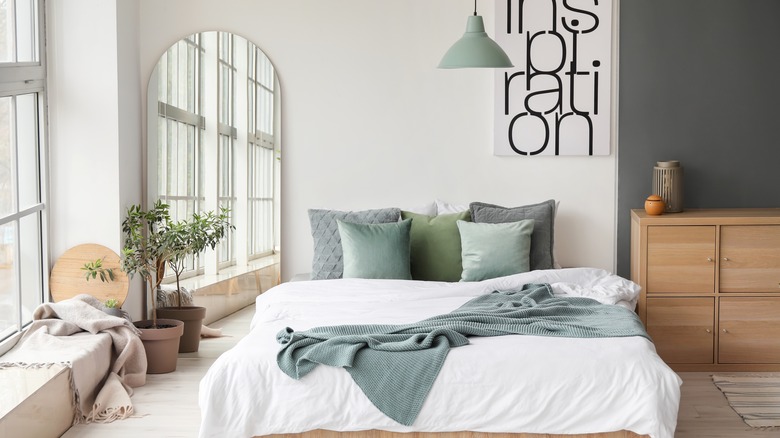 Pixel-Shot/Shutterstock
Redecorating your bedroom can be a fun project and a chance to enjoy a new environment, even though it will be the exact same spot as before. It can get expensive and hurt your bank account if you decide to buy everything at once, but you can buy a few items at a time to give you time to save up for the next thing. The average person spends around $2,000 to buy furniture for their bedroom alone, according to ForRent.com.
Most people go straight for the luxurious items when they want new furniture, which is how your money will run out quicker. Instead, you could always visit a second-hand furniture store and find some unique pieces. It's important to budget beforehand and plan out which items you want to splurge a little more on than others. While the larger items can get pricey, the small items such as décor pieces can add up quickly, too, per Best Web Reads, which is a great start to checking out affordable stores such as Etsy. Here's an overview of what to expect when replacing your bedroom furniture.
Cost of standard items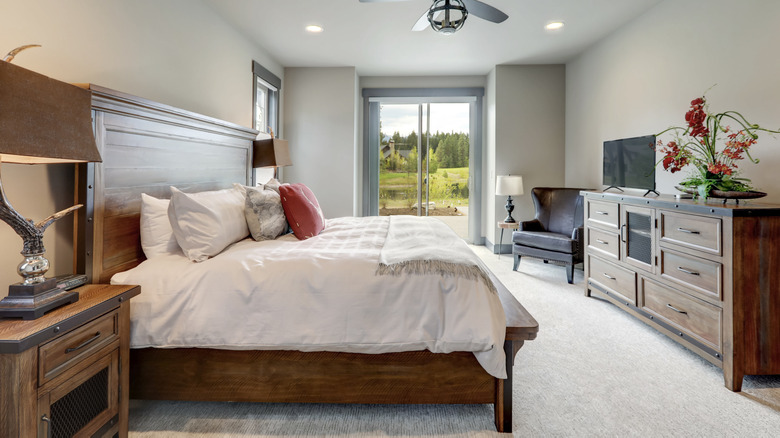 Artazum/Shutterstock
A few larger items folks usually purchase for their bedroom are a mattress, box spring, bed frame, dresser, and nightstand, according to La-Z-Boy. A bed frame could cost between $150 to $2,500, while a nightstand can cost between $100 to $1,000, depending on the style and finish. Most items always come as a one-piece set, hardly ever two, meaning you'll have to pay twice for a couple of things such as nightstands if you want one on either side of the bed. A dresser will cost between $300 to $2,000.
The huge factor to consider when purchasing furniture pieces is quality over quantity; you pay a little more for your furniture to last you longer. Often when folks decide to redecorate their bedrooms, it's because they've had the pieces for years and need something in better condition. Looking for a comfortable and high-quality mattress can cost anywhere between $200 to $5,000, depending on the type you're looking for, The Sleep Shop explains. You'll be spending between $800 to $10,000 on just the standard furniture items.
Cost of miscellaneous items
Katrinaqq/Shutterstock
After you've gotten the essential items in the bedroom, you can touch on smaller décor items you might want for your space, such as mirrors, lamps, pillows, comforters, etc. You'll want to save an additional $1,000 at least to buy décor to give your room some personality, Home Decor Bliss recommends. You can get away with only saving $50, but that can sometimes only cover a comforter and some wall art. Of course, the higher you go in saving money, the more you can purchase.
With $1,000, you'll be able to purchase a new rug, full-length mirror, new pillows, a comforter, some plants, a lamp or two, and even paint your room a new color. A decent-sized mirror can cost between $80 to $100, but if you want a good quality mirror, expect to pay up to $300, claims Angi. Table lamps can cost between $20 to $200, depending on the style and how many you want to purchase.
If you decide to paint your room yourself, you can save a lot of money and only have to buy the paint. According to DIY Painting Tips, this could cost between $75 to $150 depending on how many gallons of paint you buy and the materials you need to get the job done. To redecorate your entire room, you could spend between $900 and $11,000. Always pre-plan and be budget-smart to save as much as you can.