How To Decorate Your Bathroom With Green Accents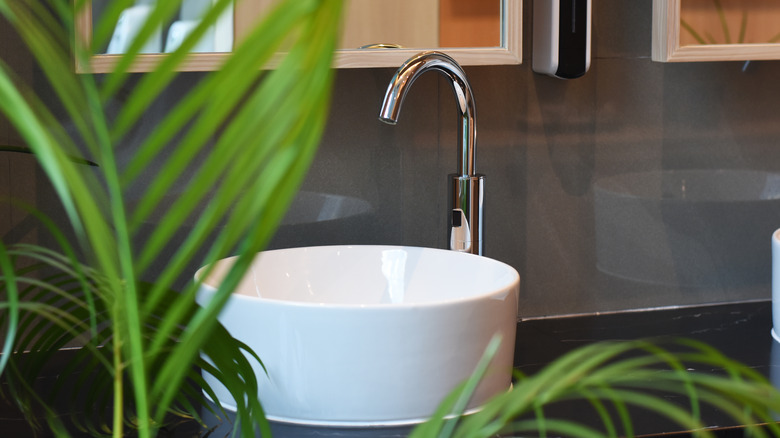 Nawin Kitpipatphinyo/Shutterstock
It's always fun to add a touch of color to any room. Particularly, the bathroom is where you can mostly play with color, especially if you have created a bright and neutral oasis in this space. There are several colors to choose from, but you'll most likely be pleased with something complementary and relaxing. For example, adding bits of green to your bathroom is a perfect way to create a calm and bright atmosphere (which is exactly how you'd want your bathroom to feel), per Wow 1 Day Painting.
So if you're hoping to create a fresh and new environment for your bathroom, adding green accents here and there may do the trick. Adding color to those who love neutral or minimalist designs may be worrisome, but green can be the complementary pop of color you didn't know you needed. Take a look at how green accents can further elevate the design of your bathroom.
Create a moss wall
If you really want your bathroom to feel green and fresh, you can add a moss wall as a beautiful accent piece. It's a great idea to create a room meant for relaxation, as a study found that being around live plants can decrease stress by 12%, per Rise. Your bathroom is probably the best place to put this bright plant, as it prefers humid areas. If your bathroom ever gets too humid, introducing moss is a great way to reduce those levels.
Creating a moss wall typically costs between $100 to $200, but it all depends on how big you make it and how much material you're using. However, these moss walls can last 10 to 25 years depending on how well you take care of them, so $200 doesn't seem so bad. Just make sure it's not in direct sunlight, as it prefers the shade. Sunlight will eventually burn the moss away if it's not properly shaded.
Get a green chair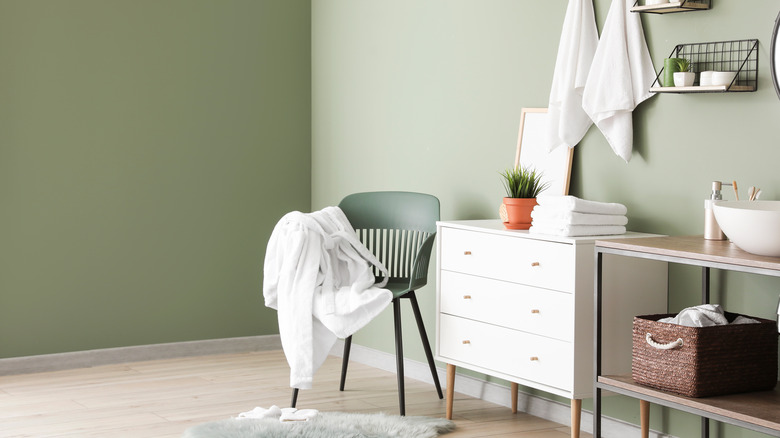 Pixel-Shot/Shutterstock
For the ultimate relaxing experience, bring a green chair into your bathroom. Not only will it give you the pop of color you need, but it will also provide you a place to sit while you do your makeup or just take a small, quiet break for yourself. The Bedroom Center advises using outdoor furniture in the bathroom, as they are already made to resist damage from moisture and humidity.
This can be a chair that sits in front of your vanity or by the window as you stare out at the moon and paint your toenails. You can find a chair for any style, whether you prefer minimalistic, modern, contemporary, or even rustic designs. You can either go with one with metal legs and a nice cushion or, if the fabric allows it, a whole armchair with a beautiful shade of green of your choice. If you have room, it would also be nice to add a small side table to set down a cup of coffee in the morning.