Bring A Touch Of Nature To Your Bathroom With A Moss Floor Mat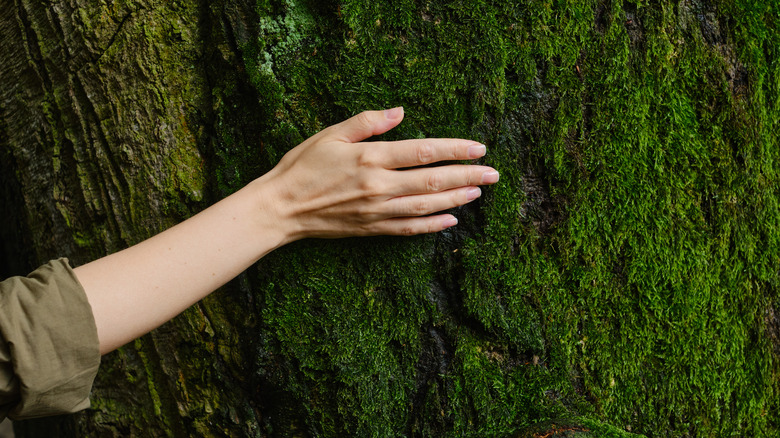 Iuliia Pilipeichenko/Shutterstock
Moss is regularly used in gardens and landscaping. However, you may have also seen moss used as a decorative feature in a luxury gym, spa, pool, hotel, or apartment complex, per Plant The Future. These displays are usually made out of moss that has been dried and repurposed for decorations, also called preserved moss.
Preserved moss can be purchased at just about any craft store, and it can be used to create a unique and earthy vibe in any space. A unique way to add moss to your bathroom is by creating a mossy floor mat. Preserved moss is a great material to use in design because it's a beautiful vibrant green and should never lose its color. It's also great for use in the bathroom, specifically, because when moss gets wet, it becomes soft. HGTV demonstrates how to create a moss floor mat using just six easy-to-find materials.
How to DIY a moss floor mat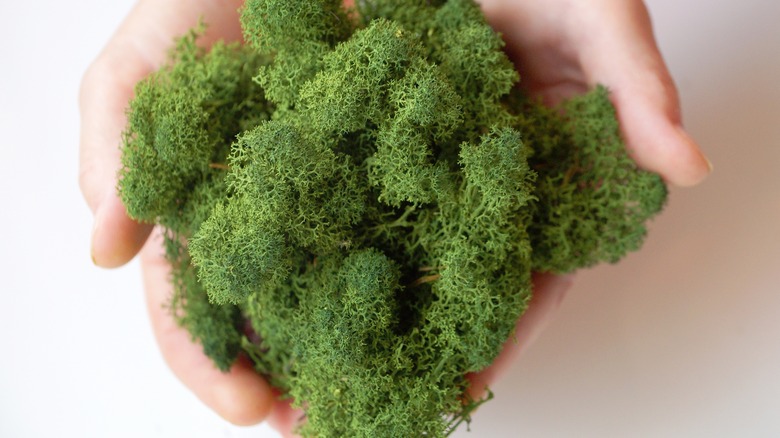 Annado/Shutterstock
To create your own mossy floor mat, you'll need to head to the craft store to pick up a few bags of preserved moss, according to HGTV. You'll also need a large plastic container lid (one that's about the size of a regular bath mat), a non-slip shelf liner, some glue, a pair of scissors, and a measuring tape.
To begin, you'll attach the shelf liner to the outside of the plastic lid with glue. Allow this to dry completely for 30 minutes before moving on to the next step. Then, you'll flip over the lid to the inside and begin attaching the preserved moss in clumps. To do this, swirl some glue on the surface, then press the moss into it. To create a mosaic look, you could place sections of different types of moss around the mat. Keep attaching the moss until the whole lid is covered.
Other ways to add nature to your bathroom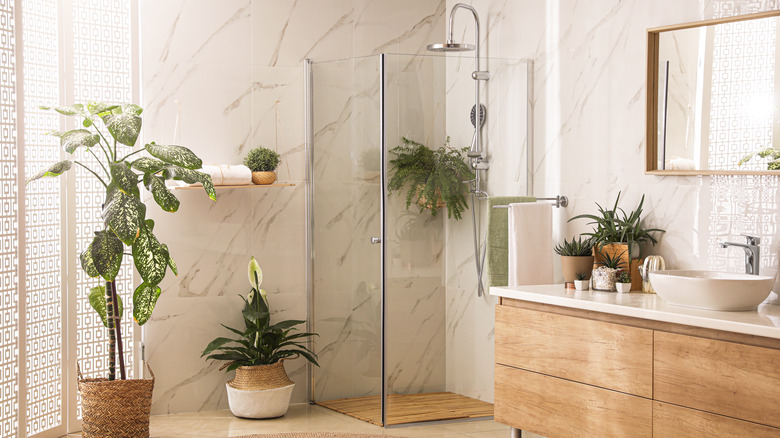 New Africa/Shutterstock
There are also a number of other ways you can add an earthy vibe to your bathroom. Mr. Steam says to add more natural light to your bathroom. Adding windows or skylights can bring a warm touch of nature to your space. You could also diffuse some natural scents or light an earthy-smelling candle in your bathroom. When choosing your bathroom's paint colors, you could lean into ones that remind you of your favorite landscape scene. For example, you could choose a deep blue if you love the ocean or a soft green if you love a pasture.
Finally, you can add plants to your bathroom. A great place to put them is in your shower. This can transform your shower into a lush jungle. Happy Sprout says that when choosing shower plants, types that enjoy humidity will thrive the best. Some examples of plants you could choose include ferns, spider plants, prayer plants, and eucalyptus branches (which will last for two months before they dry out).