Nearly 36% Of People Want This Luxe Feature On Their Dream Patio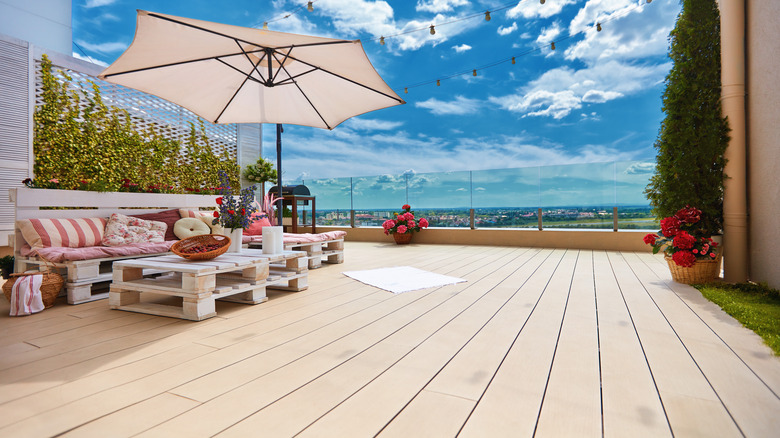 Olesia Bilkei/Shutterstock
A deck or patio is more than just an outdoor living space. It's a place to entertain guests, relax, and create the oasis of your dreams. There are many ways to elevate your deck or patio. You could focus on aesthetics and add lots of greenery. Or, you could put all your effort into making the perfect entertaining space, complete with the ideal outdoor furniture set. If you want to promote serene vibes in your space, maybe you could add a hanging chair. Perhaps you're a foodie and want a full outdoor kitchen.
While pondering your dream deck or patio, you may start wondering what the most popular outdoor feature is. To discover the answer, House Digest asked 596 people what feature they would include on their dream deck or patio. The winner was chosen by over 35% and 221 participants. It's a luxurious item that would definitely elevate your outdoor space.
The luxe feature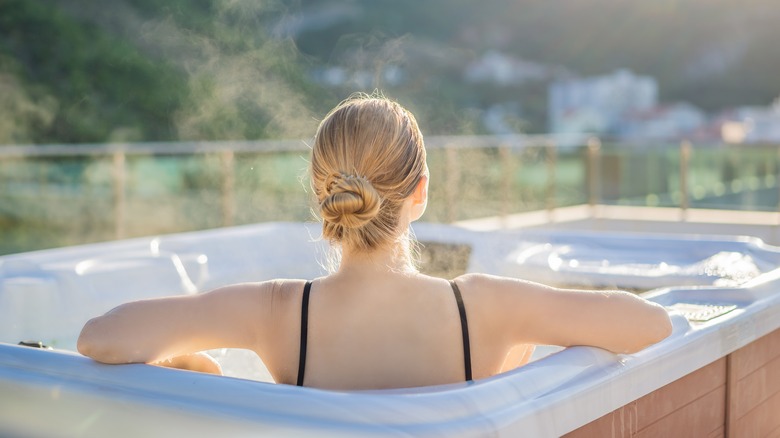 Elizaveta Galitckaia/Shutterstock
Most participants said that they wanted a hot tub on their dream patio. A hot tub would be perfect for relaxing after work or entertaining guests. According to Vintage Hot Tubs, sitting in the hot tub can relieve stress and body aches. An outdoor hot tub can also create the perfect place to get some fresh air. And, it's a great addition to any entertaining space. A hot tub can be especially great for those with arthritis, per Sundance Spas of Edmonton. The hot water and jets can help with joint pain. Or, for those who frequently get headaches or migraines, a soothing dip in the hot tub could help them relax and relieve those pains.
Home Guide says that hot tubs cost anywhere from about $3,000 to $10,000. Those with luxurious features like salt water or in-ground installation can be even more expensive. They last about five to 20 years when well maintained.
Other features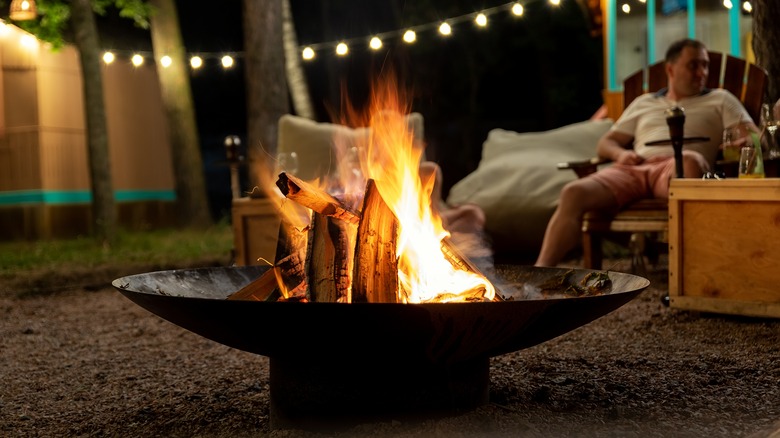 Gorloff-KV/Shutterstock
The next most popular vote was for a smokeless fire pit, which over 25% and 150 participants chose. A fire pit is a great place to entertain, roast marshmallows, or have fun conversations, but smoke from the fire can become bothersome. Smokeless fire pits burn off the smoke, so it doesn't carry up into your face, per Backyardscape. Other benefits include less of a smokey smell, better efficiency, better for your health and the environment, easy cleanup, and cost-effectiveness over time.
Over 15% and 94 people chose a portable pizza oven, which would be ideal for entertaining or just having a family dinner in the backyard. Pizza made at home will taste better than delivery and could be made with better ingredients. Also, you can use a pizza oven to make other dishes and desserts.
Next came a hammock, which almost 12% and 71 people chose. Finally, coming in just under a hammock was Edison-bulb string lights, which nearly 12% and 70 participants voted for.