The Real Reason Granite Countertops Are Better Than Marble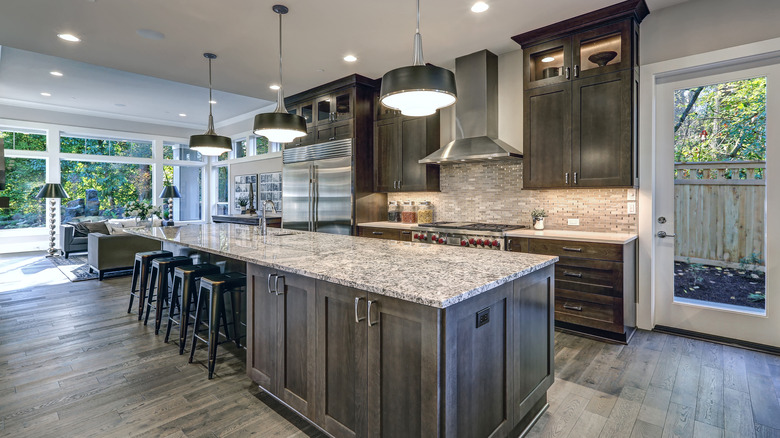 Shutterstock
One of the most exciting parts of homeownership is the renovations that can be done, transforming your space to how you truly want it. Flipping through countless design magazines and falling in love with many different kitchen styles can be easy with so many choices. A 2019 Renovation Trends study courtesy of Houzz found that 26% of homeowners chose the kitchen as the top room in the home to remodel. "It will always be the most important room in the house, I believe," said Chicago-area real estate agent Melanie Giglio to HomeLight. As for countertops, there are so many choices to make, and two popular options include granite and marble. 
On average, granite or marble do not come cheap. According to Fixr, granite countertops can run from $3,000 to $3,500, while marble countertops cost between $3,800 to $5,000 for every 30 square feet installed. Per HGTV, both of these popular countertop materials are natural. While marble is an elegant choice, granite offers several styles and colors, but here's the real reason you might want to choose granite over marble countertops.
An argument for granite over marble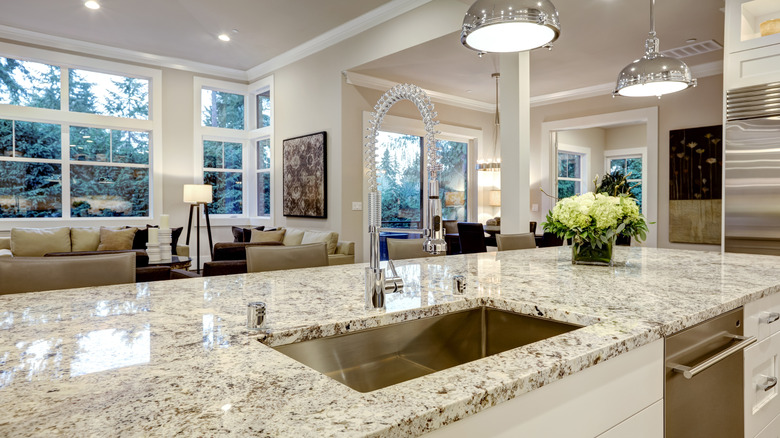 Shutterstock
Marble can stain easier than granite, which is the real reason you may want to choose granite for your kitchen countertops over marble. Citrus, tomato sauce, and wine can easily seep into a luxurious marble countertop, which would be a considerable disadvantage for selecting it (via HGTV).
"Marble is prone to scratching and staining," real estate agent Gill Chowdhury told Realtor.com. "Chopping vegetables directly on it will show. Liquid, particularly acidic liquid, can also stain the surface." According to Realtor.com, Angela Colley found four reasons why marble — specifically the ever-popular Carrara marble — may not be the best choice, including the difficulty to clean and problems with resale value if the stone isn't maintained correctly.
According to Better Homes and Gardens, both countertops need routine maintenance. They need to be sealed; however, granite is more resistant to stains, so if you love to cook, this stone may be the right choice if you are looking for a beautiful and durable countertop with less maintenance. Countertops Specialty advises that depending on the type of granite you have, it should be sealed every one to five years, while Seal to One, a professional sealing company, suggests sealing your marble every three to six months. With resistance to stains and a typical lower maintenance schedule, granite is our clear winner over marble when upgrading the countertops in our kitchen.