Shea McGee Reveals Why A Functional Bathroom Design Works Best
When it comes to designing rooms in the home, most people may overlook or pay little attention to the bathroom, even though this is a high-traffic area and one which should be kept in tip-top shape, not only for the people of the house but for when guests come to visit as well. Nothing is more embarrassing than an unkempt bathroom. But having a luxurious-looking lavatory doesn't have to take all the time and planning in the world; in some ways, simplicity and functionality can make all the difference.
For helpful tips on how to create the right style and mood in your bathroom, we look to professionals such as Shea McGee. The host of "Dream Home Makeover" on Netflix, as well as the creative mastermind behind the interior design company and shop "Studio McGee," believes that the untapped potential of your bathroom can be easily tweaked in order to uplift the environment of the room. Although giving your wash space an updo can help to make it more palatable and pleasing to the eye; it can also serve to add more value to your home. Just like how major renovations to your kitchen can help to boost the worth of your abode, so can having a stylish and inviting washroom, according to Moving.com. Now let's take a look at what Shea McGee suggests are the best ways to create a functional design in your bathroom.
Keep it simple and fresh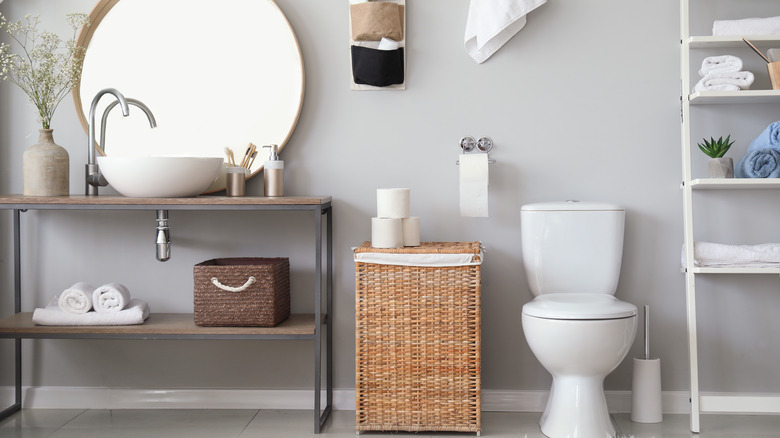 Pixel-Shot/Shutterstock
The trick to having a stylish bathroom is not to overdo it. Keep your designs simple and functional to avoid crowding a space that should feel light and airy. Shea McGee shares some tips on how to bring this area of your home to the next level. The first step is to invest wisely in your practical materials. This means spending a little more on plush, high-quality towels and tastefully designed shower curtains. These helpful additions develop a sense of care and help with the overall cozy effect of your bathroom, as per Studio McGee. Next, blend functionality with style by getting creative with your storage. Decorative baskets and boxes look great in your bath space but also provide some much-needed relief for items that can easily clutter the countertops. Finally, tuck away your brushes, hair products, and other bath accouterments so that they are still within reach but don't become an unnecessary focus of the room.
Lastly, McGee reminds us that it's not only the visual aspects of the room that can make this area inviting. Instead, treat the senses to stimulating aromas from scented candles, hand soaps, and lotions. Purchasing a matching set of hand pumps, candle holders, and soap dishes can help the flow of the vibe continue seamlessly when paired with the decor of the rest of the bathroom. Overall, when you blend the practical use of the space with simple decor, it helps to bring out a relaxing and comfortable atmosphere.