Here's How Many Towels You Really Need To Own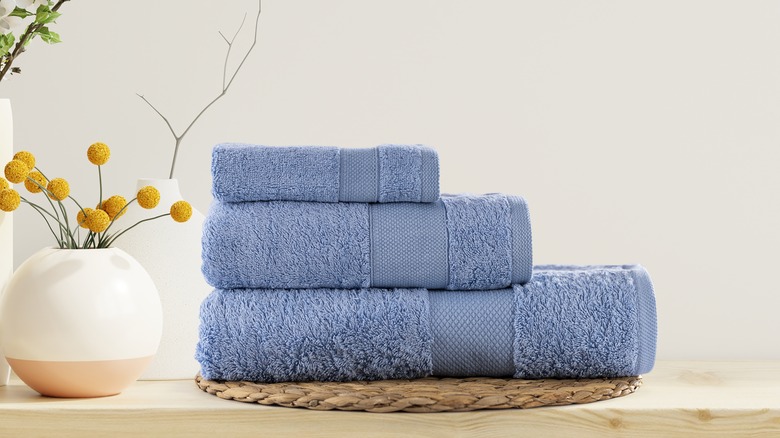 mahmod riad/Shutterstock
You might not find yourself lying awake at night thinking about your home's towel collection, but the question, "Do I have enough towels for these guests or visitors?" may have crossed your mind once or twice. While these thoughts aren't the tossing and turning, up-all-night variety, as a homeowner, you might worry that a towel shortage can arise and leave everything in chaos. Again, the topic isn't something that is covered in schools or adult conversations, but how many towels are enough for each home? Without the correct amount, laundry days might come too quickly, not to mention towel shortages wreaking havoc on your daily schedule.
Each and every household might be different when it comes to deciding on the perfect number, but there is a rule of thumb to follow that makes it easier to avoid constant washing tasks. Clean towels make all the difference after a nice bath or shower, and being stocked up is important. Whenever a company comes to stay, you want to have enough linens for them, too. You also want to make sure everything is in good condition, so Overstock recommends replacing your towels at least once every two years to ensure the fabric stays fluffy and absorbent. The following suggestions can help you maintain the perfect drying apparatus count, leaving you to sleep soundly knowing the bathrooms and cupboards are properly stocked.
Two full sets are ideal
World_of_Textiles/Shutterstock
In order to have enough towels to last the week or between laundry days, you should aim to own two sets, including hand and face towels, for each person in the home. Purchasing and keeping this amount should ensure every family member has enough to shower or bathe with between washes, even if one is for backup and rarely gets used. Never underestimate the importance of multiple towel sets, especially if people throw theirs on the floor or don't allow them to dry properly before the next shower. Damp towels aren't enjoyable when you're feeling fresh and clean.
Home Depot recommends folding towels to save precious shelf capacity if space is tight in your bathrooms or closets. By rolling them up, you can eliminate bulkier piles and fit more linens in an area. The spa-style is a way to roll towels that makes them look appealing while also creating more space for extra sets. In addition, you can store backup hand towels, guest linens, and smaller cloths stacked on top of each other in these rolled shapes.
How to care for your towels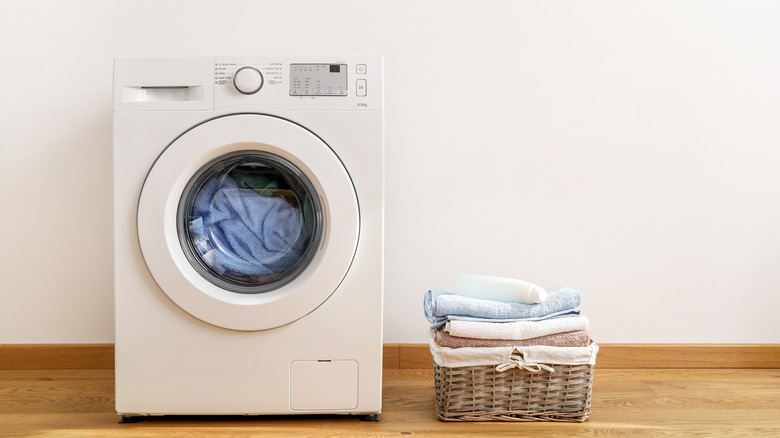 LumenSt/Shutterstock
Cleaning and washing your towels is another important factor to consider. Just like clothing and bedding, they can see a lot of wear and tear throughout their lifespan, so laundering them properly will ensure they last as long as possible. While replacing them is key when they start to pill or become threadbare, some tricks help keep the material fluffy and soft for longer. One of the easiest methods is to always wash your towels together.
Doing loads that only include similar fibers reduces the chance of more abrasive materials wearing down your towels. According to Peacock Alley, washing darker colors in warm water is better, while using hot water settings for lighter sets is ideal. Finally, don't put too much in the washing machine when laundering your towels, and avoid adding too much detergent. Most machines spin most of the excess water out of the fabric, but it is still a good idea to squeeze out each towel before placing it in the dryer to ensure it gets fluffed properly. By using these methods when it comes to caring for your towels, you should be able to get the most out of them before needing replacements.