Are Pastels In Home Decor Coming Back In Style?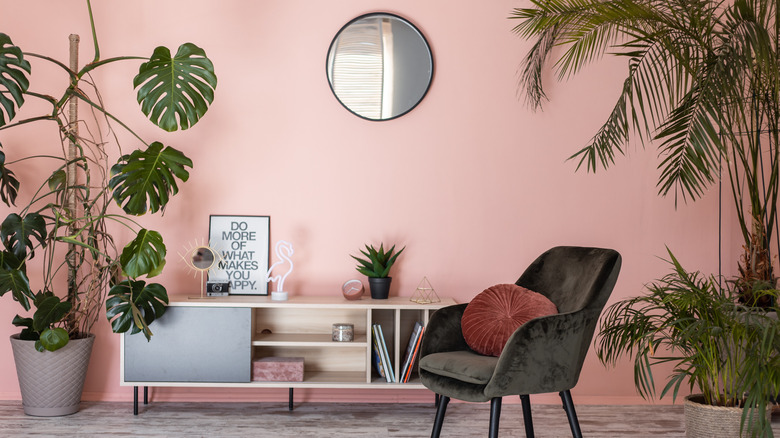 stanislav_guzenko/Shutterstock
When you think of pastel colors, perhaps images of childhood nurseries come to mind. Or, maybe you get nostalgic memories from styles popular in the 90s. Younger audiences may even associate pastel colors with current design trends. Color Meanings says that pastels are muted versions of colors. They have low saturation, which makes them appear soft and light. Because of this, these tones are not bold or in-your-face; instead, they provide a relaxing atmosphere. 
It seems like everyone has a different opinion about pastels. While some love these soothing shades, others may think they're too childish. However, pastels have recently been used in lots of different room designs and, while some prefer more sophisticated colors or neutrals, there are always those who adore these softer tones. 
Maybe you've seen pastel colors used in modern interior design and wondered if they are back in style. If so, you'll find the answer below.
Pastels are more than just back in style
To keep it simple, yes, pastels are back in style. Insider says that these spring tones are replacing grays all throughout the design world. It's true, designers are loving pastels right now — in fact, their love actually stems back a couple years. Refinery 29 adds that many people added pastels to their homes in 2020 at the beginning of the COVID-19 pandemic. These delicate shades provided homeowners with an increased sense of optimism about the future. 
Additionally, pastels aren't only back in style, they're also a timeless option. Pastels have a rich history that dates back to the early 18th century in France when they were used in the Rococo style, per Colors of Design. Amy Wax also says that these hues were also used in the 20s and 30s during the art deco period as well as in the 40s and 50s to inspire optimism after the World Wars. This is why they are sometimes referred to as retro colors. They were even used in men's fashion in the 80s. Now, these colors have been carried into the 21st century, displaying how pastels are a classic choice that continues to evolve.
How pastels are used in the modern era
Nowadays, pastels are typically used to either bring contrast or positive vibes into a space. Decoist shows how modern spaces use them to brighten rooms or to create a dynamic and layered look. Additionally, these muted tones are often anchored in white or another neutral color, which creates a more cohesive look that doesn't feel saturated in too much color.
Treehouse says that pastels can be used either as the base tone or as a complementary color in a room. The most popular colors are light blue and pink, but other shades can also be used. Combining pastels with bolder colors will create contrast. Similarly, decorating with them in industrial or rustic-styled spaces will add an unexpected design element. However, pastels are extremely versatile and can be combined with just about any style. Further, while they can be used in any room, they may look best in bathrooms and bedrooms.