How The Property Brothers Make The Most Of A Small Bathroom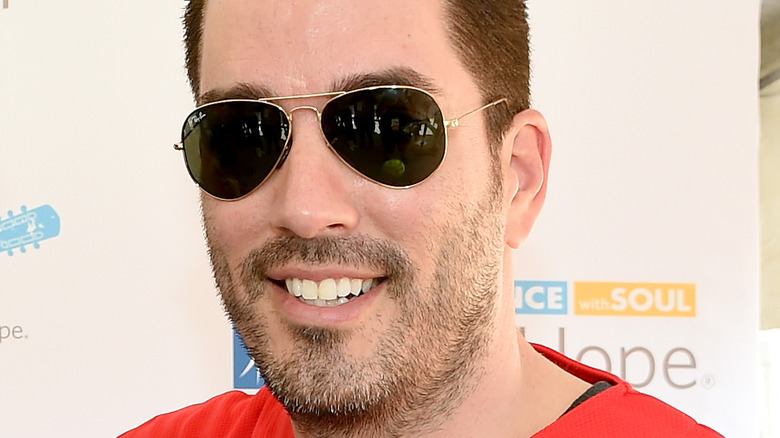 Rick Diamond/Getty Images
If you're craving a bathroom remodel, but aren't sure how to do it with minimal space, have no fear — you can still make the changes you long for. Having a not-so-spacious bathroom isn't as bad as you might think if you know how to utilize and design your space stylishly yet effectively, according to Moving. There are a variety of ways to make your bathroom remodel work without making you pull your hair out in the process. Of course, giving your small bathroom the ultimate upgrade comes with highs and lows, but with the help of "Property Brothers" twin duo Drew and Jonathan Scott, you can execute the home project to your liking.
When it comes to getting the most space out of a small bathroom, there simply isn't any space to go to waste, and if there's anyone who knows that, it's Drew and Jonathan. The brotherly duo sat down with MyDomaine and gave them the inside scoop on a bathroom redesign, and you don't want to miss out on all they had to share for you to create the bathroom of your dreams.
Focus on storage space and lighting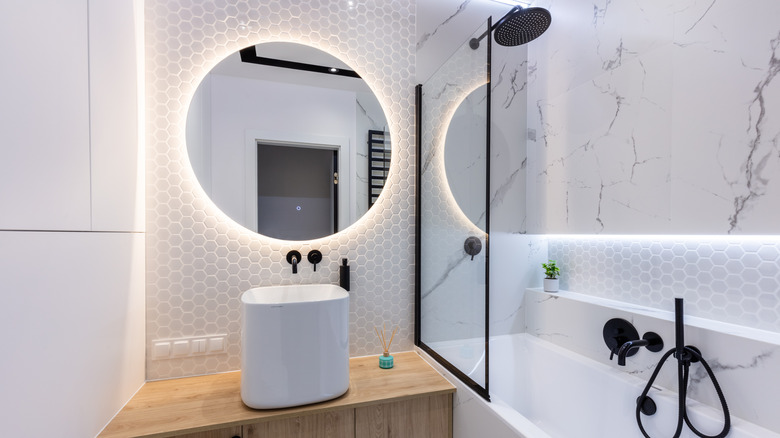 Photocreo Michal Bednarek/Shutterstock
When it comes to remodeling a small bathroom, there are no inches to waste, as the brothers told MyDomaine. Be intentional with decor, function, and space usage. Getting the most out of your storage is key, so you want everything to be stylish, of course, yet still have a purpose. Drew Scott suggests using prefab cabinets, countertops, vanities, or, even better, open shelving. For easy organization, drawer organizers and hanging racks that can go on the back of the door are your best friends. The more additional storage, especially hidden, the better. 
Lighting is extremely important when it comes to a smaller space. Jonathan Scott suggests going for recessed lighting as it saves space, as well as mirrors that have light fixtures built in. Not to mention, it'll make your bathroom feel and look more luxurious.
A huge mistake you want to avoid is clutter because the less clutter, the bigger the space will look and feel. You don't have to break the bank in the process, but you can spend where it counts. If your bathroom has the space for a freestanding tub or a luxurious, spacious shower, do it. It's a personal touch that adds value to your home, and you'll be so mesmerized by the revamp that the size of the space won't even cross your mind.