The Property Brothers Share Their Tips For Lighting A Bathroom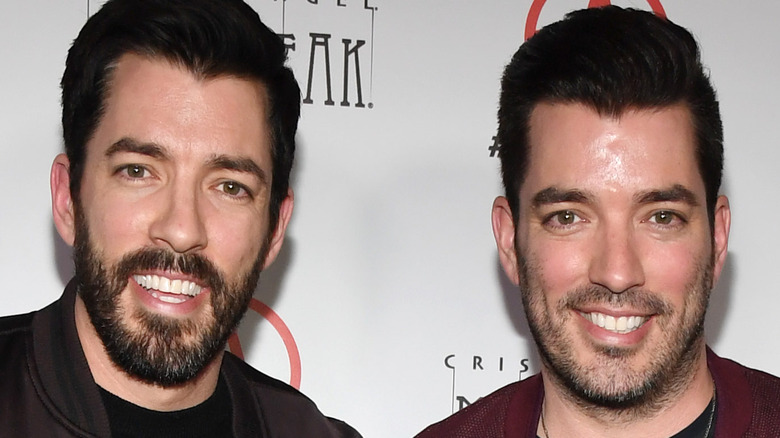 Ethan Miller/Getty Images
When entering a bathroom, your eye is probably drawn to any unique features, interesting decor, and color scheme. Because of this, you might not think to focus on the lighting when redoing your bathroom. However, good lighting can make or break any space — and lighting in the bathroom can be especially important.
The Property Brothers Drew and Jonathan Scott believe that the fixtures used in the bathroom deserve extra care and consideration. Jonathan says that "lighting is key, especially in smaller spaces like bathrooms," per Yahoo. According to Standard Products, just like every other room, the bathroom should incorporate all three types of lighting. These include ambient, which illuminates the entire area, task, which aids a particular task, and accent, which highlights a specific design feature. With this in mind, here are Jonathan and Drew Scott's tips for adding brightness to your bathroom in a smart and functional way.
How to add overhead lighting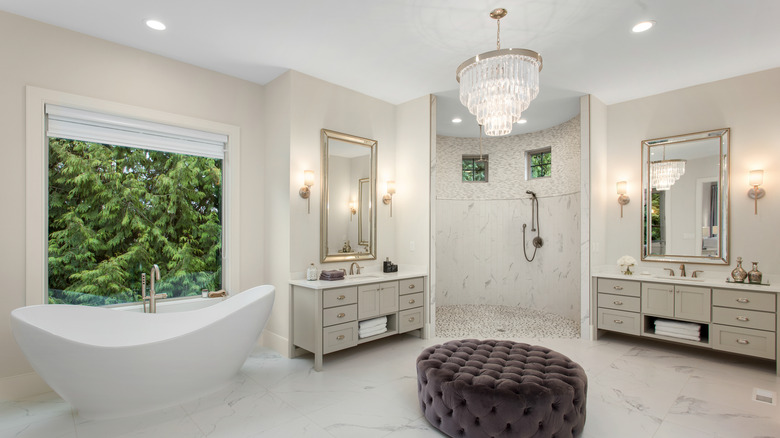 Breadmaker/Shutterstock
Drew and Jonathan Scott love statement bathrooms because this small space allows for more design risks, per The Scott Brothers. They recommend mixing both function and impact in the bathroom — you want the space to be as functional as possible but also to make a statement on those who enter.
To add a statement piece, you could add a chandelier to your bathroom. Shades Of Light says this is a bold choice that will elevate the luxurious feel in a bathroom. A chandelier could be placed above the tub, in the center of the room, or above the vanity. It will carry the eye upwards in the space and allow your preferred style to shine. A chandelier is a form of ambient lighting that also adds a fun flare to any room, especially the bathroom, where it's typically unexpected.
However, you'll also need to add more ambient lighting for functional purposes. Jonathan says, "I always include recessed lights in the bathroom, even if there is a chandelier," per Yahoo. Recessed lighting is installed directly into the ceiling or the wall and typically has a relatively simple design, per Destination Lighting. It's used to provide more light for safety and practical reasons.
How to illuminate the mirror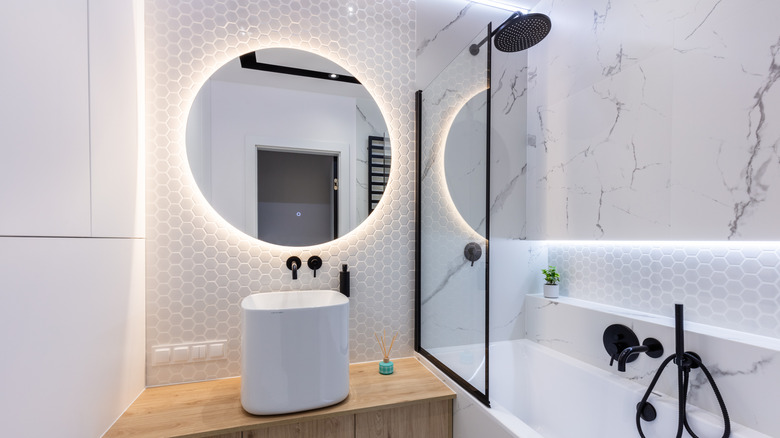 PHOTOCREO Michal Bednarek/Shutterstock
Another important consideration is illuminating your mirror. The lighting you use around your mirror functions as both task and accent lighting because it assists you in putting on makeup and skincare while accenting the space.
Sconces are popular choices for illuminating a mirror, but according to Jonathan, these "do not give you the best light," per Yahoo. Instead, he recommends installing a mirror with built-in lighting because it will brighten your face better. The lighting you place around a mirror is essential because it's most likely where you do your daily grooming. Therefore, you should focus on adding lights that allow you to see the most details on your face and the least amount of shadows. Furniture Lighting & Decor emphasizes the importance of adding symmetrical lights around all the sides of the mirror so that your entire face appears bright. Therefore, the best lighting would surround your mirror both vertically and horizontally.