Farmhouse Fixer's Jonathan Knight Shares Why An Open Floor Plan Isn't Always Ideal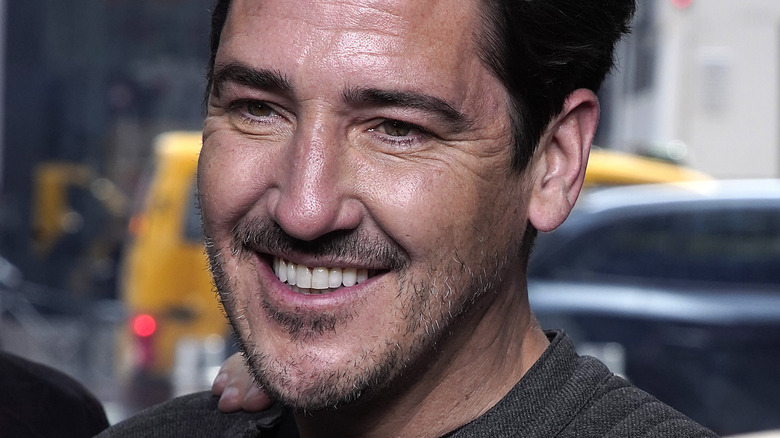 John Lamparski/Getty Images
Jonathan Knight, contractor and co-host of HGTV's "Farmhouse Fixer," thinks old farmhouses are American treasures that are disappearing quickly. "To me, being on a farm is just a way of life," he explained on a Season 2 episode (via Realtor). "It's the real deal." Knight also hits the nail on the head when he says that you shouldn't attempt an open concept design in something built in the 1790s. 
Knight and his business partner, Kristina Crestin, renovated a New Hampshire farmhouse that a California couple bought sight unseen on "Farmhouse Fixer." Knight explains that such a renovation would clash with the unique details of an 18th-century home. Why? The concept of open floor plans started with mid-century architecture in the 1950s, when architects turned the idea that a living room had to be a separate and formal space set aside for entertaining company on its head. Such a layout meant the whole family could be together at any given time, and no one would be stuck in the kitchen away from conversation when entertaining, according to Mid-Century Home. 
In the past decade, word has spread abut open concept houses on a variety of HGTV shows like "Property Brothers" and "Fixer Upper," and has made folks clamor for this style of living. As Jonathan Scott says, it lets you bring more light in and gives you better family interaction. But, in this article, we'll share Knight's thoughts on why an open floor plan isn't always ideal.
Why these homes are special
Jonathan Knight's focus is on renovating old New England farmhouses which were utilitarian in design, and usually built around a central chimney for heating the house and cooking. Other rooms were gradually added on around the center, per Thought Co. 
While there are plenty of homeowners who have bought old farmhouses and renovated them right into the 21st century, sometimes restoration is the best way to go, per Remodeling. So when the California owners were concerned about the lower ceilings and smaller living room, Knight tells them they can add a window or two to make it lighter and brighter, but that it's never going to have that wide open floor plan. He also points out this isn't necessarily a bad thing for this type of house. "So many people want open concept living now, and if you want that, go get a new house," he advised (per Realtor). "You cannot do that to a 1790s house. That is the charm. It's having all these small rooms."