2022 Holiday Shopping At Pottery Barn: Hours, Deals, And What To Expect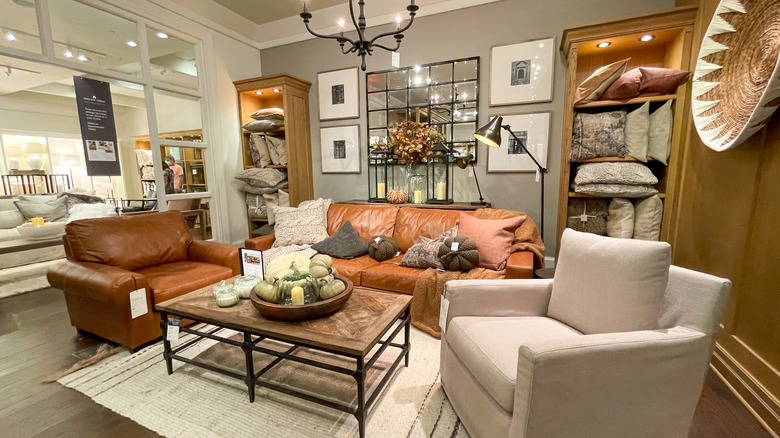 Joni Hanebutt/Shutterstock
Pottery Barn is one of the trendiest places to stock your home with furniture, decor items, kitchenware, and more. If you're hosting for the holiday season, you may want to stop by your local Pottery Barn or browse their website for items to fill up your bar, and kitchen, spruce up your living room or guest rooms, or get some holiday decorations up. It's also a place to find unique gifts for your friends and family, especially those who love interior design.
With the holidays just days away, though, it can be difficult to get those last-minute goodies and gifts. Aside from the busy crowds and long lines, modified store hours and shipping timelines are other things to consider. With that, though, there are exciting holiday discounts and deals to keep an eye out for. Whether you shop online or at one of the 183 stores reported by ScrapeHero, make sure you don't miss out on holiday deals, hours, or shipping dates.
Holiday hours at Pottery Barn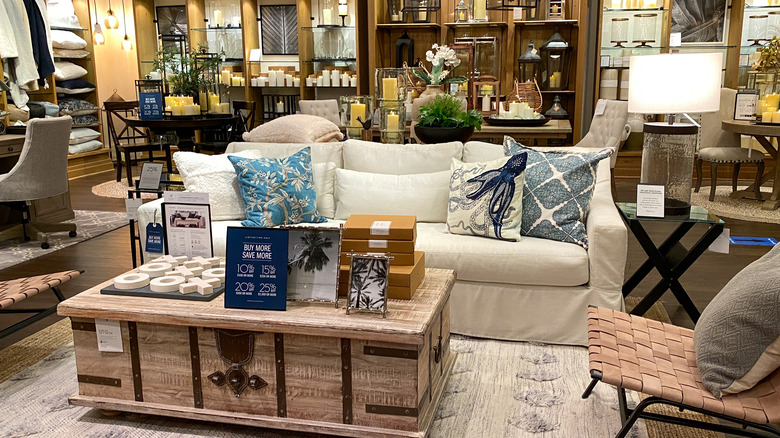 Joni Hanebutt/Shutterstock
If you plan on shopping in person at your local Pottery Barn for last-minute gifts or decor items, you can do so all the way up to Saturday, December 24, per The Holiday Hours. That being said, most stores will be closing as early as 6 p.m. This may vary location by location, so check with your local store's listed hours to make sure you get there in time because Pottery Barn will be totally closed on Sunday, December 25. Stores will open and operate at normal hours the next day, December 26.
If you want to order something from Pottery Barn and guarantee it will get to you by December 24, you still have a small window of time to do so. Per the Pottery Barn website, you have until December 19 at 10 p.m. PT to order anything monogrammed with standard delivery, and December 20 at 11 p.m. PT for rushed monogrammed delivery. For other orders, the cutoff for standard delivery is December 20 at 8 a.m. PT, and December 21 at 11 p.m. ET for next-day delivery, which costs an extra $26.
End of season sale, free shipping, and seasonal decor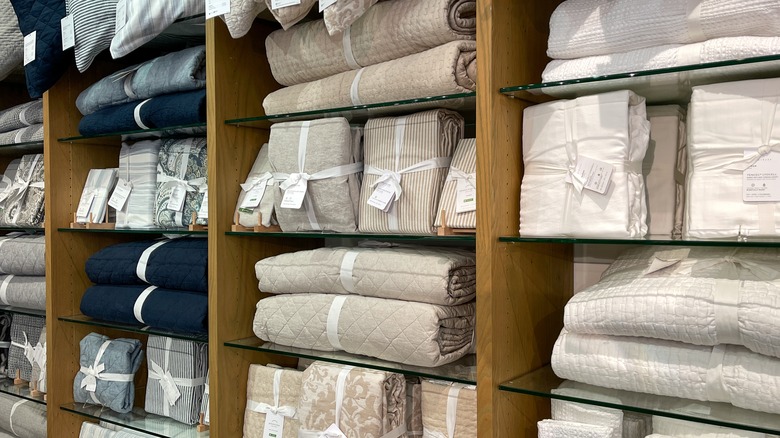 Joni Hanebutt/Shutterstock
Pottery Barn is also offering quite a few sales, deals, and clearance items right now. It's currently their end-of-season sale, which sees prices discounted by as much as 70%, per Pottery Barn. These items range from seasonal decorative items like stockings, seasonal candles, holiday bedding, and year-round furniture and decor items.
If you're in need of some seasonal holiday decorations to get your house in the festive mood before guests arrive, there's also a large catalog dedicated to holiday items on the Pottery Barn website. If you're planning on getting these items shipped, there are also a host of items listed under Pottery Barn's free shipping catalog. Pottery Barn does not usually have free or flat-rate shipping, but instead adjusts the cost to reflect different price ranges, making the free shipping offer pretty lucrative. If you'd rather shop in person, the end-of-season discounts will reflect in-store prices, too.