12 Places To Hang Your Christmas Stockings If You Don't Have A Fireplace
torook/Shutterstock
The tradition of hanging Christmas stockings on the fireplace mantel became popular for a few reasons, per Smithsonian Magazine.  While some placed their socks before the fire to dry, others had the legend of Saint Nicholas in mind, who generously gave presents by placing them in suspended socks. Similarly, children eager to receive gifts from Santa Claus may hang them on the mantel, since this is the first place he will see after descending down the chimney.
However, not everyone has the luxury of a fireplace in their home. If you don't have one, you may be tempted to skip the stockings altogether — but we urge you not to. This is because, even if you don't participate in the tradition for any of the above reasons, this decoration can still provide your space with a festive and cozy appearance.
While most hang them from the fireplace, they can actually be placed just about anywhere in the home. At the same time, some areas may look better than others.
1. Dangle on a coat rack
If you want your stockings to be placed right next to the Christmas tree, hang them on a standing coat rack, which you can either purchase or make yourself. 
2. Position on the wall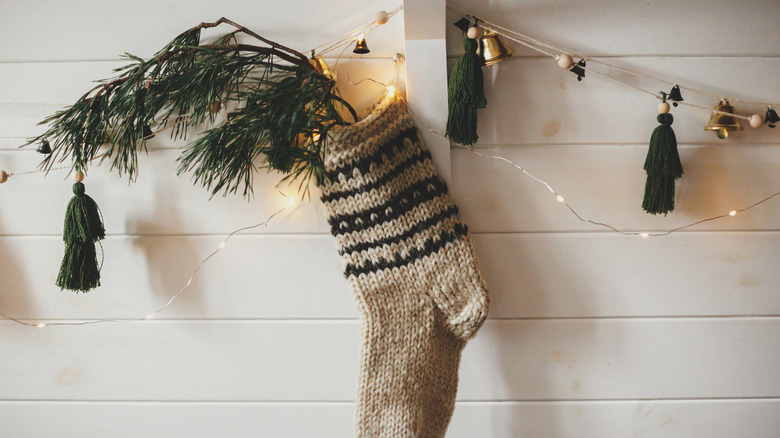 Bogdan Sonjachnyj/Shutterstock
Or, you can attach your stockings to the wall either with tacks, adhesive hooks, or clothespins along a garland. 
3. Utilize a floating shelf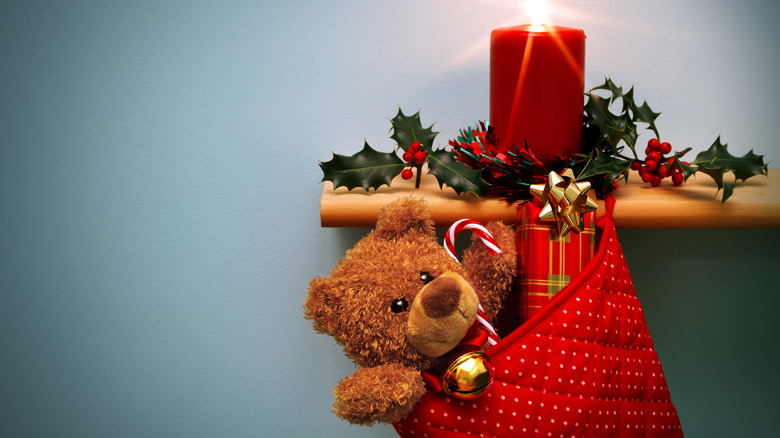 Rtimages/Getty Images
Attach your festive socks to the wall with the help of a floating shelf and a traditional stocking holder. 
4. Tie to a table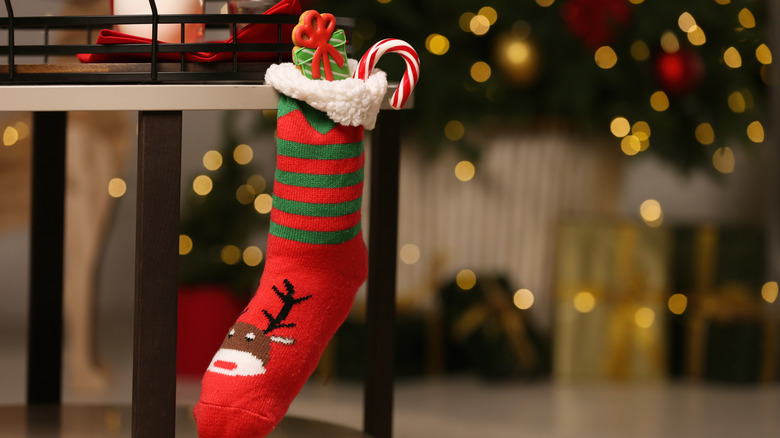 New Africa/Shutterstock
Stockings can be suspended from any table in your home, including an end, coffee, or entryway table. To do this, either tie them on with string or use an adhesive hook. 
5. Use a blanket ladder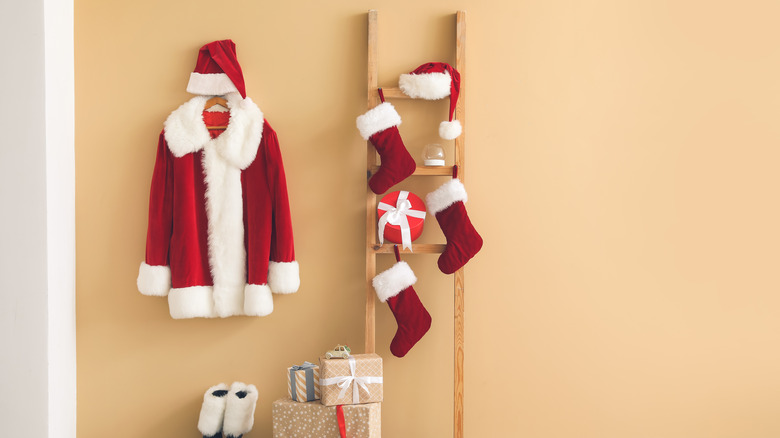 Pixel-Shot/Shutterstock
Stockings can easily be suspended from any blanket ladder with adhesive hooks or string. Or, you can simply place the loops over the top of each ladder post. 
6. Attach to a bookcase
With just a strand of ribbon and some hooks, you can attach stockings to a bookcase. Make the setup more festive by including other joyful decorations on the shelves behind the stockings. 
7. Arrange down the banister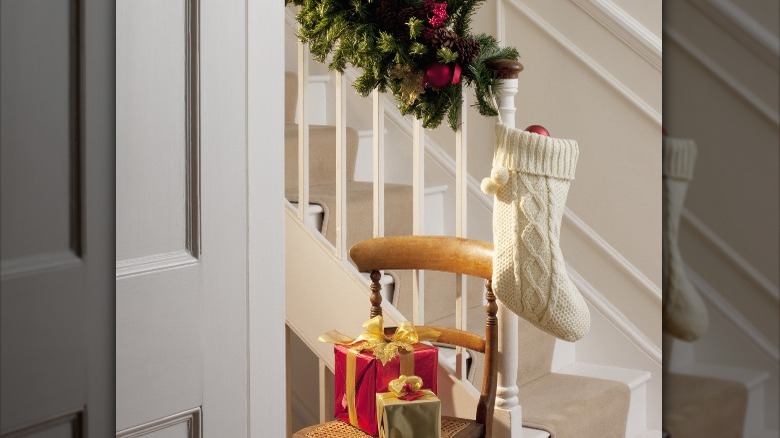 Tom Merton/Getty Images
If you only have one stocking, place it at the end of your staircase. However, if you have multiple, suspend them down the side of the bannister. 
8. String up on a hutch
To add a festive element to any room in the home, place stocking holders on a hutch, entertainment stand, or short cabinet. Then let the stockings hang in front of the drawers or shelves. 
9. Suspend on the piano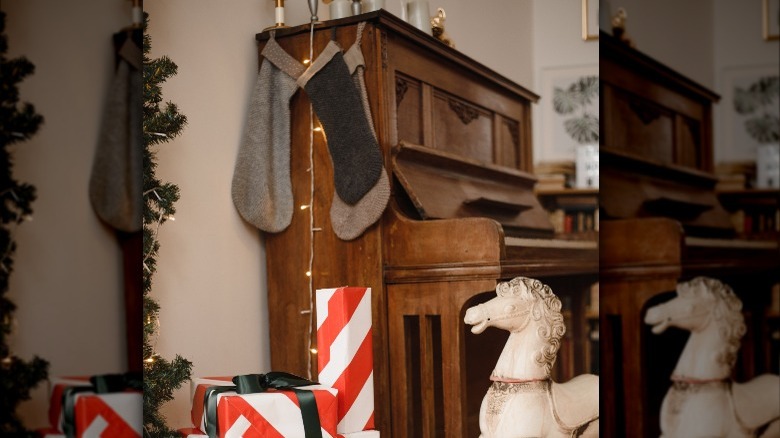 etonastenka/Shutterstock
Stockings can either be hung from the side or the front of a piano. If you opt for the front, your piano can become the focal point in your space. 
10. Place along the kitchen backsplash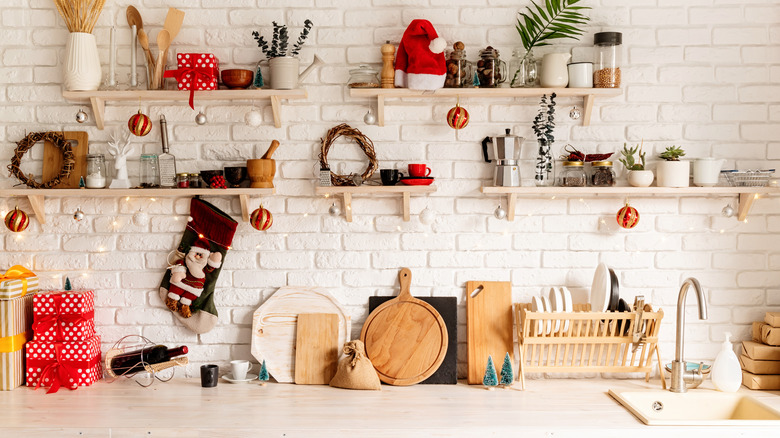 ilona.shorokhova/Shutterstock
A unique place to hang your stocking is from cabinets or open shelving in the kitchen. When doing this, your backsplash will become the perfect festive backdrop. 
11. Hang on the door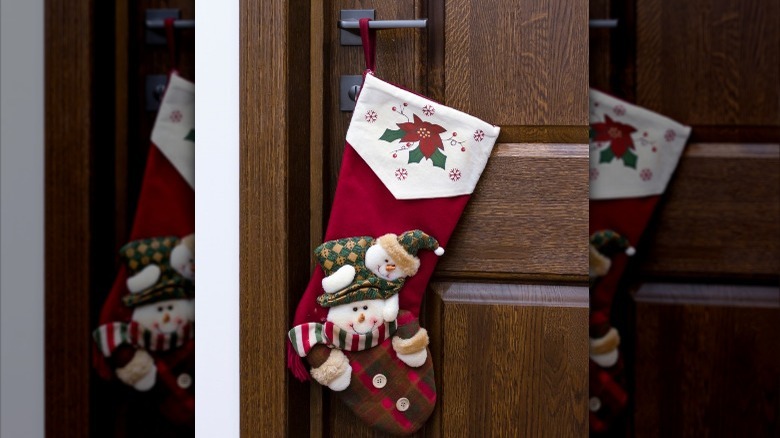 Mia Stendal/Shutterstock
A simple way to display a stocking is by hanging it on a door knob. Or, to make it appear more prominent, use it to replace a wreath in the center of the door. 
12. Build a stand
If you love to complete DIY projects, build a simple stocking holder, which will make the stockings appear as purposeful as possible. To bring it up off the floor, this holder can be placed on top of a short piece of furniture.