The US State That Has The Most Residential Swimming Pools In The Country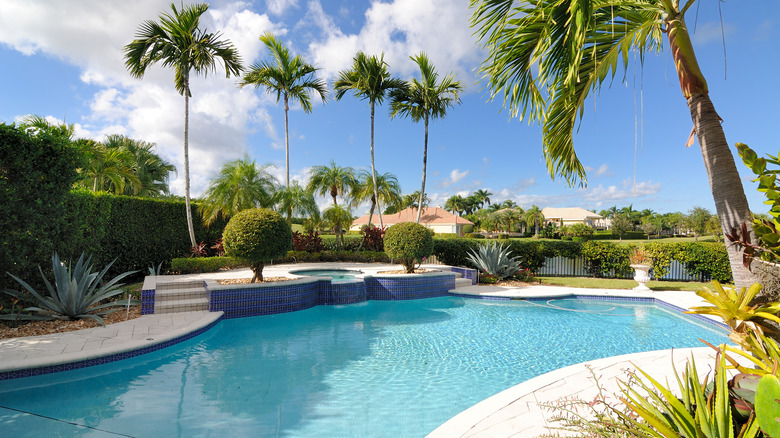 Seanpavonephoto/Getty Images
For the past 60 years or so, an in-ground pool was an uncommon feature found only in upper-class homes or upscale hotels and resorts. But as families and retirees moved from the Midwest and Northeast in search of sun, sand, and less frigid winters, more modest homes started to have inground pools in the warmer areas of the US, both arid and tropical. Even in states with beaches, lakes, and rivers, a pool remains highly popular for family fun, private exercise, or as a glam centerpiece for outdoor entertaining.
Given the carefree, sun-kissed lifestyle pools represent, it's no surprise that Florida has the most residential swimming pools in the US, with just over 1.5 million, according to Angi. Crunching the numbers a different way, by comparing the number of pools to a state's population, there's a pool for every 14 people in Florida. The site also reports that Florida was #1 in terms of pool maintenance and cleaning requests in 2022, with 13,923 service calls logged. Floridians love their pools!
A growing market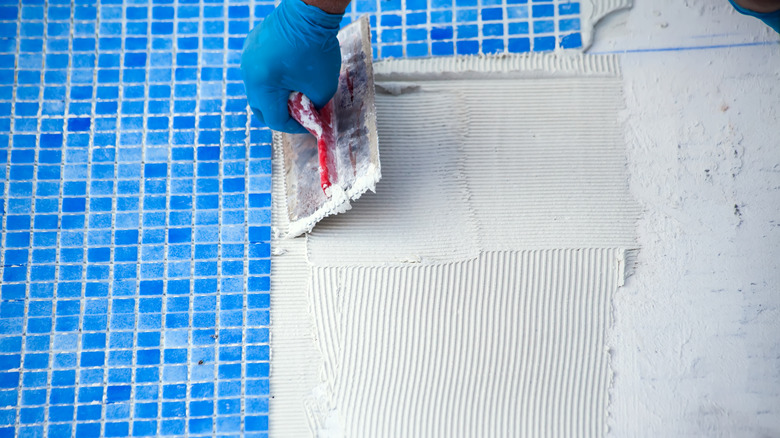 Antoniosolano/Getty Images
And, of course, some areas of the state are hotspots for residential pools. According to Pool Magazine, quoting research by LendingTree, the US cities that have the highest number of pools (after Phoenix) are Miami, where 30.6% of properties have one, Tampa, at 27.7%, and Orlando, at 25.9%. By comparison, it is estimated that just 8% of houses in the US have a pool. Angi's research also points out the number of in-ground pool installations continues to climb. And the state with the most pools installed in 2022? Florida again with 13,382. Florida also built the second most above-ground pools, after Texas, with 3,219 installed last year.
One clue to pool popularity in Florida is the ability to use them year-round. Even in southern Florida pools are heated, but except for the occasional cold snap, they can be used every day. Pools are also centerpieces for family fun, as everyone from small children to seniors can enjoy a refreshing swim in the privacy of their own property. Backyard pools are also beautiful additions to the landscape and can be embellished with plantings and lighting.
Pools may increase a home's value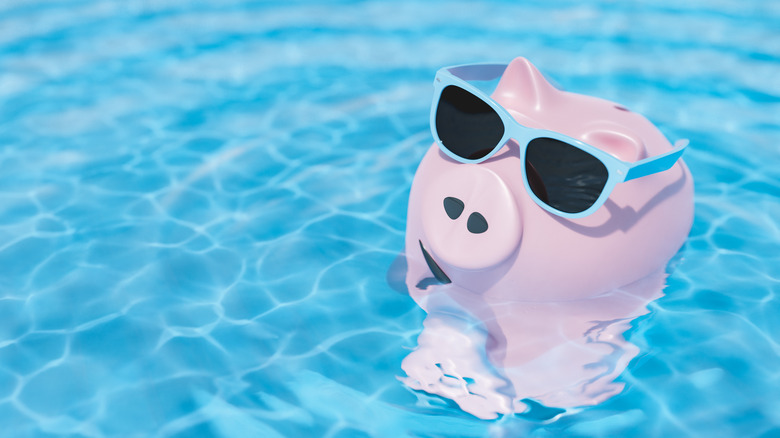 aleks333/Shutterstock
Real estate research indicates that having or adding a pool to your home increases the value by 5 to 8%, although since the pandemic, that number appears to have risen substantially (via Homelight). Still, there are a lot of factors to consider, including maintenance and repair costs, increased homeowner's insurance, and higher utility bills. And for investment purposes, a home's value only increases with an in-ground pool. Above-ground pools and jetted tubs don't add to the overall value of a home. 
Pools are a better investment for people who live in climates like Florida. The condition of the pool, its type, and its age are all factors in determining its value — another reason that regular maintenance is so important. But the bottom line is that there's no guarantee that money invested in a pool will be returned at resale. These days pools come in all sorts of shapes and sizes, with different linings and features. No matter what kind of pool a home may have, a homeowner should have or install a pool if they are able to personally reap the benefits of having one.