Stan Lee's Former San Francisco Home Is Surprisingly Modest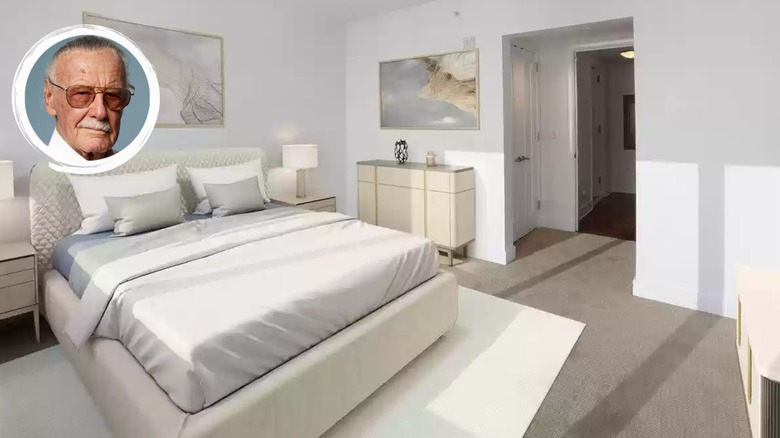 Matt Carr/Getty/Static Media/Realtor
Swinging into real estate action, the late comic book writer Stan Lee's previous San Francisco apartment is amazingly low key. Located on the 22nd floor of the luxurious, five-star Four Seasons Hotel on 765 Market Street, the one-bedroom, one-bathroom pied-à-terre appears classy yet modest enough for Peter Parker himself. Less than 1,000 square feet (792 to be exact), the select hotel condo was utilized by Lee and his daughter when they would visit San Francisco.
A celebrated writer, editor, producer, and publisher, Stan Lee was a marvel himself as co-creator of a plethora of superhero stories like the "Fantastic Four," "Spider-Man," "Iron Man," "Thor," "The Incredible Hulk," "The X-Men," "Black Panther," and "Black Widow." Compared to the larger million-dollar homes that he owned in the Los Angeles area, Lee's private Four Seasons residence was one of the smallest in the building, per Dwell. The chic condo went on the market for $1.35 million nearly a year after Lee's death in 2018 at the age of 95.
Represented by the Lee Family 1985 Trust, the Market Street apartment has vanished and appeared like Doctor Strange on the real estate market a few times. According to Realtor, the marvelous condo appears to be off the market, as it was last sold in 2010 for $750,000 with an original listing price of approximately $1.47 million. The property was then available for purchase in 2015 with an asking price of about $1.48 million. Later that year, the price slightly decreased, but again disappeared.
Inside Stan Lee's downtown Market Street condo
Like a vein transporting the blood of life through the city, Stan Lee's former vacation home is located on Market Street. The elongated downtown thoroughfare leads to neighboring sites like Union Square, Yerba Buena Gardens, and the Ferry Building Marketplace. Condo life for Lee at the Four Seasons Hotel included a doorman, 24-hour security, valet parking, housekeeping, and 24/7 room service, including access to the California-centric MKT Restaurant & Bar and luxury Equinox fitness facility. According to Apartment Therapy, there are 142 residential units located amidst the highest floors, including an exclusive reception area.
Fit for a watchful hero, the compact condo features expansive views of the downtown San Francisco skyline. The 792-square-foot space features high ceilings with crisp, white walls and a neutral palette throughout. Upon entry, the floor is covered in exquisite Brazilian cherry hardwood with a contemporary U-shaped kitchen adjacent to the living room. A long welcoming bench sits below the large, captivating living room windows. The unit also comes equipped with granite countertops, stainless-steel appliances, sufficient walk-in closet, washer and dryer, and marble bathroom, per Realtor. Certainly a deluxe pad, Lee's fans shouldn't be disappointed that he disguised himself well above the urban life below, much like his "Spider-Man" in New York City.